Dumpster Rental in Derby, CT
Get Budget Busting Rolloff-Dumpster Price
Click To Call 1-888-792-7833Click For Email Quote
Why We Can Provide Superlative Roll Off  Services In Derby:
Our customer service is peerless. No other container company comes even close to giving you the level of assistance that we consistently give day in and day out. We outshine our competition and they cry like babies.
A cheerful staff with the expertise that will exceed your expectations
Rent a rolloff with one simple phone call
Get an online canister quote faster than splitting the atom
Please be advised we cannot haul hazardous material
Dumpster Rental Pricing in Derby is Based on Many Different Factors
To Receive The Lowest Pricing, Call For A Customized Quote Now 1-888-792-7833
Save With Us Between $10 And $125 On Your Dumpster Rental Cost:
We not only can offer you the lowest prices in Derby but if you find a lower rate, we will match or beat it. All of our competition is falling by the wayside because they do not have the industry connections we have cultivated.
We offer a best container rental price guarantee and it will be low
No hassles or headaches when you work together with our staff
An easy to use dumpster weight calculator to ensure you get the right size bin
A FAQ page to give you some insight on how we operate our company
Don't hesitate any longer. Call us immediately and let's get those projects finished
Earn Up To $50 | Share / Like Below
10 Yard Dumpster (2 TONS) 4,000LBS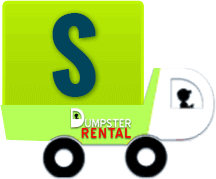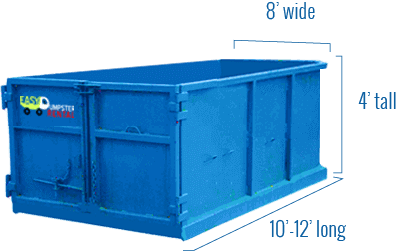 Easy Dumpster Rental
20 Yard Dumpster (3 TONS) 6,000LBS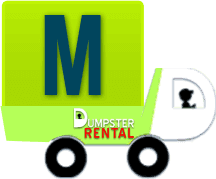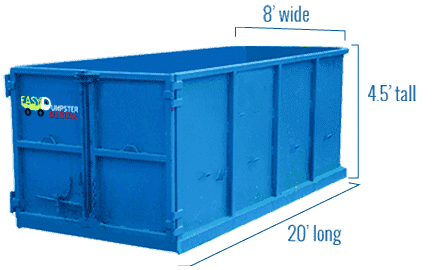 Easy Dumpster Rental
30 Yard Dumpster (4 TONS) 8,000LBS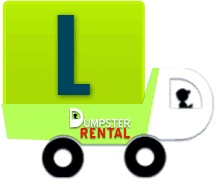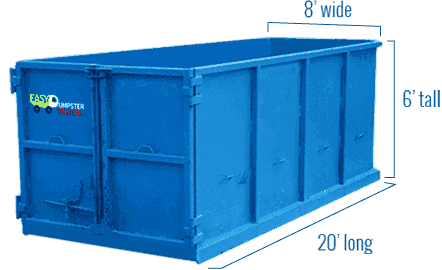 Easy Dumpster Rental
40 Yard Dumpster (5 TONS) 10,000LBS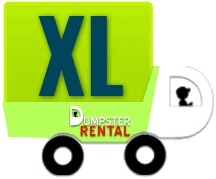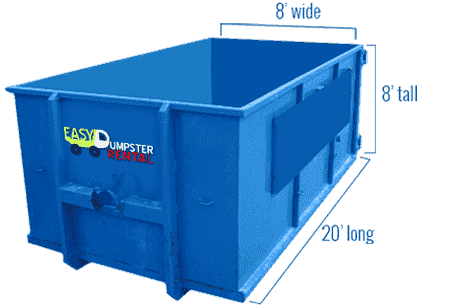 Easy Dumpster Rental
Landfill Location in Derby, CT
Commercial operators and residents living in Derby have the option of using the Derby Transfer Station to dispose of waste items not collected curbside at the Transfer Station that is operated by the City's curbside municipal solid waste collection vendor.  Residents may dispose of accepted items free of charge. Click here for disposal fees for commercial users.
Transfer Station Location
80 Pine Street
Derby, CT  06418
203 736 1464
Hours of Operation
Monday to Friday: 7:00am to 3:30pm
Saturday: 8:00 am to noon
Sunday: Closed
The Transfer Station also accepts for environmentally unfriendly items such as:
Electronics
Fluorescent bulbs
Car tires
Lead-acid batteries
Waste oil
Recycling in Derby, CT
Derby residents are provided with the weekly curbside recyclable collection through a contracted vendor. Recyclables should be placed in a separate container provided by the city from regular trash. Bins are emptied on the same day as regular household trash bins. Residents without a bin can obtain one from the Derby Public Works free of charge. Click here for collection schedule by street.
Here is a short list of materials that will be collected if placed in bins:
White paper
Junk mail
Heavyweight folders
Phonebooks
Paperboard
Newspaper
Magazines
Catalogs
Office paper
Tissue boxes
Here is a short list of items that will not be collected if placed in bins:
Wrapping paper
Napkins
Wax paper
Tissue paper
Paper towel
Household Hazardous Waste
Items within the home that are classified as hazardous include:
Fertilizer
Adhesives & Glue
Insecticides
Nail polish
Herbicides
Fungicides
Fluid
Stains & Finishes
Pesticides
Yard Waste Disposal
Leaves, brush, grass and other yard waste will not be collected curbside with regular garbage. Special curbside pickup is provided by the city 3 days from October through December.  Biodegradable paper bags pack with only leaves will be collected. Bush must be cut into 4 to 5-foot lengths and tied in bundles for collection. Grass clippings can be brought to the Derby Transfer Station for disposal.
Bulk Waste Pickup
Bulk items are not eligible for weekly curbside pickup. Instead, the Public Works Department provides pickup via appointment only. Pickup is offered first Tuesday of every month (May through October only). Contact Public Works at (203) 736-1468 to schedule an appointment.
Interesting Facts About Derby
Derby has a population of 12,000 and is one of the smallest cities in Connecticut. It was first settled in 1642 as an Indian trading post. The town has a nice size Polish community and as result, there are many Polish restaurants, shops, etc… Two of the many National Historic Landmarks include the Kraus Corset Factory and the Sterling Opera House, built in 1889. A few notable people from the area include Steve Ditko, co-created of the Spider-man comic series, Actor Brian Dennehy, and Medal of Honor winner, Frank P. Witek.
The Two Main Categories Of Landfills In America
Our landfills are monitored by the Resource Conservation and Recovery Act (RCRA). Subtitle C landfills provide a structure for managing and handling hazardous waste materials. Landfills that fall under the regulation of Subtitle D manage non-hazardous materials like solid waste. Landfills must meet stringent design, operation and closure requirements set forth by the RCRA. For example, after a landfill is closed is must be monitored for at least 30 years to ensure that there are no chemicals leaching into our underground water and there is no air pollution.
Currently, the U.S. has a little over 3,000 active landfills, which is roughly one landfill for every county in the U.S. Subtitle D Landfills are used for the disposal of solid waste, degrading organic waste, industrial waste, construction and demolition, and collecting debris from coal combustion. Subtitle D relies on local and state governments for the planning and regulation of solid waste. Solid waste is typically your household garbage and any industrial waste that is nonhazardous. Subtitle D landfills include:
Municipal Solid Waste Landfills which are developed to accept household solid waste
Bioreactor Landfills that functions to transform and degrade organic waste
Industrial Waste Landfills are designed to receive commercial solid waste
Construction and Demolition Debris Landfill collects debris from construction sites. Including concrete
Coal Combustion Residual Landfills which disposes of coal combustion debris
Subtitle C Landfills as mentioned above handle hazardous waste. The main burden with hazardous waste is that it is handled in a secure process where no adverse effects can impact our health or our eco-systems. Besides hazardous waste landfills, there also are Polychlorinated Biphenyl (PCB) Landfills which also fall under this category.
PCBs are man-made organic materials which were used for electrical insulation and electrical appliances. They were also sprayed on dirt roads to keep dust from blowing around. PCB's were banned as of 1979.
Landfills also monitor Leachate, which is generated from liquids that are already present in the waste and passes through the waste. The leachate can cause harmful particulates to runoff into our underground aquifers. Landfills must have leachate collection systems which consist of the following:
A collection layer
A geotextile filter
Pipe system which is surrounded by a bed of gravel where the leachate is funneled to a sump
 A pump removes the leachate from the landfill, where it is taken to facilities that watch over the leachate.
The landfills are also mandated to monitor the groundwater. This is to ensure that there is no contamination of underground water supplies. This system consists of 3 phases:
Detection
Assessment
Corrective measures
Then after a landfill has served out its usefulness, the landfill, as mentioned above, is closely monitored for 30 years. It is good to know to know that the EPA and the RCRA are closely watching these landfills and protecting us all from potential hazardous complications that could have wreck havoc on our environment.
And please don't forget Easy Dumpster Rental for all of your non-hazardous and recyclable removal needs. We offer a wide variety of dumpster rental sizes for any size job. We are fast becoming the largest and the best rolloff rental company in America.
It's that easy!
Call Our Team Now
1-888-792-7833