Dumpster Rental in Meriden, CT
Get Gigantic Savings On Your Rolloff Rental
Click To Call 1-888-792-7833Click For Email Quote
Why We Offer Outstanding Customer Bin Rental Service In Meriden:
We are a group of team members who believe in getting things done right the first time. Pride and hard work are what keeps us number one in the country proving the best customer service you will ever find.
Our customer service team is polite, friendly, and eager to help
We rent construction containers for the big demo jobs
We offer same day service in Meriden and surrounding areas
A dumpster conversion visualizer to help you make comparisons on bin sizes
Please be aware that we cannot dispose of hazardous waste
Dumpster Rental Pricing in Meriden is Based on Many Different Factors
To Receive The Lowest Pricing, Call For A Customized Quote Now 1-888-792-7833
Save With Us Up to $80 On Your Next Front-Load Rolloff Unit Rental:
We believe in giving our customers the lowest bin rental price in Meriden. Because we have unique industry connections we can afford to pass on savings to you, our valued customers.
We have the best bin price guarantee. We will match or beat any competitors rates
Super speedy service and super savings in Meriden
An easy to use dumpster weight calculator to ensure you get an accurate price
We are always transparent with our pricing model. Just ask a sales rep for a cost breakdown
Our sales agents have a ton of knowledge and will make sure you get what you are looking for
Earn Up To $50 | Share / Like Below
10 Yard Dumpster (2 TONS) 4,000LBS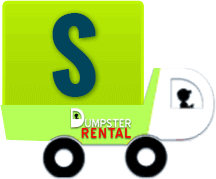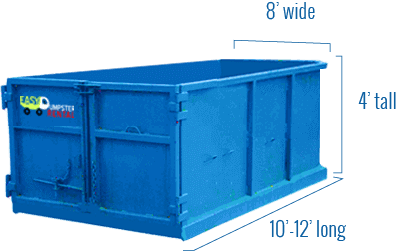 Easy Dumpster Rental
20 Yard Dumpster (3 TONS) 6,000LBS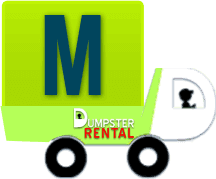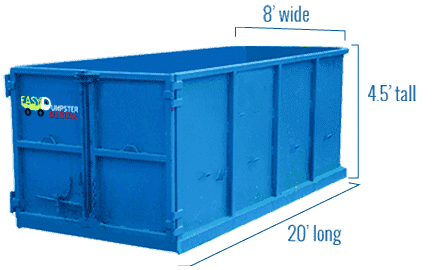 Easy Dumpster Rental
30 Yard Dumpster (4 TONS) 8,000LBS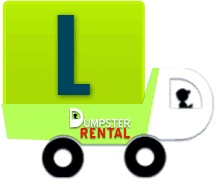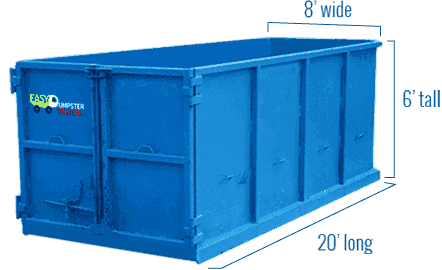 Easy Dumpster Rental
40 Yard Dumpster (5 TONS) 10,000LBS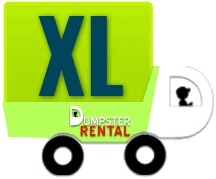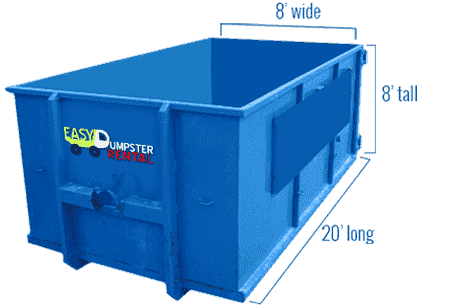 Easy Dumpster Rental
Transfer Station Location in Meriden, CT
A yard waste Transfer Station is operated by the City of Meriden, CT. Residents can deliver bulky waste to the station situated on Evansville Avenue which is opposite to the Meriden Markham Municipal Airport close by the Meriden Water Pollution Control Facility.
Hours of Operation
Monday: 7:30 am to 11:30 am
Wednesday 10:30 am to 2:30 pm
First and Third Saturday 7:30 am to Noon
Below is a short list of items accepted at the transfer station:
Air Conditioners
Batteries
Lawn mowers
Leaves
Tires
Appliances
Bicycles
Electronic Waste
Below is a short list of items that are not accepted at the transfer station:
Auto and Truck parts
Construction debris
Roofing materials
Asphalt
Rocks
Explosives
Ammunition
Grass clippings
Asbestos
Biomedical waste
Oil based paints
Fertilizers
Waste oil
Gas
Antifreeze
Contact 203-630-4018 or visit the FAQ page on the official website for more information on the transfer station.
Recycling in Meriden CT
The City of Meriden offers single stream recycling to Inner Tax District residents with 4 or less dwelling units. Residents are provided with a 95-gallon bin to store recyclables. Individuals residing in the Outer Tax District should contact their hauler for information on recycling. All bins should be placed at the curb before 5 am on collection day.
Here is a partial of items that can be placed in recycling bins:
Clear, green and brown glass bottles
Soda tins
Cans
Aluminum,
Plastic mark #1 – #7
Here is a partial list of items that should not be placed in recycling bins:
[list]
Light bulbs
Window glass
Aerosol cans
Aluminum foil
Drinking glasses
Paint cans
Interesting Facts About Meriden
Meriden became a town back in 1806 and today has a population of 60,000 residents. In the 19th century, Meriden was the silver manufacturing center of New England. Meriden is known today as a major Modern and Abstract art center. There are many points of interest including Moses Andrews House, Old Traffic Tower, and The Red Bridge. A few notable people from the area include Alphonse La Paglia, a noted silver designer, and Burton G. Tremaine, president of the Miller Company, a noted art collector whose family is still carrying on his legacy today.
Hazardous Waste Disposal
Hazardous waste collection days are held throughout the year for Meriden, CT residents. Bringing hazardous waste to collection events reduces the chances of accidental poisoning in the home and hazardous events such as fires.
Here are some of the accepted HHW items under the program:
Herbicides
Bleach
Oven Cleaners
Tub, Tile, Shower Cleaners
Insecticides
Kerosene
Home Heating Oil
Pool Chemicals
Cockroach Poisons
Flea Repellants
Moth Repellants
Household Insecticides
Items that are not accepted include:
Latex paint
Empty aerosol cans
Ammunition & other explosives
Smoke detectors
Radioactive materials
Propane tanks
Medicines
Tires
Visit Tunxis Recycling for more information or call 860-585-0419 or 860-225-9811
Yard Waste Pickup in Meriden CT
Yard waste can be taken to the Transfer Station operated by the City or Meriden CT. All waste delivered to the station should be placed in bundles no more than 4 feet and no greater than 6 inches in diameter. Contact the station at 203-630-4018 or visit the FAQ page for more information.
Bulk Waste Collection
Bulk waste items such as mattresses, sofas, carpets and furniture can be taken to the city Transfer Station that is located on Evansville Avenue which is opposite to the Meriden Markham Municipal Airport.
Some Common Questions We Receive Each Day
We have put forth a few questions we get every day from our customers concerning the process of renting a canister from us. We hope this helps clear up any confusion and gives you some insights on how we operate Easy Dumpster Rental.
I'm confused about the different descriptors you use in your industry describing dumpsters?
Basically, the terms you will see used to describe a dumpster are one in the same. All businesses have their peculiar buzz words to describe items that they use in their industry. And the sanitation industry is no different in this regard. You will hear or see such words as; dumpster, rolloff, bin, can, canister, front load dumpster, to name a few.  Also, you may see Residential Dumpster or Construction Dumpster. Most dumpster rental companies have 4 basic rolloff rental sizes that the rent. 10, 20, 30, and 40-yard in size.Typically, a residential dumpster is 20-yards and it can handle a bathroom remodeling project. A 40-yard rolloff is for huge demo jobs or renovations that are unique to the construction industry.
Should I be concerned that a rolloff will harm my lawn or driveway?
Dumpster's do get quite heavy and you do need to take some precautionary steps. We suggest to our customers to buy some plywood or planks. Then we can place the rolloff wheels right on the wood to protect your property. This usually minimizes any damage to your lawn or driveway.
What if I would prefer to put the bin on the street?
That is a possibility. However, first check with your local city officials to see if you need a permit.
Do I need to be home on the day of delivery?
If it is possible it would be helpful. This is to eliminate any confusion on-site placement. Make sure you unlock any gates and tie up any large dogs.
What are your standard rental periods?
Typically, 7 or 14 days. However, you can the rolloff as long as you need it. Just give us advance notice and before the rental agreement ends so we can work out a continuance. We don't want to charge you late fees.
What Credit Cards to you accept?
We accept the following payment methods: American Express, Visa, MasterCard, Discover Card, and PayPal
Please remember that it is against the law to put hazardous waste materials in a dumpster. If you have any further questions, please drop us a line or visit our FAQ page.
It's that easy!
Call Our Team Now
1-888-792-7833