Dumpster Rental in Shelton, CT
The Very Lowest Rates On Rolloff Rentals
Click To Call 1-888-792-7833Click For Email Quote
There Is No Better Service In Shelton:
We don't use the term "Customer Satisfaction" casually. We take providing great customer service seriously. We will bend over backward to make sure that you have the best experience in the galaxy.
Our bins can dispose of between 2 and 5 tons of trash
Rent any container unit for 7 days or longer
We have a wide variety of dumpster rental sizes
One easy phone call and will have a canister on you site ASAP
We have a dumpster conversion visualizer. So you can compare our bin sizes with everyday objects
Dumpster Rental Pricing in Shelton is Based on Many Different Factors
To Receive The Lowest Pricing, Call For A Customized Quote Now 1-888-792-7833
Save With Us Between $10 And $95 On Your Dumpster Rental Cost:
We have built, with a lot of hard work, a very loyal customer base. Because of our low prices and outstanding service, we literally have thousands of repeat clients return to us every year for their can unit rental needs.
Flat rate front load rental prices that will have you grinning from ear to ear
No fuss customer service that is guaranteed to please
All rates are transparent and with no hidden fees
An easy to use dumpster weight calculator that ensures accurate pricing
Call us now and see why we are the industry leader
Earn Up To $50 | Share / Like Below
10 Yard Dumpster (2 TONS) 4,000LBS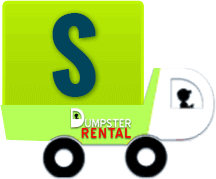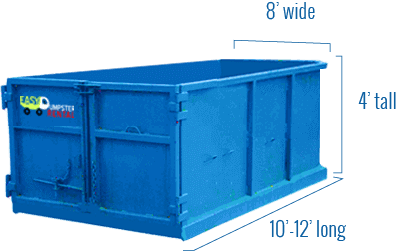 Easy Dumpster Rental
20 Yard Dumpster (3 TONS) 6,000LBS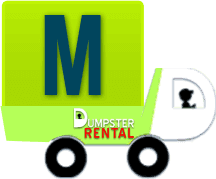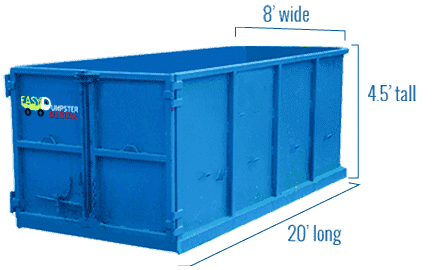 Easy Dumpster Rental
30 Yard Dumpster (4 TONS) 8,000LBS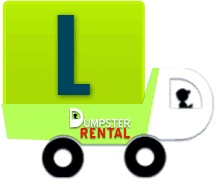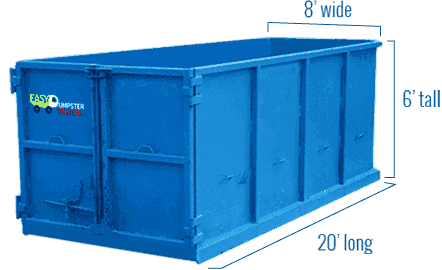 Easy Dumpster Rental
40 Yard Dumpster (5 TONS) 10,000LBS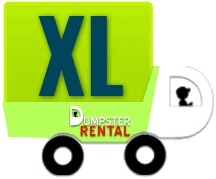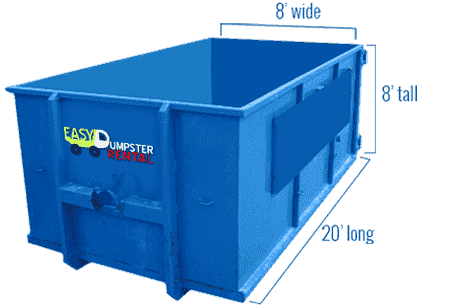 Easy Dumpster Rental
Landfill Location Shelton, CT
The Town of Shelton provides its residents with a secondary means of waste disposal outside of regular curbside collection through the drop-off services offered at the Transfer Station. A valid Connecticut Driver's License or a current Shelton tax or utility bill with a corresponding name and address on a photo ID is required to use the Transfer Station. Items accepted at the Transfer Station is available on the website.
Shelton Transfer Station
866 River Road (Rt. 110)
Hours of Operation
Hours: Monday – Saturday 7:00 am – 1:30 pm
Sunday and Saturday: Closed
Contact Highways & Bridges at 203-924-9277 with additional questions.
Shelton, CT Recycling Services
A blue and brown automated cart are delivered to Shelton households by the city. The Blue cart should be used to store recyclables for collection after they have been cleaned. Residents are asked not to label carts assigned to their address with their names. Visit the website to learn more on Use and Placement of Carts for Collection.
Accepted Items include:
Glass jars
Magazines & catalogs
Tin or steel cans
Glass bottles
Wrapping Paper
Newspaper
Telephone books
Paper bags
Junk mail
Cardboard
Flatten all boxes
Unacceptable Materials:
Styrofoam
Broken glass
Plastic Bags
Hangers
Plastic bags
Hazardous Waste Drop-off
City of Shelton Household Hazardous Waste Collection Days is listed on the official website to keep residents up-to-date with upcoming events. All Shelton residents may take part in the Household Hazardous Waste Drop Collection events without any added fees.
Examples of household hazardous waste include:
Artist Supplies
Chemical Fertilizers
Airplane Glue
Toilet Cleaner
Driveway Sealer
Engine Degreaser
Furniture Polish
Moth Balls
Lighter Fluid
Fungicides
Insecticides
Fiberglass Resins
Oven Cleaner
Paint
Weed Killers
Paint Strippers
Transmission Fluid
Solvent Adhesive
Spot Remover
Wood Preservative
Bulk Waste Pickup
Bulky waste items can be disposed of by Shelton residents at the Transfer Station. See below for a list of items accepted.
Bulk items accepted at the Shelton Transfer Station include:
Air conditioners
Appliances
Batteries
Corrugated cardboard
Dehumidifiers
Furniture
Gas Grills
Lawn mowers
Mattresses
Metal
Playsets
Propane gas tanks
Toys
Trees & branches
Yard Waste Collection
Leaves should be placed in Biodegradable Brown Paper Bags only and should be left at the curb for collection on regular garbage collection days. The Transfer Station also accept yard waste such as Christmas trees, limbs, and branches. Click here for more information on Leaf Collection/Disposal.
Interesting Facts About Shelton
Shelton was incorporated in 1789 and has a population today near 40,000 residents. On July 31, 2009, an EF1 tornado blew through the town where there were some downed trees but fortunately no deaths. This is where a company like Easy Dumpster Rental can be used in helping your city with cleaning up after natural disasters. We can be there on a moments notice and is the most practical way to get your town back to normal. Both Pitney-Bowes and Tetley USA have operations in the city. Some notable people from Shelton include motocross  Hall of Famer  Doug Henry, Isaac Hull, who commanded the USS Constitution, and NFL QB Dan Orlovsky.
How Easy Dumpster Rental Prices Its Rolloff Units
Before renting a dumpster it's a good idea to get an understanding how we determine our rental rates. For your edification will explain the main factors that comprise our pricing model. We always give you a flat-rate pricing, with no surprise fees. The 4 components consist of: landfill fees, type of debris, the weight of the materials we will be transporting, and the length of the bin rental period.
Four main elements which influence the rolloff rental cost:
A) Landfill fees – The cost for disposing waste material and debris at a landfill generally varies between each city, county, and state. Thus, the price for dumping waste in West Haven may be higher or lower than that of Shelton. We cannot control what a landfill will charge. With that said, Easy Dumpster Rental will never tack on extra for landfill fees unless you go over the allowed weight limit or dispose of hazardous wastes. At the end of this article, we will list a few of the more common household hazardous materials.
B) Debris Type – The type of trash that you intend to dispose of will definitely affect the rental cost of your container. Companies like Easy Dumpster Rental by law must deliver debris collected to specific locations. Some landfills take all and any type of materials. Others, for instance, do not have facilities to handle recyclables. Prices for dumping recyclables tend to be lower than hazardous waste. In these cases, we will take your recyclables to the local recycling center.
C) Debris Weight – The volume of trash that you are getting rid of will determine the size of the rental can unit you will need. If you don't know what size you need, rest assured our sales agents will find the perfect size. Generally speaking, there is 5 basic roll off sizes:

10- cubic yards
15-cubic yards
20- cubic yards
30- cubic yards
40- cubic yards
There are other available dumpster sizes than those mentioned above, but they may not be available in every county. A rule of thumb, the greater the size, higher the starting cost. Customers tend to order larger canister units to get peace of mind to fit all the trash and not pay for an extra haul. That is unnecessary and a waste of your money.
We have created an easy to use dumpster weight calculator to help you make that decision. Our staff is highly skilled and knowledgeable and with a few questions about your project, they will get you the right roll off for the job. And keep in mind, that we service both the residential and construction markets. So, there is no job to big or small for us to handle.
D) Rental Period – Typically, rolloff dumpsters units are rented for 7-day or 14-day periods.however, we realize that life doesn't always go according to plan, so you can keep the dumpster has a long as you need it. Just let us know before the rental period is to expire so we don't have to charge you late fees. Also, we will send you an email to let you know that your rental period is nearing its end. We truly want you to have a wonderful experience with our company and we will do all it takes to make that happen. Here is a list of some common household hazardous waste:
Home heating oil
Antifreeze
Fluorescent light bulbs
Batteries
Driveway sealer
Pool chemicals
If you are not sure if something is hazardous please either check with us or call your local city officials and ask them. Another alternative is to check with your Regional EPA office.
It's that easy!
Call Our Team Now
1-888-792-7833