Dumpster Rental in Torrington, CT
The Lowest Rolloff Rental Prices Around
Click To Call 1-888-792-7833Click For Email Quote
Why We Offer Unique Roll Off Service In Torrington:
We run our company like a well-oiled machine. We take great pride in offering the consumer on time delivery and pick up that is guaranteed. No one can compete with our highly dedicated sales team members.
Over 15 years experience in the sanitation industry
Read stories about our very happy customers
We have rented over 100,000 bin units
Both residential-bins and construction container service available
A headache free ordering process with one simple phone call
Dumpster Rental Pricing in Torrington is Based on Many Different Factors
To Receive The Lowest Pricing, Call For A Customized Quote Now 1-888-792-7833
Save With Us Between $10 And $75 On Your Dumpster Rental Cost:
Easy Dumpster Rental is the brand to trust when it comes to the lowest prices in Torrington. We will match or beat any competitors rates without blinking an eye. So make us your first choice, you will be glad that you did.
All of our rates a very transparent, with no hidden fees
We use a flat rate pricing model that is guaranteed
15 years experience and industry knowledge equals the best prices
An easy to use dumpster weight calculator
Don't "WASTE" any more of your time. Call us now!
Earn Up To $50 | Share / Like Below
10 Yard Dumpster (2 TONS) 4,000LBS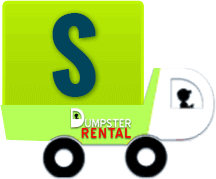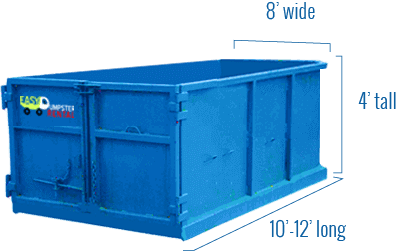 Easy Dumpster Rental
20 Yard Dumpster (3 TONS) 6,000LBS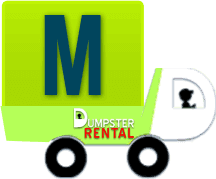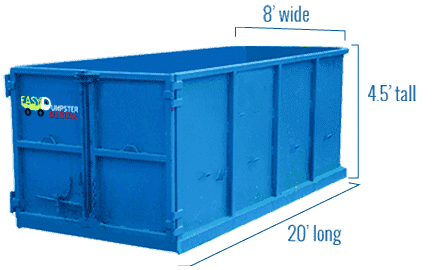 Easy Dumpster Rental
30 Yard Dumpster (4 TONS) 8,000LBS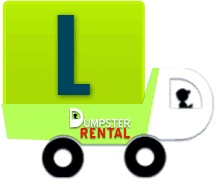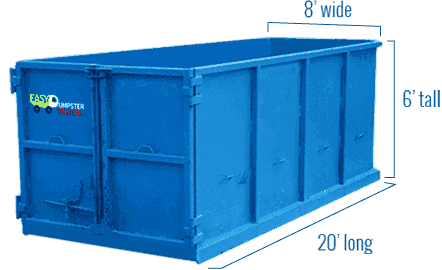 Easy Dumpster Rental
40 Yard Dumpster (5 TONS) 10,000LBS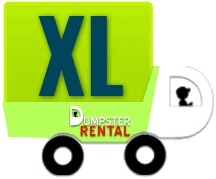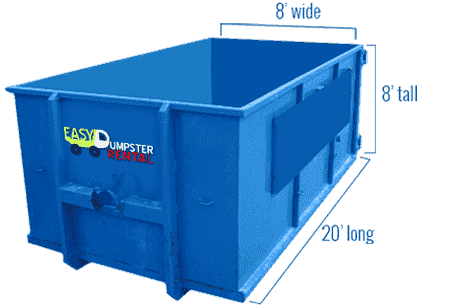 Easy Dumpster Rental
Landfill Location in Torrington, CT
Torrington is located in Litchfield County in the state of Connecticut. Automated trash collection service is provided to city residents on a regular basis. If convenient residents also have the option of delivering accepted waste to the Litchfield Public Works Recycling Facility. Some items are accepted at the facility free of charge while a fixed fee is applied to others. Click here for a full list of items accepted at the facility and prices.
Litchfield Public Works Recycling Facility
72 Little Pitch Road
Litchfield, CT 06759
Phone: 860-567-7579
Hours of Operation
Monday, Thursday, Friday, and Saturday: 7:00 a.m. to 3:00 pm
 Recycling in Torrington, CT  
The City of Torrington commenced a Single-Stream Recycling program back in 2009. Household received a 96-gallon blue recycle cart to store recyclables for collection by city haulers. Cans, bottles, paper and most other recyclables can now be mixed together in one container. Recycling is mandatory and residents are educated on the importance of recycling in order to build a green and cleaner Torrington.
Materials that should be recycled include:
Office paper
Glass bottles
Steel cans
Plastic bottles
Magazines
Newspaper
Some items that should not be included in recycling bins are:
Hangers
Plastic binders
Electronics
Plastic bags
Light bulbs
Straws
Hazardous Waste Disposal
Annual Household Waste Collection Days allow Torrington, CT   to dispose of poisonous, flammable and corrosive waste items around the home safely. Residents are encouraged to place products together in one box when attending the collection day. Pre-registration is required before attending the collection day. To register call 860 489 2232 or go here for more information.
Hazardous waste includes the following:
Automotive batteries
Mercury-containing thermostats
Automotive Oils
Waste oils
Cleaners
Automotive fluids
Waste fuels & solvents
Compact fluorescent bulbs
Fluorescent tubes
Yard Waste Pickup
The city will provide residents with two weeks' curbside collection of yard waste annually, generally from April 18th thru April 29th. During fall, pickup is provided for a total of four weeks from November 7th through to December 2nd. Visit the website for more information on yard waste collection.
Bulk Waste Services
Large waste items can be taken to the Litchfield Public Works Recycling Facility for disposal. A fee pf $10 is applied to large chairs, couches, rugs, fixtures, box spring, mattress and a fee of $5 is applied to smaller variations. Contact 860-567-7579 for more information and read more information on disposal at the facility here.
Interesting Facts About Torrington
Torrington was settled in 1735 and has a population near 35,000 residents. It has the largest Elk Lodge in New England. Once an old Mill town the city is currently undergoing a major revitalization program. The University of Connecticut has a regional campus located here. The city has a dozen National Historic Places including the Warner Theater and Warrenton Woolen Mill. Dick Ebersol, the head of NBC Universal Sports and the abolitionist John Brown, were both born in Torrington.
The WRAP Program Enjoying Great Success In Connecticut
According to a recent article in the E-Magazine, Waste 360, The Wrap (Wrap Recycling Action Program) initiative is starting to see some positive results in the state of Connecticut. The program was developed by the American Chemical Society and with help from the state's Department of Energy and Environmental Protection (DEEP) and its goal is to eliminate plastic film used in the film industry to be eventually eliminated.
The polyethylene film cannot be processed at regular facilities and must be taken to specialized treatment plants. If not properly disposed of the end result is devastating on our environment including clogging waterways and killing wildlife. The educational plan supported by both private and public funds is already in 20 cities throughout the state. You can read more here 
Get The Most Out Of Your Recycling Efforts
It is not always so obvious, but we have a recycling crisis in America. It's a fact that 70% of the solid waste we generate can be recycled but still ends up in our landfills. Thus, creating a situation where our landfills lack the resources at their facilities to handle all of the waste. So we need to step in and do our part. Most towns and counties in the United States offer curbside recycling. Usually, a household will be given 2 bins. One for solid waste and one for recycling. All we have to do is keep the two separate.
And to make it even easier the majority of municipalities offer single stream recycling. Which means that you don't even have to separate your recyclables anymore. They all can go into the same bin and the separation is done at either at the landfill which has a separate facility to handle recyclable's or it goes to your local recycling center.
If you are not sure what can be recycled you can go to your local city website and they will have a couple of pages dedicated to their recycling best practices. Here you will find information on what can and cannot be recycled.
Typically, the will even have a PDF you can print out with all the information and can be placed on the refrigerator for example. They will also have tons of general info on the benefits of recycling and where to take your recyclables if your city doesn't have a landfill nearby. Most towns have recycling centers or a Goodwill Store.
Recycling is the single most important contributions you can make to your city or county. Some benefits include:
Recycling keeps landfills from overflowing
Recycling keeps a city looking beautiful

It helps protect and keep our waterways, streets, and parks free from litter
Easy Dumpster Rental can be of help when it comes to recycling. We take great pride in doing our part to help keep our environment free from trash, pollution, etc…
If you have a load that needs to be taken to a recycling center, we a wide variety of dumpster sizes that can fulfill your needs. And we can do it far cheaper than renting a pickup truck and we can save you time also, by doing it in one simple trip. So keep us in mind for all of your trash disposal needs. We are the fastest growing container rental company in America.
It's that easy!
Call Our Team Now
1-888-792-7833