Dumpster Rental in West Haven, CT
Get Budget Busting Dumpster-Rental Prices
Click To Call 1-888-792-7833Click For Email Quote
Why We Offer Unique Roll Off Dumpster Service In West Haven:
Our mission here at Easy Dumpster Rental is to provide you the best customer service and the lowest prices in Connecticut. We make it our number one priority to put the customer first and foremost.
Rolloff sizes in 10, 20, 30, and 40 cubic yards
A headache free ordering process that is simply out of this world
A container visualizer to help you make the right choice for your dumpster rental needs
Same day service available in West Haven and beyond
Get an Online rolloff-can quote in a blink of an eye
Dumpster Rental Pricing in West Haven is Based on Many Different Factors
To Receive The Lowest Pricing, Call For A Customized Quote Now 1-888-792-7833
Save With Up to $80 On Your Next Canister Rental Cost:
We take great pride and are humbled by the many loyal customers that we have. Each year thousands of repeat customers count us to continue to offer low prices and outstanding service.
We utilize a flat rate pricing structure
Our competitors are weeping because that can't come close to us on can rental pricing
A simple to use dumpster weight calculator to ensure you always get the right size bin
You never have to fret over added fees. Our costs are upfront and transparent
Stop wasting your time and go with the low-cost leader
Earn Up To $50 | Share / Like Below
10 Yard Dumpster (2 TONS) 4,000LBS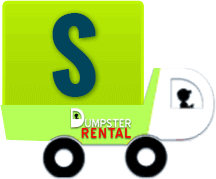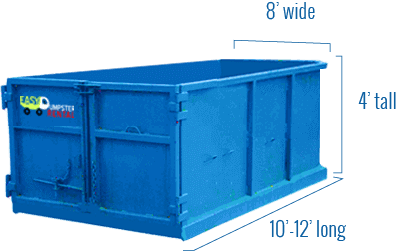 Easy Dumpster Rental
20 Yard Dumpster (3 TONS) 6,000LBS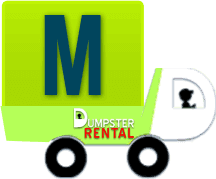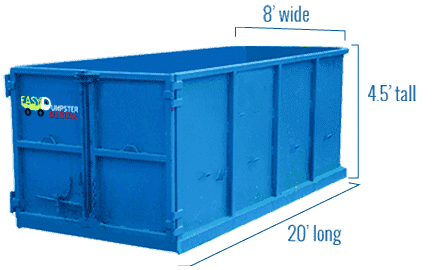 Easy Dumpster Rental
30 Yard Dumpster (4 TONS) 8,000LBS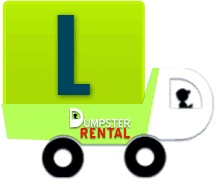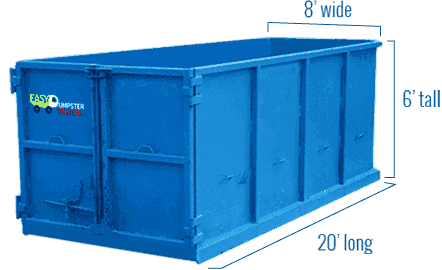 Easy Dumpster Rental
40 Yard Dumpster (5 TONS) 10,000LBS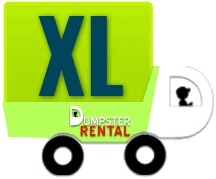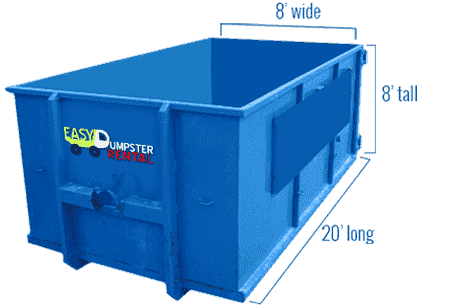 Easy Dumpster Rental
Landfill Location in West Haven, CT
West Haven is located in New Haven in Connecticut. The City of New Haven operates a transfer station that occupies 2.5 acres of land that provides residents with solid waste management services. The transfer station offers a fee for services to contractors and private haulers within the area with a valid license.
New Haven Transfer Station
260 Middletown Ave
New Haven, CT 06513
(203)-946-8109
Hours of Operation
Monday to Saturday: 5:00 am to 3:00 pm
Sunday: Closed
Contact (203) 946-7700 for more information.
Recycling Service in West Haven CT
The city of West Haven provides single-stream recycling through to residents. The aim of the program is to raise awareness among residents about the importance of recycling and to educate residents about recycling. Access the Recycle Quick List on the website for more details.
Here is a short list of materials that should be recycled:
Gift Wrapping Paper
Paper bags
Junk mail
Newspapers & inserts Telephone books
Glass jars & bottles
Magazines & catalogs
Tin or steel cans
Cardboard
Flatten all boxes
Here is a short list of materials that should never be placed inside the bin: Motor oil containers:
Light bulbs
Ceramics or dishes
Gift Ribbon and Bows
Electronics
Window glass
Styrofoam
Mirror glass
Garbage
Food waste
Hazardous Waste Collection
Household hazardous includes everyday products utilized in and around the home. They are products that are considered to be flammable, reactive, toxic or corrosive. All products of this nature should be safely disposed of. West Haven, CT residents can visit HazWaste Central to dispose of these items. Participants can remain in their cars while the waste is off-loaded by workers on site.
Click here to learn more.
Household waste that is considered to be hazardous waste include:
Shellac
Paint reducers
Lacquer thinners
Tints
Oil or latex
Polyurethane
Primers
Stains
Varnish
Yard Waste Drop-off
The compost site located at 1 Kimberly Ave. accepts yard waste from West Haven, CT residents. It site aims at helping residents save money and keep leaves out of the city's waste stream.
Compost Site
1 Kimberly Avenue
West Haven, CT 06516
June – October Hours
Weekdays – 7:30 a.m. – 2:30 p.m.
Saturday – 7:30 – 11:30 a.m.
Bulk Waste Disposal
Bulk waste will be collected four-time through the year at the curb on collection days. The currently designated pickup days are March 6-10, June 5-9, Aug. 7-11 and Oct. 2-6. Items that qualify for pickup include couches, chairs, mattresses, tables and carpet. A limited amount of 6 cubic yards is allowed per household for each pickup.
Other Interesting Facts About West Haven
West Haven was settled in 1648 and played a very strategic role in the Revolutionary War as a site for raiding parties.Today the population is 55,000 residents and has 1/4 of all publicly accessible beaches in all of the state. The city is home to 4 National Register of Historic Places including the Ward-Heitman house. The University of New Haven is also located here.Some notable from the area include Rufus Porter who founded the science magazine "Scientific American," actress Melanie Chartoff, and children's writer, Eleanor Estes.
The Immediate Need To Recycle, Especially Plastics
According to the Plastic Ocean Foundation a non-profit organization out of California, 8 million tons of plastics are dumped into our oceans every year. In addition, it is estimated that there are over 5 trillion pieces of plastics floating in our seas at any given time. This is a tragedy of epic proportions that must be addressed immediately. Some other facts:
500 billion plastic bags are used annually every year
One plastic bag is used for only 15 minutes
Over the last decade, we have produced more plastic than the whole of the last century
The process of producing one bottle of water requires about 6 times more water that is actually in the bottle. Amazing!
It can take up to 400 years for plastic to degrade while it is in water compared to cardboard that only takes 2 weeks to breakdown
If these facts don't alarm you, they should. Plastics are slowly destroying our vital oceans. And we all must do our part to stop this assault on our oceans. And the easiest way to combat this issue is to recycle. And this is something we all can do and if we don't, we will face some dire consequences one day. The 3 most frequently used words associated with recycling are; Reduce, Reuse, Recycle.
Reduce: Lessen the amount of waste in your living spaces. This will have a diminishing effect on greenhouse gas emissions. Thus improving our air water quality. Typically, when debris is taken to a landfill it is incinerated which pollutes the air which negatively impacts the quality of the air. Unfortunately, some particulates fall into the water and can adversely affect our lakes, rivers, etc… and sadly, our drinking water.
We are losing our beautiful forests. If we would cut down on paper products or make sure they are recycled, our forests will have a chance to survive. And energy consumption is greatly reduced by recycling. One statistic states that recycling soda cans can save up to 95% of the energy used to manufacture theses cans from raw materials. And recycling just one glass bottle can power one light bulb for four years. That is an astonishing fact.
Reusing: Will have a positive impact on our eco-systems. Take plastic bags for example. Instead of using the plastic bag at the grocery store, buy a tote bag instead. If you do bring plastic bags home from shopping, try to find another use for them. But ensure that these bags are put into a recycling bin.
As mentioned above it takes decades or hundreds of years in some cases, for plastic to decompose. Plastic bags have many harmful chemicals that can leach into our underground aquifers. Some products that you are familiar with that are be reused include newspapers, paper towels, soda cans, newspapers, and the list goes on.
Recycling: In some states, soda cans, glass bottles, steel, rubber, copper, and appliances can be turned in and you can receive some extra money. There are hundreds of thousands of new jobs added each year and billions of dollars are being pumped into our economy as a direct result of recycling.
Most municipalities make in very easy to recycle. And most towns provide bins to help you in this endeavor. If you are not sure what and what can't be recycled, check your local city hall website or call your local officials. Everyone needs to be educated on the possibilities of recycling and the tangible benefits it provides for our environment and the economy.
Easy Dumpster Rental can be helpful when it comes to helping you recycle. We have a wide variety of dumpsters sizes and we will be more than happy to take your recyclables to a landfill that accepts recyclables or to the local recycling center. We are a "Green" company trying to its part in keeping our environment pristine and a cleaner place for generations to come.
It's that easy!
Call Our Team Now
1-888-792-7833