Dumpster Rental in Dover, DE
Get Superior Rolloff Rental Price & Service Now
Here Is Why Dover Residents Are In Love With Our Service:
Choosing Easy Dumpster Rental is a no-brainer. We provide the best customer service in all of Delaware and beyond. Our sales agents are highly trained and stand at the ready to make your day go perfectly.
A dumpster conversion visualizer that will help you compare sizes with ease
Over 15 years in the sanitation industry and it shows with the great service you will receive
We will never "Waste" your time
Same day service available in Dover and surrounding towns
We cannot accept flammable or hazardous materials
Dumpster Rental Pricing in Dover is Based on Many Different Factors
To Receive The Lowest Pricing, Call For A Customized Quote Now 1-888-792-7833
Save With Us Between $10 And $89 On Your Dumpster Rental Cost:
We all desire to save money. And that is what will happen if you choose us for your bin rental needs. We have the lowest prices and we guarantee it. No one can compete with us on rates.
Our sales team doesn't work on commission and as a result no high-pressure sales tactics.
A simple to use dumpster weight calculator to ensure accurate pricing
No hidden fees whatsoever and very transparent pricing model
Rock bottom Flat rate prices which include delivery, pickup, and disposal
Call us ASAP! It will be the smartest decision you have made in a long time
Earn Up To $50 | Share / Like Below
Click To Call 1-888-792-7833
Click For Email Quote
10 Yard Dumpster (2 TONS) 4,000LBS
Dumpster Calculator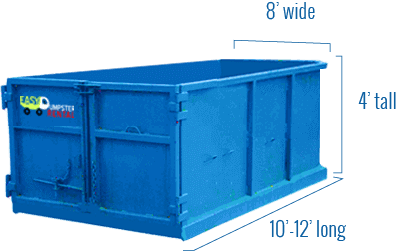 Easy Dumpster Rental
20 Yard Dumpster (3 TONS) 6,000LBS
Dumpster Calculator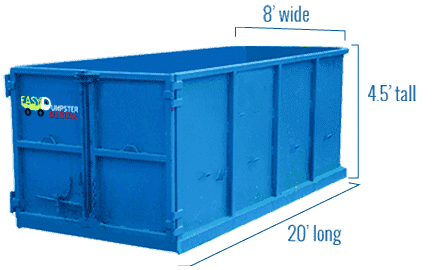 Easy Dumpster Rental
30 Yard Dumpster (4 TONS) 8,000LBS
Dumpster Calculator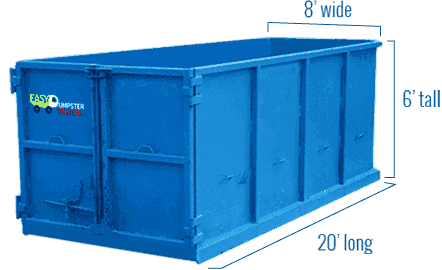 Easy Dumpster Rental
40 Yard Dumpster (5 TONS) 10,000LBS
Dumpster Calculator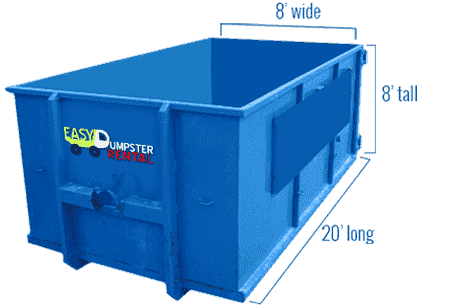 Easy Dumpster Rental
Waste Managment & Landfill Location Dover, DE
Dover is a city that is located in Kent County in the state of Delaware. The city of Dover (and the rest of Kent County) can also make use of the services of the Sandtown Landfill.
Sandtown Landfill
1107 Willow Grove Rd
(Rt. 10)
Felton, DE 19943
The Sandtown Landfill accepts residential waste at the designated Small Load Collection Area; the rest of the facility is designated for commercial and industrial waste disposal.
Dover's Public Works Department provides residents with convenient weekly household trash collection services.
Dover Public Works Department
City Hall – 15 Loockerman Plaza
Dover, DE 19901
(302) 736-7025
Monday to Friday; 8:30 AM to 4:30 PM
Recycling In Dover
The Dover Public Works Department also provides residents of Dover with convenient recycling collection services on a weekly basis.
Residents of Dover who want a drop off location for their recyclables can do so at the Delaware Solid Waste Authority.
Delaware Solid Waste Authority
1128 South Bradford Street
Dover DE 19903
(302) 739-5361 & (800) 404-7080
Monday to Friday; 8:00 AM to 4:30 PM
The following materials are accepted at this facility:

Single-stream recycling
Household batteries
Oil filters
Motor oil
Corrugated cardboard
Textiles
Household Hazardous Waste
Residents of Dover – as well as residents all across the state of Delaware – are advised to make use of the household hazardous waste disposal services that are provided by the Delaware Solid Waste Authority.
The Delaware Solid Waste Authority organizes and manages several household hazardous waste collection events through the entire year, in various locations throughout the state.
In addition to this, the Delaware Solid Waste Authority also has weekly household hazardous waste collection services provided at specific locations in the state of Delaware.
More information on these services can be found here.
Yard Waste
Residents of Dover can dispose of any yard waste that they have at the Sandtown Landfill. Leaves, shrubs, branches, and grass, are all accepted. More information on this yard waste drop off service can be found here
Other Interesting Facts About Dover
Dover is the capital of Delaware and it's a second largest city with 37,000 residents. The city was founded in 1683 and sits along the Saint Johns River. Kraft Foods and Proctor and Gamble have manufacturing facilities located here. Dover Air Force Base is located here and is one of the cities largest employers. Both Delaware University and Wesley College have campuses here. There are also satellite campuses for the University of Delaware and Wilmington University. Some notable people from Dover include actress Teri Polo, World War Two U.S. Marine Brigadier General Gilder J. Jackson, Jr.,  who won the Navy Cross and a very well know astronomer, Annie Jump Cannon.
How We Price Our Rolloff Rentals
We want to make it crystal clear on what you are getting when you rent a bin unit from us. The 4 main factors in our pricing model include Landfill costs, Debris weight, Debris type, and Rental fees. Also, you get delivery, pickup, and disposal in one flat low rate. And, you can call us anytime if you have any questions or refer to our FAQ page for the answers you need.
Here are the major factors that make up your bin dumpster costs:
A) Landfill Fees
Every city, county, state will have different prices for disposing waste material and debris at a landfill. Therefore the cost for dumping waste in Dover may be higher or lower than that of Wilmington. This factor will impact your dumpster rental cost. With that said, Easy Dumpster Rental promises it will never charge extra for landfill fees unless you go over the allowed weight or dispose of hazardous materials. And speaking of hazardous waste, the EPA will levy heavy fines on you if you are caught trying to dispose of these highly dangerous materials.
B) Debris Type
The rental cost of your dumpster will be determined by the type of waste or debris that you are disposing of. Companies like Easy Dumpster Rental are required to send certain debris collected to specific locations. Some waste can be disposed of at your local recycling facilities at a lower cost. Keep in mind that certain materials that can be recycled tend to have lower rates than non-recyclable or hazardous materials. Also, it is interesting to know that over 70% of all household solid waste sent to a landfill can be recycled. So try to recycle whenever you can and keep our landfills from bursting at the seams.
C) Debris Weight
Typically, front load bin units come in four sizes: 10, 20, 30, or 40 cubic yards. A 10-yard canister is going to cost less than a 30-yard container. So your rate will be dictated by the can size you require. Please note that there are bin units that fall in between the sizes mentioned above, but they may not be available in your area. Just check with the office when you call. Sometimes customers for peace of mind order a rolloff-bin that is too large for the job just to play it safe. There is no reason to do this. We can tell you exactly what size canister you need and in the process save you money. We want to save your hard earned money not take it from you so we can make a few extra bucks.
D) Rental Period
Typically and from our vast experience household rehab jobs last 7 to 14 days. However, we realize things don't always go as planned. So, you can keep your container unit as long as you need it. But if you see that you are going over the agreed upon lease time, please call our office so you don't get charged late fees and so we can work out a new rental agreement. We have a friendly and very helpful staff that will be happy to accommodate your every need. We also rent construction dumpsters and can handle any size project. From a huge demolition job to a hotel renovation.
It's that easy!
Call Our Team Now
1-888-792-7833