Dumpster Rental in Davie, FL
Get Unmatched Low Rates On Trash Dumpsters
Reasons Davie Residents Applaud Our Team Members:
Patience, attentiveness and clear communication skills are the trademarks of our industry-leading service. Our knowledgeable staff possesses commendable interpersonal and communication skills. We guarantee satisfaction to all Davie residents who use our convenient dumpster service.
Get a free quote in just 3 minutes
Flexible delivery and pick-up schedule
We have many happy customers – read their stories
Davie RollOff selection of 10, 20, 30, and 40-yard dumpsters
24-hour roll off dumpster delivery
Dumpster Rental Pricing in Davie is Based on Many Different Factors
To Receive The Lowest Pricing, Call For A Customized Quote Now 1-888-792-7833
Don't Overspend – Save As Much As $150 With Us:
Renting from us is definitely money well spent on first-class dumpster services. Our keen industry knowledge and determination to offer the best prices make renting from us is a pleasure. Davie residents get quality for every dollar spent with us.
Flat pricing model on all dumpsters in Davie, FL
Transparent pricing model with no hidden fees
Best dumpster price all day long
All dumpster sizes at attractive rates
Simple dumpster calculator for your convenience
Earn Up To $50 | Share / Like Below
Click To Call 1-888-792-7833
Click For Email Quote
10 Yard Dumpster (2 TONS) 4,000LBS
Dumpster Calculator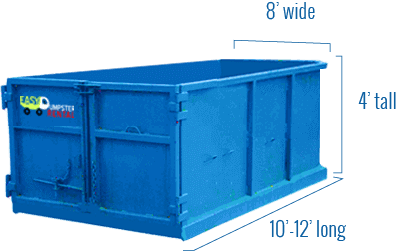 Easy Dumpster Rental
20 Yard Dumpster (3 TONS) 6,000LBS
Dumpster Calculator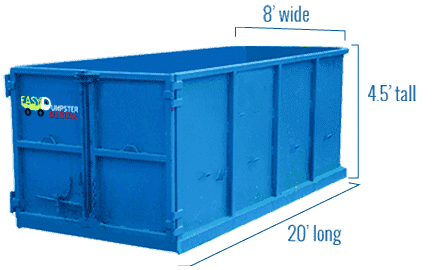 Easy Dumpster Rental
30 Yard Dumpster (4 TONS) 8,000LBS
Dumpster Calculator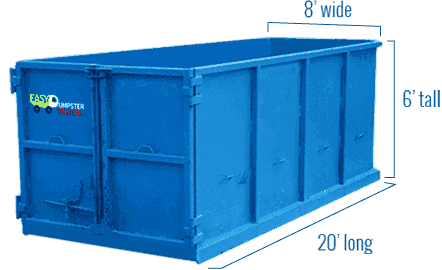 Easy Dumpster Rental
40 Yard Dumpster (5 TONS) 10,000LBS
Dumpster Calculator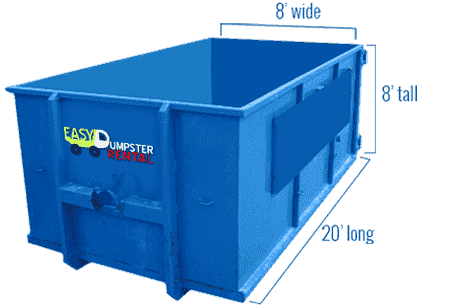 Easy Dumpster Rental
FAQ By Davie Residents
What should I do when I am ready for my dumpster to be picked up?
Once you are done filling up your dumpster, contact Easy Dumpster Rental to schedule your roll off can pick up. The staff will be more than happy to assist you with scheduling your waste removal after your rental period has ended. If you call to schedule a pick up before packing away all your waste, then our haulers will have to leave without the dumpster behind, which can result in additional fees being added to your overall rental price. You will also have the hassle of rescheduling your pickup.
What else can subject me to additional fees?
Packing your roll off container with excess waste can result in addition fees. Scheduling a dumpster can to be delivered to a public property before obtaining a permit can also result in additional charges. Lastly, if your location is not easily accessible by our haulers then additional charges may be added to your account. This means that if you schedule your delivery but the staff is unable to get to your location, then they could return without delivering the dumpster; resulting in more fees being added to your account.
How affordable are your rates?
Easy Dumpster Rental has acquired extensive experience by working in over 40 states in the US and serving thousands of customers. Because of our large customer base, we can reward our customers with lower rates for roll off bins of varied sizes in comparison to other services providers. In addition, we do not have to outsource our business due to our locations in Florida.
List of Hazardous Materials In  Davie, Florida
State regulations prevent the disposal of certain hazardous materials in roll off bins provided by dumpster rental companies. These products include:

Appliances
Asbestos
Explosives
Medical Waste
Infectious Waste
Gas cylinders
Flammables
Batteries
Paint
Pesticides
Motor Oil
Cleaners
Disinfectant
Drugs
Fertilizers
Fungicides
Grease
Glue
Inks
Lead
Mercury
Paint solvent
Pool chemical
Pump oil
Resins
Thinner
Weed killer
Sodium lamps
Propane
Insect spray
Etc.
How To Dispose Of Hazardous Materials In Davie?
If your are a resident of Davie then you can drop off hazardous household items at the locations below. Avoid placing explosives and other unacceptable products into your bin.
Pine Island Park (Bamford Sports Complex)
3801 S. Pine Island Road
Davie, FL 33328
Davie Town Hall (north parking area)
6591 Orange Drive
Davie, FL 33314
Shenandoah Park
14452 Shenandoah Parkway
Davie, FL 33325
Electronics can be dropped off by residents at the location below:
ARC Ft. Lauderdale
3300 S.W. 13th Avenue,
Fort Lauderdale, FL 33315,
Contact: 954-577-4160
Recycling in Davie, Florida
Waste Management has teamed up with the Town of Davie to provide residents with an improved curbside recycling program; primarily for single family residences. Residents can simply place acceptable recyclable products in the roll-out cart then leave it at the curb so that it can be collected. If you would like to talk to someone from the Town of Davie about recycling options, contact Gay Moo Young at 954-797-1045. Contact Waste Management at:
Waste Management
3250 Fields Road,
Davie, FL 33314
Contact: 954-975-7500
It's that easy!
Call Our Team Now
1-888-792-7833