Dumpster Rental in Palmetto, FL
Get A Front Load Unit From The Industry Leader
How Our Roll-Off-Can Service Surpasses Our Competitors:
Easy Dumpster Rental saves money with its prices, but also saves its customers time by being the fastest and most flexible company out there.
Easy Dumpster Rental leads in high-quality service in Palmetto.
Our great service has earned considerable customer satisfaction.
We love to do your dirty work.
Our team is ready to respond to any of your questions.
We also have great dumpster online tools to help you plan right.
Dumpster Rental Pricing in Palmetto is Based on Many Different Factors
To Receive The Lowest Pricing, Call For A Customized Quote Now 1-888-792-7833
Easily Obtainable Savings From $20 to $120 On Dumpster Rental Cost:
If you want the best pricing and service anywhere, go with Easy Dumpster Rental.  Our low prices make thousand of customers happy each week.
Easy Dumpster Rental's pricing has no equal.
Getting a quote is effortless and swift.
The quote you get is the price you get.
We guarantee our rates in Palmetto and across the country.
Coupons might also help you save more.
Earn Up To $50 | Share / Like Below
Click To Call 1-888-792-7833
Click For Email Quote
10 Yard Dumpster (2 TONS) 4,000LBS
Dumpster Calculator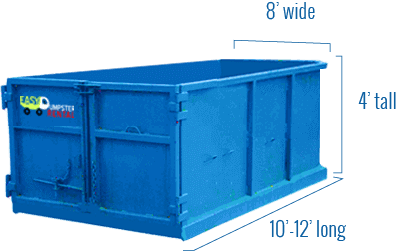 Easy Dumpster Rental
20 Yard Dumpster (3 TONS) 6,000LBS
Dumpster Calculator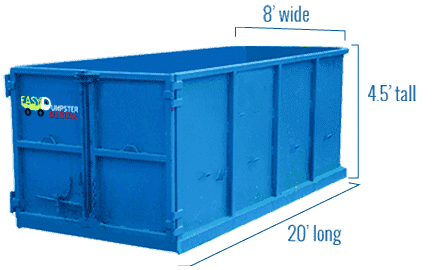 Easy Dumpster Rental
30 Yard Dumpster (4 TONS) 8,000LBS
Dumpster Calculator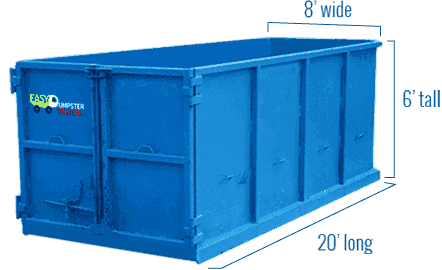 Easy Dumpster Rental
40 Yard Dumpster (5 TONS) 10,000LBS
Dumpster Calculator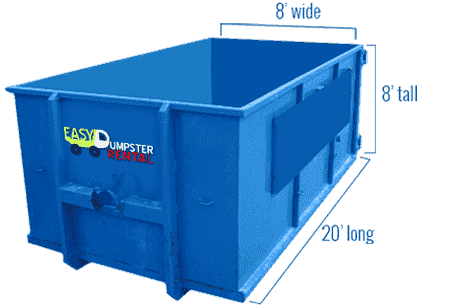 Easy Dumpster Rental
Landfill and A Brief History of Palmetto
Palmetto is a city in Manatee County on the Gulf of Mexico in Florida. The city was incorporated in 1897 and the name "Palmetto" taken from the palmetto trees that grew near the town.  Perhaps more importantly, the city's founder, Samuel Sparks Lamb, named the city after his home state, South Carolina, or the Palmetto State. Early growth of the city was in part due to the fertile land and the Manatee River, which was both attractive and industrious for trade.  In 1902, the city of Palmetto would additionally benefit from the railroad's arrival, which gave access to building materials and other resources. Even today, Palmetto is still known for its fruits and vegetables.
Landfill in Manatee County
Manatee County uses the Lena Road Landfill.  The facility processes over one thousand tons of material per day and over three hundred thousand tons of material each year. The landfill also processes over one hundred and thirty tons of recycling each day for a total of almost thirty-five thousand tons each year and diverts almost forty thousand tons annually.
Lena Road Landfill is located south of State Road 64, 1 mile east of I-75 at 3333 Lena Road, Bradenton Florida 34211 and is open Monday through Saturday from 8:00 a.m. to 5:00 p.m. All waste haulers are recommended by the landfill to use trucks with a high ground clearance.  Waste is charged based on the type of material that is being hauled in and charged at different rates as follows:
Standard waste, yard trash, and white goods are charged at a rate of five dollars for a car (no trailer) and forty dollars per ton for other vehicles with a minimum of twenty dollars per ton.
Construction and demolition debris is processed at a rate of sixty-one dollars per ton with a minimum of thirty dollars and fifty cents per ton.
Tires are disposed of for eighty-six dollars per ton with a minimum of forty-three dollars.
Non-standard waste, such as ash and residue, contaminated soil, and asbestos, is processed for sixty-one dollars per ton with a minimum fee of about thirty dollars.
Additional charges:
Waste that originates from outside of Manatee County is changed at a tripling of the above rates.
Loads that arrive that are not properly covered will result in a doubling of tipping fees.
Mixed loads that are not properly separated will result in a doubling of tipping fees.
What Kinds of Projects can Benefit from A Dumpster Container
Easy Dumpster Rental offers a range of dumpsters and services to make almost any project easy. Many residents do not realize how much a dumpster can help on smaller projects, while contractors may not realize there are more low-cost options available.  Here are some expels of the types of projects that Easy Dumpster Rental services.
Spring-cleaning: In many cases, spring cleaning can quickly produce more refuse than expected, and take a lot of time get rid of waste or frustration to neighbors as trash sits on the road.  Renting a dumpster can make a spring-cleaning fast.
Reorganizing: If you are organizing your attic, shed, or garage, make the process a breeze with a small dumpster that will help finally get rid of everything that you don't need.
Home moves: Many people don't think about it, but when you move it is a perfect time to glean what is needed from what is just taking space.  A dumpster can both help residential moves get rid of unwanted items and save time when it is important.
Events: Whether it is a wedding, a family gathering, or a party, events generate a storm of debris that can be worse than a hangover.  Quickly and effectively clean with dumpster bin that can be delivered exactly when you need it.
Landscaping: Landscaping projects produce massive yard waste that that can benefit from a dumpster. The right easy dumpster bin can take landscaping debris, such as grass, weeds, leaves, and small branches.
Remodeling: Dumpster bins are great if you are doing some work on your bathroom, kitchen, or other rooms or replacing carpet, re-tiling, or re-roofing.
Construction and renovation:  Construction and demolition projects require the right dumpster bin for the job.  Easy Dumpster Rental construction dumpsters are strong and can handle dirt, concrete, siding, roofing shingles, and other materials.
It's that easy!
Call Our Team Now
1-888-792-7833