Dumpster Rental Port St. Lucie, FL
Cheap Rolloff Rentals For Any Needs
Why We Offer Unique Roll Off Dumpster Service:
We don't use the term "Customer Satisfaction" casually. This is our most core value and we protect our reputation on a daily basis.
We take the pain out of ordering a dumpster with our fast & easy order process.
Same day dumpster rentals available.
3-minute quote service on all rolloff's.
We have many happy customers see their stories.
We have dumpster calculator.
Committed to on-time delivery.
Dumpster Pricing in Port St. Lucie, Florida is Based on Many Different Factors
To Receive The Lowest Pricing, Call For A Customized Quote Now 1-888-792-7833
Save With Us Between $10 And $150 On Your Roll-off Rentals:
When on-time delivery, followed by a prompt pickup and affordable pricing are important, Easy Dumpster Rentals is the brand to trust.
Years of experience gives us an opportunity to low pricing.
Established connections allow us to serve customers with best rental price.
Simply we will save you money.
Flat roll off rental fees guaranteed.
No hidden fees on any rentals.
Earn Up To $50 | Share / Like Below
Click To Call 1-888-792-7833
Click For Email Quote
10 Yard Dumpster (2 TONS) 4,000LBS
Dumpster Calculator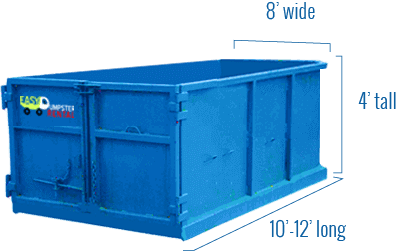 Easy Dumpster Rental
Dumpster Dimensions
4' High, 8' Wide, 10-12' Long
Ideal For
Smaller clean out or construction projects
One car garage cleanups or restroom remodeling
Smaller painless placement and loading.
The 10 yard roll off bin is the smallest rental dumpster available for debris clean up and small home renovation projects. This dumpster can also be ideal for a 1500 sq ft roof remodeling projects.
20 Yard Dumpster (3 TONS) 6,000LBS
Dumpster Calculator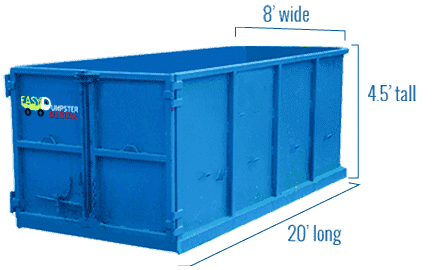 Easy Dumpster Rental
Dumpster Dimensions
4.5' High, 8' Wide, 20' Long
Ideal For
Bigger garage cleanouts
heating & air conditioning
house remodeling
carpeting
roofing
minor landscaping
20 yard dumpsters are perfect for projects that generate between 10 and 20 cubic yards of waste material, which is equivalent to the amount of debris that can be transported by 6 pickup trucks. It's a customer favorite for carpet removal, deck remodeling, and roof renovation projects that produce up to 3000 sq ft of shingles
30 Yard Dumpster (4 TONS) 8,000LBS
Dumpster Calculator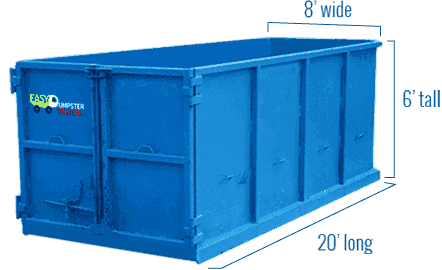 Easy Dumpster Rental
Dumpster Dimensions
6' High, 8' Wide, 20' Long
Ideal For
Major Construction
Remodeling Projects
Demolition
Tree Removal
Large Landscaping
The 30 yard dumpster is the perfect choice for those projects where the 20 yard dumpster just can't get the job done. 30 yard dumpster bins have the capacity to accommodate loads that are roughly equal to 9 pickup truckloads. It's ideal for large construction and demolition projects.
40 Yard Dumpster (5 TONS) 10,000LBS
Dumpster Calculator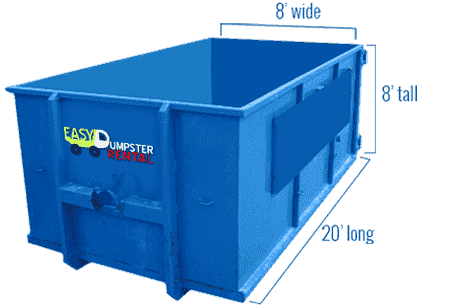 Easy Dumpster Rental
Dumpster Dimensions
8' High, 8' Wide, 20' Long
Ideal For
Metal Recycling
Major Remodeling Projects
New Construction Projects
Commercial Building Clean-Outs
Apartment Buildings Roof Replacement
Large Volume Cardboard, Paper Disposal
When dealing with large amounts of waste materials, renting a 40 yard roll off bin is the best option. 40 yard dumpsters are tailored to accommodate extensive waste from major renovation projects. They have the capacity to transport waste material equivalent to 12 pickup truckloads.
Saint Lucie County Sanitary Landfill
6120 Glades Cut Off Road
Fort Pierce, FL 34981-4301
St. Lucie County
Phone: (772) 462-1768
RECYCLING OPTIONS IN ST. LUCIE
In partnership with Waste Pro, a single-stream recycling facility was made available to residents in St. Lucie County in 2014. Single-stream recycling refers to a waste disposal system that includes the collection of recyclable items such as metal, plastic bags, paper, and other items, which are then processed. The system was initial set up to reduce the area's carbon footprint and help to reduce the strain on the environment. Household recyclable waste materials are collected by Waste Pro, you can find their information below.
Waste Pro Of Florida, Inc.
17302 Pines Boulevard
Pembroke Pines, FL 33029
Contact: 954-282-6800
HOW To FILL UP YOUR DUMPSTER
Few things that you will want to know before you start filling up your dumpster.
Firstly, it's important that you do not overload your roll-off dumpster since haulers will not be able to transport it safely. If a dumpster has material protruding at the top, the hauler will be unable to remove it from the property as is. The problem is that it's prohibited by law for most drivers to transport dumpsters that are overpacked. Therefore it's imperative that you ensure that the waste material in your dumpster does not surpass the open-top of your dumpster.
Secondly, it is important to keep the weight limit of the dumpster bin in mind when filling it with waste material from your project.  Most dumpster rental companies will apply additional fees to overweight dumpsters due to transportation requirements, therefore if you are working with a budget try not to exceed the weight limit.
Lastly, bear in mind that hazardous materials should not be placed in your roll off bin. Dumpster rental companies are not permitted to dispose of flammable and hazardous items due to potential environmental problems that they may cause. Insulation materials, metal, wood, furniture, and clothes are a few of the items that can be placed in your dumpster. Don't hesitate to contact Easy Dumpster Rental for more information on acceptable waste materials for all roll off bins.
HAZARDOUS MATERIALS THAT SHOULD NOT BE PLACED IN YOUR ROLL OFF CAN
As with most counties in Florida, regulations for recycling facilities and municipal landfills in St Lucie prohibit the disposal of hazardous materials using roll off dumpsters. Here are a list of some hazardous waste materials:

Toxic Waste
Pesticides
Cleaners and solvents
Wood preservatives
Mercury-containing products
Corrosive Waste
Toilet cleaners
Drain cleaners
Rust erasers
Oven cleaners
Swimming pool acid
Flammable Waste
Aerosol nail polish
Engine cleaners
Roofing tar
Charcoal lighter
Air pollutant water
Air spray
General household cleaners
Water pollutant waste products
Chemicals
Mercury
Lead
Methyl ethyl ketone
Electronic items
Automobile batteries
Computer monitors
Etc.
INSTRUCTIONS FOR DISPOSAL OF HAZARDOUS MATERIALS IN ST. LUCIE
St Lucie County residents are encouraged to utilize the free Household Hazardous Waste Center. In most cases, you will be required to show proof of residency in order to dispose of your waste. State law prohibits the transport of over 100 lbs of hazardous household material at once, so bear in mind that waste that exceeds this amount will not be accepted. Only household waste is accepted. Explosive waste and other hazardous waste will not be accepted. Items such as electronics and asbestos products can be taken to the address below.
It's that easy!
Call Our Team Now
1-888-792-7833