Dumpster Rental in Duluth, Georgia
Get Best Garbage Dumpster at Lowest Rate!
Click To Call 1-888-792-7833Click For Email Quote
We offer rolloffs with the best service:
Why make renting a dumpster hard? Not at Easy Dumpster Rental. We move quickly to make you a satisfied customer.
A staff with real life experience in the dumpster rental field
Renting doesn't need to be complicated
Friendly, knowledgeable sales team
Free online quote in less than 2minutes
We love serving and answering questions
Dumpster Rental Pricing in Duluth is Based on Many Different Factors
To Receive The Lowest Pricing, Call For A Customized Quote Now 1-888-792-7833
With us saving money isn't just a slogan:
Our success depends on helping you save money. We guarantee your happiness and a money saving experience.
Our rates will keep you coming back
No gimmicks or come – ons
Like to save$100? Call us right now
No hidden fees at all at any times
Earn Up To $50 | Share / Like Below
10 Yard Dumpster (2 TONS) 4,000LBS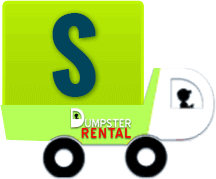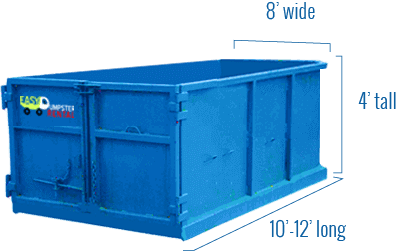 Easy Dumpster Rental
20 Yard Dumpster (3 TONS) 6,000LBS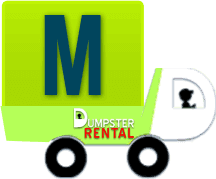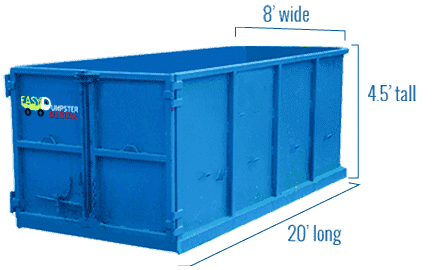 Easy Dumpster Rental
30 Yard Dumpster (4 TONS) 8,000LBS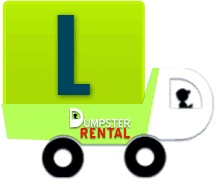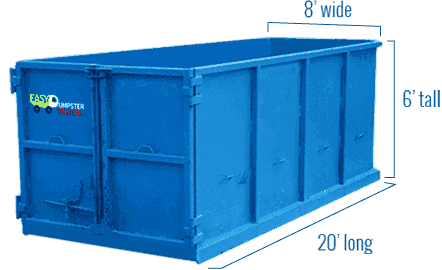 Easy Dumpster Rental
40 Yard Dumpster (5 TONS) 10,000LBS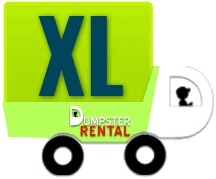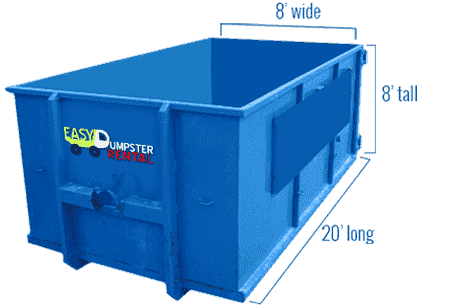 Easy Dumpster Rental
Renting a Dumpster vs. Buying  a Dumpster Bag
I'm sure you have seen the commercials many times on the ease and simplicity of using a dumpster bag. But don't be fooled by these ads. Buying a dumpster bag has many drawbacks then renting a dumpster. First of all, you need to go to your local hardware store to purchase a bag. Depending on where you live the costs can begin at $30 or more. Then you need to arrange for a pickup and again, depending what city you live in,  the prices can be $150 or more. So right there you have spent close to $200.
There are limitations on size and what you can fill a bag with. Dumpster bags come in one size and one size only;  3 cubic yards or 600 gallons of debris. Then there are restrictions placed on what you can fill the bag with. For example, the only allocate 1 cubic yard out 3 cubic yards for heavier materials. So if you have a project that is basically hauling away dirt, rock, or asphalt and you have more than 1 cubic yard, you are going to need more than one bag. More added expense. And a bag is going to be harder to load. It just doesn't have the rigidity and stability of a steel dumpster. It just doesn't make sense from a practical or economical model.
Now renting a roll off dumpster offers you a great price point in comparison to a bag. Usually, most dumpster companies smallest dumpster is going to be 10 cubic yards and hold 2 tons of debris. That is almost 3 times more cubic feet. Another great advantage to renting a dumpster is that all the space can be utilized to carry everything a bag can't. No matter if you are hauling away dirt, rock, sand or gravel, no problems. The space in a dumpster isn't allocated for certain debris. And just for few dollars more you get a monster size dumpster in comparison to a bag and the savings you will experience over the long haul will be priceless. So don't fool around with a dumpster bag, rent a dumpster from Easy Dumpster Rentals and save yourself time and money.
What is Hazardous Waste
The United States Government in its infinite wisdom, decided a few decades ago that the public needed an organization to help monitor certain situations to help keep the citizens safe and protected. One of these agencies that they set-up was the Environmental Protection Agency or the EPA. And one of the major functions of the EPA is to help the public identify materials that may harm not only the people of this country but to aid in keeping our country from experiencing life-threatening situations brought on by the use and/or disposal of hazardous waste.
The EPA also felt that it needed to publish for the public, guidelines on hazardous waste and make it readily available for anyone who was interested in this discovery. So, through this EPA website, they have provided an easy to read pamphlet to help you with understanding what constitutes hazardous waste materials. And these materials may not even have been on your radar. You may be surprised on what the EPA deems hazardous. So it is a great tool and one that should be referred to.
Education is very important in this area. Hazardous waste if not handled correctly and disposed of properly can cause life-threatening issues, not only for you and your family but the public at large. We all want to breath fresh air, enjoy parks, swim in rivers, and fish in clean, safe streams and lakes. By acquiring as much information as you can and sharing this knowledge, we all can help in having a cleaner, safer community.
The residents of Duluth reside in what is called the EPA Regional Area 4. They have created a website where you can learn more about hazardous waste and what is going on in your neck of the woods. The site is full of useful information and other links to help you navigate the world of hazardous waste. So take advantage of these resources and talk to your local officials to help you stay abreast of such an important topic affecting all our lives every day.
Below are a few items that are considered  hazardous waste by the EPA
Bleach
Toilet cleaners
Motor oil
Air conditioning refrigerants
Drain cleaners
Ant sprays
Adhesives and glues
Paint thinners
How residents of Duluth should dispose of hazardous waste
The County of Gwinnett has a great website to help you find ways to dispose of your hazardous waste. In the center of the page, it has pulled down menu that covers just about all hazardous waste and tells you where to take it for disposal. This a very comprehensive site and you would be well advised to check it out. It can become a very valuable tool in helping you make the right decisions.
Recycling in the City of Duluth
Duluth City Hall through the department of Public Works has developed a page for residents to refer to for information on recycling. It is an important endeavor for all citizens and helps keep a city vibrant and alive. There are many positive effects derived from the process of recycling. It helps keep the city clean, has an uplifting effect on property, and helps keep our country energy independent. Duluth is a wonderful place to live and work. Being aware of the importance of recycling will help ensure future generations that their city will still be a great place to raise a family. We all want to preserve a way of life for our children and recycling is a great place to begin.
Duluth has instituted a curbside pickup program for their residents. It is a weekly program that has been very successful. The Curbside Recycling Program has it is called, is offered to residents free of charge. Which helps promote and make it easy on the residents pocket book. Recycling bins can be picked up at the Duluth Public works Building. It is located at 2500 Chattahoochee Drive in Duluth.
Below are some of the items acceptable for recycling. This just a partial list.
Kraft paper
Soda cartons
Beer cartons
Pizza boxes
Steel food containers
Junk mail (hooray)
Empty aerosol cans
Paperback books
Unfortunately, the website didn't state what items are not acceptable for recycling and they ask the residents to call Republic Services at 678-963-2800 for any questions you have concerning what and what not is acceptable to recycle in the City of Duluth.
Typically most cities will not accept the following items for recycling:
Liquids
Bio- hazard waste
Plastic bags
Light bulbs
China and ceramics
It's that easy!
Call Our Team Now
1-888-792-7833