Dumpster Rental in Smyrna, Georgia
Our Rates are the best in the industry!
Click To Call 1-888-792-7833Click For Email Quote
We offer quality and expertise in Smyrna:
When you rent from us you can rest assured you're getting the top notch service with our staff of industry pros. EasyDumpsterRental name say's it all EASY it is how we like doing business along with superb service.
Over 15 years in the industry
Happy customers who tell their friends
We have rented over 100 thousand dumpsters
No hassle service
Call us now
Dumpster Rental Pricing in Smyrna is Based on Many Different Factors
To Receive The Lowest Pricing, Call For A Customized Quote Now 1-888-792-7833
Call us now and save $80:
Saving money is paramount. Especially in today's economic environment. So we always help you in 2 ways. We provide a discount and our competition can't match our prices.
Get a quote in 2 minutes, call or go online
We offer flat rate pricing
No hidden fees
Best dumpsters prices guaranteed
Call now and see why thousands of satisfied customers already know
Earn Up To $50 | Share / Like Below
10 Yard Dumpster (2 TONS) 4,000LBS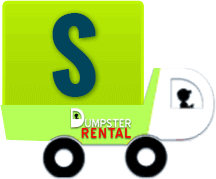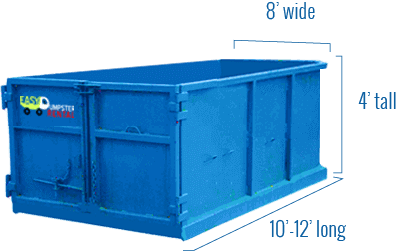 Easy Dumpster Rental
20 Yard Dumpster (3 TONS) 6,000LBS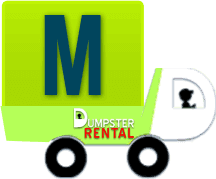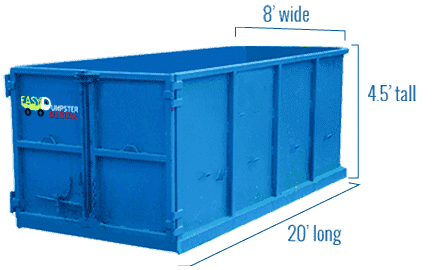 Easy Dumpster Rental
30 Yard Dumpster (4 TONS) 8,000LBS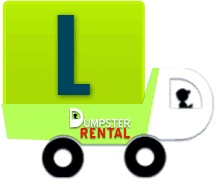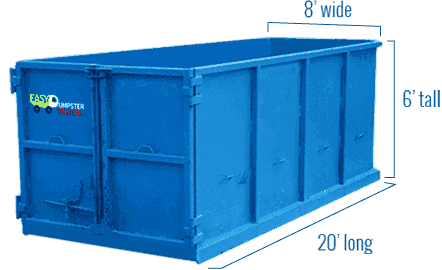 Easy Dumpster Rental
40 Yard Dumpster (5 TONS) 10,000LBS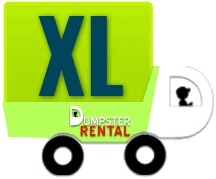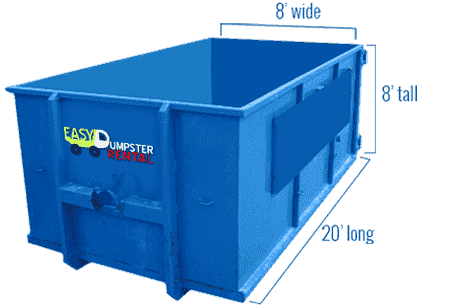 Easy Dumpster Rental
How dumpster prices models are determined
There are 4 factors that are considered that impact our pricing model.
Landfill costs. These will vary from city to city. Each city or county has different fees based on taxing policies. Smyrna uses The Solid Waste Transfer Station located in Marietta. The current minimum price for disposal is $7 for the first 400 pounds of waste. Additional prices will be tacked on for certain items such as propane tanks. Check with Cobb County for a more comprehensive list. The number is:(770) 485-8940. Keep in mind this information is for your edification. Easy Dumpster Rental will gather all this information for your convenience.
Debris Type is typical of two kinds; Recyclable and hazardous materials. A recyclable item will tend to be charged at a lower price and will be taken to special recycling centers. Hazardous waste will cost more because of the danger inherent in these items and as such, require special handling and need to be dropped off at special facilities that can process hazardous waste.
 The Weight of the Debris. Typically dumpster range in sizes from a  10- yard up to 40 yards. Obviously, a 40-yard bin can handle much more weight than a 10-yard dumpster. And if you use a larger roll-off, the price will be a little more that say a 20-yard bin. Because you may be concerned that you may need a 20-yard bin so you feel more confident that you will not experience a situation that you will fall short of your needs. But because we have a skilled sales team we will not give a bigger size just to make more money. Easy Dumpster Rental will find the perfect size, no more or no less than what you need. We guarantee that perfect fit. The Length of the Rental Period. Most dumpsters are rented for 14 days or 30 day periods. But don't worry if your needs change we will work with you and ensure that you have an experience that will not stress you out
Materials that are considered hazardous in Smyrna
The Environmental Protection Agency or EPA  has rigid guidelines when it comes to the classification of what constitutes a hazardous waste. Since the majority of Americans are not aware of these laws the EPA has put together a PDF which names the most common of the household hazardous waste. Everyone should be concerned about the hazardous waste products that they bring into their homes every day, oblivious to the dangers and risks that they are exposing their families too.
So please take some time to study this partial list below and help protect you, your children, and community.
Bug sprays
Home heating oil
Diesel fuel
Lighter fluid
Glues
Motor oil
Mouse baits
Hazardous waste disposal methods in Smyrna
Most cities ally themselves with other communities or counties that are nearby. As mentioned above, the city of Smyrna uses the Cobb County facility in Marietta for some of their hazardous waste disposals.
Here are some centers where you can contact to rid yourself of hazardous waste.
Dispose of Hazardous Waste Please note that this company only works with businesses. They can be reached 24/7 at (888) 290-8629.
Advanced Disposal Services (ADS)
1897 County Services Parkway
Marietta, Georgia 30008
(770) 485-8940
ECOFLO SOUTHEAST, INC. PLANT AND OFFICE
300 Swett Ave.
Americus, GA 31709
Phone: 229-931-0450
Hazardous Waste Experts
2693 Research Park Dr.
Suite 201
Fitchburg, WI 53711
Phone: 888-681-8923
Though this company is headquartered in the state of Wisconsin they do service the Atlanta surrounding areas.
200 North Cobb Parkway
Suite 208
Marietta, Georgia 30062
Phone: 770-427-7766 or 800-377-3648
The Georgia Recycling Coalition is a great site to take a gander at and they do help with recycling of household hazardous waste.
Hazardous waste is considered one of the biggest threats to our environment. Many products contain chemicals that can adversely affect not only you but the environment. There are many entry points for these chemicals and you should be aware of them. Factories, landfills, and tanks are few vehicles for hazardous waste to get into our water sources and into you. That's right. The air we breath is exposed to hazardous chemicals and so is the water we drink. Factories spew toxins all day long. And there isn't a day or week that goes by when you hear of a spill in the Gulf of Mexico or we find lead in our drinking water lines. We can be exposed to contaminated soil or even dust particles. Hazardous waste can find a pathway even into our food. We live in a very dangerous world. When chemicals get into our bodies, kidney's and liver organs do their best to detoxify our systems but not all chemical are eliminated. And they begin to slowly build up and cause damage that is beyond repair. So what can we do to prevent the potential hazardous that these wastes products present?
Well, first of all, know what is considered hazardous. Every product that you bring into your home make sure you read the labels and warnings. Try to find alternative products to use so you can help reduce the amount of waste you are exposed to. If you do have a hazardous waste product that you are using, take steps to ensure you are following the manufacturer's guidelines on how to use and dispose of the product wisely. If this is unclear call your local county officials for some proper advice. We can't completely eliminate all hazardous waste we are exposed to on a daily basis but we sure can go a long way of reducing our exposure. Educate yourself and take steps to help us all have a greener, cleaner city. It starts with just one person. And hopefully, we all will do our part to eliminate the dangers that we can control.
Let's find ways to Recycle in Smyrna
Most cities make it fairly simple to recycle. And the city of Smyrna is no exception to this rule. The city has a wonderful website "Keep Smyrna Beautiful" and its loaded with recycling information. The recycling center can be reached at  (770) 431-2869. The center is located at 3475 Lake Street Smyrna, GA 30082.
They have included a list of what can be recycled and for your convenience, some of the items include:
Anti-freeze -unused

Batteries – lead-acid auto, boat, motorcycle batteries, etc. 

Aluminum beverage cans

Books including hardcover, paperback, encyclopedias, textbooks 
Items they will not accept include the following:
Glass jars
Paint
Wood of any kind
Most plastics
Propane tanks
Christmas trees
Please refer to the website for a full list of acceptable and forbidden items.
Trash and trash waste will not be accepted at the recycling center. They will, however, accept electronics.
Recycling is an important activity the whole family should be actively and consciously participated in. The whole city will reap tremendous benefits from help keeping the city looking great. Recycling helps generates jobs, helps preserve natural resources. By recycling paper products this reduces the number of trees we must cut down. Our rivers and lakes stay pristine looking and the fish are plentiful and healthy. It also promotes a vibrate community that attracts more people to the community and improves property values. Only positive outcomes are produced by recycling. So do your small part and pitch in to keep Smyrna a beautiful, thriving city where you are proud to call home.
It's that easy!
Call Our Team Now
1-888-792-7833