Dumpster Rental in Warner Robins, GA
We Provide Service That is Par Excellence!
Click To Call 1-888-792-7833Click For Email Quote
Why Easy Dumpster Rental surpasses all other competitors
Our Number one job is to ensure your happiness.  We thrive on satisfied customers.
Great service is paramount to our success
We take nothing for granted
Easy pickup and drop off
First-rate customer service
We are a company with strong values
Dumpster Rental Pricing in Warner Robins, Georgia is Based on Many Different Factors
To Receive The Lowest Pricing, Call For A Customized Quote Now 1-888-792-7833
Call us now and save up  $125:
We strive to provide the most economical prices in the industry. Hire us and save!
We make it easy and efficient to get a quote
The best investment you can make
You will not have to dip into your rainy-day fund renting from us
Our prices are astonishing affordable
Flat rate fee – no mess, no fuss
Earn Up To $50 | Share / Like Below
10 Yard Dumpster (2 TONS) 4,000LBS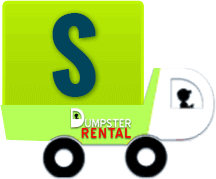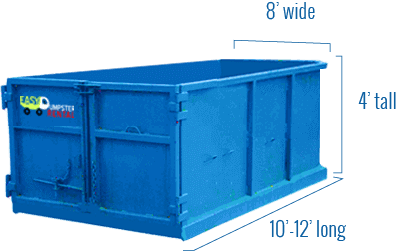 Easy Dumpster Rental
20 Yard Dumpster (3 TONS) 6,000LBS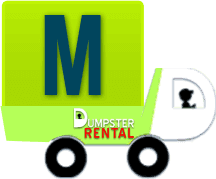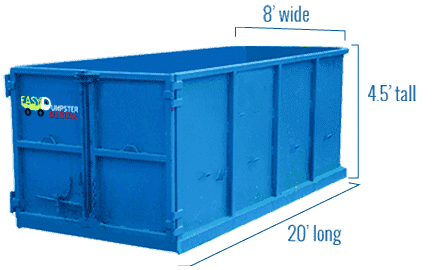 Easy Dumpster Rental
30 Yard Dumpster (4 TONS) 8,000LBS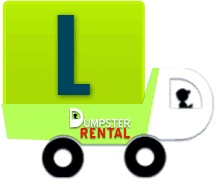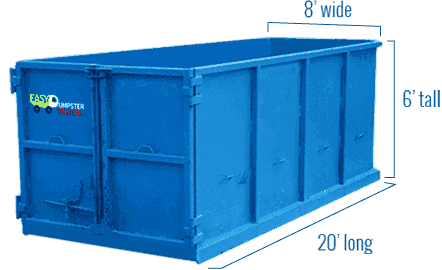 Easy Dumpster Rental
40 Yard Dumpster (5 TONS) 10,000LBS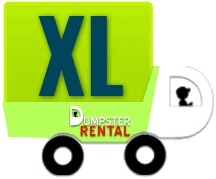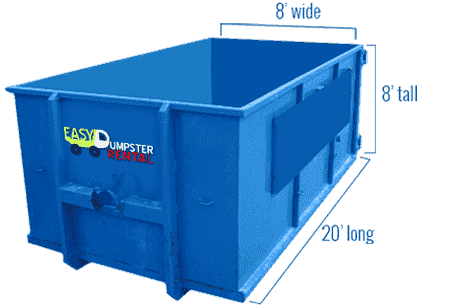 Easy Dumpster Rental
Permits and fees
Some municipalities require renter of a dumpster to pull a permit from the local governing body. And that usually involves some kind of a fee. Easy Dumpster Rental will be happy to assist you in contacting Warner Robins City Hall  If you desire to find out before hand what the necessary steps that must be taken so you don't violate any city codes or ordinances, you may want to contact the Public Works department for any questions or concerns you may have. They can be reached at (478)929-1900. 8am-5pm Monday through Friday. The department is located at 210 Bay Street, Warner Robins, leg workGA. 31093. Another consideration to give some thought to, if you live in a gated community what are their laws governing dumpsters and site location.
You can save a lot of time and aggravation by discussing this matter with the powers that be. You don't want us pulling up to the gate house and get turned away because the community wasn't notified that you were bringing a dumpster to your home. In most cases, EasyDumpsterRental will be more than willing to help you pull permits and the fee will be included in the dumpster rental. Also as residents residing in Houston County, there are Municipal codes that govern haulers and of course, there are fees for that also. But don't stress over this Easy Dumpster Rental will do the legwork for you. This is for your education and insight into our pricing model.
Site Preparation
After we have talked and settled on a drop off day it is important that you prepare the site for the drop-off.  If you cannot be there on the day and time that is agreed upon if all possible have someone meet us at the site. This will ensure that we are putting the dumpster in the correct location. Or, when talking to our sales reps make sure that your instructions are precise so there is no confusion when the hauler arrives at the pre-determined location. If we need access to the backyard for example and it is gated, please remember to unlock the gate and our driver will secure the gate after he has made the delivery. If you have a giant German Shepherd or a pet tiger in the backyard please keep your animals under lock and key, so there is no interference from a zealous watchdog.
Please ensure that there is plenty of space for the hauler to get in and out of the site. Not only is important to consider the width of the space but also there are no impediments blocking access with an overhang, such as an awning or a tree branch, etc…If the bin is going to be placed on your lawn, go to your local lumber store and pick up some plywood so the yard will not be damaged by the wheels. That way you will keep a lawn as great as it was before the dumpster order. Please keep in mind that dumpsters cannot haul hazardous waste. It is against the law. Items that can be accepted include but are not limited to the following; asphalt, carpet, drywall,  lumber, and metal. Our sales team will provide you or will be able to tell what is permissible to haul. When you are filling the dumpster, remember the hauler needs to travel the roads of your town to get to the local landfill. So please don't overfill the dumpster. Just make sure your debris is even with the top of the bin, that way no materials are spilling over the sides.
Banned Hazardous Waste in Warner Robins
The US Government has developed a list of materials that are considered hazardous waste. These are the most common hazardous materials found in the home. It is incumbent on you to be familiar with these items to help protect you and your family. Below is a partial list. Please refer to the pamphlet for a comprehensive inventory. Hazardous materials are nothing to fool around with and make sure you read all product labels and have proper ventilation. Hazardous waste can be basically broken down into 4 major categories. Toxic, flammable, corrosive, and reactive. The estimates of hazardous waste produced worldwide are in the neighborhood of 400 million tons each year. Hazardous waste can be solids, liquids or gasses. Some of the largest contributors of hazardous materials include such businesses as oil refiners, dry cleaners, photo processing shops, and exterminators to name just a few. Under the Resource Conservation and Recovery  ACT haulers of such waste must meet strict guidelines to transport and dispose of hazardous waste. Treatment and storage of these materials have strict guidelines on which they can operate. Permits must be obtained to carry out these activities thus protecting the public from unscrupulous operators.
Oven cleaners
Gas/oil mix
Batteries
Paint thinners
Moth repellents
Mouse poisons
Pool chemicals
Disposing of Hazardous Waste in Warner Robins
The following businesses can help you with your hazardous waste removal.
The Jet Dry Solution  64 Green Street Warner Robins, GA. (478) 923-8786
Safety-Kleen 6580 Hawkinsville Rd., Macon, GA. (478) 788-9398
Action Resources 2316 E. 13th Ave. Cordele, GA (229)273-7935
Green Leaf Treatment Services 100 Waste Research Drive Macon, GA (478) 788-8899
It is also good to contact your Warner Robins City Hall for any questions or concerns you may have.
The City Hall is located at
202 North Davis Drive Warner Robins, GA. (478)929-1111
Warner Robins GA.
What, Where and How to Recycle in Warner Robins
Recycling is one of the most important contributions you can make to keep Warner Robins a vibrant and wonderful place to call home. The environment is a very fragile state and we all must do our part in protecting and conserving our neighborhoods, parks, lakes, and rivers. The more information we are armed with the better prepared we are to help keep our cities clean and healthy.  A beautiful city makes for a great place to live, work and play. Teaching our children and educated the public is everyone's responsibility. Passing on this knowledge will ensure that Warner Robins stays a nice city with a great future. The importance of recycling cannot be over emphasized. Recycling helps keep the environment pure and cuts down on landfills getting bigger and bigger. Reusing materials or repurposing plastics, for example, helps you keep energy costs down, creates jobs, and keeps the environment free from by-products thus ensuring a safer city.
The County of Houston has a great web page discussing recycling options and it is a good starting point. Here you will find what and what can't be recycled and alternative solutions. Here are a few drop-off locations including;
Aluminum Recycling
104 North Davis Road
Warner Robins, GA
City of Centerville
101 Industrial Way
Centerville, GA (478) 953-4734
US Recycling
92 Bargain Drive
Warner Robins, GA  (478) 923-3600
Here is a partial list of recyclable items:
Office supplies
Tin cans
Milk jugs
Office and school papers
Plastic bottles with neck only
Newspapers
Opaque water jugs
#1 soft drink bottles
Below are items that typically will not be accepted at recycling centers
 Auto parts
Aerosol cans
Tires
Aluminum foil
Aerosol cans
Keep in mind this is not a complete list of recyclables. Contact the county for further information
It's that easy!
Call Our Team Now
1-888-792-7833