Dumpster Rental in Rockford, Illinois
Rolloff-Can Rental Savings Is Our Gift To You
Click To Call 1-888-792-7833Click For Email Quote
Get Breathtaking Service and Prices In Rockford:
Easy Dumpster Rental still believes in the Puritan work ethic. This ethos is what made our country great. We work hard everyday so you can be confident that you will receive the best customer service on the planet.
Sales team that values honesty & integrity. We will never disappoint you, nor take monetary advantage of you
The competition stands in awe of our companies services. We are on time every time
You can get a quote in mere minutes that will have you grinning all the way to the bank
Over 15 years in the rolloff-dumpster rental business. That in it self speaks volumes about our company
We have rented over 100,000 dumpsters and our customer base just can't get enough of our great organization
Dumpster Rental Pricing in Rockford is Based on Many Different Factors
To Receive The Lowest Pricing, Call For A Customized Quote Now 1-888-792-7833
Save With Us Between $10 And $125 On Your Rolloff Rental Cost:
Easy Dumpster Rental is a brand you can put your trust in. Thousands of customers keep returning to rent dumpsters from us. When you combine great service and the lowest prices it's hard to compete with our company.
We have the absolutely lowest prices in Rockford and we will match or beat any competitors prices
No migraines when you rent from us. We pride ourselves on providing on time delivery and pick up
Our prices are transparent and the sales team will be happy to break down the pricing model for you
We rent to both to the residential and construction industry. We can handle any size project.
Don't throw your money away. Call Easy Dumpster Rental now and begin saving on your next dumpster-rolloff rental
Earn Up To $50 | Share / Like Below
10 Yard Dumpster (2 TONS) 4,000LBS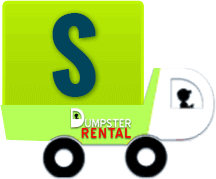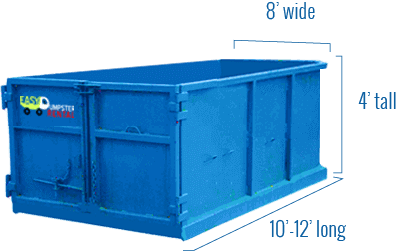 Easy Dumpster Rental
20 Yard Dumpster (3 TONS) 6,000LBS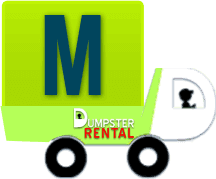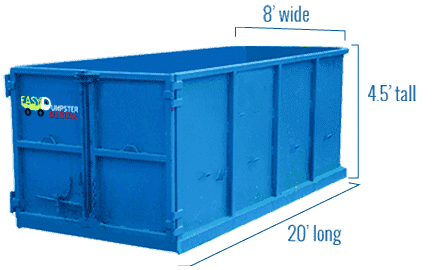 Easy Dumpster Rental
30 Yard Dumpster (4 TONS) 8,000LBS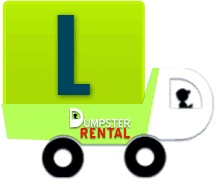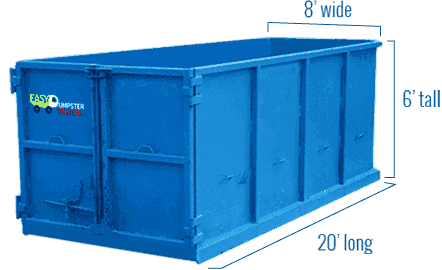 Easy Dumpster Rental
40 Yard Dumpster (5 TONS) 10,000LBS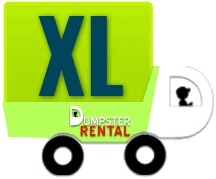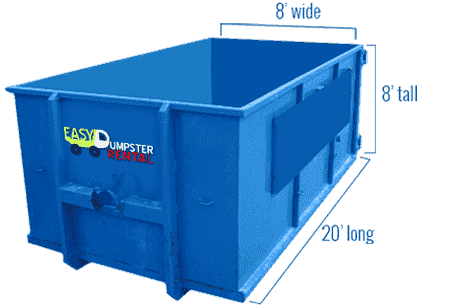 Easy Dumpster Rental
Landfill Location in Rockford, IL
Rockford city located in the state of Illinois is the third largest city in the united states. It's located at the county seat of Winnebago County. Winnebago landfill is located at the following address:
8403 Lindenwood Rd,
Rockford, IL 61109
815-874-4806
Hours:
Monday to Friday: 6:00 am – 5:00 P.M
Saturday: 6: 00 am – 10:30 am
Some items accepted include:
Regular household garbage
Cardboard
Scrap metal
Batteries
Items that are prohibited include:
Electronic waste
Medical waste
Radioactive waste
Ammunition
Recycling
Recyclables are pick-up weekly from residential properties. While residents are not required to recycle, they are encouraged to do so. Each resident receives a recycling bin in which recyclables should be placed. Place bins next to your regular garbage bin for collection. Contact Rock River Disposal at 815-965-2489 for more information on recycling. Generally recycling bins are emptied on regular garbage collection days.
Items that can be recycled include:
Aluminum
Tin cans
Glass jars
Bottles
Aerosol cans
Items that cannot be recycled include:
Tissue
Diapers
Styrofoam
Food boxes
Hazardous Waste
Rockford residents can take hazardous waste to the following location.
Household Hazardous Waste Disposal Center
3333 Kishwaukee St
Rockford, IL 61109
Hours:
Saturday: 8:00 am to 4:00 pm
Sunday: 12:00 pm to 4:00 pm
Some items that can be taken to the center include:
Aerosols
Corrosives
Oxidizers
Solvents
Oil-based paints
Items not accepted at the center include:
Radioactive waste
Compressed gas
Explosives
For more information, visit their website at www.knib.org.
Yard Waste
The city will only pick-up yard waste during spring, summer and fall from residential properties. Pick-up typically occurs on the same day as regular garbage collection. Residents are asked to place yard waste in paper bags or a 30-gallon refuse can. Tre limbs and other items that cannot fit should be tied in bundles not exceeding 25 pounds or 4 feet long by 2 feet in diameter. Place at the curb for pick-up.
Bulk Waste
Bulky waste that are too big for garbage cans will only be collected by the city if they are certified freon free. Large waste will be picked-up on the same day as regular waste. Visit their website here for more details.
Our Mission Is To Serve The Community Of Rockford With Rock Solid Values
Settled in 1834, Rockford is the 3rd largest city in Illinois with a population of 150,000. The largest employer in Rockford is the public school system and UPS, which also has a sizable presence in Rockford. We feel at Easy Dumpster Rental, like Rockford, we are a "Rock" solid company. Serving the public for over 15 years and renting over 100,000 dumpster-rolloffs we have etched our name in granite as a major player in the dumpster rental business. We take tremendous pride in providing outstanding services and rock bottom prices.
We serve both the residential market and the construction industry. And we take pride in the fact that we are actively involved in helping America stay Green and Clean. One of the ways we participate is encouraging people to recycle. Recycling is one the most simplest contributions an individual or family can make to help keep our Eco system free of pollution. Also, it greatly reduces the waste that is taken to our overcrowded landfills. Most cities have curbside recycling and even provide a bin for free. And, in addition, many cites are promoting Single-stream Recycling to make it even easier. Basically, there is no sorting process involved. You just place all of your recyclables into one bin. Recycling is very important to the environment for preserving and protecting our resources.
It is a lot more costly to develop a product for raw materials then from a recycled product. The environmental pay off is less air pollution, water pollution, and less greenhouse gases. Recycling saves energy. For example, one ton of recycled aluminum cans can save 20,000 kilowatts hours of energy by reducing the amount of energy to mine the ore that would have had to be mined to make the cans in the first place with raw materials. Recycling also helps save our forests. One ton of paper that is recycled can save up to 20 trees. The less logging and mining we do helps lesson the erosion of the soil. Jobs are created by recycling. Over a million jobs were created that helped pump $236 billion into our economy. Recycling diverted over 70 million tons of waste away from landfills. And this is huge because we are quickly running out of landfill space.
When 2,000 pounds of steel is recycled, a ton and half of of iron ore is conserved. A major university after just one year of recycling saved approximately 35,000 trees. Easy Dumpster Rental can help you with your recycling disposal needs. We rent a 10-yard bin that is ideal for small recycling jobs around the house. We will delivery the bin to your home and pick it up when it is filled and  ready to take to the recycling center. This saves you the trouble of making a dozen or more trips back and forth to the nearest recycling center. We do all the heavy lifting for you and at a price you can afford. So, keep us in mind when it comes to dispose of your recycling materials, Easy Dumpster Rental, The Green Company.
It's that easy!
Call Our Team Now
1-888-792-7833