Dumpster Rental in Bloomington, IN
Trash Rolloff-Bin Costs That Are Lowest In Town
Click To Call 1-888-792-7833Click For Email Quote
How We Are Able to Offer Unique Dumpster Service In Bloomington:
Our mission is to offer only the best and most reliable service in America. Customers enjoy our personal touch with a happy customer service team who lives to serve you. We are efficient and pay close attention to detail.
Easy to use rolloff weight calculator to insure proper pricing
On time delivery and the ability to schedule a pick up on line for your convenience
Flexible rental periods with guaranteed low prices
Same day service available in Bloomington and surrounding areas
Over 15 years renting dumpster-rolloffs
Rolloff-Dumpster Rental Pricing in Bloomington is Based on Many Different Factors
To Receive The Lowest Pricing, Call For A Customized Quote Now 1-888-792-7833
Save With Us Between $10 And $100 On Your Dumpster Rental Cost:
No one can compete with our pricing model. Our flat rate prices give you the insurance you need to have that your price will not go up at the end of the rental period. We promise that all customers will be treated with respect.
10, 20 ,30, and 40 cubic yard dumpsters available for any size project
Super fast dependable rolloff-quotes that will put a smile on your face.
Hidden fees will never be a ugly surprise you have to worry about. All prices are transparent
Our services are second to none. And customers continue over and over again call us for their rental needs
Don't wait a minute longer, call now and save like never before on your next rental
Earn Up To $50 | Share / Like Below
Click To Call 1-888-792-7833
Click For Email Quote
10 Yard Dumpster (2 TONS) 4,000LBS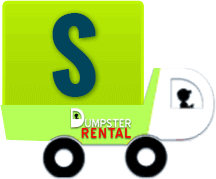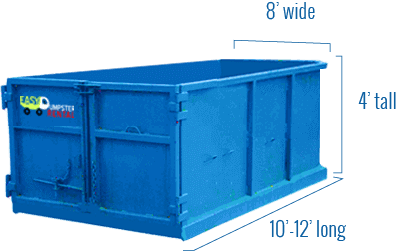 Easy Dumpster Rental
20 Yard Dumpster (3 TONS) 6,000LBS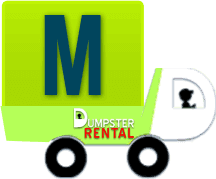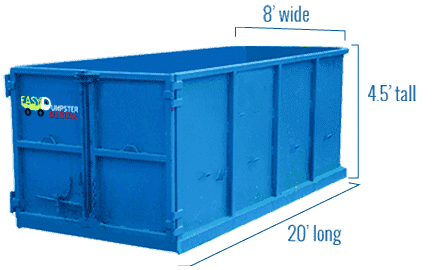 Easy Dumpster Rental
30 Yard Dumpster (4 TONS) 8,000LBS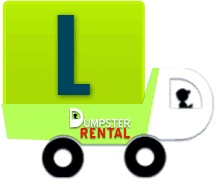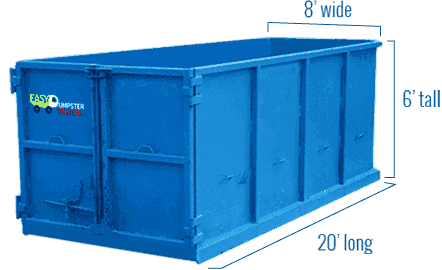 Easy Dumpster Rental
40 Yard Dumpster (5 TONS) 10,000LBS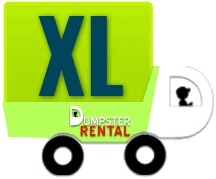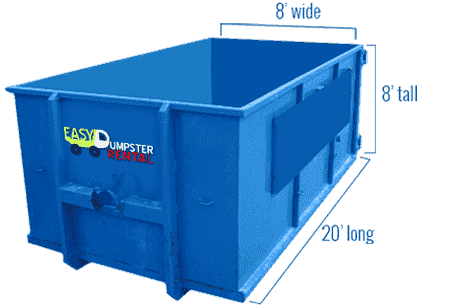 Easy Dumpster Rental
Landfill Location in Bloomington, IN
Bloomington is located in Monroe County in Indiana. Residents can recyclables and hazardous material to the District's Central Station located at:
Monroe County Solid Waste Management District
3400 S Walnut St
Bloomington, IN 47401
812-349-2020
Here's a list of some of the items accepted:
Paints
Solvents
Batteries
Household garbage
Yard waste
Items not accepted include:
Recycling
Curb side recycling is available to people living in Bloomington. Recyclables is collect bi-weekly on regular trash days. Residents can receive a free recycling bin as well as information on pickup schedules by contacting the Sanitation Department at 812 349 3443. You can also use the myBloomington online location tool for pickup schedules.
Recyclables to be included in the carts are:
Junk mail
Card board
Plastic bottles
Metal can
Here's a short list of non-reachable items:
Light Bulbs
Window Glass
Styrofoam Cup
Wire Hangers
The District also offers a "Just a Dollar Electronics Recycling" program that allows residents to recycle electronics at a rate of $1 per item. Appliances containing Freon is priced at $20.
Hazardous Waste
Residents can take hazardous household waste to the District's Central Station located at 3400 S Walnut St.
Some acceptable items include:
Electronics
Paints
Solvents
Batteries
Yard Waste
The city recommends that residents dispose of yard waste using composting. You can learn about composite heaps here.
Nonetheless, the city collects yard waste every other week from resident's property on recycle pickup days. Yard waste should be placed in biodegradable bags or containers and should not exceed 40 pounds. Call 812-349-3443 with questions regarding yard waste.
Bulk Waste
Bulk waste including mattresses, tables, couches and other large items are collected on regular garbage collection days. All furniture should have a $2.00 trash stickers.
What Cannot Be Put In A Dumpster-Rolloff
Bloomington is home to Indiana University. The schools' music department is world renown and is a major designation for budding musicians. Also, under the guidance of the most innovating swim coach ever, James"Doc" Counsilman the university had the greatest college swimming program in America. Under his direction the school won 6 NCAA national titles in a row. The city of Bloomington was settled in 1818. Some famous people from Bloomington include, the directors and producers of the movies "Rudy" And "Hoosiers".  We all can't be famous but Easy Dumpster Rental in Bloomington can't be accused of not trying. We want you to think of us first when it comes to your bin or canister rental needs. We are happy to give you a free consultation and answer all of your questions. But one question we receive all the time is, "What is not allowed to be put into a dumpster"? It is against the law to put hazardous wastes into a dumpster. Because hazardous waste pose a threat to the environment the EPA has mandated these items cannot find there way into a landfill and special handling is required. Hazardous waste is any materials that have the following 4 attributes.
Toxicity
Reactivity
Ignitability
Corrosivity
These items can cause all kind of problems at landfills. And if not treated and disposed of properly can damage, not only the Eco-system but can pose grave dangers to human health. So, there are special trucks that are used to regulate the pick up and disposal of hazardous waste. For example, if a toxic waste found its way to a landfill, it could leach into our underground water systems posing a threat to our drinking water, making it unsafe for human consumption. Plus, with the other characteristics of hazardous waste mentioned above, could cause fires and harmful air pollution. So it is important to contact your regional EPA officials to find out the safest ways to dispose of these dangerous materials. We will mentioned a few of these here:
Paints and solvents
Automotive batteries
Herbicides
Fluorescent light bulbs
Antifreeze
Adhesives
Propane tanks
Electronics or E-waste
Easy Dumpster Rental will be happy to discuss what is acceptable and what is prohibitive dumpster materials. You can also check your your local government officials.
What Size Dumpster Should I Choose?
That is a great question and will vary on the size of the job you are tackling. Easy Dumpster Rental has 4 container sizes to choose from. Our dumpster-rolloffs come in 10, 20, 30, and 40 cubic yards. If you are doing something rather small like clearing tree branches or getting rid of leaves and shrubs, the 10-yard bin is ideal for those types of jobs. If you are doing a kitchen remodel, a 20-yard dumpster might be a great choice. However, if you are doing a major kitchen remodel, you may need a 30-yard rolloff. And for those huge construction jobs, like a demolition of a hotel, a 40-yard dumpster is the size you will need. When you call our sales team, they will be able to give the advice you need to get just the right size canister for your project. Easy Dumpster Rental can handle all of your rental needs and do it at a price that will make you very happy.
It's that easy!
Call Our Team Now
1-888-792-7833