Dumpster Rental in Fort Wayne, Indiana
By Far The Best Rolloff-Dumpster Price You Can Find
Click To Call 1-888-792-7833Click For Email Quote
Our Dumpster Service is unique and Fort Wayne Residents Will Be Overjoyed:
Renting a dumpster shouldn't be a difficult process with a lot of empty promises. We guarantee both our services and prices so that you can rest assured that you will not be taken advantaged of. We stand by our word and actions.
On time delivery and pick up. We know that your time is valuable
Expertly staffed office that can give you great advice and help make the rental process a smooth one
We accept most major credit cards and PayPal for your convenience
Rent a dumpster for as long as you need it
With over 15 years experience there isn't a scenario we haven't seen or been able to handle
Dumpster Rental Pricing in Fort Wayne is Based on Many Factors
To Receive The Lowest Pricing, Call For A Customized Quote Now 1-888-792-7833
Save With Us Between $10 And $100 On Your Dumpster Rental Cost:
We offer affordable pricing and a service team so friendly and knowledgeable, you will wonder if you are talking to PhD's in Sanitation Engineering. Without a great comprehensive customer service team we are just another company.
We offer a transparent pricing model with no hidden fees
We will match or beat any of our competitors prices and we guarantee this
Our service is the absolutely the best you will ever find anywhere
Reliability, trustworthiness, and integrity are the core values of our company
Don't be in the dumps, get rid of your trash now. Call us and save on your next rental
Earn Up To $50 | Share / Like Below
10 Yard Dumpster (2 TONS) 4,000LBS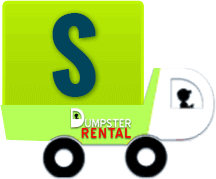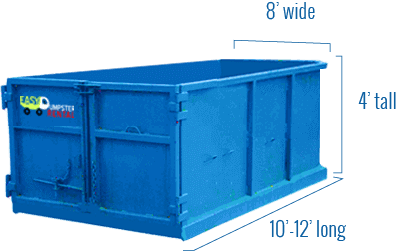 Easy Dumpster Rental
20 Yard Dumpster (3 TONS) 6,000LBS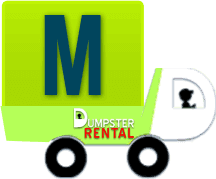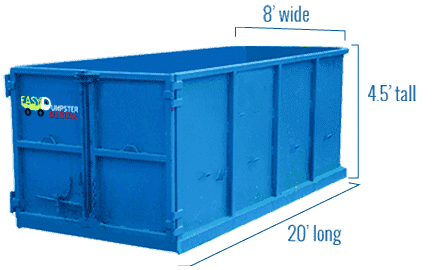 Easy Dumpster Rental
30 Yard Dumpster (4 TONS) 8,000LBS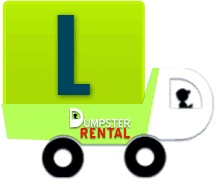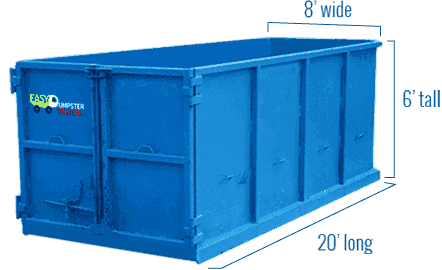 Easy Dumpster Rental
40 Yard Dumpster (5 TONS) 10,000LBS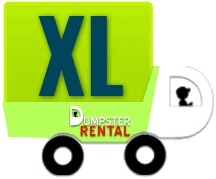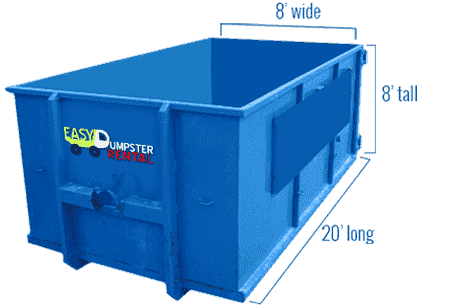 Easy Dumpster Rental
Landfill Location In Fort Wayne, IN

Fort Wayne is situated in the state of Indiana in Allen County. Waste items can be drop off at the Republic Services National Serv-All Landfill at:
6231 MacBeth Rd,
Fort Wayne, IN 46809
260-747-4117
Open hours:
Monday to Friday: 8am to 5pm
Saturday: 8am to 12 pm
Sunday: closed
Here is a partial list of items accepted:
Glass windows
Insulation
Roof tiles
Satellite dishes
Unacceptable items include:
Ammunition
Radioactive materials
Recycling
The city offers a 1 cart recycling program. Carts are collected at curbside once every other week. Residents in need of a cart are ask to contact 311.
Some items that can be placed in the recycling cart are:
Plastic bottles
Green, brown. Blue and clear glass bottles
Metal cans
Cardboard
Paper: envelopes, greeting cards etc.
Recyclables can also be dropped off at:
5325 Industrial Rd. Suite B
Fort Wayne, IN 46825
(260) 483-6200
stopandshred.com
Open Hours:
Monday to Friday: 8am to 4:30 pm
Hazardous waste

Allen County arranges an annual Tox-Away Day event that allow residents to dispose of garbage safely. Contact the District for information on upcoming events at
Allen County Solid Waste Management
1 E Main St #755,
Fort Wayne, IN 46802
Items accepted at Tox-Away Day events include:
Household Cleaners
Beauty Products
Batteries
Lead-Acid Batteries
Pesticides
Waste not accepted at the event are:
Infectious Waste
Medical waste
Industrial Hazardous Waste
Yard Waste

Grass, leaves and other yard waste can be placed with regular household garbage. Leaves should be contained in biodegradable bags and placed at the curb side. Branches should not exceed 3 feet and should not have a diameter of more than 3 inches. In order for branches to be collected they should be containerized or placed in bundles not more than 60 pounds. Call 311 for information on yard waste collection.
Yard waste can also be taken to the following location.
NATIONAL SERV-ALL
6231 MacBeth Road
Fort Wayne, IN 46809
(260) 747-4117
Open Hours
Mon-Fri 8am-5pm
Sat. 8am-12 noon
FORT WAYNE BIOSOLIDS HANDLING FACILITY
6202 Lake Avenue
Fort Wayne, IN 46815
(260) 749-8040
Hours: April 1-November 30
Mon-Sat 8am-6pm
Sun 12pm-6pm
Bulk Waste

Bulk waste such as carpets and construction debris up to 60 pounds can be placed by the curbside for collection. Carpets should be cut into sections of 3 feet and rolled-up.
How Easy Dumpster Rental Determines Its Pricing Model In Fort Wayne
Fort Wayne was founded in 1794 and named after the great American Revolutionary statesman, Anthony Wayne. The city has produced many cartoonists, including Dick Moores and Richard "Grass" Green. The famous fashion designer, Bill Blass, and many well know architects. With many cultural attractions, the city of Fort Wayne has much to offer its residents. And at Easy Dumpster Rental we too have much to offer. Residents who use our services will discover that we can be an asset to your city. Many customers call us and wonder how we come up with our prices. And in the spirit of transparency, we would like to deconstruct our pricing model for your benefit. And see for yourself that we do not have any hidden fees or surcharges added to the price of a dumpster-rolloff rental. Our prices are determined by 4 basic factors. Landfill costs, Debris type, Debris weight, and Rental period. Below we will discuss in more detail these factors.
Landfill Costs: Every city or county sets their own landfill costs or more commonly know as, Tipping fees. So dropping off waste at a landfill in Fort Wayne may be higher or lower than in Indianapolis. When we agree on a dumpster size, we can then factor the tipping fees that the landfill charges. It typically is calculated by weight. Easy Dumpster Rental will never charge you more that the quoted price, unless you go over the weight limit. Or, if you attempt to dispose of hazardous waste. Hazardous waste is strictly prohibited and cannot be placed in a rolloff. This is regulated by the EPA and they have special trucks that deal with the disposal of  hazardous waste.
Debris Type: The type of debris that you are considering to put into the dumpster will affect the cost of the rental. Waste disposal companies are required by law to send certain waste to specific locations. Recycling materials tend to be a lot less expensive compared to nonhazardous waste or hazardous waste.
Debris Weight: What you put into a container or bin will directly affect the price of the rental. If you rent a bin and fill it only with leaves or grass it is going to be a lot cheaper if you are putting concrete or lumber in to the rolloff. Also, the size of the dumpster you rent will also impact the price. Easy dumpster Rental has 4 standard sizes, 10, 20, 30, and 40 cubic yard dumpsters. So, obviously, if you rent a 10-yard bin, it is going to have a lower price to begin with than a 40-yard dumpster-rolloff. Please keep in mind, there are other dumpster sizes, but these are the most commonly ordered cans. Our sales staff is highly adept in getting you the right size dumpster. Many people order a rolloff that is bigger than they need to play it safe, but you will not have to worry about this if you talk to our sales staff first. We will never try to over sell you. And we use a dumpster weight calculator to help insure you are getting the correct dumpster for your particular job.
Rental Period: Typically, rental periods are 14 or 30 days. So the longer you keep a dumpster the higher the cost. With that said, we are very flexible with our rental periods and you can keep the dumpster as long as you need it. And in some situations, we have actually sold dumpsters to customers. So, there are plenty of options available to you. Just give our staff a call and discuss the many flexible plans that we offer or request online quote.
It's that easy!
Call Our Team Now
1-888-792-7833