Dumpster Rental in Terre Haute, Indiana
Get A RollOff-Can For The Absolutely Lowest Price
Click To Call 1-888-792-7833Click For Email Quote
We Offer Superior Services for Rolloffs Rentals in Terre Haute:
Giving great customer service to our clients is our bread and butter. We could not have lasted over 15 years in this industry doing otherwise. We take tremendous pride in having wonderful relationships with those we serve.
We provide same day service and is available in Terre Haute and surrounding areas
No hidden fees, no added surcharges. Just a straightforward quote that is the lowest in Terre Haute
We have rented over 100,000 dumpsters and we would like to rent one to you too
We can solve any dumpster problem and help you with any size project
We love trash and look forward helping you getting the garbage out of your life
Dumpster Rental Pricing in Terre Haute is Based on Many Factors
To Receive The Lowest Pricing, Call For A Customized Quote Now 1-888-792-7833
Save With Us Between $10 And $70 On Your Dumpster Rental Cost:
We promise you that you will be absolutely astonished with the high level of service and the low prices we offer the public. No one on the planet can compete with us and other companies look upon our company with awe.
We mean business when we say we can save you money
Our flat rate pricing model will put you at ease
You can request a pick up online or over the phone. We want to make life easy for you
We rent residential dumpster-rolloffs for any size job and we will help you with your recycling needs
Time is wasting. Call us right now and discover why we are the best dumpster company in America
Earn Up To $50 | Share / Like Below
10 Yard Dumpster (2 TONS) 4,000LBS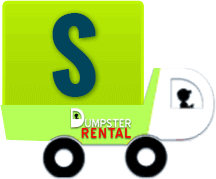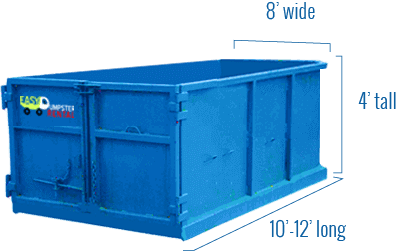 Easy Dumpster Rental
20 Yard Dumpster (3 TONS) 6,000LBS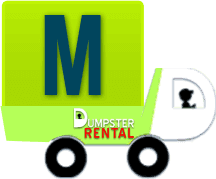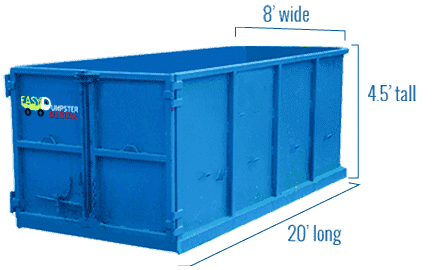 Easy Dumpster Rental
30 Yard Dumpster (4 TONS) 8,000LBS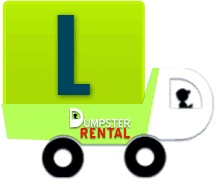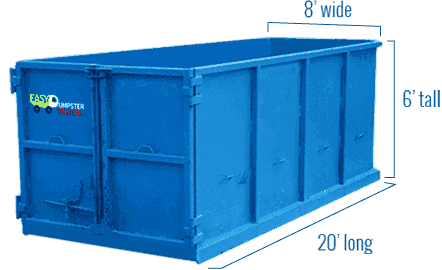 Easy Dumpster Rental
40 Yard Dumpster (5 TONS) 10,000LBS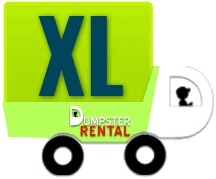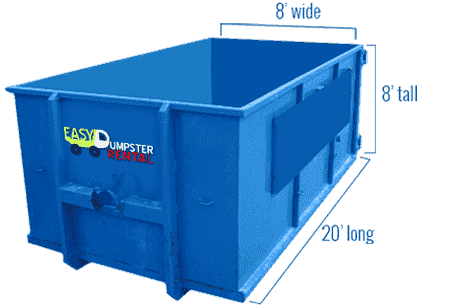 Easy Dumpster Rental
Landfill Location in Terre Haute, IN
Terre Haute City is located in the county seat of Vigo County in the state of Indiana. The city has contracted with Republic Services to provide residents with the proper means of disposing of household waste. The county's landfill address is listed below.
Sycamore Ridge Landfill
5621 E Cottom Dr
Pimento, IN 47866
(866) 760-2182
Open Hours
Monday to Friday: 8:00 am to 5:00 pm
Saturday Closed
Recycling
Republic service provides curbside recycling in Terre Haute. Visit the website here to sign up for the recycling program or contact Republic Services at (812) 298-2100 for more information.
Below is a partial list of recyclable items:
Paperboard
Corrugated cardboard
Aluminium foil
milk jugs
Soap bottles
Items that should not be recycled include:
Crystal
Window glass
Ceramics
Food box
You can also contact Mayor Bennett's office at (812) 244-2303 for information on the recycling program.
Hazardous Waste
Household hazardous waste cannot be disposed of with regular garbage. Residents are asked to contact the Clay-Owen-Vigo Solid Waste District at (812) 443-0168 or Republic Services for information on how to dispose of HHW correctly.
Yard Waste
Yard waste is generally collected from Monday through Friday, 6:00am to 9:00pm. Bush and tree trimmings must be placed in bundles not exceeding six feet and tied with strings. Bundles should be placed by the curb along with regular garbage. Waste such as grass clippings and leaves should be bagged and also placed beside your blue toter for collection.
Bulk Waste
Bulk items should be placed out at the regular pickup location for collection. Residents should contact the 311 Citizen Contact Center to arrange collection. Items that can be placed broken down should be separated into smaller pieces so that it's more easy manageable size. Please allow up to a week for items to be collected.
Get A Great Price On A Dumpster-Rolloff Rental In Terre Haute
Terre Haute, which is a French phrase for 'Highland" is located on the eastern bank of the Wabash River in Western Indiana, bordering Illinois. This beautiful city is home to many parks, annual festivals, and many other cultural activities. Terre Haute is home to the famous Academy Award winning actor and musician, Burl Ives, who sang "Have a Holly Jolly Christmas". Though Terre Haute is on a river, we promise you we wont drown you in red tape or prices. We have a streamlined, efficient business model which enables us to pass on savings to you when you rent a dumpster-rolloff from Easy Dumpster Rental.
How Families Can Achieve Zero Waste At Home
Zero waste is exactly what it states. Getting to the point that everything you use will never end up at a landfill. For a great article on the distinctions on "Zero Waste To Landfill" and "Zero Waste", The online magazine, Waste 360.com has written an outstanding article that is worth a read. But that is a subject for another day. We want to concentrate here on what families can do to lesson the amount of waste that they contribute to landfills. There are many steps people can take to reduce the amount of trash in their lives. And the first thing we can do is to begin to do more recycling. You can begin by using the 4 r's; Reduce, Reuse, Recycle, and Rot (compost).
Reduce: Reducing is just a simple matter of using less unnecessary packaging or choose products that can be recycled, or have already been recycled. Take a cloth tote bag when you go grocery shopping instead of using plastic bags. Plastic is full of harmful chemicals which are hard to decompose. Don't buy more than you need.
Reuse: Take unneeded items like clothes and shoes to a second hand shop, where they will find a good home. You can also take furniture, blankets, and towels to charitable organizations. Washing machines, refrigerators, and other old appliances can be fixed by some of this organizations and be put back on the market or given away to needy families. Just don't put these items on the curb.
Recycle: The amount of items you can recycle are endless. Paper, newspapers, books, plastics, glass, aluminum cans. Electronic waste like TV's, computers, and printers can be taken to special E-Waste drop off centers in your city or county. Check your local city website, they will have places designated fro these items. Most cities offer curbside recycling and again, the city's website will tell what can and cannot be recycled. It is rather easy today to recycle.
Rot or Compost: Composting is a excellent way to recycle kitchen waste to improve the soil of your garden and at the same time reducing waste. Some items that can be used for composting include; tea bags, coffee grounds, filter paper, and egg shells. Doing a simple Google search will provide you with plenty of great ideas.
Zero Waste is a noble goal and it is a great way to help reduce the Solid Waste going to our landfills. Everyone should be actively involved in helping improve the environment. Now, to be frank, Zero Waste will eventually be a disaster for companies in the sanitation industry like Easy Dumpster Rental. But until we get to this point of no waste, please consider Easy Dumpster Rental in the mean time. We can handle any job, residential or construction.
It's that easy!
Call Our Team Now
1-888-792-7833