Dumpster Rental in Newark, NJ
Get Garbage-Rolloff Busting Rental Prices Today
Click To Call 1-888-792-7833Click For Email Quote
How We Can Offer The Greatest Dumpster-Rolloff Service In Newark:
When you want the job done correctly the first time your only choice in Newark is Easy Dumpster Rental. We aim to please you with exceptional service and a friendly, helpful staff. Count on us to transcend your expectations.
You will be highly impressed and inspired by our customer service team
An easy to use rolloff weight calculator to make life easy for you
We rent to the residential community and are a "Green Company"
A variety of rolloff-dumpster sizes to choose from to make managing your projects a cinch
A FAQ page that will answer most of your questions on we we run our business
Dumpster Rental Pricing in Newark is Based on Many Different Factors
To Receive The Lowest Pricing, Call For A Customized Quote Now 1-888-792-7833
Save With Us Between $10 And $80 On Your Canister Rental Cost:
We take great pride in putting the customer first and foremost. Our mantra of being highly transparent enables you to make the right choice and to know what you are getting for your buck. A great service with low prices.
Everyday super low dumpster prices guaranteed to make you a very happy person indeed
Our competitors can only cry in their beer when they see how wonderful our prices are in comparison
We don't play games here. You work hard for your money and we know how hard it is to make a buck today
Over 15 years experience in the waste business which means we have a lot of practical knowledge to pass on
 Don't waste anymore time and find out why we are growing at such a fast clip
Earn Up To $50 | Share / Like Below
Click To Call 1-888-792-7833
Click For Email Quote
10 Yard Dumpster (2 TONS) 4,000LBS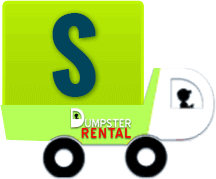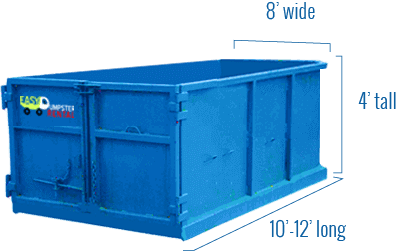 Easy Dumpster Rental
20 Yard Dumpster (3 TONS) 6,000LBS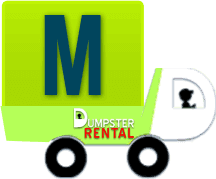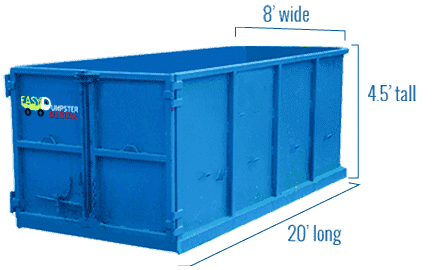 Easy Dumpster Rental
30 Yard Dumpster (4 TONS) 8,000LBS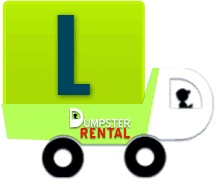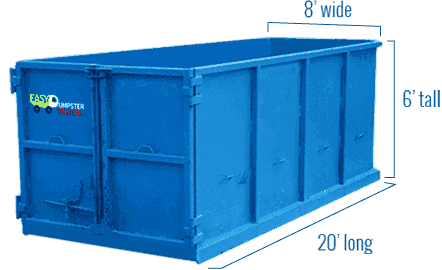 Easy Dumpster Rental
40 Yard Dumpster (5 TONS) 10,000LBS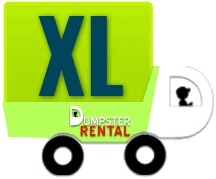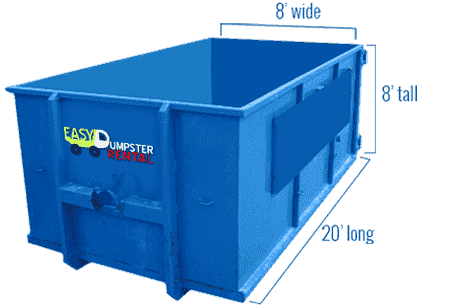 Easy Dumpster Rental
Landfill Location Newark, NJ
Not only is Newark the county seat of Essex County, it is also the most populous city in the state of New Jersey as well. Biweekly garbage pickup services are offered throughout the entire city for all residents.
Solid Waste Transfer & Recycling
442 Frelinghuysen Avenue
Newark, NJ 07114
973‐565‐0181
Monday – Saturday (24 hours/day)
The city is separated into two garbage collection zones that each have two sets of different garbage collection days.
Zone A
Eastern and Southern areas
Monday and Thursday
Zone B
Western area
Tuesday and Friday
Residents who require more information can contact:
Newark Non-Emergency Call Center
973-733-4311
Recycling In Newark
Recycling pickup services are also available for all residents of Newark. These recycling collection services occur on the same regular household trash collection days that are specific to each zone. However, residents should be aware that there are specific recyclables that are collected on specific days.
Zone A
Monday – Paper – Cardboard, newspapers, junk mail, magazines
Thursday – Plastic – Soda and water bottles, milk jugs, juice bottles, laundry detergent containers; Glass – Liquor bottles, food jars, glass jars; Metal – Food cans, soda cans
Zone B
Tuesday – Paper – Cardboard, newspapers, junk mail, magazines
Friday – Plastic – Soda and water bottles, milk jugs, juice bottles, laundry detergent containers; Glass – Liquor bottles, food jars, glass jars; Metal – Food cans, soda cans
General recyclables can also be dropped off at the following location:
Solid Waste Transfer & Recycling
442 Frelinghuysen Avenue
Newark, NJ 07114
973‐565‐0181
Monday – Saturday (24 hours/day)
Household Hazardous Waste
The Essex County Utilities Authority provides residents with numerous HHW and electronic waste collection days throughout the entire county. Some of the commonly accepted materials at these events include:
Gasoline/Kerosene
Car batteries
Pesticides and Herbicides
Pool chemicals
Aerosol spray paints
Nicad/Rechargeable Batteries
Some of the more commonly unacceptable materials are:
Asbestos
Commercial or Industrial Waste
Latex paint
Regulated Medical Waste or Infectious Waste
Household batteries
A more concise list of acceptable and unacceptable materials can be found here.
Yard Waste
Yard waste; such as small branches, twigs and leaves, are collected on different days in each zone. Zone A has yard waste collection every third Wednesday of each month and Zone B has yard waste collection every fourth Wednesday of each month.
Quick Other Facts About Newark
Newark is the largest city in New Jersey with close to 280,000 residents. Incorporated in 1693 it has become a major rail and airlines hub. It has some of the best college's in America with Rutgers University, Seton Hall Law School, and The New Jersey Institute of Technology calling Newark home. It is also where the National Hockey Team, The New Jersey Devils play. Some better know people from Newark include the great novelist, Stephen Crane, who wrote the "Red Badge of Courage" and the actor Joe Pesci. Prudential and Panasonic have their headquarters here.
What Makes Easy Dumpster Rental Stand Out From The Crowd
Starting with a dream and a prayer our company founder started Easy Dumpster Rental a little over 15 years ago with the ambitious goal to be the leading sanitation company in America. And that dream is becoming a reality. We are the fastest growing dumpster rental business in America and literally have thousands of repeat customers who return to us each year because we believe that integrity and loyalty are the backbone of any successful enterprise. We have many happy customers and you can read their testimonials here. Putting the customer first, never making excuses, and offering the lowest prices in the industry have propelled us into the forefront.
Our work ethos demands that we work hard to earn your trust and business everyday and never take a customer for granted. Customer service is so important to us that we will swim across a swamp full of crocodiles if we have yo to make you happy and put things right. Respect gets respect. And we respect every client has one of our own family members. And this isn't some kind of trite, we mean what we say here at Easy Dumpster Rental. Without happy, completely satisfied customers who do not have a business.
According to the Small Business Administration(SBA) over 50% of all businesses fail in the first 5 years. And according to many economists since 2008, this has been one of the slowest recoveries since the Great Depression. But in spite of all of this, we are still going and growing strong. This speaks volumes about our business ethic. We have toiled hard to be successful and because of you we are still in the game. We will never give up until we are the number one sanitation company in the country. Our customer service team that we have assembled are some of the brightest in the industry. Which means you can have the utmost confidence in our decision making process and do what is right for the customer.
Each sales team member must have prior experience in the waste business before we will hire them. And couple that with most competitive prices in Newark we strongly believe that you will not find a better company to do business with. Because of our longevity, we have been able to make valuable industry contacts that will move heaven and earth for us so that you will never have to wait for your dumpster-bin to be delivered on time. And the same goes fro pick ups. You can even request a pick up on line if you would like.
Our experts can get you a rolloff quote in mere minutes and we will beat or match any competitors prices. We believe in being a transparent company and you should know exactly what you are paying for. Just ask your sales agent to give you a breakdown of our prices.
We offer a variety of dumpster-rolloff sizes so that we can help you complete any job no matter how big or small. We cater to both the residential homeowner and to the construction industry. Also, we have an easy to use dumpster weight calculator that serves two purposes. One, you get the right price for the job and second, you get the correct bin. It makes no sense at all to order a container that is to large for your particular project. So if you are in the market for a canister rental, please give us a call so we can help you clear out your attic or garage or take on that huge demolition project. Easy Dumpster Rental helping you get the job done right the first time.
It's that easy!
Call Our Team Now
1-888-792-7833