Dumpster Rental in Cary, North Carolina
The Champion of Keeping Rental Costs Low
Click To Call 1-888-792-7833Click For Email Quote
Why We Offer Uncommon Roll Off Dumpster Service:
No rental company can match our outstanding customer service. We go to great lengths to ensure your satisfaction. We hire only the best of the best. The sales team we have employed are top notch.
Cheerful sales reps
We like giving helpful advice
Dumpster sizes 10, 20, 30, 40 yards
Get a quote lickety split
Weight calculator
Dumpster Rental Pricing in Cary is Based on Many Different Factors
To Receive The Lowest Pricing, Call For A Customized Quote Now 1-888-792-7833
Rent a Dumpster now, and save up to $90:
When saving money is important to you and finding the most cost-effective way to accomplish this, then Easy Dumpster Rental has solutions. We have the lowest prices.
Best dumpster price guarantee
With 15+ years of experience, we know exactly what you need
No obscure fees
FAQ's page for your convenience
Hurry and call now. We love to help you save
Earn Up To $50 | Share / Like Below
Click To Call 1-888-792-7833
Click For Email Quote
10 Yard Dumpster (2 TONS) 4,000LBS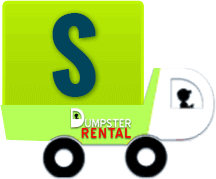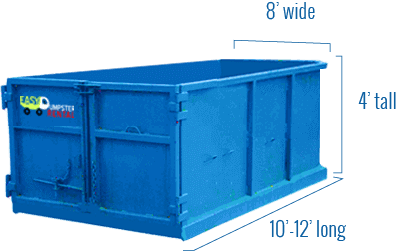 Easy Dumpster Rental
20 Yard Dumpster (3 TONS) 6,000LBS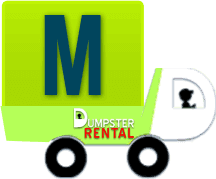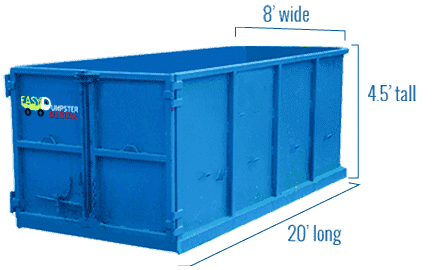 Easy Dumpster Rental
30 Yard Dumpster (4 TONS) 8,000LBS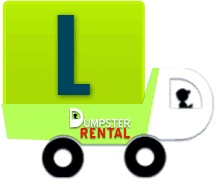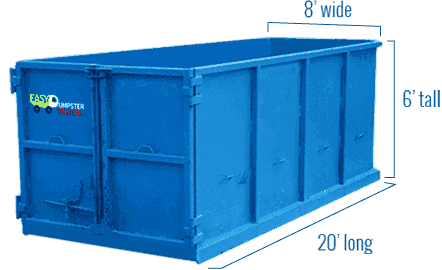 Easy Dumpster Rental
40 Yard Dumpster (5 TONS) 10,000LBS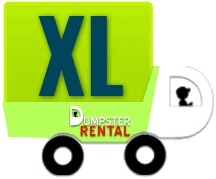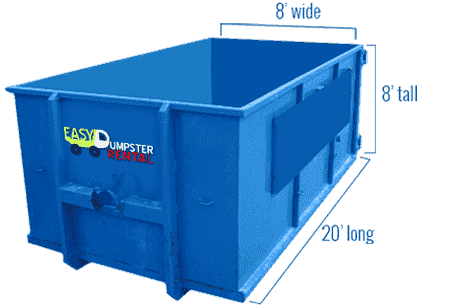 Easy Dumpster Rental
Landfills or Drop offs in Town of Cary, NC
The Town of Cary resides mostly in Wake County. The town utilizes The South Wake Landfill. It is located at:
6300 Old Smithfield Road
The operating hours:
Monday-Saturday 7am-4pm
Accepted items: municipal solid waste.
Unaccepted items include: Lead acid batteries, Raw sewage, Yard waste
Visit the South Wake Landfill website for a complete list of banned materials and other pertinent information.
Factors that Effect the Cost of a Renting a Dumpster
There are 4 factors that must be taken into consideration in the pricing model of renting a rolloff. These include; Landfill costs, Debris type, Debris weight, and Rental period. In the following article, we will address each element.
A) Landfill Costs
Landfill fees or tipping fees will vary from city to city. The fee is generally used to offset the cost of opening, maintaining, and the closing of the landfill. Landfills are mandated by the EPA to be closely monitored for 30 years after the closure of the site. An important component of this 30 year period is watching for any leaching of waste into the underground water supply.
B) Debris Type
Expenses for the type of debris you drop off will incur different sets of costs. And that can vary widely depending on the city or county. Within the landfill itself, you will find different prices depending on the material. Cardboard could be twice as much as garbage. It may be that some materials are harder to dispose of and will command a higher premium.
C) Debris Weight
Depending on the size of dumpster you need it will impact costs. Easy Dumpster Rental rents rolloffs in 4 different sizes. 10, 20, 30, and 40 yards. More than likely a 40-yard dumpster, having more volume, is going to be heavier than a 10-yard bin, so the 40-yard dumpster at the weigh station will obviously cost more.
D) Rental Period
Easy Dumpster Rental typical offers 14 and 30-day rental periods. With over 15 years of experience on our side, this offers a couple advantages. First, you will get the exact size dumpster for your project. We won't rent you something you don't need just to get an extra dollar out of you. Secondly, we will work with you if you need more rental time. Our pricing is flexible when it comes to overtime so to speak. We want happy customers so we will go the extra yard to accommodate you.
What is the Embodiment of Hazardous Waste
The definition of hazardous waste is any material or waste that can be harmful or put in jeopardy a human life. Or, it can have a detrimental effect on the environment. Even leading to the death of a human or destroying an ecosystem beyond the point of recovery.
Hazardous waste is nothing to be trifled with. Or just blow off. It demands our respect and immediate attention. It's not just about big oil, or steel and chemical companies. It's a lot closer to home that you realize. So close, all you have to do is scan your garage or look what is under your bathroom sinks. Hazardous waste is everywhere.
The Government has prepared a great handout to help you recognize hazardous waste in the home. Some of the materials or products listed are:
Glues
Toilet cleaners
Bug sprays
Home heating oil
Mouse baits
Pool chemicals
Paint thinners
These are just a few items mentioned. It's a good idea to get a grasp on the potential dangers you are exposing your family too. One way you can help protect your children is to read the labels of products before you even bring them home. And if they are already in your garage, make sure you know exactly how to use the product and the proper way to dispose of it. Another good idea is while you are grocery shopping is take a good long around on what is on the shelves. Chances are there is a safer, more environmental safer product right in front of your eyes. Do a Google search and read up on household hazardous waste and while you are at it, search for green substitutes. The world is full of safer products that you can use.
How to Dispose of Hazardous Waste in the Town of Cary
Household hazardous waste cannot be dropped off at a landfill because of the threat of contamination. The county has directed its residents to drop off hazardous waste at one of two locations.
North Wake Facility
9837 Deponie Drive
Raleigh
South Wake Facility
6130 Old Smithfield Road
Monday-Saturday 8am-4pm
Materials that can be dropped off include:
Propane tanks
Batteries
Acids
Paints
Banned items include:
Smoke detectors
Fire extinguishers
Radioactive materials
Ammunition
For a complete list of waste that can or cannot be dropped off visit the Wake County Web site. If you have any questions or concerns please call: (919)856-7400.
It is imperative that you do not drop hazardous waste into your curbside garbage or recycling bins. These bins go to special sites that do not accept hazardous waste. These facilities are not set up to handle materials of a corrosive or toxic nature. If you have any doubts on what you are handling and are not sure how to dispose of something you may think is hazardous, call your county officials. The number is: (919)856-7400. It is better to be safe than sorry. Our environment is experiencing an overload of hazardous waste. Get informed so you can make your community a cleaner, more desirable environment.
How to Recycle in Cary, NC
The Town of Cary City Hall website has a ton of information on recycling for all of the residents. Since 1991 Cary has been offering curbside recycling. They also have for your convenience a brochure on recycling that you can print out. Great idea!
Below is just a few of the items you can put into your bin:
Telephone books
Empty paper bags
Bottles #1-7
Greeting cards
Lawn furniture
Pots and pans
Glass bottles and jars
Here are few items that you cannot put into your recycling bin:
Books
Paper towels
Unnumbered plastic
Toys
Pizza boxes
Ceramics
Light bulbs
If you have any questions, please call the Public Works Department at (919)469-4090.
This page instructs you on how to dispose of computers, electronics, and televisions. The city has prepared a FAQ's page where you can get answers concerning all aspects of recycling. This is a great resource and can save you sometimes referring to this than trying to reach someone at city hall.
There are yard waste collection days and they can be found by visiting the yard waste collection day site. There are all sorts of information pertaining to proper disposal of yard waste.
So be sure to check out all these resources the City of Cary, NC has provided for you. Help keep Cary clean and a vibrate town to live and raise a family in.
It's that easy!
Call Our Team Now
1-888-792-7833