Dumpster Rental in Durham, NC
A Cost So Low That It Will Bring You Tears of Joy
Click To Call 1-888-792-7833Click For Email Quote
We offer exclusive services with exceptional value. Our rental rates are unbeatable. The sales team is the most knowledgeable lineup in the industry. Tried and tested, they will go the extra mile for your business.
15 years of providing sanitation services
We help you pick the right size bin
You will not feel frustration dealing with us
Have a question, then please see our FAQ's page
We are uniquely qualified to serve you
Dumpster Rental Pricing in Durham is Based on Many Different Factors
To Receive The Lowest Pricing, Call For A Customized Quote Now 1-888-792-7833
If you would like to save up to $50, then pick up your cell and call:
Our friendly team at Easy Dumpster Rental you will soon discover, is a pleasure to talk to. Having a staff that knows their stuff makes doing business a smooth and wonderful experience. In addition, we can save you lots of money.
All rates are transparent
We don't try to hustle you
All fees are upfront
Don't delay any longer, call and save up to $50
Earn Up To $50 | Share / Like Below
10 Yard Dumpster (2 TONS) 4,000LBS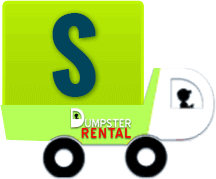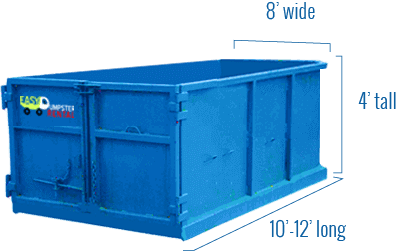 Easy Dumpster Rental
20 Yard Dumpster (3 TONS) 6,000LBS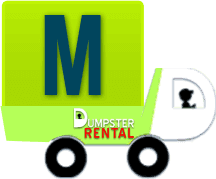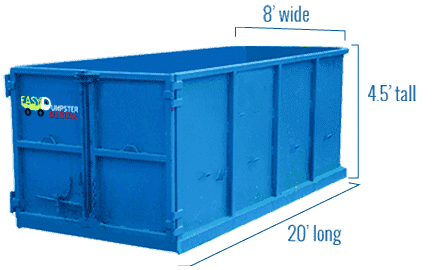 Easy Dumpster Rental
30 Yard Dumpster (4 TONS) 8,000LBS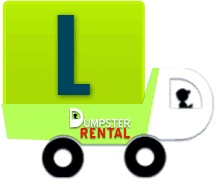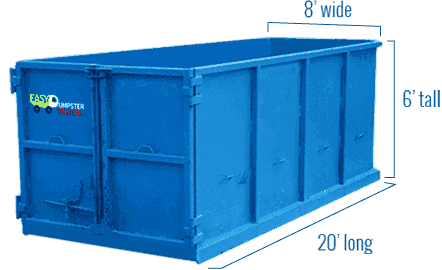 Easy Dumpster Rental
40 Yard Dumpster (5 TONS) 10,000LBS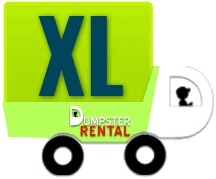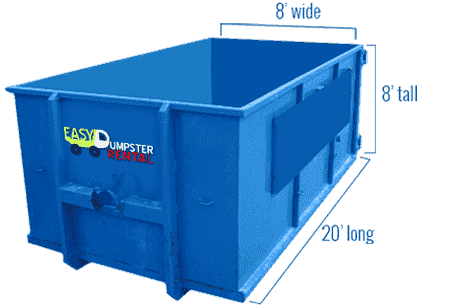 Easy Dumpster Rental
Landfills in Durham and Surrounding Areas
Durham County has 4 solid waste disposal sites. The are located throughout the county and be found at these locations:
Parkwood
5928 Highway 55
919-560-0460
Redwood
100 Electra Drive
919-682-8200
Bahama
9008 Quail Roost Road
919-477-8552
Rougemont
108 Bill Poole Road
919-477-4325
Hours of operation are as follows:
March-October: Monday-Saturday from 7am-7pm
November-February: Monday-Saturday 7am-6pm
Residents must have a current decal to use these sites. The sites do not accept commercial or demolition materials.
Durham County also operates a waste transfer station. This station will accept:
Asphalt shingles
Lead acid batteries
White goods
The Transfer Station is located at:
2115 E Club Boulevard
Durham, NC 27704
919-560-4611
They are open from:
Monday-Friday
7:30am-4pm
Saturday
7:30am-Noon
There are fees involved to use this transfer station. Check the site for current costs.
The Issues Surrounding Indoor Air Quality
Most people take their indoor air quality for granted. But there are variables to consider and to act on to improve the air we breathe in our homes. There is carbon dioxide, mold, radon, and bacteria. To name just a few.
One of the most dangerous is Radon. Because it is invisible it is not easily detectable. Radon tends to enter the home through the soil and enters our drinking water. Thousands of deaths are attributed to Radon every year and lung cancer is the leading cause of to much Radon.
Mold is another culprit. Though not as serious has Radon, mold spores can trigger asthmatic responses. There are some molds that contain toxic compounds, the probability of inhaling these toxins are very low. Mold mostly is found in plumbing leaks or groundwater getting into the home. Like Radon, mold spores can have devasting effects on asthma patients.
Carbon Monoxide is an orderless, colorless gas. It is usually released from space heaters, cigarette smoke, and car exhaust.  Breathing in too much Carbon Monoxide can lead to death.
Carbon Dioxide mostly comes from humans. It can cause one to feel drowsy, experience headaches, or lower performance rates when it comes to activity levels.  A couple of hours of proper ventilation each day should slow down or eliminate Carbon Dioxide build ups in your home.
One of the best and easiest solutions to improving the air quality is to have plants throughout your home. Plants help reduce CO2 levels and release oxygen and water into the air. They also help lessen certain volatile compounds.
For more information on this issue of indoor air pollution, please refer to The National Institute for Occupational Safety and Health.
The Problem of Hazardous Household Waste 
Household hazardous waste is one of the least known and probably one of the easiest of all hazardous waste to address. Many people go about their lives blissfully unaware that every day they are handling a hazardous waste or bringing them into their homes. Unwittingly exposing their families to toxins that can have adversarial effects.
Some of the materials you should be aware of are:
Cleaning products; such as oven cleaners
Automotive products; Motor oil
Lawn products; herbicides
Indoor pesticides; bug sprays
Painting supplies; paint thinners
Batteries
Diesel fuel
This is just the tip of the iceberg. Do some research and you will not only be amazed by what you discover, but you will also find practical solutions and substitutions for these products. For example, check out Pinterest, a popular social network, where people share ideas. And in this case, you can find zillions of solutions dealing with this issue.
Another simple step you can take is to read the labels. Know what you are bringing into your home. On every grocery shelf in America, you will find an eco-friendly product next to the one that is not so safe. Do you and your family a favor and endeavor to find products that may increase the longevity of your life.
Where to Dispose of Hazardous Waste in Durham County
Household hazardous waste can be disposed at the following center:
Household Hazardous Waste Center
2115 E Club Boulevard
Durham, NC 27704
Phone: 919-560-4611
Hours of operation:
Monday-Friday
7:30am-4pm
Saturday
7:30-Noon
Below is a sampling of items that are accepted at this facility:
Road flares
Mercury thermometers
Gasoline
Lithium-ion batteries
Fire extinguishers
Some items that will not be accepted include:
E-waste; electronics
Explosives
Lead acid batteries
Cooking oil
There is a Frequently Asked Questions page with a video. It gives you information on where to dispose of the following items:
Commercial garbage
Bulky items
Residential garbage
E-Waste recycling
Solid waste and recycling
Great video to take a look at. By the way, electronics can be taken to:
Transfer Station
2115 East Club Blvd.
Hours of operation:
Monday-Friday 7:30am-4:30pm
Saturday 7:30am- noon
The Solid Waste Department offers curbside pick up for televisions by appointment only. Please call: 560-1200 to schedule a pickup.
For any questions concerning hazardous waste please call Durham One Call at:
(919) 560-1200
Take the time to look at these sites and the video so you can be better informed on how to deal with hazardous waste in Durham.
How, What, and Where to Recycle in Durham
According to The City of Durham website, North Carolinians throw away enough trash to circle the earth twice. That is a lot of garbage. The City of Durham makes it easy to recycle. You don't have to sort. All paper must be clean and dry. Glass bottles and jugs are acceptable and so are plastics.
The following materials are not accepted for recycling:
Plastic bags
Styrofoam
Blinds
Food containers with debris
Hardback books
The City of Durham owns one staffed recycling center
2115 East Club Boulevard
Durham, NC
If you have any questions, they can be reached at: 919-560-4611
Durhan County operates 4 Convenience Centers for your recycling needs.
NC 55 and T.W. Alexander Drive (Parkwood)
Phone: 919-560-0460
Quail Roost Road and Ball Road (Bahama)
Phone: 919-477-8552
Redwood Road and Electra Drive (Redwood)
Phone: 919-682-8200
U.S. 501 North and Bill Poole Road (Rougemont)
Phone: 919-477-4325
It is probably a good idea to get on the recycling bandwagon. When you consider one state throws away enough trash to circle the globe twice, you know we have an issue. Recycling goes a long way in beautifying a city. And we all desire to live in a city that we can be proud of. Remember the positive impact of recycling provides many substantial benefits to a community. Including; raising property values, creating jobs, and increasing the chances of businesses relocating to the area. There is a lot of upside to recycling, so let's all do our part to make the cities we call home wonderful places to live.
It's that easy!
Call Our Team Now
1-888-792-7833