Dumpster Rental in Greensboro, NC
Get Rolloff Savings That are Out of This World
Click To Call 1-888-792-7833Click For Email Quote
We offer distinctive service:
Our dumpster rental service's are superior in every way. We have 15 years of experience in sanitation business with close to 100,000 dumpsters rented.
No high pressure selling tactics
Intelligent sales reps
Get a quote in 2 minutes
Variety of sizes to pick from
You can request a pickup online
Hundreds of super happy clients
Rolloff Dumpster Rental Pricing in Greensboro is Based on Many Different Factors
To Receive The Lowest Pricing, Call For A Customized Quote Now 1-888-792-7833
Want to save a buck or two? Call now and save up to $80:
We know your time is precious. That is why we guarantee that your bin will be delivered on the exact day and time you requested. Ditto for the pickup. You can bank on our promises to deliver and enjoy big savings when you rent from us.
Tired of empty promises about savings? We beat or match any competitors prices.
Flat rate pricing
With 15+ years of experience you can count on us
Simple to use weight calculator
No surprise or hidden fees
Earn Up To $50 | Share / Like Below
10 Yard Dumpster (2 TONS) 4,000LBS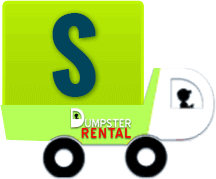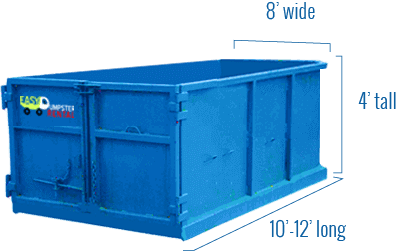 Easy Dumpster Rental
20 Yard Dumpster (3 TONS) 6,000LBS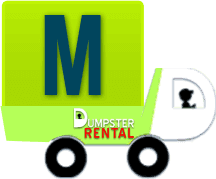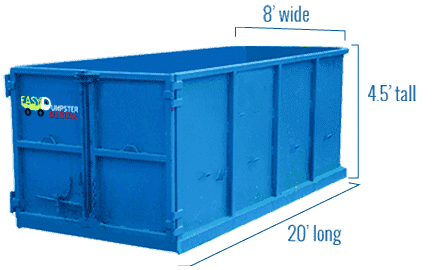 Easy Dumpster Rental
30 Yard Dumpster (4 TONS) 8,000LBS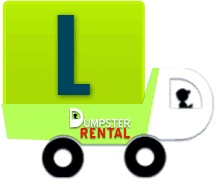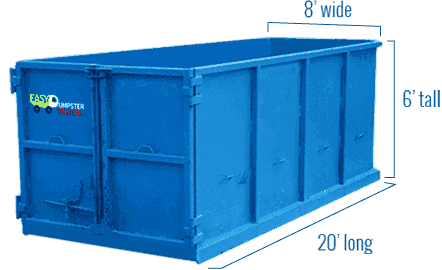 Easy Dumpster Rental
40 Yard Dumpster (5 TONS) 10,000LBS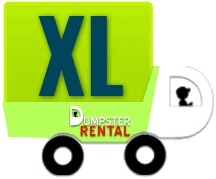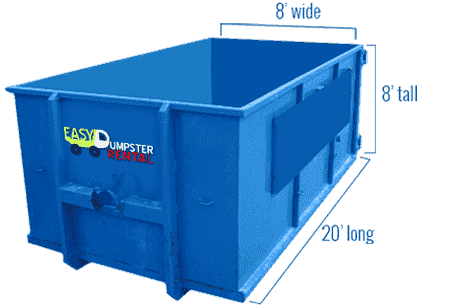 Easy Dumpster Rental
Landfills in Greensboro, NC
Greensboro residents have 2 options when it comes to transporting of their solid waste. The solid waste transfer station located at:
1) Solid Waste Transfer Station
6310 Burnt Poplar Road, Greensboro
(336) 373-3867
2) Kersey Valley Landfill
3748 East Kivett Drive, High Point
(336) 883-3435
There are 3 facilities in Guilford County which the city of Greensboro residents can use. These sites accept both construction and demolition materials. They are located at:
White Street Landfill
2503 White Street, Greensboro
(336) 373-7657
WCA of High Point, LLC
5830 Riverdale Road, Jamestown
(336) 886-3560
Salvage America, Inc.
3001 Holts Chapel Road, Greensboro
(336) 215-5228
For any questions, please contact: Environmental Services Coordinator – (336) 641-3792
The solid waste department has prepared this handy guide explaining in more detail the services Guilford County provides. It is apparent that the county has put a lot of work in preparing this handy reference tool for its citizens and it would be worth your while to take a peek at it.
Some Great Ideas to Help Save our Environment
It seems that every time we watch on TV or read the news on the internet, there seems to be a water contamination issue or an oil spill in the Gulf of Mexico or river being polluted right in our backyard. And as these events continue to multiple we feel a sense of urgency to protect our fragile eco-systems. For the time being, oil plays a major role in our society. And no matter what kind of safeguards the oil companies or our government attempts to deploy we continue to read about these disasters. And going up against the big oil companies seems like it's impossible to get anywhere and perhaps this is not your fight or calling. Most people want to do something but it can feel overwhelming at times. But on a smaller scale, there are steps we can take to feel part of a bigger solution.
We can all do our part by conserving and being wiser when it comes to energy consumption. Ideally, if everyone took some responsibility when it comes to watching our energy use, we could do minor miracles. And minor miracles, with everyone on board, can morph into a major miracle. Lessening our dependence on oil is one of the goals. So, let's explore some options.
Using a full load when washing clothes can save up to 12,000 gallons of water a year.
Try to break the habit of using paper and plastic for groceries. Use a tote bag of some sort. Plastic is killing our environment.
If it is practical, try to collect rain water and use it to water plants and the lawn.
Did you know that having correct tire pressure, plays two major roles? One, the tires will last longer and you save on gas.
If you could take a shorter shower even a minute or two, you could save up to 2,000 gallons of water a year.
These are just a few simple ideas you can start doing now. And I'm sure if you searched the web, you could find thousands of ways to help improve and save our planet. Google it.
What is Hazardous Waste
Protecting our families is one the most important objectives we have in life. And there are many ways this is accomplished. From the food we eat, to what we consume through the media, to the people we associate with. All are potential threats or dangers. But there is one more danger lurking in your homes we need to consider. And that is the threat of household hazardous waste.
It is simple to do a Google search to discover these hidden dangers are actually right under your nose. But the EPA as made it easy for you.
Some of the most common hazardous waste include:
Pool chemicals
Glues
Driveway sealers
Herbicides
Paint
Moth repellents
Flea shampoos
All of these products and more can put your families health at risk. So please take the time to go over the list and look for greener products on the supermarket shelves. There are many sites on the web that offer great ideas for safer products. This site, called Prevention, has a few good tips. Air fresheners have chemicals that can cause allergic reactions. Fabric softeners and dryer sheets can cause people with  asthma to have an allergic reaction. Drain cleaners have highly toxic chemicals that can burn your skin and irritate your eyes. The site mentions quite a few substitutes for detergents, dish washing products, and all-purpose cleaners. Check it out, it may prevent a hazardous event at your home.
Where to take your Hazardous Waste in Greensboro
The county has a Household Hazardous Waste Collection program to help get rid of these harmful items. This center is located at:
Ecoflo, Inc.
2750 Patterson Street
Greensboro,NC 27407
The hours of operation are:
Wednesday-Friday
10am – 6pm
Saturday 8am – 2pm.
And they can be reached on:
(336) 373-2196
This Center is only for residents of Guilford County and commercial use is banned.
Some of the items that are accepted are:
Acids/bases
Car batteries
Floor care products
Nail polish and remover
Hair remover
Oven cleaning products
Contact cement
Prohibited items include:
Medical waste
Radioactive materials
Explosives
Please refer to the Guilford County guide for a complete list of acceptable and banned items.
Recycling in Greensboro and The County
The City of Greensboro City Hall offers plenty of recycling tips. The following is permissible to recycle in the City of Greensboro;
Magazines
Paper
Food cartons
Beverage cartons
All plastic bottles; 1-7
Aerosol cans
Pots and pans
Forbidden items include:
Baby diapers
Car parts
Tires
Clothes
Please visit the City Hall recycling website for further information on the dos and dont's of recycling. The city has curbside recycling and there are 19 recycling centers that are available to the residents.
Some of  the 19 Centers can be found at:
Fire Stations; 2, 7, 14, 17, 19 and 20.
 The Gillespie Golf Course
306 E. Florida St.
For a complete list, please visit the recycle drop-off location page.
Recycling plays an important role in the health of a city. From keeping rivers, lakes, parks, and beaches free from harmful debris, the city stays looking beautiful. A city and its residents who take recycling seriously can have a positive impact on housing values, recycling helps creates jobs, and helps reduce energy costs. We all want to live in a city that is vibrate, clean, and there is a good amount of civic pride. Tourism increases and people want to purchase homes and raise their families in a community with high standards. So do your part and help keep Greensboro a lovely place to call home.
It's that easy!
Call Our Team Now
1-888-792-7833