Dumpster Rental in Maiden, NC
Get Tremendous Service & Exceptional Bin Rates
How We Provide Magnificent Roll Off Service In Maiden:
There is no excuse for a bin rental company to give poor customer service. That is why we have literally thousands of repeat customers who return to use every year for their rolloff-rental needs. Great service is in our DNA.
Our dumpster conversion tool is the first choice among fair maidens
There is no job, no matter how big, we cannot handle.
Deliveries are made to virtually any residential or commercial location in Maiden
Read stories of our customers who would rather die than use one of our competitors.
Call us up with any questions you may have concerning your container rental.
Dumpster Rental Pricing in Maiden is Based on Many Different Factors
To Receive The Lowest Pricing, Call For A Customized Quote Now 1-888-792-7833
Save Up To $100 On Your Container Rental Cost:
If on-time delivery, followed by a timely pickup, and affordable pricing are essential to you then Easy Dumpster Rental is the brand to turn to. We will help make your life more efficient and save so money also.
Our flat rate pricing model is taking the World by storm.
Both delivery and disposal included in one super low price.
Check out our ultra-modern dumpster weight calculator.
Get renowned rolloff prices and if we had a king/queen they would use our services.
Low flat rates on a wide variety of open top rollaways.
Earn Up To $50 | Share / Like Below
Click To Call 1-888-792-7833
Click For Email Quote
10 Yard Dumpster (2 TONS) 4,000LBS
Dumpster Calculator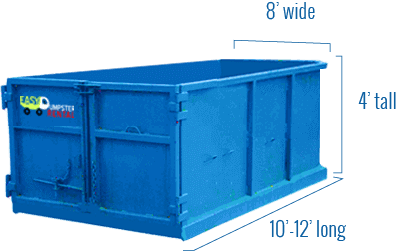 Easy Dumpster Rental
20 Yard Dumpster (3 TONS) 6,000LBS
Dumpster Calculator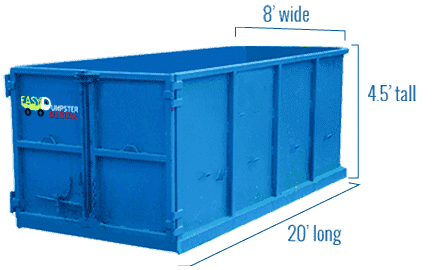 Easy Dumpster Rental
30 Yard Dumpster (4 TONS) 8,000LBS
Dumpster Calculator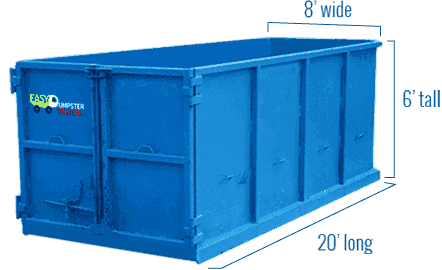 Easy Dumpster Rental
40 Yard Dumpster (5 TONS) 10,000LBS
Dumpster Calculator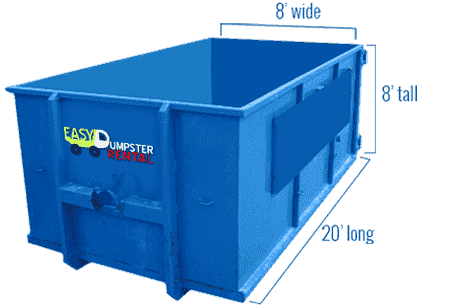 Easy Dumpster Rental
Recycling, Convenience Centers and Quick Facts About Maiden, NC
Maiden was settled in 1883 and has a current population of 3,300 residents. Salem Union Church and Harren-Hood Farms are both listed on the National Registry of Historic Places. Apple has an iCloud data center located here covering 500,000 square feet. They also have a solar farm with fuel cells that are helping to power the town.
Recycling and Convenience Centers
Maiden is located in Catawba County in North Carolina. The Town of Maiden does not offer curbside recycling collection services. Residents are encouraged to take advantage of the County Convenience Centers.
Blackburn Convenience Center
4017 Rocky Ford Road
Newton NC 28658
Phone: (704) 462-2496
Hours of Operation
Mon-Fri 10-6
Sat 10-6
Closed Wednesdays and Sundays
Items accepted at this landfill include:
Newspaper
Glass
Plastics
Magazines
Juice cartons
Items not accepted at this landfill include:
Tires
Hazardous waste
Medical waste
Antifreeze
White goods
Some Tips on How To Correctly Fill Your Rolloff
It is a good idea to know how to properly fill your open top rollaway. Not only for safety reasons but to maximize the volume of the container.
Do Not Overfill The Canister
One thing that you should keep in mind is that you should never overfill your can unit. If the rolloff is overcrowded with items that are packed up to the top and hanging from the sides then the hauler will be unable to move it. Due to safety issues, as well as state laws, our haulers are not permitted to transport bins with items jutting out over the sides or sticking up in the air.
The best way to avoid overfilling your container is to break up the items that you are disposing of, if possible, into smaller pieces. In some cases, you will be able to break up or pull apart items like old furniture. Position bulky items like couches, beds, and other large furniture at the bottom of the container and then place smaller ones around them. Thus the container will be able to accommodate more items without having them protruding over the top.
Do Not Exceed The Dumpster's Weight Limit
Ensuring that you don't overfill the bin unit will help you to stay within the weight limit. The open top rollaway will be weighed at the landfill so it is important that you fill the rolloff with the materials you were originally given a quote by your Account Manager.
Avoid Placing Unsafe Items In The Rolloff
Not all waste items can be disposed of in rolloff containers. Due to government laws, safety issues, and the potential threat they pose to the environment, hazardous waste materials should not be disposed of in canisters. It is against EPA laws to put hazardous waste into a dumpster. If you are caught doing so the government will hit you with a steep penalty.
Most common household items, including cabinets, clothing, furniture, toys, and even metallic products, can all be placed in bin containers. Always do your research or consult with Easy Dumpster Rental if you are uncertain about what items can be placed in the dumpster. A good place to start is to go to your local city hall website for pertinent information.
It's that easy!
Call Our Team Now
1-888-792-7833