Dumpster Rental in Winston-Salem, NC
Save a Ton on a Garbage Dumpster Rental!
Click To Call 1-888-792-7833Click For Email Quote
How we are able to offer great value with a rental :
Customer service is our bread and butter. And without happy clients our business would suffer. So, we go extra mile to ensure that you are getting great customer service and feel good about the Easy Dumpster Rental process.
We provide both residential and construction rentals
No headaches service
Variety of sizes
Skilled sales team
We have been renting bins for over 15 years
Rolloff Dumpster Rental Pricing in Winston-Salem is Based on Many Different Factors
To Receive The Lowest Pricing, Call For A Customized Quote Now 1-888-792-7833
Call us now and realize savings up to $75:
When you want the job done right, and time and money are important to you, then call a company who has a proven track record. Our longevity in the industry speaks for itself. We are the industry leader. Period!
All our fees up front
Flat rate pricing that no one else can match
Guaranteed best pricing in the industry
Time is money, so save both by calling us
We our a company of action
Earn Up To $50 | Share / Like Below
10 Yard Dumpster (2 TONS) 4,000LBS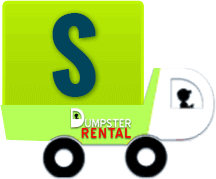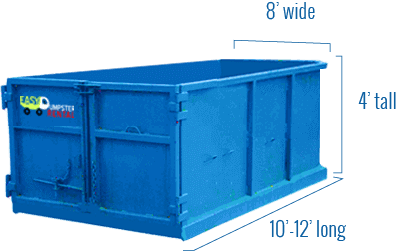 Easy Dumpster Rental
20 Yard Dumpster (3 TONS) 6,000LBS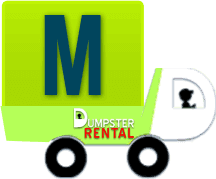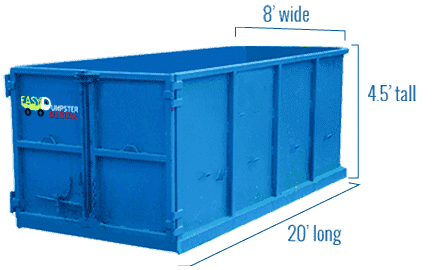 Easy Dumpster Rental
30 Yard Dumpster (4 TONS) 8,000LBS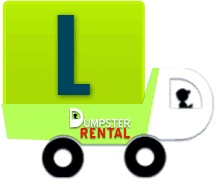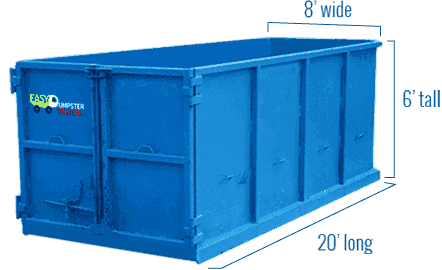 Easy Dumpster Rental
40 Yard Dumpster (5 TONS) 10,000LBS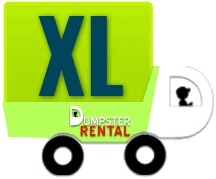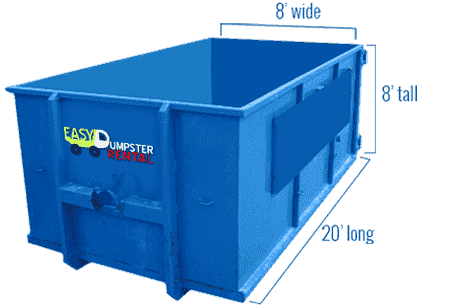 Easy Dumpster Rental
Landfills/Dumps in Winston-Salem
The City of Winston-Salem operates through the Solid Waste Division a state-permitted, active, sanitary landfill at Hanes Mill Road. Sanitary landfills must adhere to strict EPA guidelines to ensure public safety. Liners must be used and underground watering monitoring systems have to be deployed to help safe-guard the drinking water. The landfill is located at:
325 Hanes Mill Road Winston-Salem, NC 27105


The Hanes Mill Road Landfill can be reached on

 336-727-8000


The landfill operating hours: 

Monday-Friday:7am-4:30pm  & Saturday: 8am-Noon
The City also operates a Construction and Demolition waste disposal site. It is located at:
Old Salisbury Road Construction and Demolition Landfill
3336 Old Salisbury Rd.
Winston-Salem, NC 27127
336-727-8000.
According to North Carolina law, sanitary landfill sites cannot accept yard wastes. So the city has provided 2 options for leaf drop offs.
The Reynold Park Road which only accepts leaves from city sanitation crews and the
Overdale Yard waste facility accepts leaves from the general public. The Overdale yard facility is located on:
Old Milwaukee Lane Winston-Salem, NC
How Methane Gas is Captured and Used to Generate Power
Landfill gas is made up of 40-60 percent Methane and 40 percent carbon dioxide. Not a healthy combination. The gas is a result of decomposing microorganisms. Becuase these gasses can be both a blessing and curse, there are monitoring systems in place to watch the levels of gasses being produced. The curse is that these gasses are hazardous and the blessing is they can also be used to generate electricity.
Flame ionization detectors are used to monitor levels. It is by law that(The Clean Air Act) that landfills must install monitoring devices. Surface, sub surfaces, and the ambient air must be tested. Owners and operators of landfills must ensure that methane gas levels do not exceed 25 percent.
Landfills that are utilizing processes to harness the methane gas have installed on site, both steam and micro turbines, and in some instances, fuel cells. Electricity is made right on the site and is sold to various power companies. Pipes can also be utilized to send the gas through natural gas pipelines. Another hazardous waste that landfills produce is leachates. However, this danger can be remedied by evaporation as a result of the steam turbines heat.
Another advantage is that the environment is improved by using systems like these described above. The greatest impact is the lowering of greenhouse gasses. One more major benefit is that the capturing of methane gasses and selling the gas will lower energy costs.
Though the methods used to capture methane gasses is expensive and without some controversy which is not in the realm of this particular article to hash out, at least there is some technology at work trying to find solutions to the quality of the air we breathe and the water we drink. And any solution that moves us closer to weaning our country off oil is a positive step in the right direction.
The Composition of Hazardous Waste
Hazardous waste is one of the leading causes of pollution in America. It is destroying our rivers, lakes, streams, and oceans. All of which are vital to a healthy environment. Though many people are working to alleviate this problem there is much, as individuals, we can do to help in the fight to keep our natural resources clean and protected.
Here are mention some of hazardous materials:
Light bulbs
Pool chemicals
Ant baits
Antifreeze
Paints
Starter fluids
Cockroach sprays
It is very important to recognize these materials and know how to handle them. Make sure you read all labels so you are familiar with the proper use and disposal of these materials. If you are using bug sprays, for example, know the chemicals that are inside the can and make sure the area you are spraying is properly ventilated or wait until it is safe to return. Our landfills are full of items that are causing havoc. Cell phones and cell phone batteries are a huge problem. The chemical from these products can leach into our underground water sources and contaminate the water we drink. So think about what you are using, where you are disposing, and help keep our ecosystems free of pollution.
How to Dispose of Hazardous Waste in Winston-Salem
Forsyth County residents can drop off household hazardous free of charge at the 3RC-EnviroStation. This facility is located at:
1401 South Martin Luther King, Jr. Drive
Winston-Salem (across from Bowman Gray Stadium)
The hours of operation are:
Tuesday-Friday 9:00am-2:00pm
Saturday 9:00-noon
And the 3RC-Envirostation can be reached by calling: (336) 784-4300
Some of the materials that can be dropped off at this station include:
Paint
Pesticides
Automotive fluids
Computers
Computer accessories
Some of the banned items include:
Medical waste
Automotive oil filters
Wooden pallets
Used oil
Yard trash
Remember to never dump hazardous waste into drain pipes or sewers. Keep waste separate and in the original container if at all possible. There are open burning laws in the country that must be followed. Residents are allowed to burn leaves, tree branches, and yard trimmings. Logs over 6 inches in diameter or tree stumps cannot be burned. Open burning is only allowed in cities that do not have residential trash services. The hours residents are allowed to burn are between 8am and 6pm. And make sure the burning is not bothering your neighbors. Use some common sense.
Winston-Salem Recy#cling Rules and Regulations
Fortsyth County has 3 major recycling or convience centers. They include:
Winston-Salem Convenience Center
325 Hanes Mill Road
Winston-Salem, NC 27105Hours of operation:
Monday – Friday: 7:00am-4:30pm
Saturday: 8am-Noon
Kernersville Convenience Center
445 Lindsay Street
Kernersville, NC 27284Hours of operation:
Tuesday – Saturday: 8am-5pm
Pfafftown Convenience Center
6328 Yadkinville Road
Pfafftown, NC 27040
Yadkinville RoadHours of Operation:
Tuesday – Saturday: 8am-5pm
The Recycling Centers can be reached on:
(336) 703-2440
Materials accepted at the recycling centers include:
Corrugated boxes
Steel
Tin
Aluminium cans
All plastics 1-7
Glass
Items the recycling centers will not accept are:
Paint cans
Styrofoam egg cartons
Motor oil
Bottle caps
Books
Garden hoses
The Office of Environmental Assistance and Protection oversees all solid waste and recycling in Winston-Salem. They can answer any questions you may have related to environmental concerns. They can be reached at Fifth Floor:
Forsyth County Government Center
201 North Chestnut Street
Winston-Salem, NC 27101
Phone: 336 703 2440
Remember the Three "R's" of recycling.
Reducing waste by composting. Reuse old items or repurpose them. And always recycle. This helps keep a city beautiful and clean. More people are more likely to visit and to buy homes. Businesses are going to be more inclined to invest in areas where there is growth. And this all helps to make a city vibrant. A nice place to call home.
It's that easy!
Call Our Team Now
1-888-792-7833