Dumpster Rental in Knoxville, TN
Super-Duper Rental Costs!
Click To Call 1-888-792-7833Click For Email Quote
How we can offer outstanding value in Knoxville:
Value has many definitions. It could mean importance of someone or something. A companies principles or monetary worth. Or something that is beneficial. We would like to think that our company embodies all of these.
Highly principled work ethic and pride in doing a great job
15+ years in the dumpster business and going strong
FAQ page to help answer your questions
Online pick-up option for your convenience
Bin sizes for every conceivable job, residential or construction
Dumpster Rental Pricing in Knoxville is Based on Many Different Factors
To Receive The Lowest Pricing, Call For A Customized Quote Now 1-888-792-7833
Act now and save up to $50 on a dumpster rental:
Easy Dumpster Rental as worked hard over the last 15 years to build a brand that people can trust and rely on. We take renting dumpsters seriously and our customers are treat with the utmost respect.
No hidden surcharges at the end of your rental period
Prices that no one can touch and an industry that bleeds green with envy
Get a quote that you can depend on to never change
Our sales team representatives are the duty experts on the rolloff business
Flat rate pricing model that will never change
Earn Up To $50 | Share / Like Below
10 Yard Dumpster (2 TONS) 4,000LBS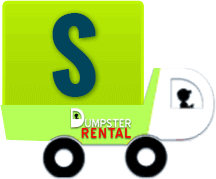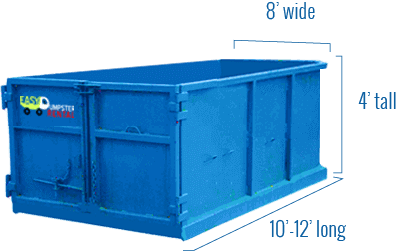 Easy Dumpster Rental
20 Yard Dumpster (3 TONS) 6,000LBS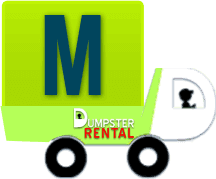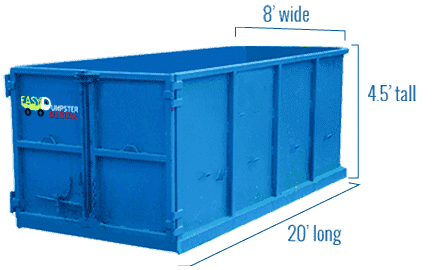 Easy Dumpster Rental
30 Yard Dumpster (4 TONS) 8,000LBS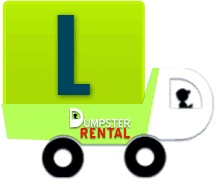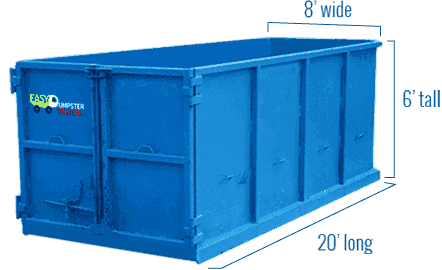 Easy Dumpster Rental
40 Yard Dumpster (5 TONS) 10,000LBS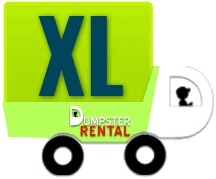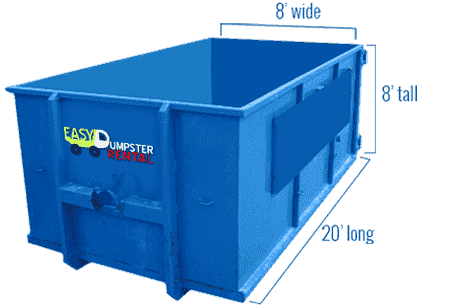 Easy Dumpster Rental
Landfill Location in Knoxville, TN
Knoxville is a city in Knox County in the State of Tennessee. The city has its own transfer station. City of Knoxville Solid Waste Management Facility Transfer Station can be found at the address below.
Solid Waste Management Facility
1033 Elm Street
Knoxville, TN 37921
Office: 865-215-6700
Hours of Operation:
Monday – Friday: 1 am to 4 pm
Saturday: 8 am to 12 pm
Sunday: Closed
Below is a short list of waste items that is accepted at the transfer station:
Loose asbestos
Asphalt
Dead animals
Lighting ballasts
Yard Waste
There are also privately owned landfills in the city that accept waste for a fee. Contact the landfills for information on accepted items and fees.
Riverside C&D Landfill LLC
3330 Delrose Dr.
Knoxville, Tn. 37914
865-607-8489
Poplar View Landfill LLC
1730 McMillan Station Rd.
Knoxville, TN 37924
865-525-7720
Recycling
The city offers a curbside recycling program and will pick up recyclables regularly from residents. Contact 865-215-4311 with any questions on the program or visit the official website.
Items accepted include:
Plastics bottles and jugs
Steel, aluminum and tin cans
Paper
Glass, clear, brown and green glass
Items that should not be placed in recycling containers include:
Batteries
Ceramics
Electronics
Plastic bags
Yard waste
Hazardous Waste Material
Residents in Knoxville can take up to 100 pounds of hazardous waste or 20 gallons of paint to the
City's Solid Waste Facility
1033 Elm St
Knoxville, TN 37921
865-215-6700
Hours of Operation
Monday, Tuesday, Thursday, Friday: 7:00 am – 4:00 pm
Wednesday: 7:00 am – 12 Noon
Saturday: 8:00 am – 12 Noon
Sunday: Closed
Accepted Items Include:
Additives
Batteries – Rechargeable
Bleach
Cleaners
Caulk
Unaccepted items include:
Ammunition
Explosives
Medical waste
Commercial hazardous waste
Yard waste
Bushes and other yard waste are collected by the Public Service Department crews bi-weekly. All yard waste must be placed separately from household garbage in an unobstructed area. For information on pickup schedule call 865-215-431.
Bulk Waste
Bulk waste is picked-up on the same day as regular Household Garbage Collection. Place items curbside so that they can be collected easily. Ensure that all items are outside no earlier than 6 a.m. and no later than 7 am on the day it should be picked-up. Call 865-522-0078 with questions.
The Importance of Recycling
Our landfills are overflowing and we are facing a shortage of landfill sites. And trust me, no one wants a landfill in their backyard. So what can the average citizen do to help find some solutions to the burgeoning landfill dilemma. We live a consumer driven society. Three quarters of our GDP is measured in personal consumption. And a nation with over 300 million people is going to be doing a lot of buying. And that translates eventually into tons and tons of waste that has to go somewhere. Unfortunately, much of this waste goes to landfills. And sadly because people don't recycle, landfills are receiving hazardous waste materials that can have devastating effect on the ecosystem. Take a battery; car or phone, it goes to a landfill and toxins are released overtime and eventually leach into the soil and then find there way into our underground drinking water. That can't be healthy. And it isn't. Furthermore, methane gases are released, which is caused by a breakdown of bacteria. Theses gasses can suck the oxygen out of the air. It is highly combustible and can cause suffocation in enclosed areas. Also, can cause dizziness and nausea. Though, most landfills are capturing methane gas and using it for natural gas, which in turn is used for electricity. Some methane gasses are burned off which produces a less powerful gas, carbon dioxide. Though this is far more complex than this article portrays, the EPA is taken more steps to ensure the safety of our landfills.
As individuals we can have a strong impact in reducing wastes that end up in landfills that should be going to your local recycling center. The City of Knoxville has super centers for your recycling needs. Most cities and counties in the U.S. have recycling options for your use. Most cities make it so simple that they supply recycling bins to every resident. All you have to do is to go to your local city hall website and they will tell you what materials are fit for recycling and those materials that are not. And some cities use a process called Single Stream Recycling, where there is no need to separate your recyclables. The city will even do this for you. Governments are doing their best to help make recycling easy and there are even recycling areas set aside at landfills that will accept your old reusable junk. So, take advantage of these various services and help cut down on landfill overages.
Dumpster rental companies like, Easy Dumpster Rental, has an assortment of bins, dumpsters, and rolloffs you can use for your recycling needs. No matter how much junk you have accumulated over the years, we have the right size bin at your disposal. And we can offer you the lowest prices in the industry and great customer service. The sales team at Easy Dumpster Rental will be happy to assist you in getting you the right size bin and will get you a quote in minutes. So, pitch in and do your part in helping alleviating the landfill crisis and the same time keeping our water supplies clean and the air we breathe free from pollution. Call Easy Dumpster Rental now, and begin your journey in protecting our environment.
It's that easy!
Call Our Team Now
1-888-792-7833