Dumpster Rental in Del Rio, Texas
Explosive Savings On Rolloff-Bin Rentals
Click To Call 1-888-792-7833Click For Email Quote
Why We Offer Extraordinary Dumpster Bin Service In Del Rio:
Our dumpster rental services are exceptional in ever way. We go out of our way to please our customers. We will match or beat any competitors prices. Your dumpster will always be delivered and picked up on time. No excuses.
No hidden fees or surprise surcharges. All fee are upfront
Best dumpster service in Del Rio guaranteed. And we stand behind our services
A rich variety of dumpster to choose from. All sizes for all jobs. No project is to big or small
We specialize in the residential market. We can help you with that kitchen remodel you have been putting off
You can request a pick up online or over the phone. Options that make life easier for you
Dumpster Rental Pricing in Del Rio is Based on Many Different Factors
To Receive The Lowest Pricing, Call For A Customized Quote Now 1-888-792-7833
Typically Save With Us Between $10 And $80 On Your Canister Rental:
When on time delivery is important to you and affordable pricing is paramount, you can count on us to delivery. Providing outstanding customer service is the back bone of our company. We aim to please you.
Prices on bin rentals that will ease your mind and bank account. We want you to save money
A super accurate weight calculator that will not only help you a great price but insure that you have right bin
We rent to the construction industry. No matter if you are doing a demolition job or a rehab on a huge hotel
Over 15 years in the sanitation industry helping people just like you conquer any size project
Call us ASAP and experience the Easy Dumpster Rental way. You will be super glad you called
Earn Up To $50 | Share / Like Below
10 Yard Dumpster (2 TONS) 4,000LBS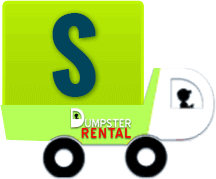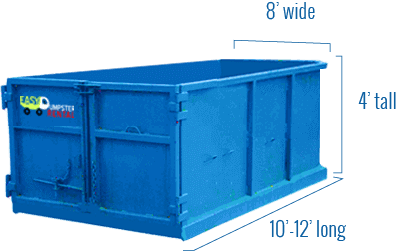 Easy Dumpster Rental
20 Yard Dumpster (3 TONS) 6,000LBS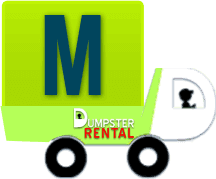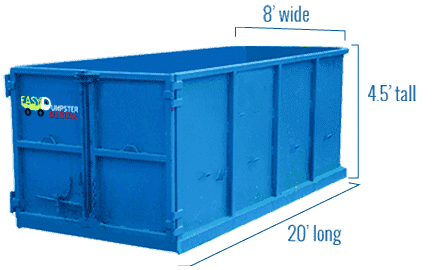 Easy Dumpster Rental
30 Yard Dumpster (4 TONS) 8,000LBS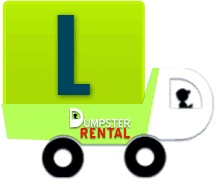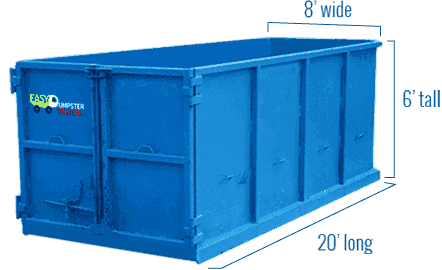 Easy Dumpster Rental
40 Yard Dumpster (5 TONS) 10,000LBS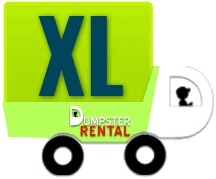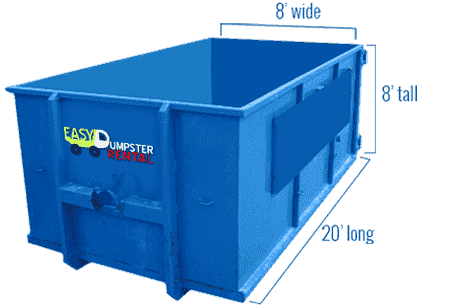 Easy Dumpster Rental
Landfill Location in Del Rio, TX
Del Rio is a city in Texas and the county seat of Val Verde County. Residents are allowed to use the city's landfill free of cost with a valid I.D showing proof of residency. A fee will be applied for non-residents. The landfill's address and contact information can be found below.
Del Rio City Landfill
1897 Railway Ave
Del Rio, TX 78840
830-774-3867
Hours
Monday to Friday: 7:00 am to 4:45 pm
Saturday: 8:00 am to 1:45 pm
Accepted Items Include:
Yard waste
Steel and metal
Roofing
Household garbage
Items not accepted at the landfill include:
Enamel
Gasoline
Kerosene
Hazardous waste
Granite
Recycling
The city offers a Single Stream Recycling Collection program for residents. Each resident is provided with an 18- gallon recycle bin to place items in. Recyclables are collected once weekly on the scheduled garbage collection day. The  Single Stream Recycling Calendar can be downloaded on the website. Recyclables can also be taken to the recycling center listed below.
Recycling Center
1409 E. Gibbs Street
Del Rio, Tx 78840
Hours
Monday – Friday: 8am-5pm, closed 12pm-1pm for lunch
Saturday, 8am-12pm
Items that can be recycled include:
Metal Containers
Ferrous cans
Direct mail advertisements
Plastic containers (1&2)
Newsprint
Aluminum cans
Box Board
Magazines
Old corrugated containers
Mail
Unacceptable Items Include:
Mirror or window glass.
Metal or plastic caps and lids.
Crystal
Styrofoam
Light bulbs
Electronics
Food waste
Hazardous Waste
Del Rio Residents can contact the Landfill Department at (830) 774 3867 or send an email to email [email protected] for information on household hazardous waste disposal of any hazardous waste concerns they may have.
Yard Waste
All Del Rio residential solid waste ratepayers living with city limits is provided with yard waste collection for items such as tree clippings, leaves, tree limbs, grass etc. Yard waste is collected once per month on your schedule garbage collection day.
Bulk Waste
Two bulky items are collected per month by the City for all Del Rio residential solid waste ratepayers. These include furniture, Freon-free appliances, heavy construction materials and more.  Items should be placed out by 6 am.
The A-B-C's of  The Dumpster Rental Process In Del Rio
Del Rio is a 150 miles west of San Antonio. The city is home to Laughlin Air Force Base. Del Rio has a population of 45,000 residents and was incorporated in 1991. However, there has been a Spanish presence since the early part of the 18th century. Some notable people from Del Rio include, Todd Hayes, who won a silver medal in the 4 man bobsled in the 2002 Salt Lake City Olympic Games. Jerry Edwin Smith, a Judge on the United States Court of Appeals for the Fifth Circuit, hails from Del Rio and so does retired NBA player, Lance Banks, who also was the General Manager of the Phoenix Suns. Quite a number of films and TV shows were filmed or partial filmed in Del Rio. Though as of today, no one has made a film of Easy Dumpster Rental. But they should.
We are a Oscar worthy company furnishing award winning services all over the country. Providing high-caliber customer service is our bread and butter. Many companies try to rope you in with a bunch of, well you know, and make promises on how low their prices are. But they fail to mention how wonderful their customer service is. We don't have that problem here at Easy Dumpster Rental. We focus on being a company that has integrity and dealing honestly with our customers. That is why thousands of customers each year return to us for their bin-rolloff needs. They know that worrying about getting their dumpster-rolloff delivered on time isn't a concern. And when we tell clients that a bin will be delivered on time it will be there on time. No worries when you rent dumpsters from us. And when it comes to pricing, no problems mate. We will match or beat anybody's prices. Our flat rate pricing model takes the guess work out of the equation. We offer transparent prices so you know why and what you are paying for.
We can have a quote in minutes and tell you exactly what size bin you will need. No matter if your rehabbing a bathroom or doing a major demolition job, we have all the dumpster sizes you need. And if this is your first dumpster-rollofff rental and have some questions, we have provided a FAQ page to help you get some insight into the bin rental process. You can even get a quote online and request a pick up online too. We are doing everything we can to make the process as simple as possible. This helps you save time and money. So, if you are considering doing a kitchen remodel and you don't know what to do with the old materials, call us and we will happily share with you the convenience and money saving options of using a rolloff-bin from Easy Dumpster Rental.
It's that easy!
Call Our Team Now
1-888-792-7833