Dumpster Rental in Killeen, Texas
Rolloff Savings That Will Make You Cheerful
Click To Call 1-888-792-7833Click For Email Quote
Why We Offer Fantastic Service In Killen:
Easy Dumpster Rental pledges to the city of Killeen to provide you with the best possible rental rolloff customer service that you can experience anywhere. We work hard to honor our commitments to you.
Easy Dumpster Rental  places a huge premium on having the best trained staff in the U.S.
We are dependable and we will be there on time for your delivery and pick up
We have rented over 100,000 dumpsters and that speaks volumes about our company
If you have questions about our business model you can find answers on our FAQ page
No one can outperform our company when it comes to honesty and integrity
Dumpster Rental Pricing in Killeen is Based on Many Factors
To Receive The Lowest Pricing, Call For A Customized Quote Now 1-888-792-7833
Save With Us Between $10 And $100 On Your Dumpster Rental Cost:
Our prices are so low that you will be astounded. We have over 15 years in the dumpster rental industry and have cultivated a ton of contacts that help us keep our costs low and getting your dumpster when you need it.
Our competitors are in awe of our low prices and find it impossible to compete with us
We offer rolloffs in 4 sizes for your convenience. 10, 20, 30, and 40 cubic yards available for any project
The love of garbage is what gets us motivated. We take pleasure in removing trash off your site
All of our rates are transparent. Ask our sales team to explain our pricing model and our low fees
Flat rate costs so you will know exactly what you are paying for and to help you budget for a job
Earn Up To $50 | Share / Like Below
10 Yard Dumpster (2 TONS) 4,000LBS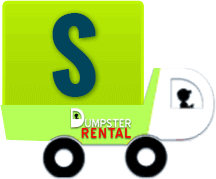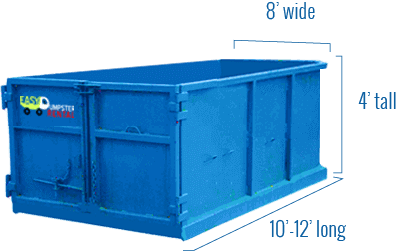 Easy Dumpster Rental
20 Yard Dumpster (3 TONS) 6,000LBS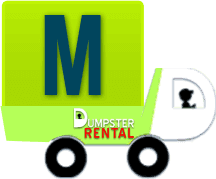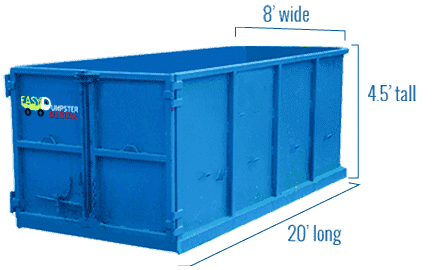 Easy Dumpster Rental
30 Yard Dumpster (4 TONS) 8,000LBS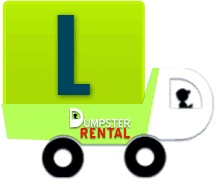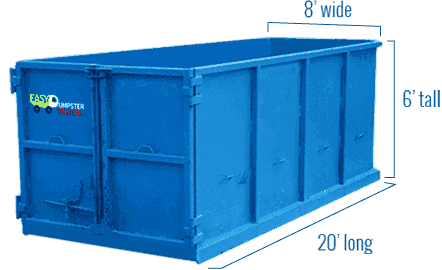 Easy Dumpster Rental
40 Yard Dumpster (5 TONS) 10,000LBS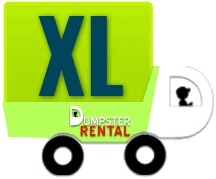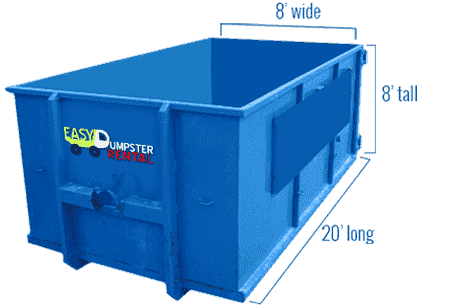 Easy Dumpster Rental
Landfill Location in Killeen, TX
The City of Killeen is situated in the state of Texas in Bell County. The county no longer operates its own landfill. Currently the City of Temple landfill located at 706 Landfill Road, Temple, is the only landfill operating in the states. Residents can contact the landfill at (254) 778-6292 for rates and accepted items. The city does however operate its own transfer station at the following address.
12200 SH 195
(254) 501-8971
Hours
Monday, Tuesday, Thursday, Friday: 8:00 a.m. – 5:00 p.m.
Wednesday & Saturday: 8:00 a.m. – 3:00 p.m.
Accepted Materials:
Building Materials
Regular household waste
Roofing Materials
Unaccepted Materials:
Hazardous waste
Explosives
Ammunition
Recycling
The City of Killeen resident can subscribe for curbside pickup of your recyclables at a cost of 2.60 per month by calling 254 501-7785. Recyclables are collect once per week on the same day as scheduled trash collection in each area. Bins should be placed at the curbside by 7:00 am.
Materials Accepted for Recycling:
Junk mail
Office paper
Steel cans
Glass bottles and jars
#1 & #2 plastic bottles and jugs
Materials Not Accepted for Recycling:
Food boxes
Contaminated oil
Pesticides
Gasoline
Grease
The city also operates a recycling center where residents can drop off recyclables.
Recycling Center
111 E. Avenue F
(254) 554-7572
Hours
Monday, Tuesday, Friday: 11:00a.m. – 6:00p.m.
Wednesday & Thursday: 11:00 a.m. – 5:00 p.m.
Even Dated Saturdays: 8:00 a.m. – Noon
Hazardous Waste
Special Household Hazardous Waste Collection events are held periodically in Bell county to provide Killeen residents with the proper means of disposing of HHW.  Waste that are accepted at the events include poisonous, corrosive, toxic and flammable materials. Notice of collection events will be publicized on this website.
Yard Waste
Curbside collection is available for yard waste such as shrubs, leaves, grass clippings, and garden trimmings. Leaves and grass should be placed in bags not exceeding 50 lbs and placed out for pickup by 7:00 a.m. Tree limbs should be no more than 12 feet.
Bulk Waste
Special collection services are available for bulky waste. Visit the website for more information.
Working Towards A Society With Zero Waste
Killen is adjacent to Fort Hood and relies heavily on the economics of the massive number of military personnel that are stationed at the base. Fort Hood is the largest employer with 60,000 people. Elvis Presley was stationed at the base. Fort Hood is at the forefront of recycling in Central Texas by utilizing the Net Zero Waste program hoping to eliminate 85% of landfill waste by the year 2020, according to The Killen Daily Herald.
Zero Waste is a philosophical approach that all products can be recycled. With the goal to greatly reduce or eventually completely get rid of landfills by recycling and the reuse of products. There is also an emphasis on restructuring distribution and production pipelines to reduce waste. The goal of zero waste is a Utopian vision of getting to the point that all waste is eliminated. So instead of thinking of a cradle -to-grave approach, where the waste ends up in a landfill, zero waste enthusiasts desire a cradle-to-cradle approach where all used products get re-purposed and all waste disappears.
The benefits of zero waste are worthy to pursue. Some of these include:
Social and economic well-being
Less reliance on raw materials
Fewer items being sent to landfills
Costs savings
More people being encouraged to compost
Zero waste has been advocated since the 1970's when Paul Palmer, a chemist founded Zero Waste Systems out of Oakland, CA. One of their major innovations was to collect from the printed circuit industry all of the re-flow oil which was filtered and sold to the oil well industry. The company also put a strong emphasis on redesigning all the products that an industry manufacturers so these products could be reused again. The key to zero waste is just not about recycling per se, but a complete re-engineering of products so they can be reused or reconstructed into another product that can be used again rather than being sent to a landfill or recycling center. Many well known companies claim that they back the zero waste movement but all they are doing are taking part of a major materials recycling effort but putting no work into the redesign of their products.
To attain the goal of zero waste manufacturers must have products that are easily disassembled for recycling then be put back into the system as a usable product. Manufactures must provide funding to make this goal of zero waste a reality. Ultimately the mantra of Reduce, Reuse and Recycle is a good starting point but will never reach zero waste goals unless the producers of products become more innovative in product design. This is easier said than done, but it is not impossible. Our eco-systems survival depends on us to reach this lofty goal of zero waste. We are literally running out landfill space. The fears of toxic wastes polluting our water systems are not unfounded. Air pollution is another problem at landfills and the sooner we find solutions the safer our environment will be for us and future generations. So in the mean time, continue to recycle and consider Easy Dumpster Rental to help you with your recycling needs. We have bins that are perfect to use and we will be happy to haul your items to the local recycling centers are a great low price. Give us a call now and see how we can be of service. And our service is outstanding.
It's that easy!
Call Our Team Now
1-888-792-7833