Dumpster Rental in McKinney, Texas
Bin Rental Costs That Will Not Break The Bank
Click To Call 1-888-792-7833Click For Email Quote
Why It Is Important To Pay Attention To Details:
We take tremendous pride in paying attention the the little things that help our business thrive. For instance, making sure that all your questions are answered and getting the bin you want on time and where you want it on your property.
Service that is geared to providing you with the best possible outcomes
Providing same day service if needed and bin rental periods as long as you require our services
Over 15 years in the rolloff industry with many happy customers
Friendly super knowledgeable sales team that can handle anything you need
We never will tell you we don't have a dumpster in stock.
Dumpster Rental Pricing in McKinney is Based on Many Different Factors
To Receive The Lowest Pricing, Call For A Customized Quote Now 1-888-792-7833
Save With Us Between $10 And $90 On Your Dumpster Rental Cost:
When looking to acquire a dumpster rental ask how long the company has been in business and what kind of customer service do they provide. Because we have been around for so long customers depend on us everyday to fulfill their bin rental needs.
We provide the lowest prices bar none and a transparent pricing model
Dumpsters in 4 sizes;10, 20, 30, and 40 cubic yards. There is no project we can't handle
Residential and condo owners we have dumpsters that are ideal for the smaller jobs around the house
Super friendly and knowledgeable staff that will make you glad you called us first
No headaches or hassles when you order a dumpster from the number 1 company in the nation
Earn Up To $50 | Share / Like Below
10 Yard Dumpster (2 TONS) 4,000LBS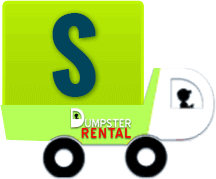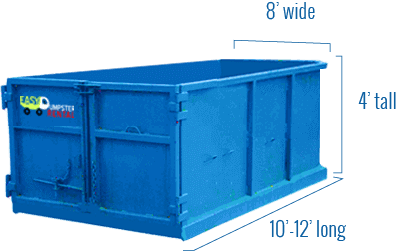 Easy Dumpster Rental
20 Yard Dumpster (3 TONS) 6,000LBS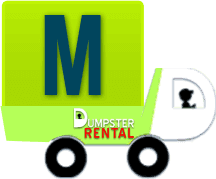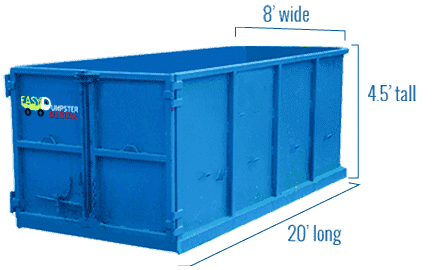 Easy Dumpster Rental
30 Yard Dumpster (4 TONS) 8,000LBS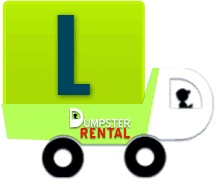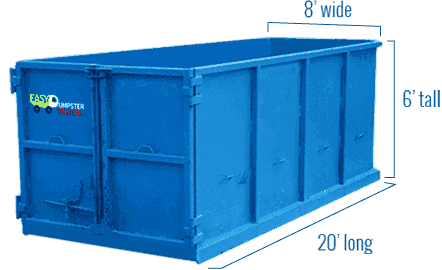 Easy Dumpster Rental
40 Yard Dumpster (5 TONS) 10,000LBS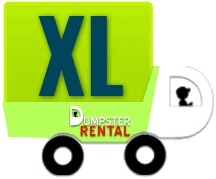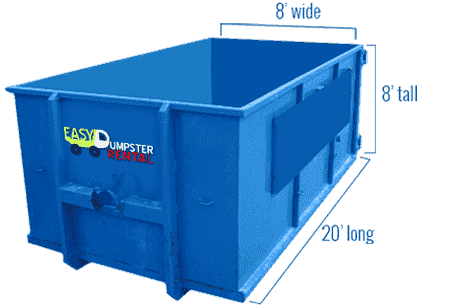 Easy Dumpster Rental
Landfill Location in McKinney, TX
The city of McKinney is located in Texas and the county seat of Collin County. Location and contact information for the county's landfill is listed below:
RDF Landfill
3820 Sam Rayburn Hwy
Melissa, TX 75454
469-626-4452
Hours of Operation
Monday-Friday: 8 a.m. to 5 p.m.
Saturday: 8 a.m. to 3 p.m.
Acceptable items include:
furniture
Oil filters
Motor oil
Appliances
4 tires
Tree limbs
Items not accepted include:
Household chemicals
Paints
Car batteries
Anti-freeze
Recycling
Each resident is provided with a 65-gallon recycling cart. Carts should be placed approximately 3 feet from regular garbage can on collection days. Residents can also make use of Do-It-Yourself Disposal / Recycling at the following locations.
RDF Landfill
3820 Sam Rayburn Hwy. (North Hwy. 121)
Melissa, TX 75454
469-626-4452
Hours
Monday-Friday: 8 a.m. to 5 p.m.
Saturday: 8 a.m. to 3 p.m.
Custer Road Transfer Station (CTS)
9901 S. Custer Rd. (Custer Rd. and Hwy. 121)
Plano, TX 75025
972-727-6341
Hours
Monday-Saturday: 8 a.m. to 4:30 p.m.
Acceptable Recyclable Items
Aluminum
Cardboard
Glass bottles or jars
Cartons
Magazines
Newspaper
Plastics 1-5, 7
Catalogs
Phone books
Junk mail
Unacceptable Items
Aluminum Foil
Batteries
Packing Peanuts
Styrofoam
Wax Paper
Household Hazardous Waste
Tissue Paper
Hazardous Waste
Residents can arrange for Household hazardous waste to be collected at the curb on regular collection days. Contact 972-547-7385 to set up an appointment.
Household Hazardous Waste Include:
Oil filters
Pool chemical
Batteries of all kinds
Household chemical products
Fluorescent light tubes
Cleaners and polishes
Automotive fluids
Yard Waste
The city will pick up yard waste for recycling. Grass, leaves and other small tree trimmings should be placed in biodegradable lawn bags. Branches should be placed in bundles not more than four-feet in length or more than 50 pounds. Bags should be set out approximately three feet from the regular garbage cart on collection days. Contact Progressive Waste Solutions at 469-452-8000 for more information.
Bulk Waste  
Residents can schedule bulk waste pickup by contacting Progressive Waste Solutions at 469-452-8000 at least one day in advance. Each resident receive 12 free bulky items pick up per year.
Some FAQ Concerning The Dumpster Rental Process
McKinney is about 40 miles north of Dallas and has 145,000 residents. The city was incorporated in 1848 and according to the Census Bureau, it is one of the fastest growing cities in America. Raytheon, a major defense contractor, is the largest employer with 3,600 employees. Another major business is Torchmark, a NYSE listed company that is in the financial sector. Some notable people from McKinney include; Guinn Smith, 1948 Olympic Gold medalist in the pole vault and Robert Richardson Jr., A NASCAR driver.
There are lots of rolloff rental companies out there making promises that they can't keep. They will say anything to get your business. Unfortunately, most of these companies are here today and gone tomorrow.  However, Easy Dumpster Rental is a well established business. We have over 15 years in the dumpster-rolloff industry and have over 100,000 dumpster rentals under our belt. By renting from an established rental company like Easy Dumpster Rental, you can rest assured that we have the experience and the industry contacts that will insure that you have a smooth and pleasant dumpster rental encounter. Many people new to the rolloff rental process have many questions and concerns. Below, we have put together some common questions that will help alleviate any trepidations you may have when it comes to dumpster rentals.
How long can I rent a dumpster? Typically dumpsters are rented for either 14 or 30 days. However, with that said, we will work with you to keep your dumpster as long as you need it. And, there are situations where you can purchase a rolloff.
What can I put in a rolloff? Just about anything. Concrete, tiles, roofing material, dirt, tree limbs, wood.etc… The only prohibitions are hazardous waste, it is against the law.
How much lead time to I need to order a canister? Easy Dumpster Rental would prefer 48 hours. But, we can, if you contact us early enough in the morning, offer you same day service.
What credit cards do you accept? We will accept MasterCard, Discover Card, American Express, PayPal and Visa.
Can the weight of a dumpster cause damage to my lawn? It can, dumpsters can get very heavy. So, we recommend going to your local Home Depot or Loews and purchasing some plywood or wood planks. The plywood would then be placed under the wheels.
Can I put the Rolloff in the street?  Putting a rolloff in the street is the most ideal place. However, you must check with your local government officials to see if this is allowed and if you need any permits.
If I own more than one property, can I have a dumpster delivered to the other properties as needed? Yes. When you call the office and speak to our sales team, and just explain to them your requests and we will accommodate all of your needs. there may be extra charges involved.
Is it true that you will match or beat all competitors prices? Yes. We guarantee best price. If you find a cheaper price, call our office and we will match or beat that price.
Does Easy Dumpster Rental work with residential customers? Yes we do. We have many container sizes to choose from and can handle any job. From a simple backyard clean up to a complete remodel of your home.

Just in case you have any questions about what constitutes a hazardous waste, we have complied a partial list for your convenience:

Propane tanks
Motor oil
Tires
Asbestos
E-Waste
Paints
Pesticides
If you would like more information on what are the major household hazardous waste. You refer to our web site for answers to any other questions. We have complied a FAQ page for your convenience.
It's that easy!
Call Our Team Now
1-888-792-7833