Dumpster Rental in Midland, Texas
The Most Compelling Roll Off Rental Rates
Click To Call 1-888-792-7833Click For Email Quote
How We Can Offer Dreamlike Roll Off Dumpster Service In Midland:
We value our customers here at Easy Dumpster Rental. Customer service is the backbone of our success. And as a result, you, the customer reap the benefits of our outstanding service team and our on time delivery.
We promise on time pick up and help you get the job done quickly and effortlessly
We love to bring you the best customer service in the industry and it shows
Over 15 years renting bins and building a great brand name that you can rely on
Simple to use dumpster weight calculator to insure accurate quotes and the right size canister
We can handle any size job and no project is to small or large for us to deal with
Dumpster Rental Pricing in Midland is Based on Many Different Factors
To Receive The Lowest Pricing, Call For A Customized Quote Now 1-888-792-7833
Save With Us Between $10 And $80 On Your Dumpster Rental Cost:
We all like to save money. And to that end, no one can beat our prices. We will match or beat any other dumpster company service fees without batting an eye. That is why we have thousands of clients who count on us.
A pricing model that will make you happy with the amount of money you will save. We all love savings
We rent bins to the residential homeowner and will help you get those home projects finally completed
We have no hidden fees and are very transparent when it comes to your rental contract with us
Easy to get a roll off quote and a request pick up. Both services are offered online for your convenience
A FAQ page to help you get some answers and insights in how we operate our business model
Earn Up To $50 | Share / Like Below
10 Yard Dumpster (2 TONS) 4,000LBS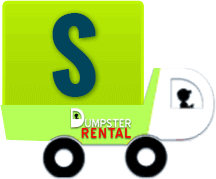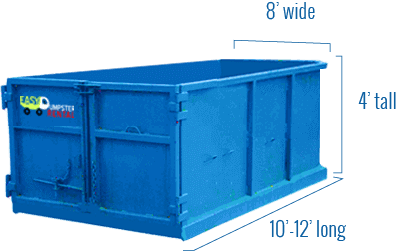 Easy Dumpster Rental
20 Yard Dumpster (3 TONS) 6,000LBS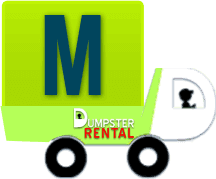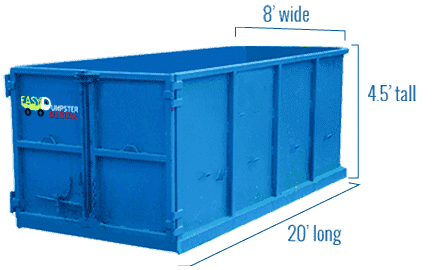 Easy Dumpster Rental
30 Yard Dumpster (4 TONS) 8,000LBS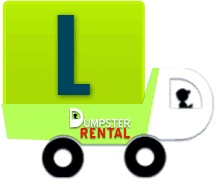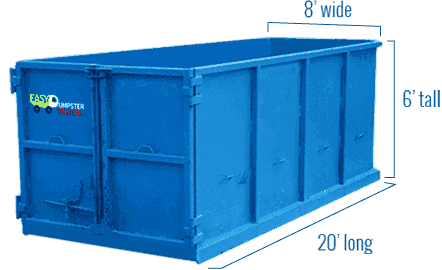 Easy Dumpster Rental
40 Yard Dumpster (5 TONS) 10,000LBS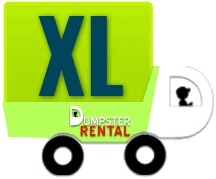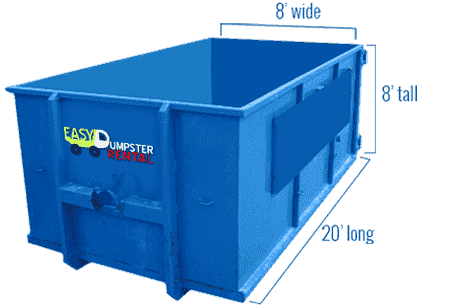 Easy Dumpster Rental
Landfill Location in Midland, TX
Midland is a city in Texas and the county seat of Midland county. The city has its own Landfill that provides residents with an environmentally responsible and regulatory-compliant waste disposal solutions. Contact information for the landfill is listed below:
City of Midland Landfill
7904 S. Garden City Highway
Midland, TX  79701
432-685-3431
Hours of Operation
Monday – Friday: 7:30 a.m. – 5:30 p.m.
Saturday: 9 a.m. – 2 p.m.
Contact the landfill to learn about items accepted at the site.
Recycling
The city of Midland place large 30 cubic yard containers at different areas in the city. residents can use containers to dispose of recyclables 24 hours a day, seven days a week.
H-E-B
3325 W Wadley Ave
Midland, TX 79707
(432) 697-1471
Hours
Monday to Friday: 6:00 am to 1:00 am
Super Mercado Pharmacy
2208 N Big Spring St
Midland, TX 79705
(432) 682-9501
Hours:
Monday to Sunday: 7:00 am to 10:00 pm
Al G Langford Chaparral Center
3200 N Garfield St
Midland, TX 79705
(432) 685-4583
Call for hours of operation.
View the Interactive map on the website for other Recycling Locations.
Accepted Items:
#1 Plastic
Newspaper
Mixed Paper
Cardboard
#2 Plastic
Magazines
Prohibited Items:
Prohibited Items
Metal or plastic caps and lids
Food waste.
Ceramics
Crystal
Pyrex
Window glass
Hazardous Waste
The city arrange annual Household Hazardous Events for residents to safely dispose of HHW annually at Midland's Sanitary Landfill. Contact the Midland County Health Department at 989-832-6681 well in advance to make an appointment to dispose of HHW. Download the flyer for a list of items accepted / not accepted.
Yard Waste
The city provides weekly collection of yard waste on regular refuse collection date, Monday to Friday during the months of April and November. Yard waste should be place by the curb by 7:30 a.m. on your collection days.
Bulk Waste
Contact Midland Sanitary Department at (432) 685-7278 to find out about bulk waste disposal.
Helping To Keep Freshwater Plentiful For Future Generations
Midland is where the former First Lady Laura Bush was born and President George W. Bush, who made it is hometown. The population is around 130,000 and was founded around 1881.The largest employer is The Midland Independent School District with 3,000 employees. The actor Woody Harrelson and the writer and sculptor, Doyle Glass were both born in Midland.
It's refreshing when you see a giant corporation take some responsibility and does its part to help the environment in a positive way. The Coca-Cola Company has taken a huge step in this direction, according to an article in Mashable.com . Coke states that it has completely replenished all the water it uses around the world to make billions of bottles of all the products it makes.  By treating waste water from its bottling facilities it returned around 190 billion liters of water to the cities surrounding its plants. Because of the rising demand for fresh water and the fact that we are running out of it, this initiative by Coca-Cola is very encouraging and we can only hope that other companies will be spurred on by Coke's actions and implement the same systems for their companies.
PepsiCo, the makers of Pepsi, have also said that they are taking similar steps to help conserve and replace the water it uses. This is encouraging news. Considering that 1 percent of freshwater supply withdrawals have occurred each year over the previous three years. It is estimated by the United Nations by the year 2050 more than 40 percent of the worlds population could be under a very severe freshwater shortage. We can also take steps around the home do our part to conserve water. Some of the steps that you and your family can take include:
Check for leaking pipes or faucets
Take shorter showers
Insulate your water pipes-you'll get hot water faster
Use a broom to clean off drive ways and sidewalks
Use native plants if possible
When your brushing your teeth or shaving don't run the faucet
There are many other steps you can take to help minimize the amount of water you use around the house. Just do a search on Google and you will find literally thousands of links that will give you great tips to reduce water consumption.
What does this have to do with a dumpster-rolloff company? Plenty. Because we here at Easy Dumpster Rental care about the future of our natural resources. Though we don't have a lot of impact on freshwater supplies we do care about the environment. And when you use our services for a dumpster-bin rolloff we go out of our way to find landfills that are taking the necessary steps that are mandated by the EPA for strict compliance regarding landfill regulations. These laws insure for example, that there are liners in place that protect run off from municipal waste into our drinking water. So when you order a dumpster-rolloff from us in the various sizes we offer and request a quote, you can be assured we are trying to play a role in keeping our eco-systems free from pollution. So, give us a call and experience are no hassle service and the best prices in the industry. We also guarantee our deliveries and pick ups. We are the fastest growing rolloff-container company in Midland.
It's that easy!
Call Our Team Now
1-888-792-7833