Dumpster Rental in Richmond, Virginia
Get Immense Savings On Rolloff-Can
Click To Call 1-888-792-7833Click For Email Quote
how We Offer The Absolute Best Roll Off Dumpster Service In Richmond:
Our reputation in the dumpster industry is so solid that thousands of customers continue to use our service year over year. They have come to rely and trust our brand name to continually provide service that inspires confidence.
We have rented more that 100,000 containers and served the industry for over 15 years
Highly competent sales staff that is able and willing to go the extra mile to serve you
Dumpsters in 4 different sizes that can operate and serve in any project no matter the size
Serving the residential community helping them solve all their rolloff needs including recycling
Simple, easy to use dumpster weight calculator to insure just the right size bin for your job
Dumpster Rental Pricing in Richmond is Based on Many Different Factors
To Receive The Lowest Pricing, Call For A Customized Quote Now 1-888-792-7833
Save With Us Between $10 And $75 On Your Canister Rental Cost:
If affordable pricing and on time service is of the utmost importance to you, then you should be looking at Easy Dumpster Rental. Our super low prices will astonish and keep you coming back to us for all of your bin rental needs.
A pricing model that gives you up front pricing and no surprises to shock you
Hassle free service that will make the bin rental process a breeze and a great experience
We provide construction dumpsters to help your company handle those huge demolition projects
FAQ section to help you better understand the bin rental process and information on how we operate
Get an online quote to help you save time and get down to business in a faster manner
Earn Up To $50 | Share / Like Below
10 Yard Dumpster (2 TONS) 4,000LBS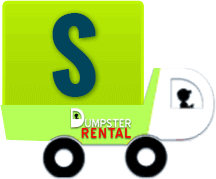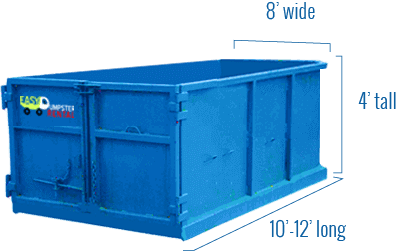 Easy Dumpster Rental
20 Yard Dumpster (3 TONS) 6,000LBS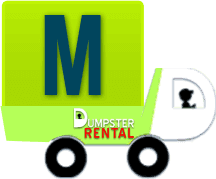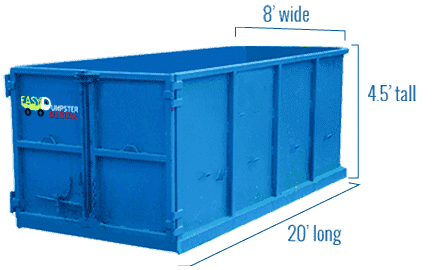 Easy Dumpster Rental
30 Yard Dumpster (4 TONS) 8,000LBS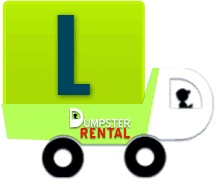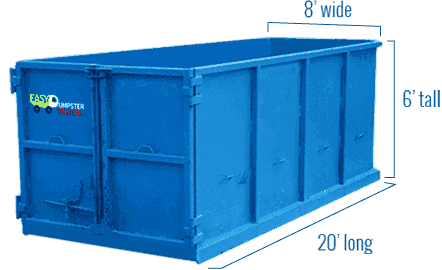 Easy Dumpster Rental
40 Yard Dumpster (5 TONS) 10,000LBS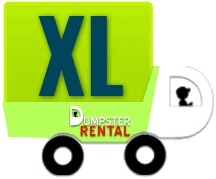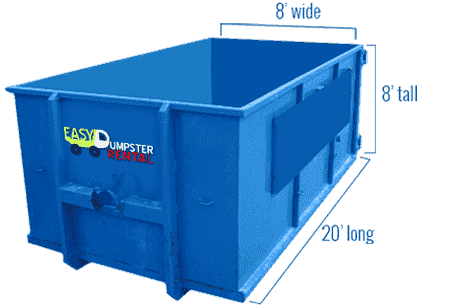 Easy Dumpster Rental
Landfill Location Richmond, VA
Residents in Richmond, VA are provided with the correct means to dispose of household Waste. In addition to residential collection services residents can take waste to the East End Landfill. Contact information for the landfill is listed below:
East End Landfill
1820 Darbytown Rd,
Richmond, VA 23231
(804) 226-8625
Hours
Monday to Friday: 7:00 am to 4:30 pm
Accepted items:
shingles
glass
pipes
concrete
wood
paving materials
Prohibited items:
Municipal solid waste
Hazardous waste
Industrial waste
Recycling in Richmond, VA
The City of Richmond provides its residents with curbside collection services. Residents are provided with a 95-gallon green recycling cart with a blue lid to place items in. Carts should be place in the same location where the city picks up regular cash. Residents who would like to sign up for this program can visit the CVWMA homepage or call the Recycling Hotline at 804-340-0900.
Items can also be taken to the following location:
1710 Robin Hood Rd (Robin Hood Rd and N. Blvd- across from Arthur Ashe Center) Monday- Sunday, 7 am – 6 pm
Southside Transfer Station, 3506 N. Hopkins Rd.
East Richmond Road Convenience Center, 3800 East Richmond Rd. (closed on Saturdays)
Stratford Hills Shopping Center, 6798 Forest Hill
Hazardous Waste Richmond, VA
Hazardous waste can be taken to The East Richmond Road Convenience Center at 3800 E. Richmond Rd., from 7:00 a.m. 3:30 p.m. weekdays.
Household hazardous waste includes:
oil or latex
polyurethane
paint reducers
stains
lacquer thinners
varnish
shellac
tints
primers
Yard and Bulk Waste
Yard and bulk waste can be taken to the transfer station listed below:
Richmond Southside Transfer Station
3520 North Hopkins Rd.
Telephone: (804) 232-8488
Hours:
Monday – Friday 6:30 a.m. – 4:30 p.m.
Saturday 8:30 a.m. – 2:00 p.m.
Know The Risks Of Hazardous Waste and How It Should Be Handled
Richmond is the capital city and was incorporated in 1742. This beautiful southern city that is on the James River is home to 6 Fortune 500 companies. Richmond is also home to many colleges and universities including The University of Richmond. The city also has 45 historical districts and many cultural events to make the city a wonderful place to visit and to call home.
Hazardous waste, as per the definition by The EPA is, "a waste with properties that make it dangerous or capable of having a harmful effect on human health and the environment". It comes from many sources including, liquids, gases, sludges, and solids. But to be truly be called hazardous waste it must be in a solid state. Hazardous waste must be transported by special designated carriers, then it is treated and disposed of. Once the hazardous waste is safely transported it begins the recycling process. The EPA has developed simple guidelines to determine if a waste contains certain properties which can pose a threat to the human life or the environment. The waste must fall under the following four classifications. Reactivity, Corrosivity, Toxicity, and Ignitability. Below we will give a quick definition of each classification.
Reactivity: These are dangerous because under normal circumstances they may become unstable. They may react with water and emit toxic gasses. They also have the potential to explode
Corrosivity: A waste that has a pH equal to or less than 2. A pH that is greater than 12.2 can have the ability to corrode steel.
Toxicity: These are waste when absorbed or eaten can be harmful to the system. Typically these toxins are leached into the underwater ground systems from landfills that do not have the proper liners and underground monitoring systems which can cause polluted water.
Ignitability: These are wastes including liquids with flash points of 140 degrees Fahrenheit. When a fire breaks out hazardous waste can enter our atmosphere and can cause air pollution and other health problems to populations of people that are susceptible to allergies and asthma.
A majority of homeowners have no clue that they have hazardous in their homes, garages, and other storage areas around the yard. It is very important that we educate ourselves so we can identify these materials. The EPA has developed a PDF where you can see most of the common household waste materials. Some of the more common household hazardous waste include:
Shower cleaners
Pool chemicals
Antifreeze
Batteries
Fluorescent light bulbs
Ant sprays
Driveway sealers
Take heed to following the directions on the product labels. Make sure you understand how to properly use and dispose of these potential deadly materials. Your local city government usually will have a web page dedicated to hazardous waste and there you can find some beneficial information. A better solution is not to bring hazardous waste into your house from the get go. We can and should  protect our families and not expose them to the risks that are inherent in hazardous waste. Do a quick Google search and you will find literally thousands of replacement items that are safer and greener for both you and the environment.
Now, it is against the law for dumpster companies to transport hazardous waste. We are providing this information to you as a public service. However, any other waste materials or rehab jobs you are planning to do around the home we will be happy to take your trash to the local landfill. We have a variety of dumpster-bins at our disposal and offer the lowest prices in the industry. It is very easy to order a container and just give our office a call and we will have a quote in mere minutes. We take great pride in offering outstanding service. We guarantee on time delivery and pick up. And if you prefer, you can get a quote online and request a pick up online too. Please browse our web site, especially the FAQ page where you can glean valuable information on our company. Call us now and speak to one of our highly trained sales team member. You will be taken care of by a friendly and courtesy staff.
It's that easy!
Call Our Team Now
1-888-792-7833