Dumpster Rental in Douglasville, GA
Big or Small Roll Off Bin – Price Always Small!
Click To Call 1-888-792-7833Click For Email Quote
Why You'll Mainly Find Easy Dumpster Rental Bins In Douglasville:
EasyDumpsterRental offers efficient assistance to people in Douglasville that are in need of roll off containers. We have a dumpster suitable for every type of project and we're always overjoyed to help residents select the best one.
Dumpsters for all waste, except hazardous materials
No project too big or too small; 10 – 40-yard dumpsters
Easy to use dumpster calculator
Fast response on pickup and delivery
Excellent Douglasville customer feedback
Roll Off Dumpster Rental Pricing in Douglasville is Based on Many Different Factors
To Receive The Lowest Pricing, Call For A Customized Quote Now 1-888-792-7833
Don't Splurge On Your Roll Off Dumpster, Save Big With Us:
Easy Dumpster Rental has climbed to the forefront of the competitive dumpster rental market in Douglasville due to our excellent marketing strategies; like our ability to offer the lowest prices. Rather than making false promises to lure customers in, we always stay true to our claims and offer the best rates.
Easy to use dumpster calculator
Low rates for short or long term rentals
Backing all claims with affordable prices
Low rates that includes delivery and pickup
Specializing in the lowest rate
Earn Up To $50 | Share / Like Below
10 Yard Dumpster (2 TONS) 4,000LBS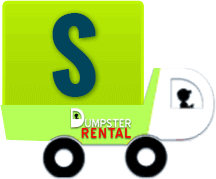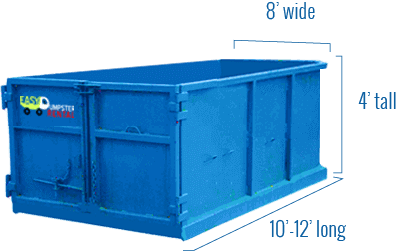 Easy Dumpster Rental
20 Yard Dumpster (3 TONS) 6,000LBS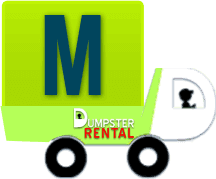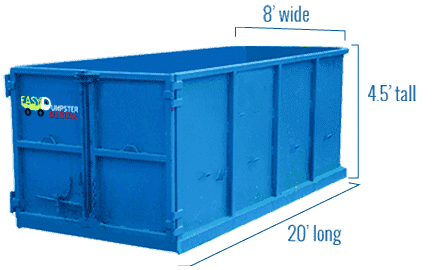 Easy Dumpster Rental
30 Yard Dumpster (4 TONS) 8,000LBS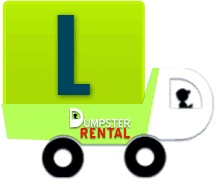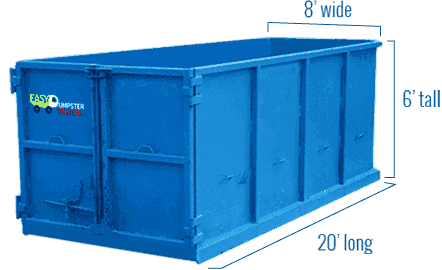 Easy Dumpster Rental
40 Yard Dumpster (5 TONS) 10,000LBS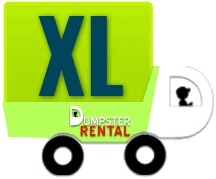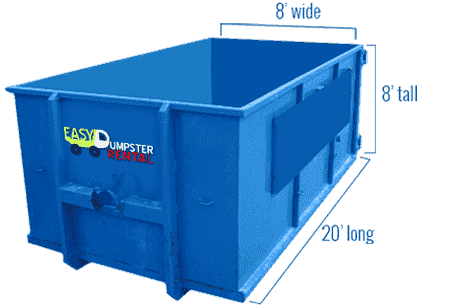 Easy Dumpster Rental
Choosing the Right Size Dumpster in Douglasville
Before finalizing your roll off dumpster rental it's important to take into consideration the size of the container. The size of a dumpster greatly affects what it can be used for. So, to avoid any additional expenses ensure that you are getting the right size dumpster. We have created simply to use weight calculator for that reason. If you still unsure of the size you will need please give us a call and our specialist that are trained in the waste industry will help you pick the right bin for your debris size and type.
Dumpster Rental In Douglasville: What You Need-To-Know
Easy Dumpster Rental offers convenient solutions for people in Douglasville to remove waste material from their properties. Generally, the dumpster rental process begins with a phone call to one of our friendly customer service representatives. They are ready to: provide you with answers to any questions that you might have; explain the rental process, and even help to determine what size dumpster you need based on your project needs.
Once you have decided to proceed with the rental, then the representative will assist you with scheduling a delivery. Here are some things that you may be required to do:
Find out if you will need a permit for your roll-off bin.
Ensure that the area that your dumpster will be placed at is cleared and has enough overhead space
Ensure that no cars or other items are blocking the path that leads to where the dumpster is to be placed.
After your dumpster has been delivered, proceed with loading it with your debris and other permitted materials. Always contact the rental company before your rental period comes to a close so that you can schedule your pickup. We have also created easily for you to schedule a pickup online. Chances are that your project may run longer than expected, so ensure that you give yourself enough time for cleanup or call Easy Dumpster Rental representative for extension options. Mostly it will be Free of charge if there is no shortage of rolloffs in the area.
List Of Hazardous Materials In Douglasville
The hazardous items listed below can be harmful to humans, animals, and the environment. They should not be disposed of in roll off dumpster bins.
Lawn and garden pesticides
Metal cleaners
Hobby chemicals
Model cement
Fertilizers
Pool Chemical pH Down
Household batteries
Indoor pesticides
Mothballs
Lead-based paint
Weed and Feed
Lead-based paint chips
Moss control
Lice shampoo
Pool Chemical pH Up
Mercury
All Nitrates
Motor oil
Plant Food
Nitric Acid
Bleach
Hydrogen Peroxide
Pool Chlorine
Sodium Hypochlorite
Kerosene
Pool Shock
Marine bottom paint (antifouling)
How To Dispose Of Hazardous Materials In Douglasville
Hazardous household materials should not be disposed of in the same manner as common household waste. Basket Creek Surface Impoundment site is open to Douglasville residents who are looking to dispose of hazardous materials.
Basket Creek Drum Disposal
7768 Basket Creek Rd, Douglasville, GA 30135
Landfill in Douglasville
For opening hours, disposal fees and how to load your vehicle there is a great brochure created by the county that is in detailed describing many important points that you will encounter while preparing and bringing waste to landfill.
Cedar Mountain Landfill
1730 County Services Road
Douglasville, Georgia 30134
Phone: 770.920.3133
Fax: 770.920.3125
Recycling in Douglasville
All Douglasville residents can make use of curbside recycling free of cost. All residents are supplied with a 64-gallon recycling bin which is often collected on the same day as regular household trash (by separate trucks). There is a great recycling brochure where you can find many details on recycling in Douglasville.
For electronic recycling contact:
N.W. Georgia Recycling
8729 S Flat Rock Rd
Contact: 678-715-1114.
Items such as brass, copper, steel and aluminum can be delivered at:
N.W. Georgia Recycling
8729 S Flatrock Road
Contact: 678-715-111
It's that easy!
Call Our Team Now
1-888-792-7833