How much Does It Cost to Rent a Dumpster Near Me?
Find Dumpster Rental Prices Near You by ZIP or City
How much does it cost to rent a dumpster?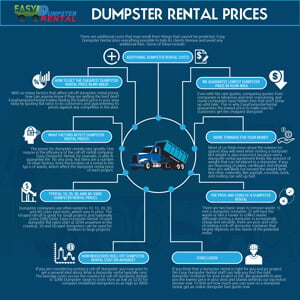 If you are considering renting a roll off dumpster, you may want to get a general idea about what a dumpster rental typically runs. The average costs across the country for roll-off dumpster rentals is $395. Dumpsters range in costs from as low as $220 for compact residential dumpsters to as high as $800 for very large construction dumpsters. Most commonly prices fall between $291 and $520 for typical rentals.
Typical 10, 20, 30, and 40-yard Dumpster Rental Prices
Dumpster containers are often rented in 10, 15, 20, 30, and 40-cubic yard sizes, which vary in price. The 10-yard roll-off is great for small projects and nationally costs $380 (note: Easy Dumpster Rental 10-yard dumpster flat rates start at $299 anywhere in the country). 20 and 30-yard dumpsters can be used for medium to large projects and range from under $300 to just over $700. And the giant 40-yard roll-off, which is often the choice of construction and demolition experts, costs $545 on average (ranging from $350 to $800). Many of these prices are national averages and are often cheaper with EasyDumpsterRental's low rates.
AVERAGE DUMPSTER RENTAL PRICES NATIONALLY
Dumpster Size
10-yard
20-yard
30-yard
40-yard
Ave. Price
$380
$425
$488
$545
Ave. Price Range
$220 – $590
$280 – $700
$300 – $700
$350 –$800
What Factors Affect Dumpster Rental Prices
The prices for dumpster rentals vary greatly. One reason is the efficiency of the roll off rental company. Easy Dumpster Rental, for example, is able to guarantee the lowest price for any area. But there are a number of other factors, from the location of a rolloff to the type of waste. This will affect dumpster rental prices on each project.
How long can I rent a dumpster?
The length of a dumpster rental can impact the final price. Some rental companies, for example, charge per day for rental. Others offer a short rental period of three or four days and then charge additional fees. These fees can range from $10 to $50 per. EasyDumpsterRental, however, usually offers its customers a fourteen-day rental period at a flat rate. This maximizes the usefulness of the dumpster and minimizes fees.
Availability
The availability of roll-off container units can impact prices, especially if certain containers are in high demand. Additionally, companies that travel greater distances to serve their customers often must charge higher rates to cover their transportation costs. To avoid these higher rates, Easy Dumpster Rental maintains an extensive inventory of roll-off bins across the country that enables low pricing.
Local Dumping Fees
After a project is complete dumpster bins are taken to local landfills. They all have diverse waste disposal requirements and tipping (dumping) fees. Tipping fees differ significantly by location and are generally higher in areas, such as the Northeast. Where land is scarcer and populations are a lot higher. Connecticut, for example, charges an average of $200 per ton in dumping fees. In other areas, such as Mississippi, where land is more prevalent in relation to the inhabitants, prices can drop. These rates can drop to as low as $22 per ton. The average dumping fee about $50 per ton and ranges from $15 to $350.
Type of Waste
The type of waste often impacts disposal fees at the landfill. In general, keeping to one category of waste decreases costs. Dumpsters are often rented for the following categories of waste:
Residential waste projects that generate municipal waste (trash or household waste).
Roofing waste can include materials like shingles and asphalt.
Yard waste from landscaping projects that produce dirt, shrubs, and trees.
Construction and demolition debris that includes drywall, plaster, flooring and cabinets, electrical wire, some small appliances, and other materials.
Heavy debris collected from ripping out asphalt, brick, or concrete.
Special Waste Disposal
Hazardous waste, such as oil-based paint, explosives, and certain chemicals should never go in a roll-off container. However, there are some special waste items that, depending on the state and municipality, may go in a roll off:
Electronic items (e.g. computers, monitors, and televisions).
Appliances or white goods (e.g. a washing machine or dryer).
Tires (usually for cars and small trucks).
Bulk items (e.g. couch or mattress).
Disposing of special waste in a roll-off unit should be approved and arranged for in advance. This type of waste may generate additional disposal costs that vary by location.
Local Fees and Permits
Just as tipping fees depend on the location of the landfill, local taxes, fuel surcharges, and environmental surcharges. Waste disposal can differ across states, counties, and municipalities. In addition, a permit may be required to place a dumpster on a driveway and "right-of-way". Permits are often mandatory to place a dumpster on a street, sidewalk, or any other type of public property. Fees for permits, if any, can vary depending on local regulations and the size of the dumpster.
How to Get the Cheapest Dumpster Rental Price in My Area?
With so many factors that affect dumpster rental prices, how can anyone know if they are getting the best deal? EasyDumpsterRental makes finding the lowest price in your area easy by quoting flat-rates and guaranteeing prices against any competitor around.
Flat-Rates-Pricing Versus Variable-Rate-Pricing
What is the difference between flat rates and variable rates and which is better? Variable pricing offers an original base rate for a dumpster rental. During the bin rental period additional costs, such as disposal fees, transportation costs, administrative fees, taxes, and surcharges, are added to the final invoice. Conversely, flat rates assess the full costs for a dumpster rental in the original price.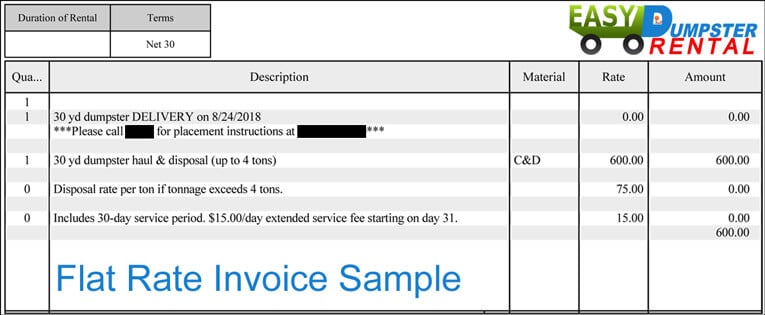 There are few main problems with variable rates:
Because rates change customers are not able to plan and budget for the final bill.
It is difficult or impossible for customers to compare prices to select the best dumpster rental company.
Hidden fees not included in the original quote such as but not limited to:

Delivery fee
Franchise fee
Fuel surcharge
Administrative fee
Landfill tonnage fee
Environmental surcharge
This is why Easy Dumpster Rental always offers flat rates that let its customers know the final price which (barring unforeseen circumstances) will be the same after the project is complete.
We Guarantee Lowest Dumpster Price in Your Area
Even with flat rate quotes, comparing quotes from companies is laborious and time-consuming. Many companies have hidden fees that don't show up until later. This is why EasyDumpsterRental guarantees the lowest price to make sure its customers get the cheapest dumpster rental in their area while benefiting from the Easy Dumpster Rental industry standard-setting service. To get a flat-rate price on a dumpster rental, call our staff at 1-888-792-7833 or get a fast online roll off price quote.
Additional Dumpster Rental Costs
There are additional costs that may result from things that cannot be predicted. Easy Dumpster Rental does everything possible to help its clients foresee and avoid any additional fees. Some of these include:
If hazardous waste or unspecified waste is found in the bin, a charge will be incurred at the landfill.
Fees for excess weight or volume if waste exceeds the weight limit or rises above the top of the dumpster.
Late fees for additional days if more time is needed than originally scheduled.
Fees for additional trips are incurred if a dumpster container cannot be dropped off or collected because a site is inaccessible.
Getting the Right Dumpster for Your Money
Easy Dumpster Rental offers five types of bins that to choose from that can be valuable to almost any kind of project from small home projects to large-scale construction and demolitions. Our trained staff can help you find the perfect container for your needs. Also, try the EasyDumpster online calculator for a quick determination of the bin size you will need.
1) How much does it cost to rent a 10-Cubic Yard Dumpster?
The 10-cubic yard dumpster is perfect for small projects, such as cleaning a garage, attic, shed, small construction and renovation projects, remodeling a room, or cleaning after a large event. These compact dumpsters offer a very affordable rental option for homeowners and businesses and, at Easy Dumpster Rental, start at just $299. 10-yard dumpsters are 10 feet long, 8 feet wide, and 4 feet high. They hold the equivalent of one dump truck, which is about 31 trash cans (55 gallons each), 39 wheelbarrow loads (7 cubic feet each), or 4 loads from an 8-foot pickup truck bed.
2) How much does it cost to rent a 15-Cubic Yard Dumpster?
The 15-cubic yard dumpster is great for small projects that produce just a little extra waste or for jobs, like renovating a kitchen or removing asphalt or concrete, generate types of waste that are very heavy. The slightly larger 15-yard dumpster container costs a little more than the 10-yard dumpster but can handle additional needs at a great price. These units measure at 15 feet in length and, like the 10-yard dumpster, are 8 feet wide and 4 feet high. With slightly more capacity, it will hold 47 trash cans, 58 wheelbarrow loads, or 6 loads from an 8-foot pickup truck bed.
3) How much does it cost to rent a 20-Cubic Yard Dumpster?
The 20-cubic yard dumpster can be rented in most cases for under $450, which is an excellent deal for a dumpster container of this size, and is used to service a great range of waste disposal needs. The 20-yard dumpster has the same width of the 10-yard dumpster unit to fit easily in driveways or walkways. Its size is 20 feet long, 8 feet wide, and 4.5 feet tall and can contain 62 trash cans, 77 wheelbarrows, or 8 loads from an 8-foot pickup truck bed. The larger size of the 20-yard dumpster enables a much wider range of projects including small construction jobs, larger cleaning projects or home moves, roofing projects, carpet or flooring removal, and landscaping projects.
4) How much does it cost to rent a 30-Cubic Yard Dumpster?
EasyDumpsterRental 30-cubic yard dumpsters are relevant for larger projects, such as construction projects, demolitions, and more extensive landscaping involving things like tree removal. The 30-yard dumpster is 20 feet by 8 feet by 6 feet and can take 93 trash cans, 116 wheelbarrows, or 12 loads from an 8-foot pickup truck bed. This large dumpster often rents for under $500 and, through the Easy Dumpster Rental low-price guarantee, saves homeowners and professional contractors cash on a great many projects.
5) How much does it cost to rent a 40-Cubic Yard Dumpster?
The giant 40-cubic yard dumpster can cost up to $800 but is less than $600 on average and is sometimes rented for less than $300. These massive units offer incredible value for money. The containers are 20 feet long, just 8 feet wide to fit in the driveway, and 8 feet in height. They will hold an impressive 16 loads from a pickup truck bed or four dump trucks of waste. 40-yard dumpsters are often rented for major construction, demolition, remodeling, and new construction projects. And are also great for things like cleaning out commercial buildings, replacing roofs on larger buildings, and recycling or disposing of cardboard, metals, and other materials.
More Tonnage for Your Money
Most of us think more about the volume (or space) they will need when renting a dumpster. But weight is also important because every dumpster rental agreement limits the amount of weight that goes in a dumpster. If you are disposing of paper, cardboard, and drywall, then you will likely not exceed the weight limit. But other materials, like asphalt, concrete, brick, and roofing can add up fast.
High-Capacity Dumpster Containers
Many companies have bins and that cannot handle the weight or have low weight limits that often result in additional fees. But Easy Dumpster Rental dumpster containers are designed to take the most tonnage of waste to maximize every project:
The EasyDumpsterRental 10-cubic yard dumpster is small but offers 2 tons of waste or over 4,000 pounds.
A 15-cubic yard dumpster will increase the capacity for a small job and can take 2.5 tons of waste or over 5,000 pounds.
The 20-cubic yard dumpster is a medium-sized dumpster and offers 3 tons of waste or over 6,000 pounds.
30 yarder is mostly for construction and demolition projects and offers appropriately 4 tons of waste or over 8,000 pounds.
The EasyDumpsterRental massive 40-cubic yard dumpster is our industrial unit that can take an incredible 5 tons of debris or over 10,000 pounds.
How to Estimate the Weight of Waste
Easy Dumpster Rental works with its customers to assess the weight and volume of every project and provide the right container. We also offer excellent and easy online tools that help to calculate the weight of specific materials:
The Pros and Cons of a Dumpster Rental
There are two basic ways to remove waste: 1) rent a dumpster container; 2) self-haul the waste or hire a hauler to collect waste. Although renting a dumpster is increasingly cheap and versatile, there are pros and cons of renting a roll-off dumpster container that largely depends on the needs of the potential renter.
Amount of Waste
If you have a large project, it is almost always more efficient to rent a dumpster. For small projects, Easy Dumpster Rental works to make dumpsters affordable; however, in certain cases, small projects may benefit from self-hauling or hiring a hauler. It is best to accurately assess your needs and the number of trips that will be required to self-haul or hire a hauler because projects that require multiple trips often consume more time and money than expected.
Type of Waste
Not all waste is the same. If a project generates large amounts of hazardous waste (e.g. oil paints being removed from a basement or shed), for example, a dumpster is less useful because hazardous waste is prohibited. Additionally, dumpster rental companies do not carry waste to the dumpster. If a homeowner has items that he or she cannot move, it may be preferable to hire help. But most types of waste, such as municipal waste (household trash), yard waste, construction debris, and other forms of debris are highly appropriate for dumpsters.
Time Frame
If you want to get rid of waste in just one day, you may not want a dumpster on your driveway for several days or a week. Conversely, if you are working on a project, such as renovating a kitchen or removing shingles from your roof, having a dumpster on site for a period of time is a necessity. Easy Dumpster Rental generally offers rental periods of two weeks and, if you finish early, we will promptly collect your dumpster upon request.
Dumpster Location
If you rent a dumpster, you will need an area to place your container. In some cases, permits will be a must for a roll-off placement. Especially for renters that wish to place their dumpster on the street or in a public right-of-way. Also, homeowners and business associations sometimes require permission for a dumpster. Check with your local municipal government and local associations to determine a need for permits and permissions.
Conclusion
If you think that a dumpster rental is right for you and jor project, the Easy Dumpster Rental staff can help you find the right dumpster container for your project or job. We guarantee to give you the lowest price in your area and stand behind our top-notch service vow. To find out how much you can save on a dumpster rental, get an online dumpster fast quote now or call the EasyDumpsterRental friendly team at 1-888-792-7833.
Click To Call 1-888-792-7833
Click For Email Quote