Dumpster Rental in Savannah, Georgia
Get Affordable Garbage Bin For Any Size Job!
Click To Call 1-888-792-7833Click For Email Quote
Why We Offer Unique Roll Off Dumpster Service:
Because we deliver on our promises. Each potential client is treated with the utmost courtesy and our promise is hassle free service all around. Call us today and see for yourself.
10, 20, 30, 40-yard dumpster bin selection
We will go the extra mile to get and keep your business
Highly skilled sales team + best service guarantee
Pleasing you is our first priority
There is no issue in dumpster industry that we can't overcome
Dumpster Rental Pricing in Savannah is Based on Many Different Factors
To Receive The Lowest Pricing, Call For A Customized Quote Now 1-888-792-7833
With Us Savings Can Be Up To $150 On Your Next Dumpster:
Don't throw your money away. Everybody loves saving money. Contact us now and let our friendly agents find the right dumpster for your needs. The proof is in the pudding, as they say, so lets us show you we are a company of action and results.
With 15 years in the business we have the pricing and experience you desire
Easy to use dumpster bin calculator
Flat-prices and no hidden-fees
We match and beat competitors prices
Rates that will put a smile on your face
Earn Up To $50 | Share / Like Below
Click To Call 1-888-792-7833
Click For Email Quote
10 Yard Dumpster (2 TONS) 4,000LBS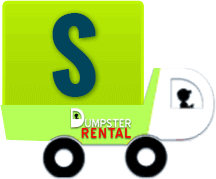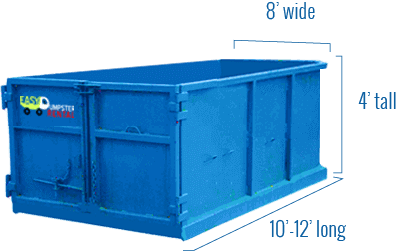 Easy Dumpster Rental
20 Yard Dumpster (3 TONS) 6,000LBS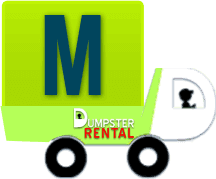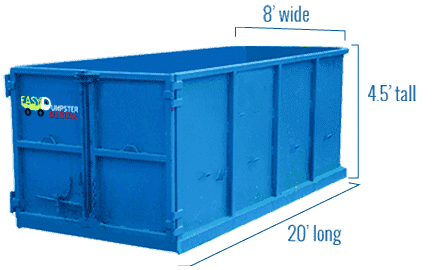 Easy Dumpster Rental
30 Yard Dumpster (4 TONS) 8,000LBS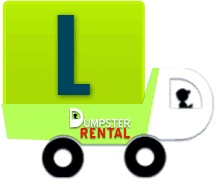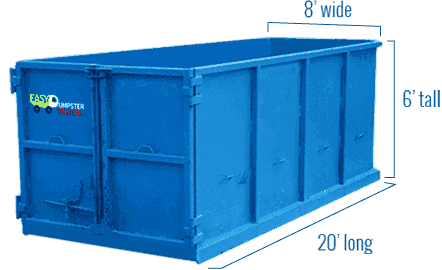 Easy Dumpster Rental
40 Yard Dumpster (5 TONS) 10,000LBS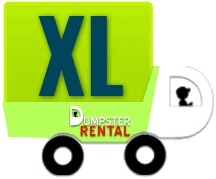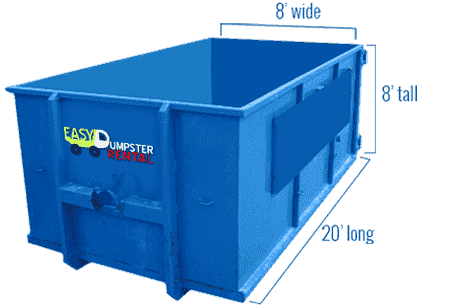 Easy Dumpster Rental
Protocol for Filling a Dumpster in Savannah
Safety for the public is our number one concern when hauling materials in a dumpster. It is against the law to haul a bin with debris that is over the top or rim of the dumpster. Everything must fit within the canister with no protruding materials. Debris cannot be hanging over the sides or breaching above the height of the dumpster. For that reason, you have to ensure to fill the dumpster just below the rim.
We are prohibited to cart hazardous materials or anything that is combustible. Below, we will get deeper into the subject of hazardous materials. The EPA has very strict guidelines and they must be heeded or there can be hefty fines levied by the government. Typical items we don't haul are a washer, dryers, electronics and automotive batteries to name a few. Our representatives at Easy Dumpster Rental will give you a comprehensive list of what is allowed and what is not allowed in a dumpster. You can also visit our FAQ page for more details.
The weight of the dumpster is one more consideration you must be aware of.  Our team will inform you of your weight by using a calculator to get a precise number and then will recommend the correct dumpster for your job. When we arrive at your drop off point the empty dumpster will be weighed and then during pickup, it will be weighed again to ensure that you haven't exceeded the weight limit. If you do exceed, there will be fees added to your cost. But this usually doesn't occur because we are very experienced in guiding you through this process. We don't take pleasure in charging you more money. We are in the business to save you money.
So to sum up, make sure that all materials are flush with the top of the dumpster and nothing is spilling over the sides. No hazardous materials and again if you're not clear if you have something hazardous give us a call. No combustibles allowed!  And try to stay within the weight limit so you don't incur extra fees and call us if you need guidance on weight limits.  Safety on the roads is a matter we all should take seriously and by working together we will achieve a safe environment to operate in.
What is considered  Hazardous Materials In Savannah
The  EPA has set forth guidelines on what is considered hazardous waste.  However, Savannah and the State of Georgia may have other materials that they deem hazardous.  Hazardous waste can cause irreparable harm to the populace and the environment. So it is of utmost importance to be informed of what constitutes hazardous waste. By being informed citizen you will help keep Savannah safe and beautiful. No one wants to see the rivers turning green because of a chemical spill. As mentioned above, it is against the law to haul hazardous waste in our dumpsters
City of Savannah website has a comprehensive list of hazardous materials and how to dispose of them. There is a wealth of information.
14 Interchange Court
P.O. Box 1027
Savannah, GA 31402
Ph: (912) 651-1967
Fx: (912) 644-7781
Hours
Monday – Friday 8 a.m. – 5 p.m.
Saturday 8 a.m. – 1 p.m.
Some items that considered Hazardous waste  
Bleach
Moth repellents
Fuel additives
Fluorescent light bulbs
Driveway sealer
Kerosene
Lighter fluid
The EPA's list of common household hazardous waste
Disposing of Hazardous Materials
The City of Savannah has developed a web page that provides a myriad of options of how and where to dispose of your hazardous waste. One such place is the Chatham County Recycles.
Old Medicines you are no longer using or have expired:
Walgreen's – ($2.99)  5701 Ogeechee Rd, 125 Johnny Mercer Blvd, 700 DeRenne Dr
Armstrong Univ. – (Free) 11935 Abercorn St -(912) 344-2603
There is a prescription drop-off box at campus police dept. Medicine can be in or out of containers.
Fluorescent Lamps -Long fluorescent tubes
Batteries Plus – (Free) 7170 Hodgson Memorial Dr. – (912) 352-0650
Here is a list of free places to take your Compact Fluorescent Light Bulbs
Lowes –  11114 Abercorn St. – (912) 927-0000
Home Depot – 11180 Abercorn St. – (912) 921-0158
Batteries Plus – 7170 Hodgson Memorial Dr. – (912) 352-0650
Waste Tires -Car tires
JJ Tire Center – ($3.00 each) 3701 Ogeechee Rd – (912) 447-0111
Old tires are acceptable but you may be charged a fee.
Ammunition
Police Dept. – (Free) 201 Habersham St. – (912) 651-6675
Old ammo will be taken by most gun shops: Make sure a police officer is available who handles ammunition is on duty.
The Gun Shop – 203 Eisenhower Dr – (912) 691-0151 Take your brass from rifle shells. The shelf life of shells can last for 4 decades.
Georgia Approved Scrap Tire Processors
Northeast Georgia Tire Recycling, Inc. ->  Processor ID: 073-001-STP – 123 Industrial Park Road Hartwell GA 30643 –  (706) 376-6342
CEMEX – Processor ID: 076-001-STP -> 2720 Highway 341 S. Clinchfield GA 31013 –  (478) 987-2121
OTR Wheel Engineering/Green Carbon – Processor ID: 057-001-STP -> 6 Riverside Industrial Park NE Rome GA 30161 –  (706) 235-9781
Liberty Tire Recycling – Processor ID: 060-005-STP -> 1593 Huber St, NW Atlanta GA 30318 –  (404) 355-0547
New Holland Tire, Inc. – Processor ID: 159-001-STP -> 2982 Highway 82 E. Summer GA 31789 –  (229) 776-4629
Liberty Tire Recycling – Processor ID: 064-001-STP -> 301 Wellco Ln Calhoun GA 30701 –  (706) 602-0072
Amko Tire Recycling – Processor ID: 069-001-STP -> 1608 Atlanta Hwy Gainesville GA 30504 –  (707) 535-1027
Recovered Materials, Inc/Diversified Industry – Processor ID: 003-001-STP -> U.S. Hwy 1 South Alma GA 31510 –  (912) 632-4751
Quality Tire Recycling Inc – Processor ID: 018-002-STP -> 465 Mallet Street Jackson GA 30233 –  (770) 775-3304
Tillman's Scrap Tire Company – Processor ID: 049-001-STP -> 1195 Sawyer Rd Blakely GA 39823 –  (229) 723-6826
Old Paint
Do it yourself  Disposal – (Free) By adding kitty litter or sawdust you can make the paint solid. Put it into a double line garbage bag, then add the kitty litter or sawdust Double line a garbage bag until material gets solid. Tie up bag & place in regular garbage. Do this outside away from children.
Chatham Paint Center – (Cost Varies) 1116 E Montgomery Cross Rd. –  (912) 355-3277 http://atlantapaintdisposal.com
Gas/Paint Thinner
Do it yourself by Evaporation Method
ACCORDING TO Georgia EPD: For small amounts open the container and let it evaporate. If it's a larger amount,  pour liquid 1/2 inch deep into a disposable tray. Let evaporate. When is all evaporated wrap tray in newspapers & place in a trash bag & dispose of in household trash? Make sure you do this outside and an area free of children and pets.
Recycling in the City of Savannah
The benefits of recycling are immeasurable. Energy is saved, jobs are created and there is a reduction of waste. All citizens should be aware and motivated to help keep their city beautiful. Also, by recycling, you give new life to old products. City of Savannah city hall website will answer all your question about recycling and where to dispose of recyclable materials.
Some examples of recyclables will include; newspapers, cardboard boxes, glass bottles and tin cans to name a few items.
Savannah Recyclables can be reached at 912-651-1967
It's that easy!
Call Our Team Now
1-888-792-7833