Dumpster Rental in Lawrenceville, GA
Get The Trash Rolloff at The Cheapest Rate!
Click To Call 1-888-792-7833Click For Email Quote
We offer dumpsters with value in Lawrenceville:
Renting Roll off dumpsters in Lawrenceville from Easy Dumpster Rentals is an exceptional deal and can save you time and money.
Our distinguished service offers great value
Requesting a quote is no – brainer
Exceptional representatives
Smart solutions to renting
Rolloff Dumpster Rental Pricing in Lawrenceville is Based on Many Different Factors
To Receive The Lowest Pricing, Call For A Customized Quote Now 1-888-792-7833
Rent a roll off and save up to $100:
Who would object to saving money? Save your money for a raining day and rent the dumpster from EasyDumpsterRental now. Simply share this page on social networks to get coupon codes.
.
Renting a bin from us is cost – effective
Become more prudent in renting
We are efficient which equates to money well spent
Put your money to better use
Earn Up To $50 | Share / Like Below
10 Yard Dumpster (2 TONS) 4,000LBS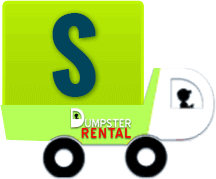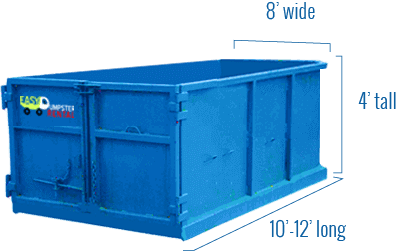 Easy Dumpster Rental
20 Yard Dumpster (3 TONS) 6,000LBS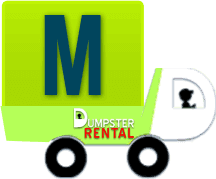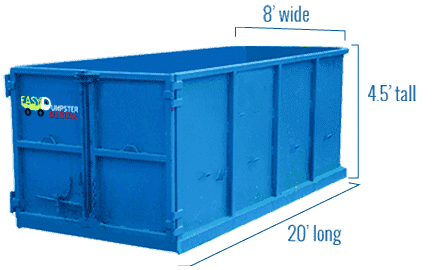 Easy Dumpster Rental
30 Yard Dumpster (4 TONS) 8,000LBS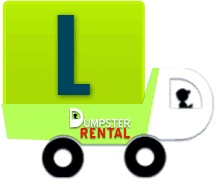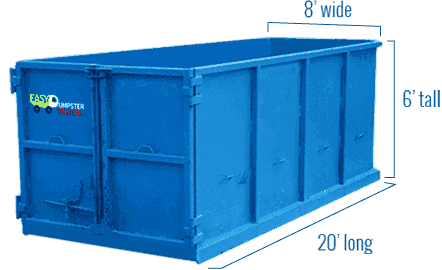 Easy Dumpster Rental
40 Yard Dumpster (5 TONS) 10,000LBS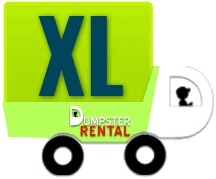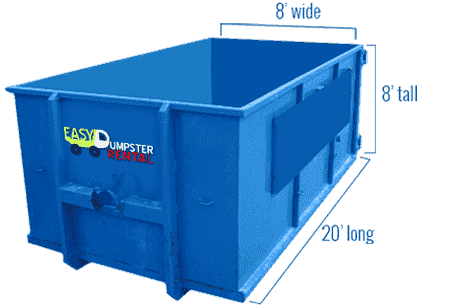 Easy Dumpster Rental
Easy Dumpster Rental offers Flat Rate Pricing
Easy Dumpster Rental in Lawrenceville makes it simple to rent a bin. The world is complicated as it is and understanding this, we streamlined the process of rolloff renting. With our flat rate pricing model, we have endeavored to make the rental process just a phone call away. No more haggling over prices. You just tell us what size roll off you require and we give you the most competitive prices in the industry. And if you are clueless on how large of a bin you need. No problem. We can take care of that issue in a second. Our friendly, knowledgeable staff will ask you a few questions and plug the information into our intelligent calculator, and it will tell us exactly what you need. No mess, no confusion, just a great price.
Reliable and Efficient Dumpster Rentals
With over 15 years in the dumpster rental business, we have learned a few things on our journey. Customers are demanding reliability more than ever. Most businesses fail in the first 5 years and one of the main reasons is they cannot be depended on. Well, that will not be an issue with Easy Dumpster Rentals. Because we learned early on that when a customer tells you that they want something done on a certain time or day, and you fail to deliver, you just lost a client. We don't make promises we can't keep. If we tell the rolloff will be delivered at 9 am Monday, you can be sure will be punctual. The business world is a highly competitive place and we have proven over a decade and half that we mean business.
We are the ultimate company when it comes to being efficient. Not only we will walk you through the rental process, we will instruct you in how the dumpster should be filled. In addition, we will give you tips on how to prepare your site so that we don't damage your yard or driveway. Our sales team is made of professional from the industry and can answer any questions that may arise. So save yourself time, money and stress and let us to hauling away of your waste. Believe us, you don't need the aggravation of doing it yourself.
OSHA and the Business of Hazardous Waste
The Occupational Safety and Health Administration or OSHA as it is more commonly referred to is the main regulatory body ensuring businesses are keeping workplaces safe for their employees. OSHA was formed in 1971. It is an agency under The Department of Labor.  Besides enforcing laws and regulations it also provides education, training, and education for both employers and employees. They also provide Hazcom guidance documents to help workers thrive in a safe environment. Publishing these documents helps the workplace become an environment where employees can be aware of the potential dangers in certain situations.
Under OSHA regulations, employers must make sure that all chemical products are labeled properly. Chemical manufacturers must determine the hazards that they produce. And workers must be trained and updated when new laws or regulations are implemented.
The OSHA Laws and Regulation page covers every aspect of workplace safety issues. From exit routes in a plant to noise levels, and even has rules regarding stairs and ladders. OSHA offers training through its OSHA Training Institute where both employers and employees can take classes to help everyone stay abreast of new laws and understand important safety issues.
The Frequently Asked Questions page is an excellent resource. Here you can get answers on a wide variety of topics important to workplace safety.Some of the topics covered include; Bloodborne pathogens, ergonomics, eye wash stations, and Heat hazardous. The section also provides answers on water and sanitation and record keeping.
If you are an existing business or contemplating a start-up, it would behoove you to take advantage of all the resources this site provides. Worker safety should be a business owner's main priority and to ensure that all workers have an environment that is protected. OSHA has very strict laws and businesses can not only face steep fines but could be shut down. So take workplace safety seriously and keep everyone safe.
This a partial list that the EPA has targeted to be hazardous. A more comprehensive list compiled by the EPA in this handy brochure is worth your time and effort to take a look at.
Insecticides
Batteries
Turpentine
Driveway sealer
Bleach
Automotive batteries
Mouse baits
Fuel additives
Disposing of Hazardous Waste in Lawrenceville
This a partial list that the EPA has targeted to be hazardous. A more comprehensive list compiled by the EPA in this handy brochure is worth your time and effort to take a look at.
Fungicides
Chemicals
Fixatives
Propane tanks
Oil paint
Toilet cleaners
Hazardous waste cannot be put into dumpsters or on the street for curbside pickup. The city of Lawrenceville has a few options for hazardous waste removal or pickup.
The following companies can provide these services:
Amason Jr Charles
132 Gates Mill Drive
Lawrenceville, GA 30045
(678) 859-6299
Grn Community Service Board
102 Memorial St
Lawrenceville, GA 30046
(770) 277-5154
Atlantic Pit Service Inc
185 Industrial Park Cir
Lawrenceville, GA 30046-4641
(770) 962-1811
Inman Group & Partners
396 Fosters Cove Way
Lawrenceville, GA 30044-4890
(770) 899-6332
Mark Cofino Restoration Service
1624 Fort Perry Way
Dacula, GA 30019-6791
(678) 531-6558
Options for recycling in Lawrenceville
Lawrenceville resides in Gwinnett County offers an online brochure which has information on what can be recycled. They also have provided for your convenience a Frequently Asked Questions page where you can get all your recycling questions answered. Help keep Gwinnett county a vibrant place to live. If every resident in their own little area of their world, contributed to the recycling effort in know time all the cities would be free of waste. Everyone pitching in, working as a team, can transform your city and county overnight. And we all desire to live in streets free of litter. And to make a lasting impact for future generations. Involve your children, educate them and this will help ensure a cleaner, fresher city, and counties for generations to come.
Some of the items that can be recycled include:
Magazines
Pizza boxes
Corrugated cardboard
Adhesive notes
Here are a few types of waste the county will not be accepted for pickup:
Hazardous waste
Aerosol cans that are not empty
Construction/demolition waste
Large tree debris
Tires
Paint that is not solidified
Ammunition of any type
Paint solvents
Chemicals
Small engine parts containing oil or fluids
Treated wood
Please check the website for a more comprehensive listing of banned materials
Do not underestimate the value of recycling. Not only does keep your city looking attractive, but helps promote a more viable city in which to raise a family. A cleaner, healthier city impacts property values, families are prone to live in a city that takes pride in its parks, lakes, and rivers by keeping them free of pollution. Stay informed and read as much as you can about the benefits of recycling. Recycling also helps conserve energy and creates jobs. So it is all good for the cities and community at large to be actively involved and promoting recycling.Do your part to keep Lawrenceville beautiful.
The City Hall of Lawrenceville has a section on sanitation and recycling which provides information on recycling within the city.
It's that easy!
Call Our Team Now
1-888-792-7833