Easy Dumpster Rental – 10 Yard Dumpster
Cheap and Reliable
Here at Easy Dumpster Rental we proudly boast a comprehensive range of dumpsters that come in various sizes. The smallest sized dumpster that we currently have available for renting is our 10 yard dumpster model. In terms of raw carrying capabilities, 10 yard dumpster in its volume capacities is roughly equal – to approximately 3 average pickup trucks of debris, trash, etc.
If you're not sure about what size dumpster you should be renting, take a look at our dumpster calculator or give us a call for more in depth advice.
Click To Call 1-888-792-7833
Click For Email Quote
Residential & Construction Roll Off Dumpsters For Rent
10 yards (1 tons)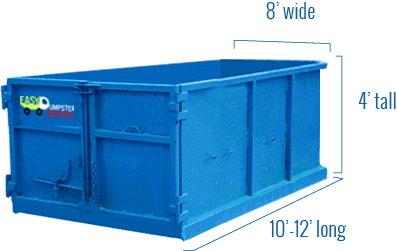 Our 10 yard dumpsters will almost always be able to fit in any standard driveway, making them ideal for projects on residential properties. While our 10 yard dumpsters may seem "tiny" when compared to our other dumpster models, they are by no means small. heir dimensions are: 4' High, 8' Wide, 10-12' Long. They are made to specifically manage a weight value of up to approximately 2 to 3 tons. 10 yard dumpsters ares perfect for any minor construction projects that you may have to undertake at home or otherwise. They are also similarly well suited for renovation projects at home as well. If you have an at home, summer or weekend clean-out project, then 10 yd dumpster should most certainly be more than enough – whether you are cleaning your basement, attic, or garage.
Call our team now to rent a dumpster!
Call us at:  1-888-792-7833
to speak with one of our highly trained waste management consultants.