Dumpster Rental in Roswell, Georgia
If you want competitive rates, look no further!
Click To Call 1-888-792-7833Click For Email Quote
Roswell is in Love With Our Ease of Dumpster Rentals:
There is a reason "Easy" is in our name. We take the dreariness out of dumpster renting and make it as simple as A-B-C. Call us now and discover a simpler way to rent a rolloff bin.
Best customer service team in America
We handle mom and pop jobs all the way to hotels
10, 20, 30, 40-yard dumpsters are most popular bins in Roswell
Making you happy is our motto
No matter what a job, residential or construction we got the dumpster for you
Dumpster Rental Pricing in Roswell is Based on Many Different Factors
To Receive The Lowest Pricing, Call For A Customized Quote Now 1-888-792-7833
Save up to $75 on rental by calling us now:
The core and success to any business are customers whose expectations are exceeded and that's why we continue to see repeat business. One of our secrets is fair, honest pricing model. Call and see it for yourself.
Save more money by renting from us
We just don't promise better pricing we deliver
No rental company can compete with our rates
Our years of experience helps you save
Pickup the phone and receive instant savings
Earn Up To $50 | Share / Like Below
Click To Call 1-888-792-7833
Click For Email Quote
10 Yard Dumpster (2 TONS) 4,000LBS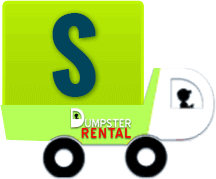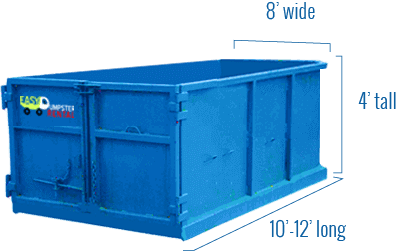 Easy Dumpster Rental
20 Yard Dumpster (3 TONS) 6,000LBS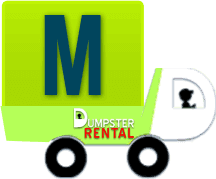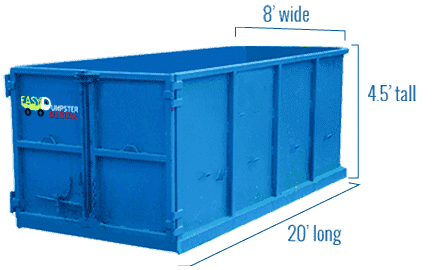 Easy Dumpster Rental
30 Yard Dumpster (4 TONS) 8,000LBS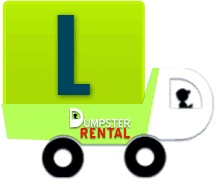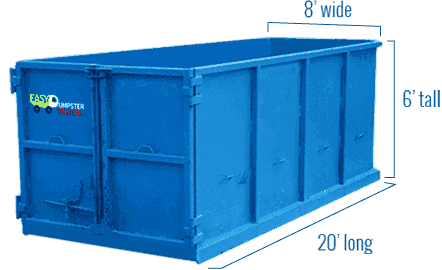 Easy Dumpster Rental
40 Yard Dumpster (5 TONS) 10,000LBS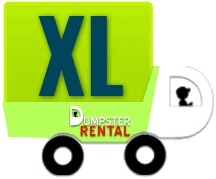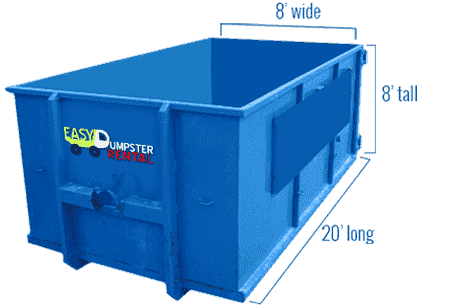 Easy Dumpster Rental
Why it's smart to use an experienced rolloff rental company
Why when there is a conflict the call goes out to send in the Marines? Because they are the most experienced and best equipped to handle the task at hand. And we feel the same way here at EasyDumpsterRental. With over 15 years experience in the rental business, we have faced every possible scenario and have always found solutions. Our customer service agents just aren't a group of individuals with friendly dispositions. They are a team of experts with experience in the field. And experience is what you are hiring. We are a well-oiled machine and if an agent can't find a solution to a problem there will be someone on our staff who will have an answer.
Experience and knowledge coupled with a friendly, helpful staff, will make rolloff renting from us a snap. We couldn't have stayed in business this long without a high level of competency. Whatever questions or concerns you may have, we have seen all before. That is one of the reasons we are the industry leader.  You have enough to be worried about. The stress of any remodeling job can take its toll. That is why we only hire staff that has experience and the understanding that goes into the planning of making sure you get the right roll-off container. Let us help take some of the load off your shoulders and put it squarely on us. We live to make sure that your rental experience goes smoothly and timely.
Because we have been in the dumpster rental service so long it gives us a competitive advantage over our competitors. Don't go with a fly by night outfit, stick with the pros. Our professional staff of agents will be able to quickly and accurately determine your needs. If you already know what size dumpster you need, great. But if you are a little unsure, with a couple of questions will be able in a few minutes of your time to get the exact bin you need, when you need it. We also have a dumpster calculator that is perfect for getting you the exact size without wasting your time or money. This eliminates all the guess work. And no one has time for guesses. So what are you waiting for, call us now and don't waste any more time? The most economical and efficient way to deal with trash is to use a dumpster.
What is hazardous waste and how to dispose of it
The government through the EPA has developed a comprehensive list of what is hazardous waste. They have a website for public use to help you determine if your waste is of a hazardous nature. The information is made available to the public for free to help you make smart, safe decisions to protect our environment.
Many cities across America, like Roswell, may have added to this list other materials that they feel are hazardous and we will explore this in the next section.  The EPA has separate criteria for businesses and residential hazardous waste, so this distinction must be kept in mind.
Every city in the United States wants to ensure that they are using best practices when it comes to handling hazardous waste. We all want to keep our citizens safe from a hazardous environment. We want to keep our cities clean, beautiful and to experience a great quality of life. We can do this by making sure that each citizen is educated on the perils of hazardous waste. And some of the items listed below might surprise you of what is considered hazardous and what can be easily recyclable. Sit down with your children so they are educated. Talk to your friends, neighbor, and your city officials. Knowledge is what is going to protect us all.
Below are a few items that are deemed hazardous waste
Drain  cleaners
Moth repellents
Flea repellents and shampoos
Diesel fuel
Stains and finishes
Wood preservatives
Lighter fluid
Ant sprays
What to do with your hazardous waste
The city of Roswell has teamed up with the Georgia Recycling Coalition to help residents find ways to dispose of hazardous materials. The city of Roswell does have a day where they will pick up or have a place to drop off hazardous waste materials. This event happens once a year and it is best to contact Roswell City Hall for the next time this event happens. There is also a great website "KeepRoswellBeautifull.org" that will each year update with the details on the Household Hazardous Waste Day event.
Roswell City Hall is located at:
38 Hill Street
Roswell, GA 30075
(770) 641- 3727
Most hazardous waste can be usually put into four categories. This is just a basic rule of thumb. This category include; Reactive materials, toxic, corrosive, and flammable items, like propane tanks. Remember, if you are not sure if something you have may be considered hazardous, please contact your local officials.
Recycling in the City of Roswell
Recycling is the single most important contribution a citizen can easily do to keep Roswell beautiful. The benefits of recycling can enhance a city's beauty, conserve energy and goes a long way to help to create jobs. Recycling is easy and the City of Roswell has made it convenient for you to recycle. All of us want clean, desirable places to raise a family. And by doing your part you will ensure that Roswell continues to be a city with civic pride and a great place to call home. No one likes to see litter on the city streets or in our parks and roadsides. If you see litter, stop and pick it up or inform your local city official. Take pride in your city do your part. A cleaner city also helps property values from falling and when people work together it fosters an esprit de corps which brings friends , families, and neighbors closer together. And this attitude will go a long way in keeping Roswell a city you can call home with pride. So go out and do your part.
The City of Roswell has put together this easy to read the rochure to help residents what can and can't be recycled.
The Roswell Recycling Center will accept the following items for recycling
Grills
Lawn mowers
Coat hangers, screws and nails
Glass bottles
Computers
Stereos and speakers
All telephones
Shoe boxes and paper bags
Cardboard
Newspaper
Aluminum cans
Items they will NOT be  accepted at the recycling center
Aerosol spray cans
Small appliances
Molded plastics
CD's and DVD's
China
Pyrex
Light bulbs
Ceramics
Keep in mind that this is just a partial lists of items that will and will not be accepted. Please refer to the brochure for a complete list. A link was provided at the beginning of section 5.
The Roswell Recycling Center is located at;
11570 Maxwell Road
Alpharetta, GA 30004
770-442-8822
The hours of operation are as follows:
Tuesday -Thursday  8:30am -5:30pm
Friday 8:30 am 5pm
Saturday 8am-5pm
The center is closed Sunday and Monday
It's that easy!
Call Our Team Now
1-888-792-7833