Dumpster Rental in New Bedford, MA
Our Low Rental Costs Will Have You Smiling
Click To Call 1-888-792-7833Click For Email Quote
Why We Offer Unique Roll Off  Service In New Bedford:
We still believe in old fashion values here at Easy Dumpster Rental. Working hard, integrity and making sure our customers are happy, mean something to us. That is why we have a high retention rate.
We can help you with your recycling needs with our variety of bin sizes  
Same day delivery available in New Bedford
Free consultation and online quotes to better serve you
Containers for both the residential and construction industry
We can handle any size project. No matter the scope of the job
Dumpster Rental Pricing in New Bedford is Based on Many Factors
To Receive The Lowest Pricing, Call For A Customized Quote Now 1-888-792-7833
Save With Us Between $10 And $150 On Your Dumpster Rental Cost:
When on-time delivery, followed by a prompt pickup and affordable pricing are essential to you or your business, then you have come to the right company. We have the lowest canister prices in New Bedford.
Our flat rate pricing model means you never pay more than the quote you receive
No headaches and coupled with an easy ordering process
An easy to use dumpster weight calculator for your convenience
All of our prices are transparent and we will be happy to break down our cost structure
Call ASAP and experience the best customer service in the country
Earn Up To $50 | Share / Like Below
Click To Call 1-888-792-7833
Click For Email Quote
10 Yard Dumpster (2 TONS) 4,000LBS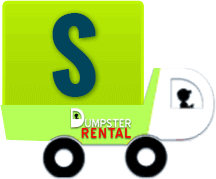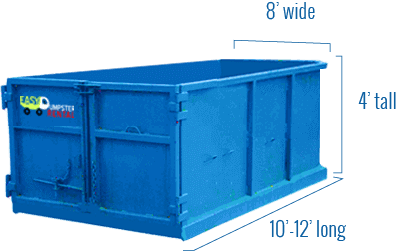 Easy Dumpster Rental
20 Yard Dumpster (3 TONS) 6,000LBS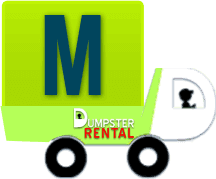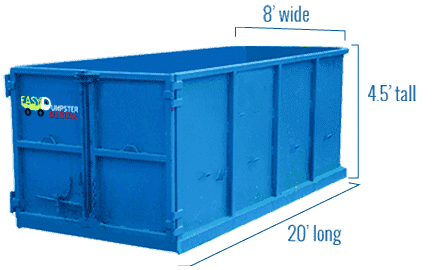 Easy Dumpster Rental
30 Yard Dumpster (4 TONS) 8,000LBS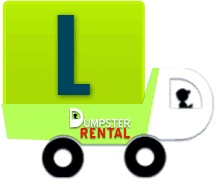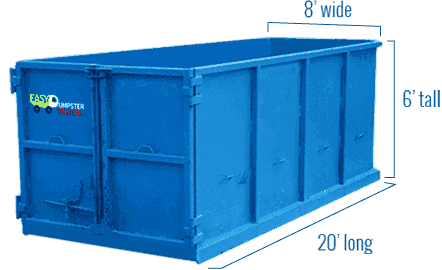 Easy Dumpster Rental
40 Yard Dumpster (5 TONS) 10,000LBS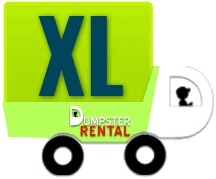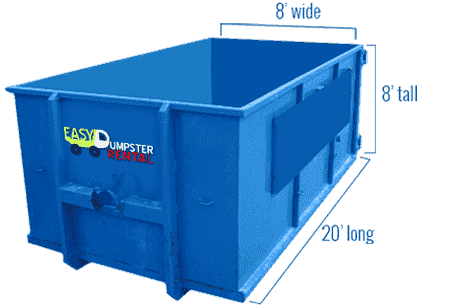 Easy Dumpster Rental
Location of Transfer Station In New Bedford, MA
There are a number of program and services in place to help New Bedford residents dispose of solid waste.  Shawmut Avenue Transfer Station is open to Bedford residents who would like to dispose of recyclables that have not been collected. No construction or demolition waste will be accepted from residents at the Transfer Station. Contact information and location of the transfer station is listed below.
City of New Bedford Solid Waste Transfer Station
1103 Shawmut Ave
New Bedford, MA 02746
508-991-6156
Hours:
Sunday, Tuesday, and Thursday: Closed
Monday, Wednesday, Friday, and Saturday: 12–5PM
Call for information on items accepted at the location.
Collection Of Recyclables in New Bedford
Recycling is mandatory in New Bedford, MA. The city has partnered with ABC disposal to provide residents with weekly recyclables collection. Carts should be placed outside by 7:00 am on the designated collection day. All recyclables should fit within the cart. Residents in need of another car can contact the Department of Facilities and Fleet Management at (508) 961-3008 to make arrangements.
See the list below for items to be placed in recycling bins:
Paper and Paperboard
Steel Cans
Newspaper
Glass bottles
Corrugated Cardboard
Plastics bottles
Aluminum Cans
Magazines
See the list below for items that should not be placed in the recycling bin:
Clothing or textiles
Greasy pizza boxes
Toys
Refrigerated and frozen food boxes
Pots, pans
Hangers
Wires
Appliances
Chains
Styrofoam
See more Acceptable and unacceptable items in your recycling cart
Hazardous Waste Disposal
Household Hazardous Waste Drop-Off Days takes place two times annually in New Bedford. Events are generally held at the Crapo Hill Landfill, 300 Samuel Barnet Blvd inside the New Bedford Business Park. Please click here for information on upcoming events. All residents are required to present proof of residency before participating and are allowed a maximum of 25 gallons or 25 pounds.
Household Hazardous Waste Includes:
Ammonia
Roach killers
Antifreeze
Chlorine bleach
Arsenic
Artist paints
Carburetor cleaner
Aerosols
Batteries
Automotive
Batteries, Household
Antibacterial products and disinfectants
Automotive oils
Brake fluid
Insect killer
Boating waste
Propane tanks
Charcoal
Chemicals
Fire extinguishers
Contact cement
Drain cleaner
Engine degreaser
Fluorescent light ballasts
Epoxy
Fertilizer
Chemistry sets
Flares
Flea Killers
Fluorescent light bulbs
Hobby chemicals
Fluorescent light tubes
Fuel filters
Garden pesticides
Fungicides
Glue
Mercury
Formaldehyde
Hair color
Hairspray
Indoor pesticides
Kerosene
Lead-based paint chips
Lice shampoo
Mothballs
Lead-based paint
Motor oil
Bulk Waste Pick-up
Bulk waste is collected by ABC Disposal haulers at the curb. Call (508) 999-2619 to make an appointment for yard waste collection. Items that require special disposal include mattresses, box springs, sofas, stuffed chairs, carpets and more.
Yard Waste Disposal
Yard waste such as grass, leaves, branches and twigs is collected by ABC Disposal haulers 4, 2016 to December 16, 2016. Click here for more information.
Interesting Facts About New Bedford
New Bedford was settled in 1640 and has the largest Portuguese-American community in the country. The current population is just a tad under 100,000 residents. The Port of New Bedford handles perishable items and cruise ships. The 3 largest sectors that contribute to the New Bedford economy are the service industry, wholesale trade, and manufacturing. The Titleist Golf Company is headquartered here and health care services play a major role. Some notable people from the area include Leonard Miller, co-founder of the home builder Lennar, John Tukey, a statistician who is believed to have coined the terms, "Software" and "Bit," and watercolor artist Benjamin Russell.
How We Determine Our Roll-Off Rental Prices
The majority of customers want to know how we calculate our prices. And we feel that to be a good business partner we need to be transparent in everything we do. So below, we have outlined the 4 major components of our pricing model. This openness helps foster trust between you and Easy Dumpster Rental. If you have any questions about our costs that you don't think were answered fully, then please either go to our FAQ page or call our office. Our sales agents will be more than happy to discuss this or any other concerns you may have.
Debris Weight: There are 2 conditions to consider when it comes to debris weight costs. The size of the dumpster needed for the job. Container Units come in 4 sizes. 10, 20, 30, and 40 cubic yards. Obviously, a 10-yard bin is going to be lighter than a 40-yard dumpster-rolloff. So, the size of the front load dumpster will play a major role in the price. Secondly, the type of debris you are removing. Shingles are going to be much heavier than dirt from the backyard. So what your are hauling will have an impact the cost of the rolloff-bin rental.
Debris Type: The type of debris you are dumping will affect the price of the rental. Solid waste will be more expensive than recyclables. Please be aware that dumpster companies cannot haul hazardous waste. And if you do, you will face a stiff fine from the EPA. Plus, more added fees from the landfill and the dumpster company.
Landfill Costs: Landfills charge rolloff companies tipping fees, which are out of the hands of Easy Dumpster Rental. The dumpster and the truck it is on goes on a scale and it is then weighed. Landfill fees will vary from city to city. So the fees at a landfill in New Bedford may be lower or higher than fees in the Boston area. And it goes without saying this will have an effect on your bin rental costs. Landfills post there tipping fees on their websites and Easy Dumpster Rental can calculate the price by using our simple to use canister weight calculator.
Rental Period: Easy Dumpster Rental typically offers a 7 or 14-day rental period. So the longer the lease runs the more it will cost you. No matter how long you need a dumpster container our skilled sales staff will be able to work out something that will suit your needs. We also are very flexible if you need the dumpster for longer periods of time.
So, these are the 4 major components that go into our bin-rolloff rental prices. And with over 15 years in the dumpster rental business and having rented 100,000 containers we feel that we are accomplishing a feeling of mutual trust. And it seems to be paying dividends.
We literally have thousands of repeat customer turn to us every year for their container rental needs. And you can read here about the great experiences our clients are receiving doing business with us. Keep us in mind when it comes time to your next residential or construction project. Easy Dumpster Rental can handle any size job.
It's that easy!
Call Our Team Now
1-888-792-7833