Dumpster Rental in Hattiesburg, MS
Get Astonishing Savings on a Rolloff Can!
Click To Call 1-888-792-7833Click For Email Quote
Hattiesburg We Take Pleasure In Offering You a Great Rental Price:
We're called Easy Dumpster Rental for a reason. Renting a dumpster bin from us will be "Easy" and we will make you very happy. We hire only the most qualified sales representatives in the industry.
Gratifying you is our number one mission
Get a quote faster than the speed of light
We are on time every time and it's guaranteed
We know you don't have time to waste
We rent to residential customers
Roll Off Dumpster Rental Pricing in Hattiesburg is Based on Many Different Factors
To Receive The Lowest Pricing, Call For A Customized Quote Now 1-888-792-7833
Make a mad dash for your cell and save up to $75:
Our pricing model will make you jump for joy. No haggling over pricing. We will match or beat our competitors' prices. We offer a flat rate price that will keep you coming back.
Transparent fee structure
A FAQ page to help answer some initial questions
An easy to use weight calculator
Renting from us will be your best decision you make all day
Don't hesitant another second, call now and save!
Earn Up To $50 | Share / Like Below
10 Yard Dumpster (2 TONS) 4,000LBS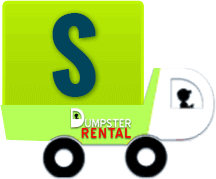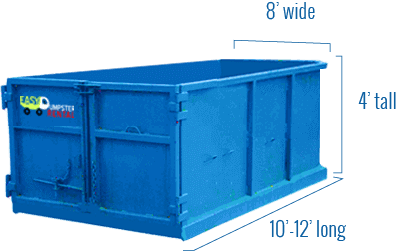 Easy Dumpster Rental
20 Yard Dumpster (3 TONS) 6,000LBS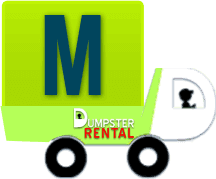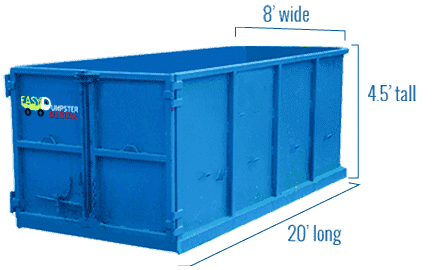 Easy Dumpster Rental
30 Yard Dumpster (4 TONS) 8,000LBS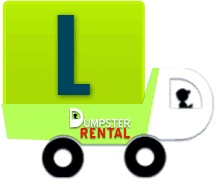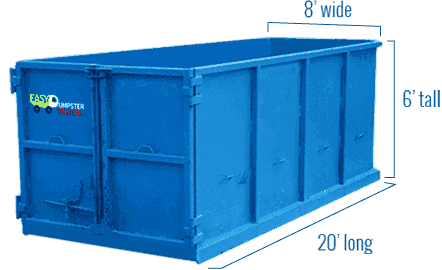 Easy Dumpster Rental
40 Yard Dumpster (5 TONS) 10,000LBS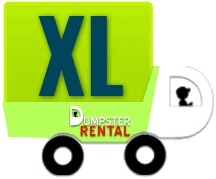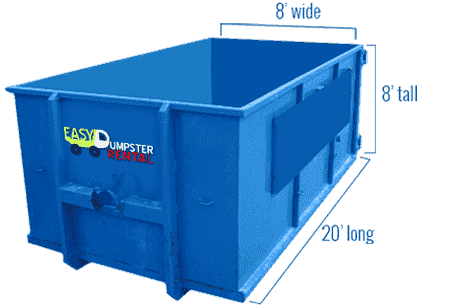 Easy Dumpster Rental
Landfill Drop-off Locations In Hattiesburg, MS
Hattiesburg is located in the Forrest County in Mississippi. The city or county official websites do not provide any information on landfill. We are providing one location of 3rd part operated the landfill. Please call them to find if they accept drop-off from residents.
480 J M Tatum Industrial Dr.
Hattiesburg, MS 39401
601.264.7888
Recycling in Hattiesburg
Recycling Drop-off Stations:
Campor Park on Hardy Street
Fire Station on Main Street and Wal-Mart Parking Lot on Hwy. 98 West
They accept following items:
Aluminum Cans
Newspapers (including glossy inserts)
Computer
White office paper
Mixed paper
Magazines
Find more information at Recycling and Solid Waste Reduction Program at the Mississippi Department of Environmental Quality can be reached at 601/961-5171
A Million Ways to Help Save The Environment
Few people give the environment a second thought. But they should. We are running out of precious resources and raw materials. Landfills are at the bursting point. Deforestation is happening at an alarming rate. Clean drinking water is becoming an issue. Fertilizers and other chemicals are destroying our underground aquifers. Pollution and litter are everywhere. And on and on it goes. But there are steps we can take to help lessen or slow down the mitigating circumstances that are affecting our planet. Easy and practical solutions you can implement now to do your part to help make the environment a cleaner place.
The following suggestions will go a long way in helping to keep our ecosystems vibrant. Considering painting your home? Use a latex based paint. Oil based paints release harmful fumes. Check your tire pressure. Not only will you have a safer more comfortable ride, but you will save on tire wear. And that will mean lesser tire changes and fewer tires going to a landfill. And a properly inflated tire has less of a chance for a blowout. Plant a tree. Trees emit oxygen and absorb carbon dioxide, which is a horrible gas for the atmosphere.
Don't dump your medicines down the sink. They will eventually find a way into our water sources. Did you know that the typical dishwasher uses up to 12 gallons of water? So make sure your dishwasher is full before you use it. Use your bicycle when you can or mass transportation. Even walk to work if your job isn't too far away. Carpooling is an excellent solution to using less gas.
Use a low flow water shower water head and take quicker showers. Don't put hazardous waste into your trash can. And if you are doing a major clean up around the yard consider renting a bin from Easy Dumpster Rental. Instead of using a pickup truck and making a couple of trips to the landfill, wasting gas and time, we will pick up your waste and make one trip to the dump, very smart idea indeed.
Invest in a cloth or canvas tote bag to take with you grocery shopping. Plastic bags are a real menace to the environment. They take forever to decompose and release petrochemicals that can leach into underground water sources. Try to use rechargeable batteries. Batteries are full of metals that can be harmful if put into a landfill. Turn off lights in rooms not being used. This can really cut down on utility bills and save energy. Try to keep your thermostats at a level that is just comfortable. When you purchase a new appliance ensure that it is energy efficient.
Recycle as much as you can. Most cities make recycling simple. They provide a bin, pick it up weekly, and there are communities that offer Single Stream Recycling. With this process, you don't even have to take the time to separate, for example, glass from plastics. Easy, simple, and efficient. There are no excuses when it comes to recycling.
Don't throw food away, donate it to a food bank. Americans throw tons of food away every day that can be used fro those who are hungry. Don't drive as fast. Going from let's say, from 75 mph down to 60 mph uses 20% or so less fuel. Put a filter on your water faucet instead of buying bottled water.
Well, it wasn't quite a million ways to save the environment, but you get the point. Ever little bit helps and all of these suggestions are easy to implement and you can feel good that you are doing something positive for the world.
It's that easy!
Call Our Team Now
1-888-792-7833