Dumpster Rental in Amarillo, Texas
Get Really Low Price On A Trash Rolloff!
Click To Call 1-888-792-7833Click For Email Quote
We Offer The Most Unique Services in Amarillo:
We stake our reputation on the fact that we can always offer you the fastest delivery and pick up services in Texas. There is no way we could have stayed in business for over 15 years if we did otherwise.
We can carry your burdens away with ease and your garbage also
A variety of dumpster sizes for all projects no matter how big or small
We rent to the residential community for those jobs around the house or yard
Easy to use dumpster weight calculator to insure accurate prices
Don't use a pick up truck, a rolloff-bin is the most practical solution
Dumpster Rental Pricing in Amarillo is Based on Many Different Factors
To Receive The Lowest Pricing, Call For A Customized Quote Now 1-888-792-7833
Save With Us Between $10 And $70 On Your Dumpster-bin Rental Cost:
Saving money is on everybody's mind today. And why not. Who wants to ever over pay for services. No one. That is why Easy Dumpster Rental has the lowest prices in the industry and we just aren't slinging bull.
No hidden fees or added surcharges. What you see is what you pay
Request a pick up online or over the phone. Whatever suits your fancy
Pricing so low that you will find us irresistible. The rest of the industry looks on in awe of our pricing model
We rent to the construction industry. We can handle any size demolition or tear down project
Stop chasing shadows we are the real deal
Earn Up To $50 | Share / Like Below
Click To Call 1-888-792-7833
Click For Email Quote
10 Yard Dumpster (2 TONS) 4,000LBS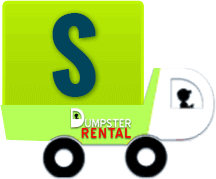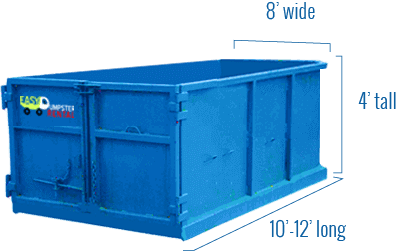 Easy Dumpster Rental
20 Yard Dumpster (3 TONS) 6,000LBS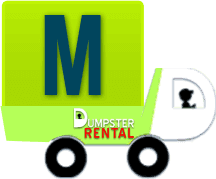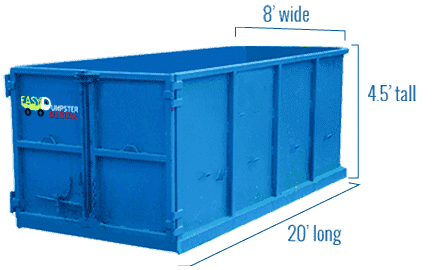 Easy Dumpster Rental
30 Yard Dumpster (4 TONS) 8,000LBS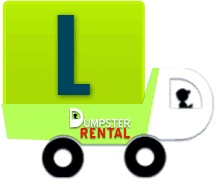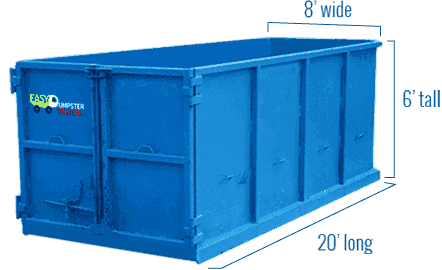 Easy Dumpster Rental
40 Yard Dumpster (5 TONS) 10,000LBS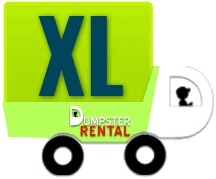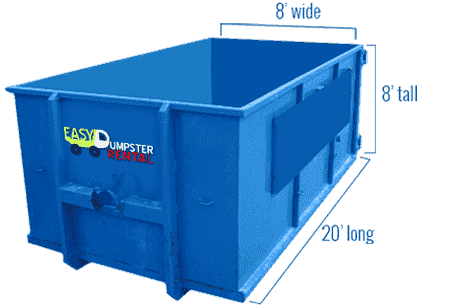 Easy Dumpster Rental
Landfill Location In Amarillo, TX
Amarillo is located at the seat of Potter County. The city has its own landfill which residents are allowed to use at a cost. See the information below for landfill location.
Amarillo City Landfill
16250 Bezner Dr
Amarillo, TX 79124
806-359-2056
Winter Hours (Nov. thru Mar.)
Monday – Saturday: 8 am to 5 pm
Summer Hours (Apr. thru Oct.)
Monday to Friday: 8 am to 7 pm
Saturday: 8 am to 5 pm
Contact 806-359-2056 for information on items accepted at the landfill.
What is The Process Of Securing A Rolloff-Bin in Amarillo?
Amarillo, which means yellow in Spanish is often referred to as "The Yellow Rose of Texas" and is situated in the panhandle. The city was founded in 1887 and has around 200,000 residents.  Amarillo is near to Palo Duro Canyon State Park and is the second largest canyon system in America only to the Grand Canyon. Some interesting residents of Amarillo include; singer-songwriter J.D. Souther, Ben Sargent, a Pulitzer Prize editorial cartoonist. And the actor Ron Ely, whose most famous role was playing Tarzan and was a mystery writer. Now, there are many people who find the dumpster rental process mysterious. So, with that in mind, for your edification we are going to discuss some often asked questions and help you navigate the jungle of the world of rolloff rentals with the ease Tarzan was swinging through the vines with Jane.
What can I use a Dumpster For? Dumpster have many uses only limited by your imagination. Some of the projects that a dumpster can be used for include, hauling junk from a remodel or roofing job. Getting rid of brush and tree limbs. Taking your old, unused items to a recycling center.
What size rolloff should I use? Rolloff-dumpsters typically come in 4 sizes. 10, 20, 30, and 40 cubic yards. Our sales team will be able to tell you exactly what size dumpster you will need. Just explain to our staff a little about your project and then we utilize a dumpster weight calculator to help us determine the appropriate size. It's a rather simple process.
Can a dumpster cause harm to my driveway or lawn? Dumpsters can get quite heavy. So we recommend going to your local lumber store and picking up a piece of plywood or some planks that you will place under the wheels. This will help eliminate the potential for damage. However, if all possible, the ideal location is to place the rolloff in the street. Check you with your local government officials to see if this option is permissible and if you need a permit.
How much notice to you need for an ordering a bin? We would like at least 48 hours heads up. There are situations however, where it is possible to get same day service. Speak to our sales team to see what your options are.
How long can I keep a bin? The Bin rental periods usually run for 14 or 30 days. But we will let you keep the Bin as long as you need it. If you discover you are going to need more time, please call the office before the Bin rental period expires and we will work with you so you don't get overcharged. In some instances we can even let you buy the Bin.
What credit cards or payment do you accept? We accept most major credit cards including; MasterCard, American Express, Visa, Discover, and the security and safety of PayPal. And we guarantee the lowest rolloff prices.
We hope this has help demystify the dumpster rental process. We also have FAQ page with some more questions. And if you still have more questions our sales team is highly qualified to answer all of your inquires. So, remember Easy Dumpster Rental for all of your hauling needs.
Recycling in Amarillo
Residents can take recyclables to the City Central Recycling Center are any of the four fire stations in the city. Find the address of these centers below or contact call (806)378-6813 for more information.
City Recycle Center – 6th & Western
Fire Station # 3 – 6009 Estacado
Fire Station # 4 – 208 E Hastings
Fire Station #2 – 9000 W 34th
Acceptable Items:
Telephone books
Aluminium cans
Newspapers
Corrugated cardboard
Envelopes
Magazines
Office paper
Mail
Unacceptable Items:
All #6 plastics
Food wrap
Furniture
Meat food trays
Packaging material
Plastic bags
Hazardous Waste in Amarillo
Residents can take Household Hazardous Waste items can be taken to the Environmental lab at 4001 South Osage. All accepted items taken to the location must be less than 5 gallons in quantity or no more than 6 inches in height. Individuals living in the city can contact 806) 342-1556 or (806) 342-1528 to schedule an appointment.
Pesticides
Antifreeze
Brake fluid
Herbicides
Latex and solvent based paint
Yard Waste in Amarillo
Yard waste such as leave, tree trimming, branches, limbs and brush can be taken to the following locations by residents. For more information on yard waste disposal contact the following number (806)378-6813.
3401 Broadway
801 N Soncy
3718 S Eastern
8745 Helium Rd.
Bulk Waste in Amarillo
Residents can range collection of bulk waste by contacting (806)378-6813.
It's that easy!
Call Our Team Now
1-888-792-7833