Dumpster Rental in Victoria, Texas
Get Super Rates On RollOff Rentals
Click To Call 1-888-792-7833Click For Email Quote
How We Can Give Uncompromising Service in Victoria:
Providing great service is the backbone of our business model. Our desire is to make every customer experience an unforgettable event. Our highly trained sales team will do all they can to make you happy and satisfied.
We take great pride and work hard to get and keep your business
Service that goes beyond the norm and we guarantee it
Rolloffs in 4 sizes. 10, 20, 30, and 40 cubic yards that can deal with any project
Simple to use dumpster calculator that will help you decide what size bin you need for your particular project
We have residential bins to help you with those small-scale jobs around the house
Dumpster Rental Pricing in Victoria is Based on Many Different Factors
To Receive The Lowest Pricing, Call For A Customized Quote Now 1-888-792-7833
Save With Us Between $10 And $65 On Your Dumpster-Bin Rental Cost:
Easy Dumpster Rental has been in business for over 15 years. The reason we have stayed in business for so long is easy. We offer the lowest prices with exemplary work ethic that insures you get all that you ask for.
Prices so low you will be in total amazement and will fall in love with our sales team
Get a quote faster than the space shuttle returning to earth. Online quotes available for your convenience
Construction rolloffs for those huge projects that seem impossible to get done
No hassles when you order a dumpster rental from us or nasty surcharges
Make your next call to us and you will be so glad you did
Earn Up To $50 | Share / Like Below
10 Yard Dumpster (2 TONS) 4,000LBS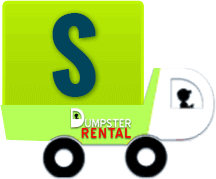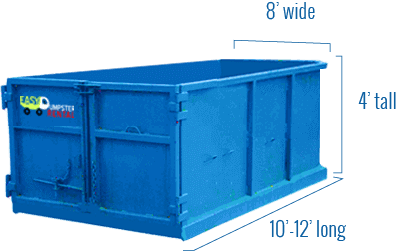 Easy Dumpster Rental
20 Yard Dumpster (3 TONS) 6,000LBS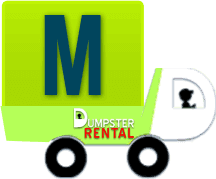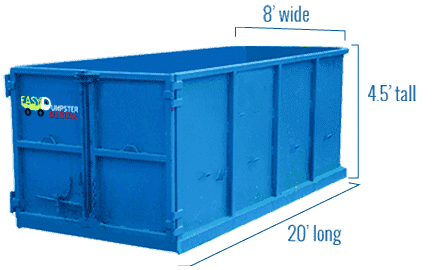 Easy Dumpster Rental
30 Yard Dumpster (4 TONS) 8,000LBS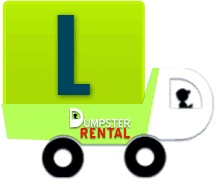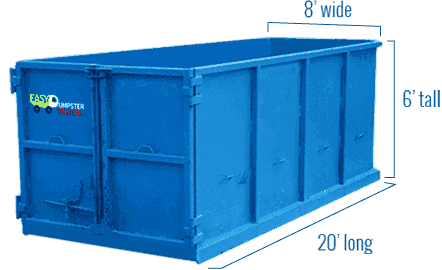 Easy Dumpster Rental
40 Yard Dumpster (5 TONS) 10,000LBS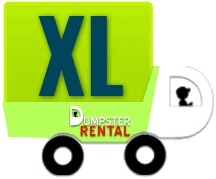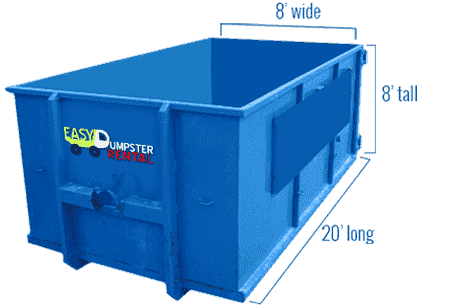 Easy Dumpster Rental
Landfill Location in Victoria, TX
Victoria is the county seat of Victoria County in the state of Texas. The city Environmental Services division is devoted to providing residents with safe solutions to dispose of household waste.  The address for the city's landfill which is operated by Waste Management is listed below:
4010 Callis St
Victoria, TX 77901
(800) 553-1902
Hours:
Monday to Friday:  7:30 am to 5:pm
Contact the landfill for a list of accepted items.
Recycling
The city has been providing residents with single stream recycling since February 2012. The program allows residents to place all their recyclables in on cart. Carts should be places out by 7 AM with the wheels secure against the curb.
Accepted Items Include:
Broken down cardboard
Magazines
Crushed plastics #1 & #2
Crushed aluminium cans,
Newspapers
Bottles
Tin cans
Prohibited Items include:
Styrofoam
Motor Oil Containers
Dishes
Mirrors
Light Bulbs
Diapers
Hazardous Waste
Through the At Your Door Special Waste Collection Program the city provides household hazardous waste collection from doorsteps of residents. Residents can make appointment for collection by contacting the hotline at 1-800-449-7587.
Items that can be collected include:
Garden Chemicals
Solvents
Aerosols
Poisons
Thermometers
Metal Polish
Televisions
Automotive Batteries
Oil-Based Paints
Latex Paints
*Sharps
Computer Monitors
Used Motor Oil
Yard Waste
Weekly collection is provided for yard waste such as tree trimmings, hedge trimmings, grass clipping and similar materials. Yard waste should be placed in separate container from household garbage and should not be more than 50 pounds. Acceptable paper bags can also be used to dispose of yard waste.
Bulk Items
Residents may call in for two large item collections of to 6 cubic yards annually. Appointments may be made by calling the Solid Waste Division at 361-485-3220. Collections are generally done on Monday, Tuesday, Thursday and Friday.
Versatility Of A Residential Dumpster Rental In Victoria
Victoria has population of 60,000 and this great city was founded in 1836. In the month of June, every year, the city holds the annual Victoria Bach Festival. The festival also holds other concerts throughout the year. Actor Matt Prokop and Major League pitcher and Cy Young Award winner Doug Drabek both hail form Victoria. Getting the Cy Young Award is the highest honor a pitcher can receive. And the greatest honor Easy Dumpster Rental receives is the fact that thousands of customers return to us each year to reorder dumpster-rolloffs from us.
Most homeowners are not aware of the fact that they can rent residential dumpster-bins. Container-rolloffs are just not for the construction industry. Matter of fact, there are a lot of projects you can do around the house where a rolloff-bin would be the better choice than renting or borrowing a pick up truck. You can use one of our 10-yard bins to help you clean out your basement. We can drop a dumpster right in front of your house and you can begin clearing out your basement for other uses. Like a rec room or a man cave. A 10-yard bin is equal to 4 pick up trucks of debris. So instead of using a pick up truck and making half a dozen trips to a landfill or recycling center, Easy Dumpster Rental will make one trip for you and consider all the time and money you will save. Especially if you have to rent a pick up truck. Rental fees, insurance, gas, this all adds up to unnecessary expenses.
A dumpster-bin is the ideal and most pragmatic approach when it comes to getting rid of all that clutter in the basement or attic. All you have to do is give our office a call, tell our sales reps what you would like to accomplish. And in a few minutes we will have a quote. And our prices are the lowest in Victoria and we guarantee it. We will match or beat any competitors prices. We use a simple flat rate pricing model so you know a head of time what it will cost. And on top of that, you don't have to worry about added surcharges. The quote we give is what you will pay. Period.
And you are going to love our services. We are always on time with delivery and pick up. You just let us know when you need us there. And don't forget, that we offer rolloff-canisters in 4 sizes, just in case you decide to do a remodel of your whole house, we can handle that too. We also use a easy to use weight calculator that helps us insure that you are getting the right size bin for the job. Many people tend to over compensate and get a dumpster that is too large. Don't make that mistake. We can save you money by checking with our sales team first. Don't worry, we will never try to get you into a dumpster that is too large for the job. We have a stellar reputation and many customers have used our services over and over again because we have built a brand that can be trusted. Also, keep in mind that our dumpster-bins can be used in the backyard to help you remove dirt, tree limbs or just plain old leaves. We will be happy to take your unused items to a recycling center too. Easy Dumpster Rental can do it all. Give us a call and discover the freedom of using a dumpster rental.
It's that easy!
Call Our Team Now
1-888-792-7833