Dumpster Rental in Roanoke, Virginia
Get Terrific Garbage Container Prices
Click To Call 1-888-792-7833Click For Email Quote
Why We Offer Outstanding Roll Off Dumpster Service In Roanoke:
Our great customer service separates us form the pack. We hire only the finest service representatives to meet our exacting demands for quality service. And this in turn guarantees you a great experience.
Honesty and integrity are the words that best portrays are company ethos
The number one customer service dumpster rental team in America. We will take good care of you
Over 15 years of experience in the rental roll-off industry with thousands of returning customers
Hassle free and no migraine services to make it simple to rent a dumpster from us
We rent dumpsters in 4 rolloff sizes so you can accomplish any project that you desire
Dumpster Rental Pricing in Roanoke is Based on Many Different Factors
To Receive The Lowest Pricing, Call For A Customized Quote Now 1-888-792-7833
Save With Us Between $10 And $65 On Your Dumpster Rental Cost:
We offer speedy service and the lowest prices in Roanoke. We take great pride in delivering you the best solutions with uncompromising business ethics. Let us have the privilege of serving you and getting the job done on time.
We rent residential containers to help the homeowner with the smaller projects around the yard
Get fast and accurate quotes that will not impact your bank account
Construction dumpsters for those huge jobs that require large roll-offs to handle any size demolition job
Same day service available in Roanoke and near by cities when time is of the essence
We have rented over 100,000 dumpsters and counting. We can save you both time and money. Give us a call
Earn Up To $50 | Share / Like Below
10 Yard Dumpster (2 TONS) 4,000LBS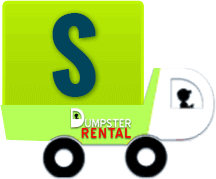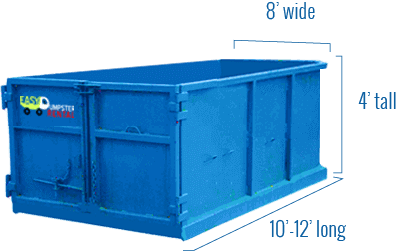 Easy Dumpster Rental
20 Yard Dumpster (3 TONS) 6,000LBS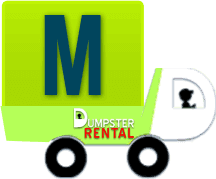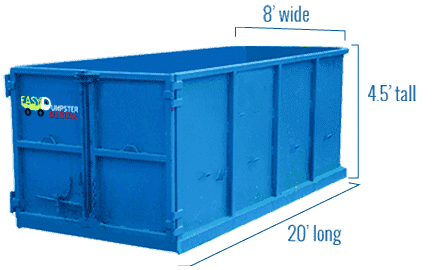 Easy Dumpster Rental
30 Yard Dumpster (4 TONS) 8,000LBS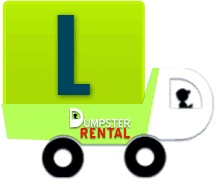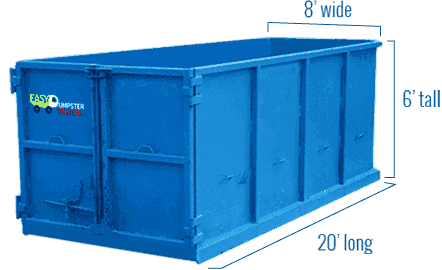 Easy Dumpster Rental
40 Yard Dumpster (5 TONS) 10,000LBS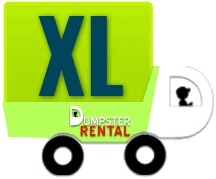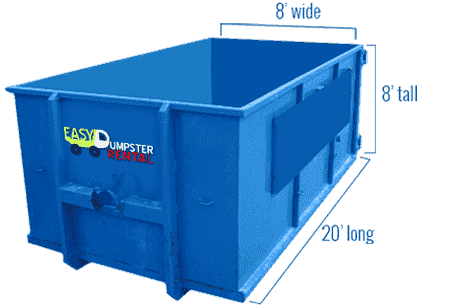 Easy Dumpster Rental
Transfer Station Location in Roanoke, VA
About Roanoke, Virginia
Roanoke was established in 1852 with a population near 100,000. The Blue Ridge Parkway meanders through Roanoke and it is easily one of the most beautiful and scenic drives in America. The Nobel Prize winning physicist, John C. Mather is from Roanoke and so is John McAfee, who developed the first commercial anti-virus program. He also graduated from Roanoke College. In the matter of transparency we have outlined below the costs you will pay for a dumpster-bin rental at Easy Dumpster Rental. Please keep in mind that we have dumpster rentals that both the residential market and construction companies can utilize.
The City of Roanoke provides its residents with safe garbage disposal solutions. Residents are allowed 12 free drop-offs annually at the Roanoke Valley Resource Authority Transfer Station Portsmouth, VA. The location and contact for the station is listed below:
Tinker Creek Transfer Station
1020 Hollins Rd NE
Roanoke, VA 24012
(540) 857-5050
Hours:
Monday to Friday: 7:30 am to 5:00 pm
Visit the website for a list of items accepted at the site.
Recycling in Roanoke, VA
Single-Stream Recycling is available to Roanoke residents. Recyclables are collected every other week on regular collection days. Acceptable items should be cleaned and placed in the recyclable bin for collection. Visit the FAQs Recycling to learn more about the program and click here to view the  Solid Waste Brochure.
Acceptable recyclable only will be collected. These include:
Mail
Metal cans
Aluminum cans
Glass bottles
Glass jars
Plastic bottles
Paper
Newspaper
Cardboard (single ply)
Unacceptable Materials
Styrofoam
Pots and Pans
Packing Peanuts
Plastic bags
Plastic Bags
Hazardous Waste
Household hazardous waste can be taken to Roanoke Valley Resource Authority during scheduled Household Hazardous Waste Collection events.  The HHW are typically held at the Roanoke Valley Resource Authority Tinker Creek Transfer Station located at 1020 Hollins Rd, NE, Roanoke. Pre-registration is required for HH events. Call 540-857-5071 or preregister online.
Household hazardous waste include:
Antifreeze
Auto Cleaning Products
Gasoline
Battery Acid
Household Cleaning Products
Motor oil
Flammable Waxes & Abrasives
Spray can Paint
Lacquers
Car Batteries
Oil based Paints
Fire Extinguishers
Fluorescent Light Bulbs
Thinners
Bulk & Brush Collection
The City of Roanoke offers free collection of large bulky waste and yard waste to residents on a weekly basis. A three item limit weekly applies to items such as mattresses, box springs, and appliances. Leaves and grass should be placed in clear bags while limbs and tree clippings should be placed in bundles (maximum of 6′ x 6′ x 6′). Click here to view the Collection Schedule.
Price Break Down on Container Rentals in Roanoke
There are 4 components to our pricing model outlined below. And we feel that after you are familiar with our flat rate prices you will not feel like you are being taken advantage of. Plus, have a level of trust with our company that you may not of have had before this disclosure.
Landfill Costs: The price for getting rid of waste material and debris at a landfill can vary between every city and county in the U.S. So, keep in mind, the price for getting rid of municipal solid waste in Richmond may have a contrast in price than say that of Roanoke. It goes without saying, this will have a direct impact when pricing out your dumpster rental cost. Easy Dumpster Rental will never charge extra for landfill fees unless you go over the allowed weight or dispose of hazardous materials. Keep in mind,  The EPA does not allow dumpster rental companies to transport hazardous waste. Please defer to your local city officials on how to get rid of hazardous waste.
Debris Type: There are many different types of debris.  Demolition, recyclables, and construction are a few of these materials. This will definitely affect the price tag of your container-rolloff rental. Some landfills are equipped to handle a legion of divergent debris classifications. Other landfills aren't as varied. So it is possible there may be an extra trip to another landfill based on what you are getting rid of. Materials that are of a recyclable nature tend to be less expensive that other rubble.
Debris Weight: How much your container-rolloff container weighs will be determined by the size of the dumpster you are using. We have 10, 20, 30, and 40 cubic yard rolloffs in our inventory. So using a 40-yard bin is going to be more expensive than using a 10-yard bin. Furthermore, what you are piling in the canister will also effect the price. If your taking away lighter materials such as dirt or leaves, it will be cheaper than if you are tearing the marble floor up in your kitchen and hauling those heavier materials to a landfill. Ensure you call our office and speak to one of our sales staff members so that you get the correct size bin fir the job. There is no sense at all to pay extra for a larger bin, if you don't need it. We are here to save you money not destroy your life savings.
Rental Period: Easy Dumpster Rental usually has 7 or 14 day dumpster rental periods. So the longer you keep a rolloff rental the more it will cost. However, if you are coming to the end of your dumpster-rolloff rental period and you need more time, speak to someone in our office so we can work out a cost so you don't get an extra fee tacked on for violating your contact dumpster rental agreement. We are very flexible in dumpster rental timelines and don't want you upset. Please also consider that we will let you keep a canister-bin as long as you need it. We want you to have a great service experience with us and we will go out of our way to keep you happy. In some cases, customers have bought our dumpsters. If this is a better option for you, we will be more than happy to sell you a dumpster-container. Just talk to one of our sales reps and they will be more than happy to discuss terms of a sale with you.  If you have any further questions you can either call our office or refer to our FAQ page, where you will find a wealth of information.
It's that easy!
Call Our Team Now
1-888-792-7833