Dumpster Rental in Florence, Alabama
For The Absolutely Best Price On Rolloff-Bin Rental
Click To Call 1-888-792-7833Click For Email Quote
No More Restless Nights Worrying About Rolloff Costs In Florence:
Customer service is only as good as the people that a company hires. And at Easy Dumpster Rental we employ only the very best in the industry. Our sales team is highly trained and motivated to offer the lowest prices in Alabama.
Over 15 years experience in the container rental business and that translates to added value to every rental
Get a quote online or over the phone and it will be the lowest rate in town
We have rented over 100,000 bins with thousands of happy customers
Hassle free service and no hidden fees or surcharges. This is the way we roll
Renting a dumpster from us is as easy as riding a bike
Dumpster Rental Pricing in Florence is Based on Many Different Factors
To Receive The Lowest Pricing, Call For A Customized Quote Now 1-888-792-7833
Save With Us Between $10 And $100 On Your Container Rental Cost:
We have worked hard to develop a loyal following nationwide. And we did by not overpromising and providing on time delivery and pick up. We are honest, dependable and will work hard to earn your trust and allegiance.
Dumpsters in 4 sizes which gives you the flexibility to tackle any project
We are a very transparent company when it comes to pricing. Ask your rep about the breakdown of charges
On time, guaranteed delivery and pick up. And we will deliver the same bin to multiple locations if necessary
We will match or beat any competitors prices. No games played with your money
Grab your cell right now and drop us a line, and begin to save like never before on your next rental
Earn Up To $50 | Share / Like Below
10 Yard Dumpster (2 TONS) 4,000LBS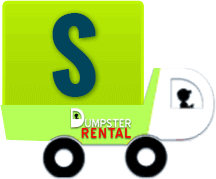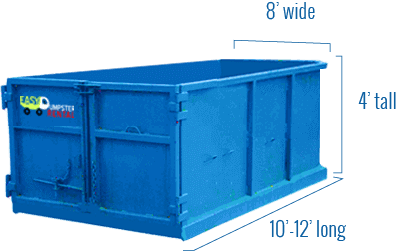 Easy Dumpster Rental
20 Yard Dumpster (3 TONS) 6,000LBS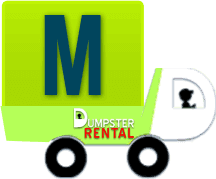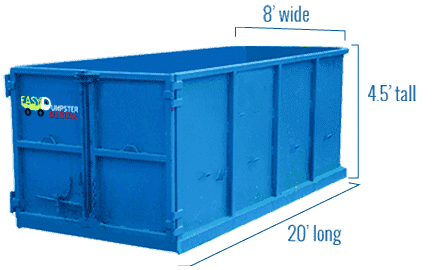 Easy Dumpster Rental
30 Yard Dumpster (4 TONS) 8,000LBS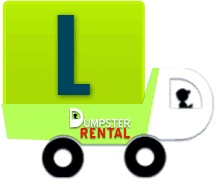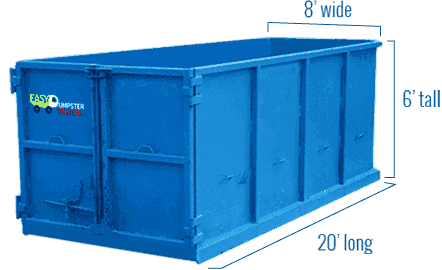 Easy Dumpster Rental
40 Yard Dumpster (5 TONS) 10,000LBS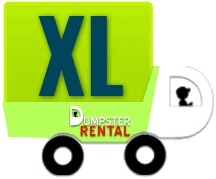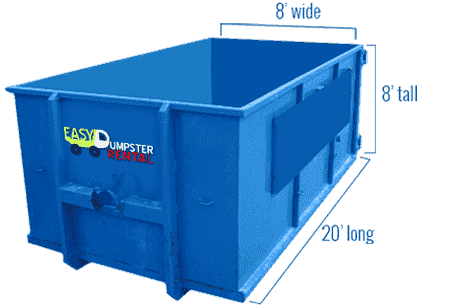 Easy Dumpster Rental
LANDFILL DROP-OFF LOCATIONS IN FLORENCE, AL
The city of Florence is the county seat of Lauderdale County in Alabama in the northwest part of the state. For residents of Florence, the Solid waste and Recycling Department manages and city owned and operated landfill that is located on Savannah Highway.
Landfill Location
Solid Waste Department
29485 County Road 14
Florence, AL 35633
Landfill Hours: Mon. –Fri. 7:00 to 3:30 p.m
Saturday, 8:00 a.m. to 11:30 a.m.
Scale House Phone: 256-760-6399
Office Location
Solid Waste Department
450 Country Club Drive
Florence, AL 35633
Office Hours: Mon. – Fri. 7:00 a.m. to 3:30 p.m.
Phone: 256-760-6495
The city also offers a weekly garbage collection service. Carts should be placed at your curb by 7:00 a.m. and at least 3 feet away from trees, cars, fences, etc.
Recycling
In an effort to control and lower wastes, Florence offers recycling services to all residents.
Acceptable Recyclable Materials:
Paper (magazines, newspapers, office paper, junk mail, etc.)
Plastic (milk jugs, whipped cream tubs, soda bottles, shampoo, etc.)
Cardboard (cereal boxes, paper rolls, corrugated boxes, etc.)
Metal Cans (steel, aluminum, pet food cans, soda cans, etc.)
For further information, you can call the Director of Solid Waste and Recycling at 256-760-6466.
Hazardous Waste
We couldn't find any information on the disposal of hazardous waste in Florence. The Lauderdale County site states that hazardous materials are not to be disposed of at the county landfill. For requests to remove hazardous materials contact the Lauderdale County Solid waste Department located at:
5700 Hwy 157 N. (Cloverdale Road)
Florence, AL 35633
Phone: 256-760-5878
Monday through Friday: 7:30 a.m. – 4:00 p.m.
Saturday: 8:00-12:00
Yard Waste
We could not find city information for yard waste outside of leaf collection in the fall. Republic Services does the supply yard waste removal for the Florence area you can contact them at 256-637-9211.
Bulk Items
The city of Florence does not offer bulk waste removal. You can contact the office for further information (256) 760-6460. Republic Services also provides bulk waste removal for the area. You can reach them at 256-637-9211.
How a Dumpster Can Be Of Assistance When You Are Faced With A Disaster Caused By Mother Nature
Florence, Alabama is the home of Sam Phillips, the record producer who discovered Elvis. And countless other well-known musicians, professional athletes, and notable individuals. The City of Florence is also part of The Shoals, which includes Muscle Shoals, where at one time anybody who was anybody in music made a pilgrimage there to record their music. Well, were not in the music business and we can't even carry a tune, but we can carry your junk and trash to the landfill for you. And, though we don't like to think of it, but no part of the country is immune from facing a natural disaster. They can happen anytime, day or night, spring or summer, fall or winter. Disasters wreck havoc on people's lives on thousands of different levels. Families and communities are never the same. But after the disaster has inflicted its damage, life must continue on. And Easy Dumpster is here to help. We can offer Rolloff-Dumpsters in 4 sizes to help you carry away the damage and begin the rebuilding process. Our sales team will be there in your time of need and be able to offer your great prices and will not take advantage of you during this terrible period. Just call our office and we will have a quote for you in minutes and have a dumpster on your site within 24 hours or sooner. Just let us know when it is filled and we will haul off to the landfill for you. We hope that Florence is never hit with a disaster but if you are, Easy Dumpster Rental will be by your side helping you navigate this horrible moment in your life.
If Your Planning On Doing Small Projects Around The Home Or Yard, We Can Help
We help families just like you get rid of junk from their home or yards. Easy Dumpster Rental is been helping families for over 15 years remove waste and materials off their properties. With over 100,000 dumpsters rented, we like to think we have a handle on the situation. We have the experience you can count on. Don't waste your time with a company that just opened shop. They will not have the industry contacts that make a company like ours successful, reliable, and cost effective. It takes the time to build a great infrastructure and we have that in spades. Our brand took years to build. Trust doesn't happen overnight. You typically don't ask someone to marry you on the first date. It takes the time to build up relationships. We have many loyal customers that have been with us for years. Why? Because they know that we can be trusted, we don't make promises that we can't fulfill, and are prices can't be beaten. So, give us a call and experience the best rental company in America or simply request a quote online. You'll be glad you did.
It's that easy!
Call Our Team Now
1-888-792-7833