Dumpster Rental in Vestavia Hills, AL
Rolloff-bin Costs So Low That You Will Be Blown Away
Click To Call 1-888-792-7833Click For Email Quote
We Offer Only Superior Rental Services in Vestavia Hills:
Our Rental services is not only affordable but also the cheapest in the area. We can keep our prices low because we have made industry contacts that enable us to provide the best possible rental savings then pass it on to you.
Over 15 years renting dumpsters give us an edge over the competition
We rent to the residential community and offer super low prices on our bins
Our easy to use weight calculator assures you the best prices in Vestavia Hills
You can order your pick up online for added convenience to help save you time
Customer service where the client comes first and your satisfaction matters
Dumpster Rental Pricing in Vestavia Hills is Based on Many Factors
To Receive The Lowest Pricing, Call For A Customized Quote Now 1-888-792-7833
Save With Us Between $10 And $90 On Your Dumpster-Rolloff Rental Cost:
We promise to give the best possible service in the industry. coupled with the lowest prices, renting a dumpster from Easy Dumpster Rental is a decision that you will be glad you made. Rent from the best and save your money.
Dumpsters offered in many sizes and can help you complete any task
Over 100,000 rolloffs rented and that means we know our business
We rent to the construction industry for those huge jobs that take large rolloffs to complete
No hassle pricing with our flat rate pricing model and no added fees at the end of the contract period
We match or beat competitors prices and its guaranteed
Earn Up To $50 | Share / Like Below
10 Yard Dumpster (2 TONS) 4,000LBS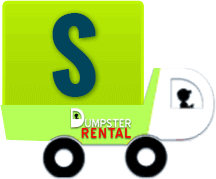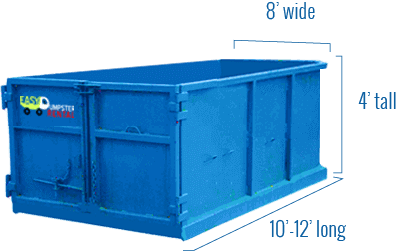 Easy Dumpster Rental
20 Yard Dumpster (3 TONS) 6,000LBS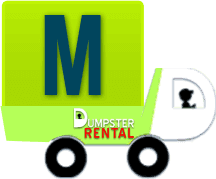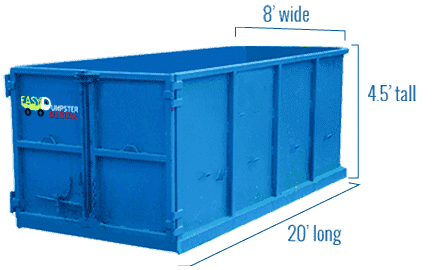 Easy Dumpster Rental
30 Yard Dumpster (4 TONS) 8,000LBS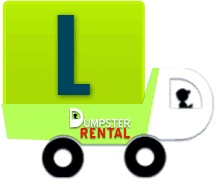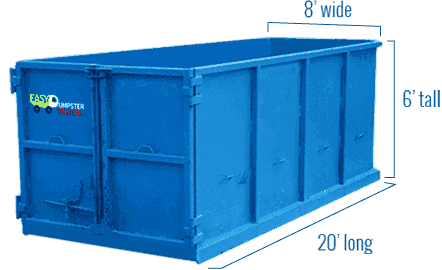 Easy Dumpster Rental
40 Yard Dumpster (5 TONS) 10,000LBS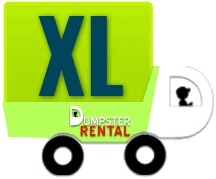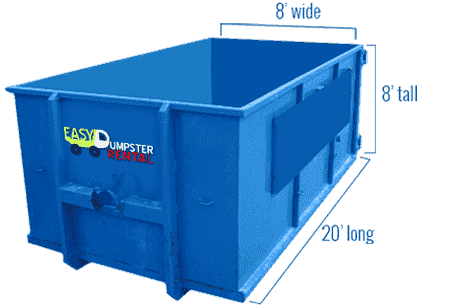 Easy Dumpster Rental
LANDFILL DROP-OFF LOCATIONS IN VESTAVIA HILLS, AL
Vestavia Hills is a popular suburb of Birmingham that is situated in both Jefferson and Shelby Counties. Although there isn't a landfill in Vestavia Hills, there are three locations close by in Birmingham.
Birmingham Eastern Landfill
2782 Alton Rd.
Birmingham AL 35210
Phone # 205-655-3391
Hours: 7 a.m. to 3 p.m.
Birmingham Northern Landfill
2800 47th Ave. N
Birmingham AL 35217
Phone # 205-841-4732
Shelby County Landfill
4154 AL-70
Columbiana AL 35051
Phone # 205-669-4169
Hours: 6:30 a.m. to 4:30 p.m.
Recycling
Vestavia Hills offers a recycling collection program for residents that is picked up every Wednesday.
Acceptable Items Include:
Cardboard: cereal and food containers
Paper: Newspaper and paper, phone books, junk mail, etc.
Plastic: Numbers #1 through #7 are accepted
Metal: Rinsed out bimetal and aluminum cans.
Unacceptable Items Include:
Wax Coated Cardboards
Glass of any kind
Tissue paper
Paper Towels
Wax Coated Paper
Recycling carts must be put by the curb before 6:30 every Wednesday. For other information call Allied Waste Services at 205-923-1650.
Hazardous Waste
Although we could not find information on hazardous waste removal for Vestavia Hills, Jefferson County, Alabama does offer an annual Household Hazardous Waste Collection Day.
Acceptable Hazardous Waste Items include:
Motor Oil
Electronics
Small Engines
Ammunition
Paint
Stains
Thinners
Appliances
Prescriptions
For further information, you can call Alan Gurganus at 205-322-3126.
Yard Waste
Curbside trash collection is offered through the city of Vestavia Hills. For extra yard waste collection, you can submit your request to the Vestavia Hills Action Center or contact the Public Services Department by calling 205-978-0150. A mobile app on iTunes and Google play is also available.
Bulk Items
For large bulk items like appliances, carpet or furniture, Vestavia Hills offers the same request system for collection as they do for yard waste. You may submit your request via the Vestavia Hills Action Center or contact Public Services at 205-978-0150.
Keep Vestavia Hills Beautiful By Using Easy Dumpster Rental For All Of Your Trash Removal Needs
Vestavia Hills is a suburb of Birmingham. It is named for the estate of the former mayor, George B. Ward. The city has a population of 34,000 and The Wall Street Journal recognized the school system has one of the best in America.  The city has produced a few major league baseball players including Chris Vines and Chris Hammond. And PGA tour member Smylie Kaufman. It is also the home of the beautiful Rebecca Moore, who was Miss Alabama. Well, Easy Dumpster Rental doesn't work with beauty but we can help beautify a site by helping you haul away all of your rubbish, junk, and waste materials. Let us help you carry off your trash by renting one of our dumpsters and help keep Vestavia Hills looking beautiful.
The Different Types of Landfills
Landfills are monitored by the Resource Conservation and Recovery Act (RCRA). Landfills must meet strict design, operation and closure requirements set forth by the RCRA. Currently, the U.S. has a little over 3,000 active landfills, which is about one for each county in America. Landfills are used for the disposal of solid waste. The regulation of landfills falls under RCRA Subtitle D, which manages solid waste and Subtitle C, which oversees hazardous or toxic wastes. Subtitle D relies on local and state governments for the planning and regulation of solid waste. Solid waste is basically household garbage and industrial waste that is nonhazardous. These types of landfills include:
Municipal Solid Waste Landfills which are developed to accept household solid waste
Bioreactor Landfills that functions to transform and degrade organic waste
Industrial Waste Landfills are designed to receive commercial solid waste
Construction and Demolition Debris Landfill collects debris from construction sites. Including concrete and glass
Coal Combustion Residual Landfills which dispose of coal combustion
Subtitle C Landfills as mentioned above handle hazardous waste. The main concern with hazardous waste is that it is handled in a safe a manner where no harm can come to human health or the environment. Besides hazardous waste landfills, there are Polychlorinated Biphenyl (PCB) Landfills which fall under this category. PCBs are man-made organic materials which were used for electrical insulation and electrical appliances. They were also sprayed on dirt roads to keep the dust down. They were banned in 1979. Landfills also monitor Leachate, which is generated from liquids that are already present in the waste and passes through the waste. The leachate can cause pollution to runoff into our underground water sources. Landfills must have leachate collection systems which consist of a collection layer, geotextile filter, a pipe system which is surrounded by a bed of gravel where the leachate is funneled to a sump. Then a pump removes the leachate from the landfill, where it is taken to facilities that manage leachate. The landfills are also regulated to monitor the groundwater. This is to insure that there is no contamination of underground water supplies. This system consists of 3 phases. Detection, Assessment, and Corrective measures. Then after a landfill has served out its usefulness, the landfill is closely monitored for 30 years. It is comforting to know that the EPA and the RCRA are closely watching these landfills and protecting the citizens and environment from potential hazardous complications that could have devastating results otherwise. And don't forget, when you need a waste removal company to transport household waste to your local landfill, remember Easy Dumpster Rental for all of your disposal needs.
It's that easy!
Call Our Team Now
1-888-792-7833