Dumpster Rental in Schenectady, NY
Get A Great Deal On Trash Roll Off Rental Today
Click To Call 1-888-792-7833Click For Email Quote
How We Offer Terrific Dumpster-Rolloff Service In Schenectady:
Customers have certain expectations when considering who they will hire to get the job done. And we do all we can to meet those expectations by offering superlative service that will never disappoint you.
On time dumpster delivery and pick up services guaranteed to please the most discriminating client
Stress and hassle free business environment that enables everyone involved to have a fruitful relationship
With 15 years experience we feel that we have the know-how to get the job done without any issues
An easy to use dumpster calculator to insure accuracy when it relates getting the proper size bin for the project
We pride ourselves on running an ethical company
Dumpster Rental Pricing in Schenectady is Based on Many Different Factors
To Receive The Lowest Pricing, Call For A Customized Quote Now 1-888-792-7833
Save With Us Between $10 And $125 On Your Dumpster Rental Cost:
We go out of our way to insure that you get the lowest price in the area on your container rental price. We will meet or beat any competitors pricing. We will swim across vast oceans if need be to get and keep your business.
Flat rate pricing model that with no hidden fees and we guarantee this promise
All our fees are transparent. We want you to know what you are paying for
We have build up over the years industry contacts that help us keep our rates super low
Your happiness is our utmost concern
Call us right now and see why we are the fastest growing canister company in the country
Earn Up To $50 | Share / Like Below
Click To Call 1-888-792-7833
Click For Email Quote
10 Yard Dumpster (2 TONS) 4,000LBS
Dumpster Calculator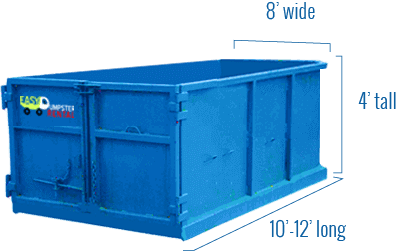 Easy Dumpster Rental
20 Yard Dumpster (3 TONS) 6,000LBS
Dumpster Calculator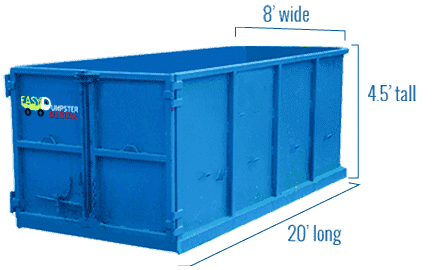 Easy Dumpster Rental
30 Yard Dumpster (4 TONS) 8,000LBS
Dumpster Calculator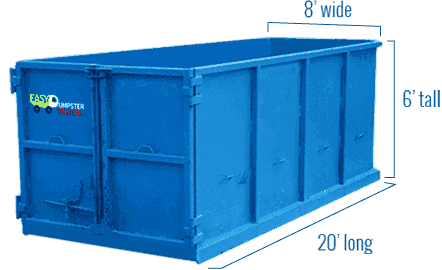 Easy Dumpster Rental
40 Yard Dumpster (5 TONS) 10,000LBS
Dumpster Calculator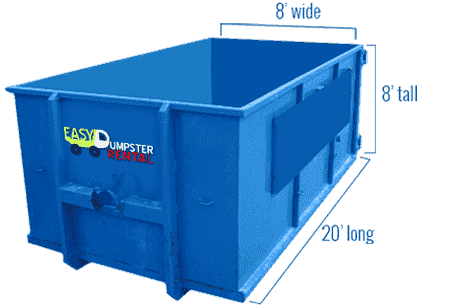 Easy Dumpster Rental
Landfill Location In Schenectady, NY
Schenectady is a city located in Schenectady County in the State of New York. Household garbage produced by city residents can be taken to Niskayuna Recycling and Transfer Station located within the county. Address and contact information for the landfill is listed below.
Niskayuna Recycling and Transfer Station
2555 River Road
Niskayuna, NY 12309
Phone: (518) 377-1400
Hours of Operation:
Tuesday and Friday: 7:30 am to 2:30 pm
Saturdays: 7:30 am to 12:30 pm
Items Accepted Include:

Electronic
Flat Screen TVs
Monitors
Clothing and Shoes
Recyclables
Small Furniture
Items that are not accepted include:
Freezers
Tires
Liquid paints
Propane tanks
Schenectady Other Quick Facts
Schenectady is city with a population of 65,000 and was settled in 1661. The name of the town is derived from the Mohawk Indian Tribe word meaning " beyond the pines".  The town sits on the Mohawk River and the Erie Canal. General Electric and the American Locomotive Company play prominent roles in the cities economy. There are many points of interest including The Stockade Historical District. Two well know native sons include actor Mickey Rourke and science fiction writer and cartoonist, Ray Nelson.
Use A Dumpster For Any And All Festivities To Help You Clean Up
Dumpster-rolloffs have many uses. Typically the first thing that comes to mind when contemplating renting a container is either a construction project or a household job dealing with a kitchen or bathroom remodel. But they have many other benefits including helping the city clean up after a parade or fair. These events usually draw large crowds whom usually live behind large messes for the city to clean up after. And that is where Easy Dumpster Rental comes to the rescue.
Many large cities have used us for these massive clean jobs and we have the experience to help you get your city streets and sidewalks looking great again. We have the insight and the ability to get the job done on time and under budget. Because we offer a diversified inventory when it comes to dumpster rental sizes, we can deal with any size event.
Most of our customers rent our 40-cubic yard dumpster-container to tackle jobs of this magnitude. This monster container is equivalent to 16 large pick up trucks in volume. And our prices will make any city manger smile. We have the lowest rates in Schenectady and if by chance you do find a lesser price, we will meet or match any one out there. We know you have tight budget considerations and we will work with you to get you a price the Mayor will be happy with. And this is why we offer a flat rate price that includes everything from pick up to landfill drop off and fees. We will never add on surprise surcharges.
And the good news doesn't stop here. We guarantee on time dumpster delivery and pick up. No one in this hectic world has time to waste. And we are sensitive to time constraints that we all live under. And it is so easy to place an order. Just give our office a call, our friendly sales team members will ask a few questions about your project. Then within minutes we will have a great rolloff rental quote and all is left for you is to tell us what day and time you would like delivery.
We have many happy customers and thousands of repeat business every year. So we must be doing something great. With over 15 years experience we believe we have the skills to get the job done without any hiccups. Don't use a company that has only been around for a few years and can't or will not deliver on their promises. We are not going any where. So make the smart move, call on a company with proven results and let us worry about the clean up. You just sit back and relax and enjoy the festivities.
Recycling In Schenectady, NY
The City of Schenectady provides its residents with Single Stream Recycling. Residents are provided with a recycling bin in which they can place all recyclables. Bins should be placed at the curb on collection day bearing the appropriate  Single Stream Recycling Sticker.
City residents can also deliver recyclables to The Schenectady County Yard Waste Composting Facility and Resident Recycling Center . The address for the facility is listed below:
24 Hetcheltown Road
Glenville, NY 12302
(518) 399-6980 (p)
Hours of Operation:
Monday through Saturday from April through December
Friday & Saturday only from January through March.
Items that can be recycled include:

Aluminum cans
Plastic containers #1-7
Paper egg cartons
Glass bottles (green, clear, brown)
Brown grocery bags
Notebook paper
Tin containers
Aerosol cans
Items that should not be recycled include:
Trash
Plastic bags & liners
Styrofoam
Diapers
Mirrors
Hazardous Waste Disposal In Schenectady, NY
The Schenectady County Hazardous Waste Reduction Program allows city residents to dispose of HHW properly. Residents can register and learn about upcoming events by visiting the website or by contacting 386-2225 Tuesdays or Fridays. A annual permit for the County Compost Facility and Recycling Center is required for those who wish to participate in the program. Permit is available at a cost of $20 and should be purchase before collection day.
HHW accepted under the program include:

Paints
Solvents
Cleaning chemicals
Lawn and garden chemicals
Automobile fluids
Fluorescent light bulbs
Computers
Television sets
Cell phones.
HHW not accepted under the program include:
Motor oil
Computer
Medical waste
Smoke detectors
Grill sized propane cylinders
Compact fluorescent
Light bulb
Firearms
Explosives
Ammunition
Asbestos
Bulk Waste Pickup In Schenectady, NY
Bulk waste such as furniture, stoves and dryers can be drop off at the Resident Recycling Center for a low fee. Contact (518) 399-6980 to enquire about the cost for bulk waste disposal. Residents can also access the Soil Water Waste and Bulk Item Collection Flyer On the website.
Yard Waste Disposal In Schenectady, NY
In addition to delivering yard waste to the The Schenectady County Yard Waste Composting Facility and Resident Recycling Center, residents can also place their yard waste at the curb for picked up. Leaves should be bagged and branches and limbs should be tied in bundles not exceeding  4 feet in length
It's that easy!
Call Our Team Now
1-888-792-7833