Dumpster Rental in Albany, NY
Get Budget Busting Roll-Off Pricing
Click To Call 1-888-792-7833Click For Email Quote
How We Offer Exceptional Rolloff-Dumpster Service In Albany:
Being well prepared for any contingency is a hallmark of our customer service team. Organizations who fail to react when faced with adversity are destined for failure. We have planned well for any circumstance.
Highly qualified sales team that is quick to act to resolve any issues
We have been in business for over 15 years and have seen it all. A company that is responsive to your needs
Same day service offered in Albany and neighboring cities
On time service guaranteed whatever the circumstances. No excuses
A variety of dumpsters sizes available to the residential market
Dumpster Rental Pricing in Albany is Based on Many Different Factors
To Receive The Lowest Pricing, Call For A Customized Quote Now 1-888-792-7833
Save With Us Between $10 And $75 On Your Container-Bin Rental Cost:
We here at Easy Dumpster Rental's only mission is to not only provide to you the lowest prices in Albany but to do so with integrity and honesty. Values are not disappearing from our company. We built our business on these ethos.
Get a roll-off quote, online if you prefer, at the speed of sound and at a price that will have you shouting for joy
We will never, ever add on to your final costs. No hidden fees with Easy Dumpster Rental at your service
An easy to use dumpster weight calculator. One more service that makes renting a bin a lot more simple
Over 100,000 dumpster rentals and counting. Thousands of repeat customers
We match or beat all competitors prices. No one can offer lower prices
Earn Up To $50 | Share / Like Below
Click To Call 1-888-792-7833
Click For Email Quote
10 Yard Dumpster (2 TONS) 4,000LBS
Dumpster Calculator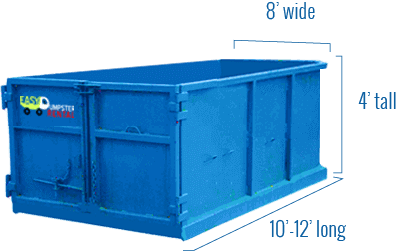 Easy Dumpster Rental
20 Yard Dumpster (3 TONS) 6,000LBS
Dumpster Calculator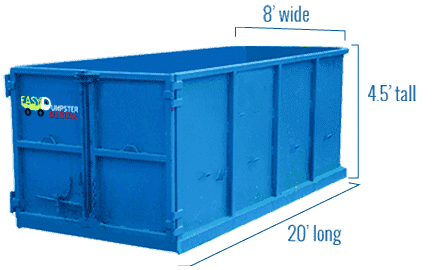 Easy Dumpster Rental
30 Yard Dumpster (4 TONS) 8,000LBS
Dumpster Calculator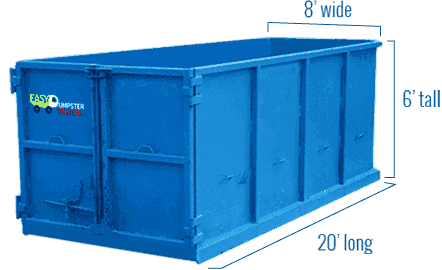 Easy Dumpster Rental
40 Yard Dumpster (5 TONS) 10,000LBS
Dumpster Calculator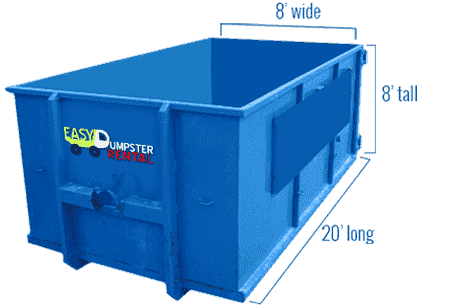 Easy Dumpster Rental
Landfill In Albany, NY
The Rapp Road Landfill caters to Albany residents waste disposal needs. The landfill is operated by the City of Albany Department of General Service. Waste is transported to the landfill by City owned garbage trucks, private haulers and other municipally owned trucks.  Locations and hours for the landfill are listed below:
City of Albany Rapp Road Waste Management Facility
525 Rapp Road
Albany, NY 12205
Contact: 518-869-3651
Email: coalandfill@albanyny.gov
Hours of Operation
Monday – Friday: 7:00am – 3:00pm
Saturday & Sunday: Closed
Click here for information on items accepted at the site.
Few Other Quick Facts On Albany
Albany is the capital of New York founded by Dutch colonists in 1614. Positioned on the beautiful Hudson River, the city has a population near 100,000 residents. There are many Fortune 500 companies in Albany including JP Morgan, American Express, and General Electric to name a few. The city has quite a few museums and historical places to visit. Some notable folks from Albany include the late Andy Rooney of 60 Minutes fame and Martha Quinn, one of the first video jockeys on MTV.
Recycling In Albany NY
The City of Albany provides curbside recycling residential collection to residents. Residents are provided with free recycling bins which shoul be placed curbside not before 7pm or dusk on collection days.
Below is a partial list of items that can be recycled:

Milk Cartons
Phone Books
Soda Bottles
Prescription Pill Bottles
Milk & Water Jugs
Phone Books
Food & Beverage Cans
Paperback Books
Below is a shortlist of items that should not be recycled:
Plastic bags
Ceramic
Fluorescent bulbs
Broken mirror
Electronic
Tissue
Frozen food boxes
Styrofoam
Cups
Paper towels
Plate
Hazardous Waste Disposal
The Department of General Services arranges household hazardous events for residents to dispose of hazardous waste. Events are mainly organized for Albany residents but in some cases, small businesses that generate less than 32 gallons of hazardous waste a month are allowed at the events at a fee. Residents who want to participate in the event should register by calling calling the Department of General Services at (518) 434-CITY (2489).
Household Hazardous Waste Include:

Household Cleaning Products
Rodent Control Products
Asbestos
Pet Supplies
Propane Cylinders
Fire Extinguishers
Spray Cans (i.e., insecticides)
Drain Cleaners
Aerosols
Paint Cans (Oil & Latex)
Spray Paint
Light Bulbs
Lacquers
Bulk Waste Collection in Albany
Curbside collection of bulk items is provided to residents in need. Contact the Department of General Services at (518) 434-CITY (2489) at least 24 hours before your collection day to arrange pickup.
Yard Waste Disposal in Albany
Residents are being asked to not rake leaves onto the street. Leaves should be placed in biodegradable bags which should be placed by the curb for collection on the designated day. Branches should be tied in bundles not more than 4 feet 4 inches long. Visit their site o learn more about the City of Albany's compost facility.
The Makeup And Risks Household Pesticides Present
Common household pesticides are ubiquitous in the American home. And it is important to have a better understanding of these pesticides and the potential harmful nature that pose both to humans and the environment. Most pesticides are made up of inert and active ingredients. The inert additives act like solvents to make the application process easier to apply. And it enables the pesticide to have a protracted shelf life. Due to federal laws the companies that manufacture these products do not have to inform the public of the ingredients that are in these substances. Which raises questions of why they are protected and don't have to tell the public of what they are made of. The active ingredients consist of the chemicals that kill the pests.
The toxicity of the pesticides are the risk or threat that these products present a danger to the public and our eco-systems. There are 3 main levels of toxins and the labels on these substances are marked as such:
Caution: Is at the lower extreme of toxicity
Warning: Is in the middle of the range of potential harmful effects
Danger: Is the highest level and poses the greatest risk to you and your pets
There are some precautions you can take to help lower the risk of exposure:
Insure you read the product label and make sure to wear gloves and masks when applying these substances.
The label will instruct you when the space you have applied the pesticide to is safe to re-enter
Use precautions when applying and only use the amount that is necessary to do the job
If you decide to use a lawn service to apply pesticides or you are doing this yourself, and you decide to use granular fertilizers, protect your younger children and pets to stay off the grass until the granules have dissolved.
If you would like more information on this subject please contact National Pesticide Information Center. Their phone number is: 800-858-7378. Or, visit their website. There is a wealth information on this site and it is worth a visit. Also keep in mind that there are many natural pesticides on the market that are a lot safer to use. And a quick GOOGLE search will give you a ton of alternative products that are safer and less toxic to the  environment and you.
Though Easy Dumpster Rental is not in the pesticide business we will be more than happy to take care of your disposal needs both commercially and around the house. We have bins and rolloffs in a variety of sizes to tackle any project. From giant demolition projects to bathroom renovations. Call us first to help you get your waste to the local landfill or recycling center. We are the fastest growing dumpster-container company in America. You will be glad you joined forces with us.
It's that easy!
Call Our Team Now
1-888-792-7833