Dumpster Rental in Petersburg, Virginia
Budget-Busting Roll Off Rental Prices
Click To Call 1-888-792-7833Click For Email Quote
How We Offer Dream like Costs on Dumpsters In Petersburg:
It comes down to this fact, we have the most highly trained customer service team in America. A seasoned staff who know how to take care of business and get you what you want when you need it.
On time delivery guaranteed. No excuses just great results
Rental bins in many sizes to help you with any job no matter the magnitude
We offer online requests for pick ups just to make life a little easier for you
No hidden fees or headaches when you do business with us
We have thousands of repeat customers because they know our word is as good as gold
Dumpster Rental Pricing in Petersburg is Based on Many Different Factors
To Receive The Lowest Pricing, Call For A Customized Quote Now 1-888-792-7833
Save With Us Between $10 And $120 On Your Container-Canister Rental Cost:
We offer the lowest prices in the industry and no one out there can come close to competing with us on rental dumpster costs. Our staff is instructed to beat or match any price you have from another company.
Flat rate pricing model that will make you happy because there will never be hidden extra costs
A FAQ page to give you some insight on how company approaches business
Prices that are so low a grasshopper could jump over them and we guarantee our costs
We have stayed in the rental rolloff business for over 15 years because we get results
Construction rentals to help your company take down that hi-rise with ease
Earn Up To $50 | Share / Like Below
Click To Call 1-888-792-7833
Click For Email Quote
10 Yard Dumpster (2 TONS) 4,000LBS
Dumpster Calculator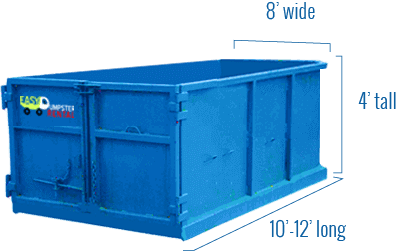 Easy Dumpster Rental
20 Yard Dumpster (3 TONS) 6,000LBS
Dumpster Calculator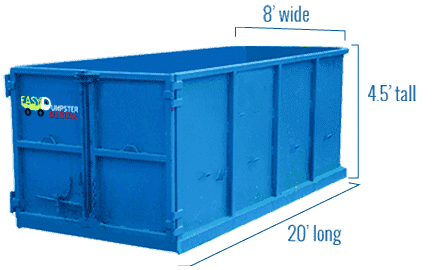 Easy Dumpster Rental
40-yd Roll Off container is our extra-large-size and can take about 360 wheelbarrows of debris
30 Yard Dumpster (4 TONS) 8,000LBS
Dumpster Calculator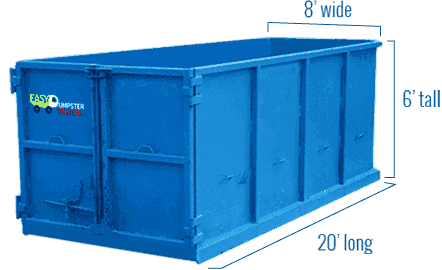 Easy Dumpster Rental
40 Yard Dumpster (5 TONS) 10,000LBS
Dumpster Calculator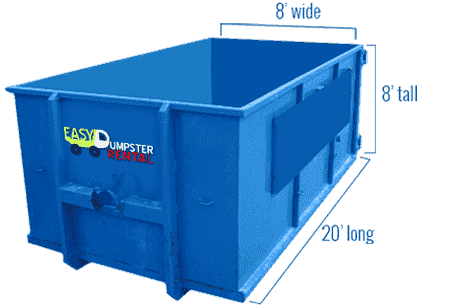 Easy Dumpster Rental
Landfill Location in Petersburg, VA
Petersburg is an independent city in the state of Virginia. Offers solid waste disposal services to private and public haulers in the city.  Location and hours of operation for the landfill is listed below.
Landfill Location
390 Industrial Drive
Petersburg, VA 23803
Hours of Operation
Monday-Friday 7:30 am-4:30 pm
Saturday: 7:30 am-2 pm
Materials Accepted:

Yard Waste
Construction debris waste
Municipal waste
Agricultural waste
Demolition debris waste
White goods
Household waste
Residential waste
Scrap metal
Tires and televisions (at an additional charge)
Materials Not Accepted:
Household cleaners
Pesticide containers
Waste oil
Regulated medical waste
Regulated hazardous waste
Friable asbestos
Additional City Facts
Petersburg is located on the Appomattox River and has a population of 32,000 residents. Unfortunately for the South, Appomattox was the sight the great General Robert E. Lee where is was forced to surrounded and ended the Civil War. On a more positive note, Petersburg is home to many beautiful historical buildings that span the 18th, 19th, and 20th centuries. The well know actor Joseph Cotton, Jr was born and raised here and Actor Blair Underwood went to Petersburg High School.
Recycling in Petersburg, VA
Recyclables are collected every other Tuesday from single family residences in Petersburg. Residence should refer to their recycling collection schedule to learn which week is their recycling week. Recycling carts should be outside by 7 am on collection day. It should be places about 5 feet away from cars, electric wires or mailbox to ensure smooth collection.
Accepted items include:

Steel cans
Plastic bottles
Newspaper
Glass bottles
Office paper
Magazines
Prohibited items are:
Plastic binders
Plastic bags
Electronics
Hanging files
Light bulbs
Straws
Hazardous Waste Disposal
Motor oil, antifreeze, and hazardous wastes cannot be disposed of with regular trash. Contact the city's Public Works and Utilities department to learn about household hazardous waste disposal.
103 W. Tabb St.
Petersburg, VA 23803
804-733-2355
Hours
Monday – Friday
8:30 a.m. – 5 p.m.
Items labelled as HHW include:

Insecticides
Car batteries
Pool chemicals
Thinners
Transmission fluid
Fluorescent light tubes
Household cleaners
Pesticides
Solvents
Paint
Yard and Bulk Waste Collection
The city will collect bulk items that are at the curb on collection day. Ensure that waste items are place away from any forms of obstruction such as trees and cars for smooth pickup. Visit the website for more information.
The Types And Operation Standards Of Landfills
Unless your in the sanitation industry the topic of landfills isn't a discussion you will be having at your next outdoor barbecue. However, landfills play a vital role in keeping our communities clean and safe and is worthy of consideration. There are approximately 3,000 counties and just about the same number of active landfills in America. So there is basically a landfill for every county. Landfills are highly engineered to be a receptacle for trash, other materials and waste products. They are designed in such a way to protect the environment from harmful substances that if not monitored could have devastating effects on our fragile eco-systems.
The landfills of the olden days, what we may refer to has dumps are closed and tightly monitored by the EPA. Today's landfill are constantly being checked for groundwater contamination and gases that can be harmful to humans and the the air. Landfills must have sophisticated systems in place to provide safeguards. For example, each landfill must meet stringent specifications on how they prevent leachates from seeping into our underground water resources. Simply put, first there is a layer of soil, then a geotextile layer, a leachate collection system, which is made up of some gravel to filter small bits of trash, a plastic liner and finally, a clay liner that stops any water that may have passed through the plastic liner.
Generally speaking there are two broad categories of landfills. Subtitle D which handle solid waste and Subtitle C which deals with hazardous waste. Subtitle D accept nonhazardous waste and your typical household trash. Also under this category include, Bioreactor Landfills which deals with the ability to transform organic waste. Industrial Landfills which handles commercial solid waste. Construction and Demolition Landfills that deal with waste generated in the building trades. Coal combustion Residual Landfills which disposes of coal residue. Subtitle C landfills mange hazardous waste. And under the EPA govern the generation, transport, treatment, and disposal of these dangerous materials.
Though it is against the law for companies like Easy Dumpster Rental to haul hazardous waste, we will be more than happy to insure that your waste from projects you are doing around the home such as a kitchen remodel or if you are in the construction industry we can help you remove debris from larger construction projects. We have dumpster-rolloffs that can handle any size job you throw at us. We have a best service guarantee and the lowest prices in Petersburg. We have dumpster rentals for both the residential homeowner and construction rolloff-dumpsters. So if you want to work with a company that promises to be on time with both your delivery and pick up and keep your budget within your means then do yourself a favor and call Easy Dumpster Rental. You will be glad you did.
It's that easy!
Call Our Team Now
1-888-792-7833