Dumpster Rental in Georgetown, DE
Get Stunning Savings On Rolloff Rentals
Click To Call 1-888-792-7833Click For Email Quote
Why We Offer Magnificent Bin Service In Georgetown:
Our mission is to ensure that every customer gets the service that they deserve. That is why we hire only the best sales team members. People who love to help you get the assistance you need to have a great experience.
A FAQ page to get the answers you need to a better understanding of our business model
Read stories of our happy and loyal customers
Same day service available in Georgetown and nearby cities
A migraine free ordering process
Dumpster Rental Pricing in Georgetown is Based on Many Different Factors
To Receive The Lowest Pricing, Call For A Customized Quote Now 1-888-792-7833
Save With Us Between $10 And $95 On Your Dumpster Rental Cost:
Our pledge to you is to offer the lowest prices anywhere in Delaware. And to give you the respect and dignity that you deserve. You are not an object to us, but a lifetime friend. That is why we have thousands of repeat customers.
Super low costs on a variety of dumpster sizes that are guaranteed
Speedy service and super savings in Georgetown
All of our rates are upfront with no hidden fees
Delivery and disposal in one flat rate
What are you waiting for? Call now and begin to save!!!
Earn Up To $50 | Share / Like Below
Click To Call 1-888-792-7833
Click For Email Quote
10 Yard Dumpster (2 TONS) 4,000LBS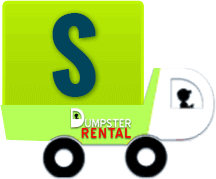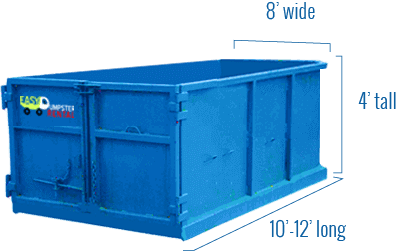 Easy Dumpster Rental
20 Yard Dumpster (3 TONS) 6,000LBS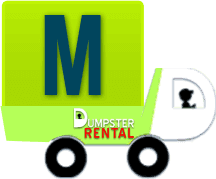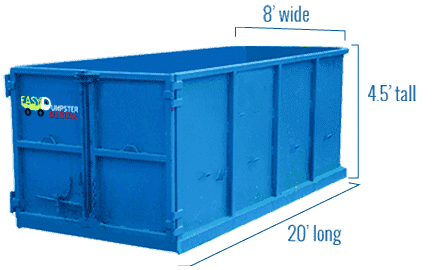 Easy Dumpster Rental
30 Yard Dumpster (4 TONS) 8,000LBS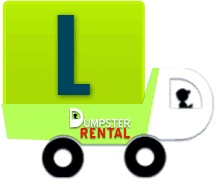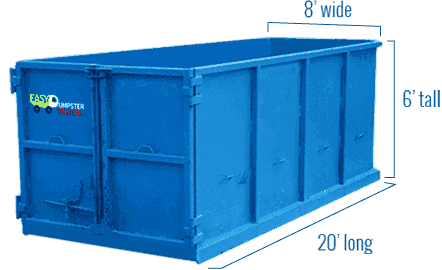 Easy Dumpster Rental
40 Yard Dumpster (5 TONS) 10,000LBS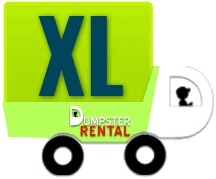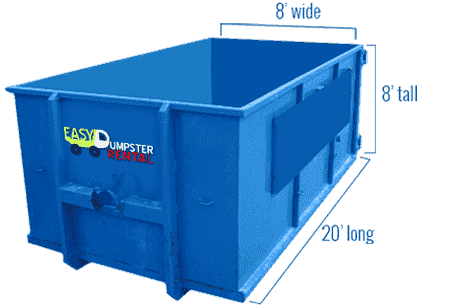 Easy Dumpster Rental
Landfill Location Georgetown, DE
Georgetown is a city that is located in Sussex County in the state of Delaware. In addition to this, residents of Georgetown and the rest of Sussex County can drop off their household waste at the Jones Crossroads Landfill.
Jones Crossroads Landfill
28560 Landfill Lane
Georgetown, DE 19947
Hours:
Monday to Saturday; 7:00 AM to 5:00 PM
The Sussex County Public Works Department provides residents of Georgetown with curbside trash collection services on a weekly basis.
Sussex County Public Works Department
22215 Dupont Blvd,
Georgetown, DE 19947
(302) 855-7703
Recycling In Georgetown
The Sussex County Public Works Department provides residents of Georgetown with curbside recycling collection services on a weekly basis.
In addition to this, the Delaware Solid Waste Authority maintains a list of recycling drop-off centers in the entire state. Residents who are in need of a drop off center can use the website's "Recycling Center Finder" to find the nearest locations.
Household Hazardous Waste
Residents of Georgetown and residents all across the state of Delaware, are advised to make use of the household hazardous waste disposal events and services that are provided by the Delaware Solid Waste Authority.
The Delaware Solid Waste Authority organizes and manages several household hazardous waste collection events through the entire year, in various locations throughout the state.
In addition to this, the Delaware Solid Waste Authority also has weekly household hazardous waste collection services provided at specific locations in the state of Delaware.
More information on these services can be found here.
Yard Waste
The Jones Crossroads Landfill also allows residents to drop off yard waste that they have at the facility. This includes; grass, leaves, shrubs, and branches.
Interesting Facts About Georgetown
The town of Georgetown was founded in 1791. And has a current population a tad under 7,000 residents. The city saw a 35% growth rate over the last decade. Every 2 years the city has what is called "Return Day" where politicians, winners, and losers, hold a ceremony where the politicians bury the hatchet, so to speak. And a huge party ensues and it is considered an official holiday. An interesting architectural feature of the town is that it is designed as a circle unlike most cities in Delaware that has a park square. Georgetown has many National Historic Sites including the Old Sussex County Courthouse and the First Broiler House. Some well-known known figures from the city include lawyer Caleb Wright, NFL player Luke Petitgout, and World War Two Marine General Robert Pepper.
A Few Suggestions On How To Properly Fill Your Rolloff
To help you get the most of your front load unit rental we have outlined a few hints. We hope this helps and you get some kind of 'fulfillment" from these ideas.
Safety: Safety is our number one concern. Not only for you but the public as well. When hauling trash to your local landfill certain precautions should be taken. It is against the law for a container to have trash or debris either hanging over the sides of the dumpster or sticking up above the edge of the bin. This will prevent that your materials will not come in contact with either oncoming vehicles or the public. Like someone riding a bike down the street for instance. So, ensure that all trash, tree limbs or other materials are well below the rim of the front load unit.  If you have any questions our sales team is standing by, at the ready, to give you guidance.
Hazardous Waste: The EPA has very tough guidelines concerning the transportation of hazardous waste. Because hazardous waste has certain properties that can explode and ignite, the EPA mandates that specialized transporters haul these dangerous materials. If you are not clear on what is or isn't a hazardous waste, you can call your local government officials, go to your city's website or contact your local Regional EPA Office.  Typically, items include computers, heating oil or fluorescent light bulbs. At the completion of this article, there will be a list of a few more household hazardous waste.
The Weight Of The Canister Unit: Weight accuracy is very important and because of that we have developed a dumpster weight calculator. The weight is important because you will be fined by the landfill if you go over the allowed weight. This calculator is a tool we find super accurate and your quote will be based on this. Once you get to the landfill, the rolloff unit is weighed. If the weight is over the amount we have allotted for this haul, the landfill will charge you extra for their tipping fees. Rarely does this occur.  But when it does, some customers tell us they are hauling tree trimmings but are really hauling concrete. You can't pull the wool over our eyes. However, If you do plan to change the kind of materials you will be putting in the can, give us a call. So you will not be fined. We do not want you to be fined. We are doing our best to save you money.
So, to sum up, make sure that all materials are flush with and not sticking over the sides of the container. Ensure there are no hazardous materials. And if you tell us you are putting grass clippings in the rolloff then ensure that is what you are filling the dumpster with. If you have any questions, please feel free to call our office.
Thank you for choosing Easy Dumpster Rental. We have a very local customer base because we never promise something we can't deliver.
Here is a short list of some household hazardous waste:
Pool chemicals
Drain cleaners
Antifreeze
Herbicides
Kerosene
Moth repellents
Bleach
Bug sprays
It's that easy!
Call Our Team Now
1-888-792-7833