Dumpster Rental in Seaford, DE
Get Budget Busting Roll-off Prices Today
Click To Call 1-888-792-7833Click For Email Quote
Why We Offer Perfect Container Service In Seaford:
Our customer service is highly regarded throughout the United States. We believe that our client's desires come first and foremost. We will bend over backward to ensure you get impeccable service.
A dumpster conversion visualizer to help you see what you are renting
Same day service in Seaford and surrounding areas
Request an online quote and get a consultation for free
Dumpster sizes in 10, 20, 30, and 40 cubic yards
Please note that we cannot haul hazardous waste
Dumpster Rental Pricing in Seaford is Based on Many Different Factors
To Receive The Lowest Pricing, Call For A Customized Quote Now 1-888-792-7833
Save With Us Between $10 And $125 On Your Dumpster Rental Cost:
We offer, by a country mile, the lowest roll-off bins prices in Seaford. All of us want to keep as much of our hard-earned money as possible. Easy Dumpster Rental is sensitive to this and that is why we keep our rates low.
A flat rate pricing model that has no hidden fees
We will match or beat any of our competitor's costs
An easy to use bin weight calculator to ensure you get the right size can for the job
All of our rates are transparent and upfront
With over 15 years of experience and industry knowledge, we can give you excellent costs
Earn Up To $50 | Share / Like Below
Click To Call 1-888-792-7833
Click For Email Quote
10 Yard Dumpster (2 TONS) 4,000LBS
Dumpster Calculator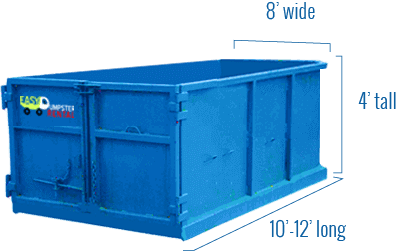 Easy Dumpster Rental
20 Yard Dumpster (3 TONS) 6,000LBS
Dumpster Calculator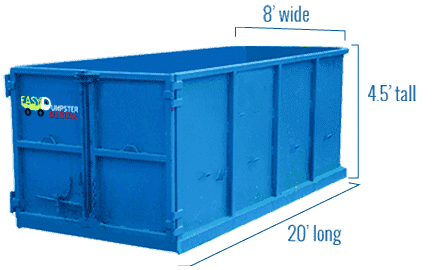 Easy Dumpster Rental
30 Yard Dumpster (4 TONS) 8,000LBS
Dumpster Calculator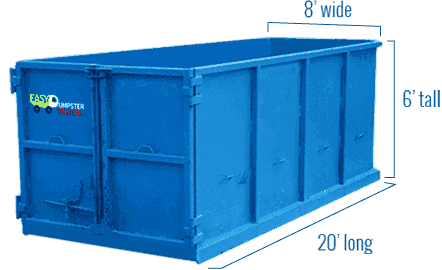 Easy Dumpster Rental
40 Yard Dumpster (5 TONS) 10,000LBS
Dumpster Calculator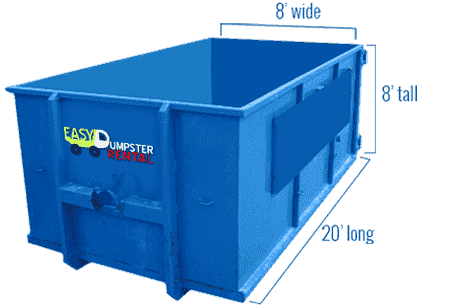 Easy Dumpster Rental
Landfill Location Seaford, DE
Seaford is a city that is located in Sussex County in the state of Delaware. Residents of Seaford and the rest of Sussex County can drop off their household waste at the Jones Crossroads Landfill.
Jones Crossroads Landfill
28560 Landfill Lane
Georgetown, DE 19947
Hours:
Monday to Saturday; 7:00 AM to 5:00 PM
The Seaford Public Works Department provides residents of the city with reliable curbside trash collections services on a weekly basis.
Seaford Public Works Department
8000 Herring Run Road
P.O. Box 1100
Seaford, DE 19973
(302) 629-8307
Hours:
Monday to Friday; 8:00 Am to 5:00 PM
Recycling In Seaford
The Seaford Public Works Department provides residents of the city with reliable curbside recycling collections services on a weekly basis.
In addition to this, the Delaware Solid Waste Authority maintains a list of recycling drop-off centers in the entire state. Residents who are in need of a drop off center can use the website's "Recycling Center Finder" to find the nearest locations.
Household Hazardous Waste
Residents of Seaford and residents all across the state of Delaware, are advised to make use of the household hazardous waste disposal events and services that are provided by the Delaware Solid Waste Authority.
The Delaware Solid Waste Authority organizes and manages several household hazardous waste collection events through the entire year, in various locations throughout the state.
In addition to this, the Delaware Solid Waste Authority also has weekly household hazardous waste collection services provided at specific locations in the state of Delaware.
More information on these services can be found here.
Yard Waste
The Jones Crossroads Landfill also allows residents to drop off yard waste that they have at the facility. This includes; grass, leaves, shrubs, and branches.
Interesting Facts About Seaford
Seaford is located on the Nanticoke River with a population just under 7,000 residents. Seaford has many points of interests and activities for its residents. Some of these include an annually Seaford Christmas Parade, the Seaford Museum, and the Nanticoke River Festival. Seaford has about a dozen National Historic Places including The Ross House and the Rawlins Mill. Some famous people from the area include Aerospace tycoon Lee F. Booth, Olympic baseball player Mike Neill, and NFL player Lovett Purnell.
The Factors That Easy Dumpster Rental Uses To Determine Its Pricing Model
We feel that in the spirit of openness that we should share our pricing model with the public. Many companies refuse to be transparent and add on hidden fees to lure you into a false costing on their rentals. We take umbrage to this tactic. And for this reason, we open our books, so to speak, for your peace of mind. Below are the 4 main components:
Landfill Cost: The rate for disposing of waste and debris at a landfill generally varies between each community and states. Therefore the cost for dumping garbage in Seaford may be lower or higher than in Smyrna. This comes into play when determining your roll-off rental fees. We will never charge extra for landfill fees unless you go over the allocated weight or dispose of hazardous materials. Please note, getting rid of hazardous waste by a dumpster company is against the law per the EPA. It is prudent to know that the EPA will fine you. Likewise, so can Easy Dumpster Rental and your local landfill.
 Debris Type: The type of waste that you intend to dispose of can impact the rental cost of your canister unit. Waste disposal companies, by law, must send certain debris to specific locations. Prices for dumping waste are usually lower for materials that can be recycled compared to non-recyclables and hazardous waste.
Debris Weight: The volume of the waste material that you are disposing of will affect the size of the rental dumpster as well as the dumpster size you need. There are four common dumpster sizes: 10-yard, 20-yard, 30-yard, 40- cubic yards. There are different sizes available that may or may not be available in Seaford. The smaller the bin unit size, the lower the starting rate. Customers tend to order larger dumpsters to get peace of mind to fit all the trash and not pay extra for an extra haul. To eliminate this perplexing situation about what size front load unit you need, we have created an easy to use dumpster weight calculator to help you make that decision. Don't make an error of ordering a size that is too big or small for the job at hand. We don't want to see you waste your money on a bin that isn't the right fit. Our desire for our customers, who love our service, is to save them money. Also, our staff is highly trained and more than capable to make sure you get the right size roll-off unit.
Rental Period: Rolloff bins of all sizes typically come with 7 or 14-day rental periods. With that said, we realize that the best-laid plans can go haywire. So we are super flexible with our lease time periods and you can basically keep the dumpster bin until you finish the job. If you see you are running out of time with your lease period, please give our office a heads up so we can get you a new lease and avoid late fees.
You will be glad that you have chosen Easy Dumpster Rental. We promise and guarantee on time services and always the lowest prices. We are the fastest growing dumpster rental company in America.
It's that easy!
Call Our Team Now
1-888-792-7833