Dumpster Rental in Milford, DE
Our Super Low Rolloff Prices Will Have You Grinning
Click To Call 1-888-792-7833Click For Email Quote
Why We Offer Unique Container Service In Milford:
We put a high premium on giving our clients the best rolloff service in America. We hire only the most capable sales team members so you will always get unbelievable service.
We have rented over 100,000 canisters
Our services include household, construction, and yard waste removal
Same day delivery available in Milford and surrounding cities
Get a super fast bin quote either over the phone or online
Dumpster Rental Pricing in Milford is Based on Many Different Factors
To Receive The Lowest Pricing, Call For A Customized Quote Now 1-888-792-7833
Save With Us Between $10 And $90 On Your Dumpster Rental Cost:
We pride ourselves on having the lowest costs on canister rentals in Delaware. We will always match or beat any competitors prices. Our friendly sales agents will help you get what you need.
An easy to use dumpster weight calculator to ensure accurate rates
Disposal, pickup, and delivery included in one flat rate
Super low prices on a wide variety of front load units
Order a rolloff bin with one simple phone call
No hassles or headaches when you work with our highly skilled staff
Earn Up To $50 | Share / Like Below
Click To Call 1-888-792-7833
Click For Email Quote
10 Yard Dumpster (2 TONS) 4,000LBS
Dumpster Calculator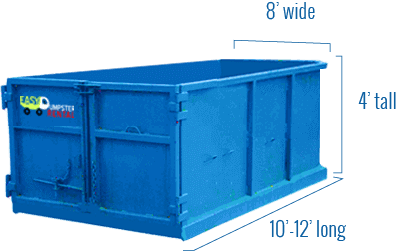 Easy Dumpster Rental
20 Yard Dumpster (3 TONS) 6,000LBS
Dumpster Calculator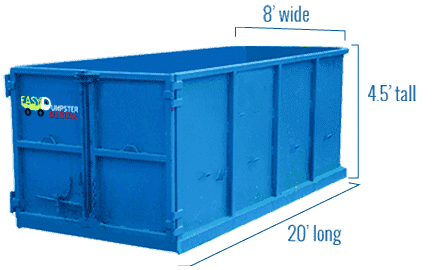 Easy Dumpster Rental
30 Yard Dumpster (4 TONS) 8,000LBS
Dumpster Calculator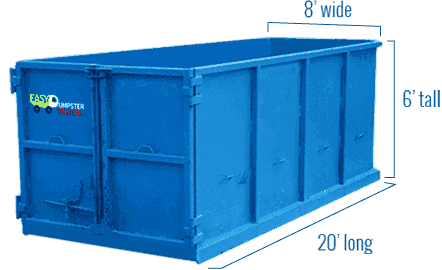 Easy Dumpster Rental
40 Yard Dumpster (5 TONS) 10,000LBS
Dumpster Calculator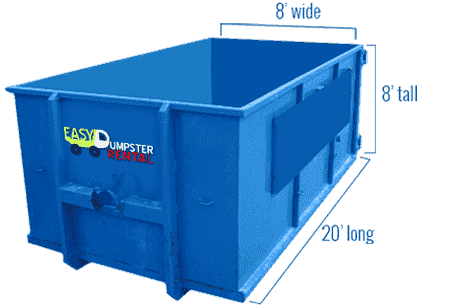 Easy Dumpster Rental
Landfill Location Milford, DE
Milford is a city that is located in both Sussex County and Kent County in the state of Delaware. Residents of Milford can make use of both the Sandtown Landfill and the Jones Crosswords Landfill for their trash drop-off needs.
Sandtown Landfill
1107 Willow Grove Rd (Rt. 10)
Felton, DE 19943
Hours:
Monday to Saturday; 7:00 AM to 5:00 PM
Jones Crossroads Landfill
28560 Landfill Lane
Georgetown, DE 19947
Hours:
Monday to Saturday; 7:00 AM to 5:00 PM
The Milford Public Works Department provides residents of Milford with convenient curbside trash collection services on a weekly schedule.
Milford Public Works Department
180 Vickers Drive
Milford, DE 19963
(302) 422-1110
Hours:
Monday to Friday; 7:30 AM to 4:00 PM
Recycling In Milford
The Milford Public Works Department provides residents of Milford with convenient curbside recycling collection services on a weekly schedule.
Residents can also drop off their recyclables at the Milford Transfer Station.
Milford Transfer Station
1170 S. Dupont Highway
Milford DE 19963
(800) 404-7080
Hours:
Monday to Saturday; 7:00 to 3:00
Household Hazardous Waste
Residents of Milford and residents all across the state of Delaware, are advised to make use of the household hazardous waste disposal events and services that are provided by the Delaware Solid Waste Authority.
The Delaware Solid Waste Authority organizes and manages several household hazardous waste collection events through the entire year, in various locations throughout the state.
In addition to this, the Delaware Solid Waste Authority also has weekly household hazardous waste collection services provided at specific locations in the state of Delaware.
More information on these services can be found here.
Yard Waste
Both the Jones Crossroads Landfill and the Sandtown Landfill allow residents to drop off yard waste (leaves, branches, grass, etc.).
Interesting Facts About Milford
Milford was settled in 1680 and has a current population close to 10,000 residents. The city has about 22 sites listed on the National Registry of Historic places including Abbott's Mill and the Mispillion Lighthouse. 7 of the states Governors have come from the city. Some famous people from Milford include American cartoonist Robert Crumb, Major League Baseball player Chris Short, and writer John Lofland.
The All-Purpose Rolloff Unit And It's Numerous Uses
When considering what to do with your trash after a small bathroom rehab or construction demolition, there is no better alternative to a dumpster. If you are contemplating using a large pickup truck you should consider the following. A pick truck will cost you more than renting a rolloff in the long run. Depending on the size of the job you may be making dozens of trips to a landfill taking waste back and forth. With a bin unit, we can do it in one trip for you. And then you need to consider the pickup trucks' rental costs, insurance, gas, tipping fees at the landfill, etc…
Who has the time and money to waste using a pickup truck? And most likely the landfill is not going to be down the street. It is going to be in some rural area many miles away from your home. Time is of the essence and we don't want to lose it. So make the smart and practical choice and lease a bin from Easy Dumpster Rental.
Residential Projects: We rent a ton of residential rolloff units to homeowners. If you are planning on doing a small bathroom remodel, our 10-yard bin is just perfect for this project. And it is so easy to order. Just give our office a call. Tell them a little about what you are trying to accomplish and in a jiffy, we will have the lowest quote in the area for you. After that, the next step is just to tell us where on the site you would like the front load unit placed. Typically, customers put the canister in one of 3 places:
The front yard or back yard
The driveway
The street
If you use the first 2 options it's a good idea to go to your local lumber store and buy some plywood. Place the wood under the wheels to help protect your property. We usually don't have any property damage problems if you do this small little application. The street is the best location. Make sure you check first with your local city officials to see if you need a permit.
Construction Jobs: Rolloff units can be used for huge construction jobs. Our 40-yard rolloff container can handle any size job. And they are perfect for demolitions or a major renovation job on a building. Coupled with our service guarantee, you will receive quick delivery and pick up. And it is all guaranteed. We know that contractors have strict budgetary concerns so you will get the lowest price in Milford. This will help ensure you can keep your construction costs under budget. No one abhors delays more than a contractor.
We Can Be of Aid To You With Your Recycling Needs
We like to think we are a "Green" company. Doing what we can to help keep our environment clean. We are more than happy to take your recyclables to the nearest recycling center or Goodwill store. A few landfills do provide recycling capabilities and we will be happy to take your old junk there. We believe strongly in the importance of recycling.
Our landfills are getting over filled. And one of the biggest reasons is that over 70% of all the trash we sent to a landfill can actually be recycled. So we all need to be paying closer attention to what bin we toss our trash in. With some attention to detail, we can one day eliminate landfills altogether.
It's that easy!
Call Our Team Now
1-888-792-7833