Dumpster Rental in Middletown, DE
Budget Busting Rolloff  Prices With Great Service
Click To Call 1-888-792-7833Click For Email Quote
Why We Offer Unique Container Service In Middletown:
Our desire is to provide the best customer service anywhere in America. We guarantee on time delivery and pick up and promise to resolve any problems as quickly as possible. No excuses, just action.
We have a dumpster conversion visualizer for your convenience
We have rented over 100,000 canisters to many repeat clients
Read stories of our very happy customers who are madly in love with us
Rent a front load can with one simple phone call
Same day service available in Middletown and surrounding cities
Dumpster Rental Pricing in Middletown is Based on Many Different Factors
To Receive The Lowest Pricing, Call For A Customized Quote Now 1-888-792-7833
Save With Us Between $10 And $78 On Your Dumpster Rental Cost:
If you want to save every penny you can and be treated like a real person then you have landed on the right page. Easy Dumpster Rental guarantees the lowest prices in Middletown and we will beat all competitors rates.
A flat rate pricing model with a free consultation
No shenanigans or headaches when you order the lowest priced dumpster rentals in Delaware
All of our costs are as transparent as "Casper the Friendly Ghost"
Our charges are always made upfront with no added surprise fees
Low flat costs on a wide variety of dumpster units
Earn Up To $50 | Share / Like Below
Click To Call 1-888-792-7833
Click For Email Quote
10 Yard Dumpster (2 TONS) 4,000LBS
Dumpster Calculator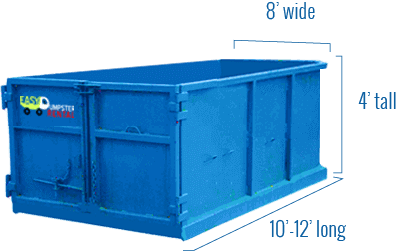 Easy Dumpster Rental
20 Yard Dumpster (3 TONS) 6,000LBS
Dumpster Calculator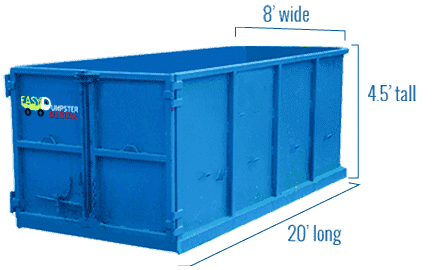 Easy Dumpster Rental
30 Yard Dumpster (4 TONS) 8,000LBS
Dumpster Calculator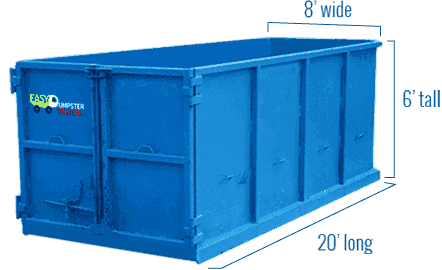 Easy Dumpster Rental
40 Yard Dumpster (5 TONS) 10,000LBS
Dumpster Calculator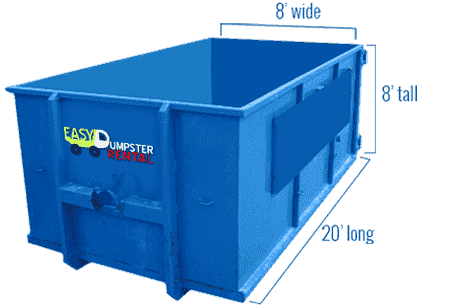 Easy Dumpster Rental
Landfill Location Middletown, DE
Middletown is a town that is located in New Castle County in the state of Delaware. The residents of Middletown and the rest of New Castle County are serviced by the Cherry Island Landfill, where they can drop off household trash. The Cherry Island Landfill has a designated area – the Small Load Collection Area – where household waste from residents is accepted.
Cherry Island Landfill
1706 East 12th St.,
Wilmington, DE 19809
Monday to Friday; 7:00 AM to 5:00 PM
Saturday; 7:00 AM to 3:00 PM
The Middletown Public Works Department provides residents of Middletown with convenient curbside trash collection services on a weekly basis.
Middletown Public Works Department
431 Haveg Road
Middletown, DE  19709
(302) 378-2211
Monday to Friday; 7:00 AM to 3:30 PM
A full list of accepted waste materials can be found here.
Recycling In Middletown
The Middletown Public Works Department provides residents of Middletown with convenient curbside recycling collection services on a weekly basis.
Residents can also drop off recyclables at the Pine Tree Corners Transfer Station.
Pine Tree Corners Transfer Station
276 Pine Tree Corner Road
Townsend DE 19734
(800) 404-7080
Monday to Saturday; 7:00 AM to 5:00 PM
In addition to this, the Delaware Solid Waste Authority maintains a list of recycling drop-off centers in the entire state. Residents who are in need of a drop off center can use the website's "Recycling Center Finder" to find the nearest locations.
Household Hazardous Waste
Residents of Middletown and residents all across the state of Delaware, are advised to make use of the household hazardous waste disposal events and services that are provided by the Delaware Solid Waste Authority.
The Delaware Solid Waste Authority organizes and manages several household hazardous waste collection events through the entire year, in various locations throughout the state.
In addition to this, the Delaware Solid Waste Authority also has weekly household hazardous waste collection services provided at specific locations in the state of Delaware.
More information on these services can be found here.
Yard Waste
The Cherry Island Landfill allows residents to drop off yard waste at the facility. Accepted types of waste are; leaves, branches, shrubs, and grass.
Interesting Facts About Middletown
Middletown is one of the fastest growing areas in Delaware. With a population of close to 20,000 residents, the city was founded around 1850. As a result of this new found growth, Amazon has located a fulfillment center here. And Wilmington University has a branch campus in the town. The city holds annually an Olde Tyme Peach Festival which draws thousands of visitors. Also, it holds on Labor Day, a 24-hour marathon called the M.O.T. Big Ball Marathon. Citizens come out and play baseball all day to help raise money for local charities. Some famous people from the area include journalist, Erin Burnett, musician Loudon Wainwright, and NFL player Chris Godwin.
Ordering A Rolloff Unit Couldn't Be More Easier
Ordering and renting a bin rolloff unit should not be hard. That is why at Easy Dumpster has streamlined the process. In 3 easy steps, you can have you your can unit ordered, delivered and picked up. Life is complicated enough and we want to make life as simple as 1, 2, 3, for you. Here is all you have to do:
Call Us: With one super fast phone call and some detail on the job you want to do, our highly capable sales team members will have a dumpster quote for you quicker than you can say hello. No matter what you are disposing of, doing a demolition project or a small rehab of your bathroom we have the just the right size bin for any job. Don't fool around with a renting a pick-up truck. It will cost you more money and just waste your time running back and forth to the landfill. Which by the way, isn't going to be just down the street. Now tell us, do you really have the time to waste to run to a landfill? No. We are sure you have better things to do with your time. Renting a pickup truck isn't cheap when you start to add up rental fees, gas, insurance etc…You will spend more money using a pickup truck rather than using our services. With one quick move, we remove the burden from you. And we will take your materials to the landfill for you. Also, we will take any of your recyclables to the local recycling center for you.
Inform us on what day you would like delivery: After you receive the lowest quote in Middletown, let us know when you would like delivery. And where on your site you would like the dumpster placed. Usually, the options are in the front or back yard, on the driveway or on the street. The street is the ideal location. Make sure you call your local city officials to see if the street option is permissible and if you need any permits. If you are going to use the lawn or the driveway, please go to your local lumber store and buy some plywood or planks. Place the wood under the dumpster's wheels to help protect your property. Front load units can get heavy, but over the years we have realized that if you follow this simple procedure you will safeguard your property. And our clever sales agents will also give you some helpful hints on how to fill your canisters so you can utilize all the volume.
When you have completed your project: There are 2 options available for your convenience. You can call us or go online to request a pick up. Whatever option you choose you can rest assured we will be there on time.
We have plenty of experience in the sanitation industry and we know what we are doing. We can be trusted and relied on for all of your rolloff rental needs. So give us a call and discover why we are the fastest growing dumpster rental company in America.
It's that easy!
Call Our Team Now
1-888-792-7833