Dumpster Rental in Smyrna, DE
Get Best Price On A Roll-off Rental & Superb Service
Click To Call 1-888-792-7833Click For Email Quote
Get Customer Service With Integrity In Smyrna:
Our ethos is to provide both integrity and honesty in all we do here at Easy Dumpster Rental. Our staff works diligently to give you the greatest customer service you have ever experienced.
Get a bin quote faster than "Wonder Women" dispatching her foes
We provide both residential and construction containers for any size project
We have a dumpster conversion visualizer to compare sizes of all of our canisters
A wide variety of front load units in 10, 20, 30, and 40 cubic yards
A FAQ page to give you answers to your most important questions about our company
Dumpster Rental Pricing in Smyrna is Based on Many Different Factors
To Receive The Lowest Pricing, Call For A Customized Quote Now 1-888-792-7833
Save With Us Between $10 And $90 On Your Dumpster Rental Cost:
If great low rates are important to you coupled with a guarantee of our services, the Easy Dumpster Rental is the right choice for you. For over 15 years we have been helping the public solve their sanitation issues.
Disposal and delivery included in one flat rate
Prices so low you would think that we were giving away our rental rolloffs
Speedy service and super savings in Smyrna
We never add on hidden fees. All charges are upfront
Stop delaying. Call us now and save like never before
Earn Up To $50 | Share / Like Below
Click To Call 1-888-792-7833
Click For Email Quote
10 Yard Dumpster (2 TONS) 4,000LBS
Dumpster Calculator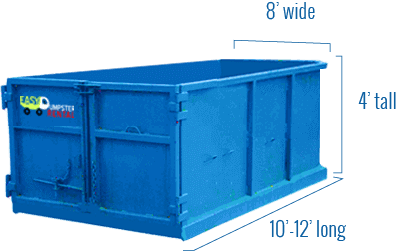 Easy Dumpster Rental
20 Yard Dumpster (3 TONS) 6,000LBS
Dumpster Calculator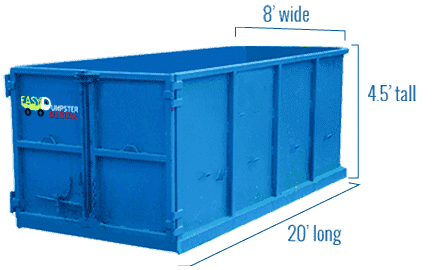 Easy Dumpster Rental
30 Yard Dumpster (4 TONS) 8,000LBS
Dumpster Calculator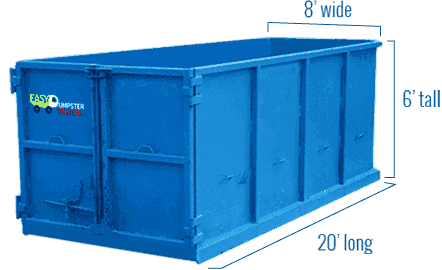 Easy Dumpster Rental
40 Yard Dumpster (5 TONS) 10,000LBS
Dumpster Calculator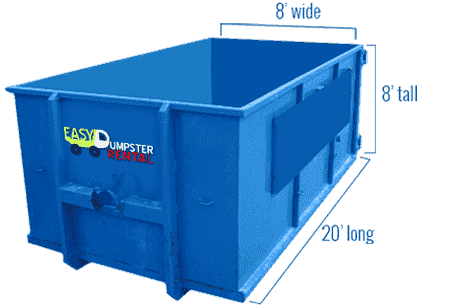 Easy Dumpster Rental
Landfill Location Smyrna, DE
Smyrna is a town that is located in both New Castle County and Kent County in the state of Delaware. Residents of Smyrna can make use of both the Cherry Island Landfill and the Sandtown Landfill if they need to drop off household trash.
Cherry Island Landfill
1706 East 12th St.,
Wilmington, DE 19809
Hours:
Monday to Friday; 7:00 AM to 5:00 PM
Saturday; 7:00 AM to 3:00 PM
A full list of accepted waste materials can be found here
Sandtown Landfill
1107 Willow Grove Rd (Rt. 10)
Felton, DE 19943
Hours:
Monday to Saturday; 7:00 AM to 5:00 PM
Residents of Smyrna are provided with convenient curbside trash collection services, courtesy of the Smyrna Department of Public Works.
Smyrna Department of Public Works
220 Artisan Drive
Smyrna, DE 19977
(302) 653-9231
Monday to Friday; 7:00 AM to 3:30 PM
Recycling In Smyrna
Residents of Smyrna are provided with convenient curbside recycling collection services, courtesy of the Smyrna Department of Public Works.
Residents of Smyrna can drop off their recyclables at the Cheswold Collection Station.
Cheswold Collection Station
54 Fork Branch Road
Cheswold DE 19936
(800) 404-7080
Monday and Saturday; 8:30 AM to 3:30 PM
Household Hazardous Waste
Residents of Smyrna and residents all across the state of Delaware, are advised to make use of the household hazardous waste disposal events and services that are provided by the Delaware Solid Waste Authority.
The Delaware Solid Waste Authority organizes and manages several household hazardous waste collection events through the entire year, in various locations throughout the state.
In addition to this, the Delaware Solid Waste Authority also has weekly household hazardous waste collection services provided at specific locations in the state of Delaware.
More information on these services can be found here.
Also, the Cheswold Collection Station allows residents to drop off HHW and electronics on Fridays, from 10:00 AM to 2:00 PM.
Yard Waste
Both the Sandtown Landfill and the Cherry Island Landfill allow residents of Smyrna to drop off their yard waste at these facilities.
Interesting Facts About Smyrna
Smyrna has a current population of 11,000 residents. It was originally called Duck Creek Cross Roads and the name was changed to Smyrna in 1806 after the Ancient Greek seaport in present day Turkey. The town was settled prior to the American Revolution. The city has many points of interest including the Smyrna Museum and Blackbird State Forest. It also has the 3 Palms Zoo and Education Center. Some famous people from the area include Edward G. Budd, who founded the Budd Company, country music singer Chuck Wicks and international lawyer and a member of the Hague Tribunal, John Bassett Moore.
The Main Components of Hazardous Waste 
The EPA defines hazardous materials as "a waste with certain properties that make it capable of having a detrimental effect on human well-being and the eco-systems." Gases, solids, and liquids make up its many attributes. However, to be truly considered a hazardous waste is most be in a solid state. There are stick guidelines in the transportation and disposal of these harmful materials. After it is taken to specialized facilities it begins the recycling process. To be classified a hazardous waste it must fall under the 4 following categories:
Corrosivity: If a material has a pH that is greater than 12.2 it has the possibility to corrode steel.
Ignitability: Wastes including liquids with flash points of 140 degrees Fahrenheit. If a fire breaks out these waste can enter our atmosphere and can cause air pollution.
Toxicity:  Can be harmful to the system if it is absorbed or eaten. If these toxins are leached into the underwater ground systems from our landfills they can cause contamination to our underground water supply.
Reactivity: This component makes hazardous waste unpredictable. With a potentially dangerous emission of toxic gases. Furthermore, in this state, an explosion can occur.
Most homeowners have no inclination that they have hazardous materials lurking in their homes, garages, or outdoor sheds.  It is very important that we can recognize these dangerous materials. Below we have identified a few of the more common household hazardous wastes:

Pool chemicals
Fluorescent light bulbs
Moth repellents
Bleach
Heating oil
Antifreeze
Paint thinners
Ensure that you read all product labels carefully. Understand how to use and dispose of all these potentially dangerous products. If you are not sure about a certain product call your local government officials or your Regional EPA office. Often times your city's website will have helpful information. Do a Google search to find safer products to use around the home. Thus furthering the protection of your family.
Though it is against the law for companies like Easy Dumpster Rental to haul hazardous waste, we will be more than happy to help you with the disposing of all other materials and recyclables. We have helped tens of thousands of households and we can be of service to you. With over 15 years experience in the sanitation industry, we feel that we know a few things about this industry.
So no matter if you have a small residential job like a kitchen remodel or a huge construction demolition project, we can handle it. We have literally thousands of repeat clients who come back to us year after year because they know that we can be trusted and get the job done right the first time. Partner with us and you will never need to find another dumpster company again. And you will very quickly discover why we are the fastest growing rolloff rental company in America.
It's that easy!
Call Our Team Now
1-888-792-7833