Dumpster Rental in Newark, DE
Get The Absolutely Lowest Rolloff Rental Price
Click To Call 1-888-792-7833Click For Email Quote
Why We Offer Incredible Container Service In Newark:
We work tirelessly to bring the best in customer service. Our sales team members are highly trained and are motivated to help you have a wonderful experience with our company. We are here to serve you.
A dumpster conversion visualizer so you see size bin you are getting
Over 15 successful years in the sanitation industry
Our bin units can dispose of 2 and 5 tons of waste
Our front load unit services are guaranteed to make you happy
Hassle and headache-free service
Dumpster Rental Pricing in Newark is Based on Many Different Factors
To Receive The Lowest Pricing, Call For A Customized Quote Now 1-888-792-7833
Save With Us Between $10 And $125 On Your Dumpster Rental Cost:
We promise that we will have the lowest prices in Newark. No other company can compete with us on our rates. If you do find a lower cost we will match or beat it. We desire your business and want you to be a client for life.
An easy to use dumpster weight calculator to ensure you get the right size canister for your project
Speedy service and super savings in Newark and beyond
Receive flat rate can unit prices that will astonish you
We have a transparent pricing model so you know what you are paying for
Call us Now! And start saving your hard earned money
Earn Up To $50 | Share / Like Below
10 Yard Dumpster (2 TONS) 4,000LBS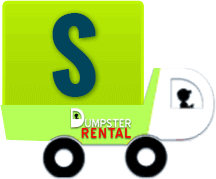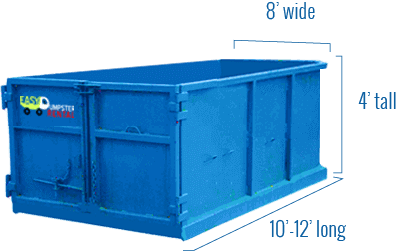 Easy Dumpster Rental
20 Yard Dumpster (3 TONS) 6,000LBS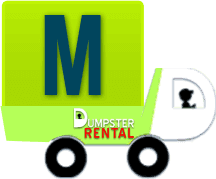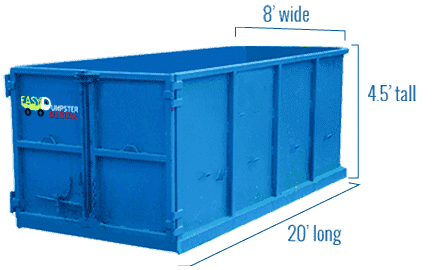 Easy Dumpster Rental
30 Yard Dumpster (4 TONS) 8,000LBS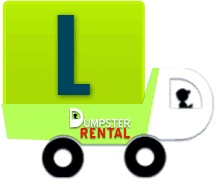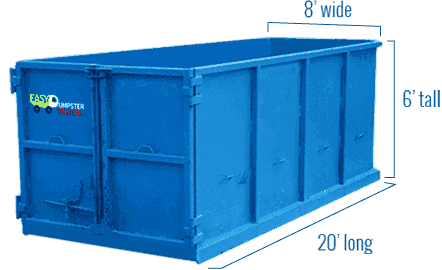 Easy Dumpster Rental
40 Yard Dumpster (5 TONS) 10,000LBS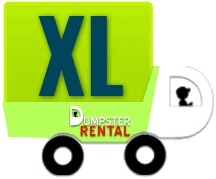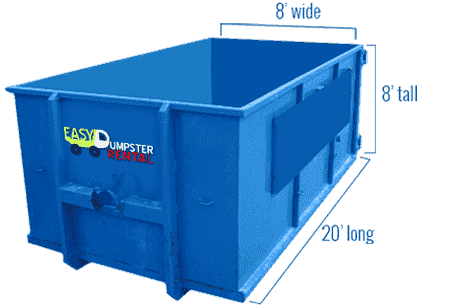 Easy Dumpster Rental
Landfill Location Newark, DE
Newark is a city that is located in New Castle County in the state of Delaware. Newark and the rest of New Castle County are serviced by the Cherry Island Landfill, where residents can drop off household trash. The Cherry Island Landfill has a designated area – the Small Load Collection Area – where household waste from residents is accepted.
Cherry Island Landfill
706 East 12th St.,
Wilmington, DE 19809
Hours:
Monday to Friday; 7:00 AM to 5:00 PM
Saturday; 7:00 AM to 3:00 PM
A full list of accepted waste materials can be found here.
The Newark Public Works and Water Resources Department provides residents of the city with convenient curbside trash collection services.
Newark Public Works and Water Resources Department
220 South Main Street
Newark, DE 19711
(302) 366-7000
Hours:
Monday to Friday; 8:30 AM to 5:00 PM
Recycling In Newark
The Newark Public Works and Water Resources Department provides residents of the city with convenient curbside recycling collection services.
The Delaware Solid Waste Authority maintains a catalog of recycling drop-off centers in the entire state. Residents who are in need of a drop off center can use the "Recycling Center Finder" on the Delaware Solid Waste Authority website or contact them over the phone.
Household Hazardous Waste
Residents of Newark and residents all across the state of Delaware, are advised to make use of the household hazardous waste disposal events and services that are provided by the Delaware Solid Waste Authority.
The Delaware Solid Waste Authority organizes and manages several household hazardous waste collection events through the entire year, in various locations throughout the state.
In addition to this, the Delaware Solid Waste Authority also has weekly household hazardous waste collection services provided at specific locations in the state of Delaware.
More information on these services can be found here.
Yard Waste
Residents of Newark can drop off any yard waste that they have at the Cherry Island Landfill. This includes; leaves, grass, branches, and shrubs.
Interesting Facts About Newark
Newark was settled in 1694 and has a current population of 32,000 residents. The University of Delaware is located here and 3 graduates of the Newark Academy, founded in 1743, were signers of the Declaration of Independence. There are over 12,000 acres of public parkland for the citizens to enjoy hiking, mountain bike riding, and horseback riding. Some well-known people from the area include Harry Coover who invented Super Glue, Rockstar George Thorogood, and comedian and actor Dave Sheridan.
What is "Zero Waste" And Why It Is Important
Zero waste is a management system is that proposes to completely eliminate waste by recycling and reuse. Instead of cradle-to-grave approach, its emphasis is on cradle-to-cradle disposal where a waste product is given new life instead of going to a landfill. Thus ensuring there is no waste and a new product is created. Many Fortune 500 companies have achieved this goal of zero waste. Including Proctor and Gamble, Nestle USA and Subaru, to name a few. We too can move to a zero waste environment in our households. And some of the ways we can do this are outlined by the following steps:
Reduce: There are many items lying around your home that have no use for you anymore. Clothes that have run their usefulness, shoes you know longer wear and other junk just taking up space in your home or garage. Many thrift stores like the Goodwill and your local recycling centers will find great uses for the stuff you don't want or need anymore. And these goods can be put to great use by the less fortunate among us. And the old adage is true, "it is better to give than receive." Food is another item to consider to donate to soup kitchens. Many people in this country go to bed at night hungry and giving away extra food will go a long way in alleviating hunger in this country.
Reuse: There are tons of stuff you can reuse or re-purpose items around the home. You can start by taking a tote bag with your grocery shopping and stop using plastics. Plastics are a huge problem. There are literally huge plastic patches in our oceans that are destroying aquatic life and the quality of our ocean water as well. Another idea is to use newspaper for packing. By using newspapers we can help slow down the deforestation that is happening at an alarming rate. There are many of online sites that will give you great ideas on how to reuse every type of item around the house.
Refuse:  Take a trip to your local post office and ask them to stop sending you junk mail. Most of this mail ends up in the trash bin. But it can be recycled. Matter of fact, 70% of all the waste we send to our landfills can be recycled. This is astonishing. And it is an easy fix. Just pay more attention to recycling.
Recycle: Recycling has never been easier. But it is shocking that so many people don't recycle. Almost all cities and counties will supply you with a recyclable bin and the majority of towns advocate single stream recycling. You don't even have to sort your various recyclable materials anymore. It is very simple and we all should ensure we take the steps to recycle all that we can. Most cities offer curbside pick up and offer Single Stream Recycling, which simplifies the process by eliminating the sorting at the curb. The majority of local governments have website pages dedicated to recycling. They will have valuable material to teach on what you can and cannot recycle. Recycling is a great way to keep our cities pollution and litter free. And it will help drive up home prices and make the city more attractive for the tourist industry.
Rot: Composting is a super idea for the garden. You can utilize all kind of things including taking egg shells, tea bags, dryer lint. Just place them into a compost bin. There they will begin to break down and become fertilizers for your vegetables and whatever else you are growing. And by using these discards in your garden that means fewer materials going to our landfills.
These are not steps that are hard to enact. And by doing so, you will be contributing to a healthier more vibrant eco-system and a cleaner planet. And you will be well on your way to having a zero waste household.
Easy Dumpster Rental can help you in all of your recycling needs. We a wide variety of dumpster bins that can be utilized in hauling away your recyclables. So give us a call and let us be of service to you.
It's that easy!
Call Our Team Now
1-888-792-7833